Stories
Jaishankar to meet Taliban foreign minister Muttaqi in Tashkent for the first time
Jaishankar to meet Taliban foreign minister Muttaqi in Tashkent for the first time
It is expected that the minister of foreign affairs will meet Muttaqi on the sidelines of the Shanghai Cooperation Organisation's foreign ministers' meeting taking place in Uzbekistan.
During the Shanghai Cooperation Organization (SCO) foreign ministers' meeting being held under the Uzbek presidency, External Affairs Minister S. Jaishankar will meet Afghanistan's acting foreign minister Amir Khan Muttaqi in Tashkent.
In June, when India decided to reopen its embassy in Kabul, Afghanistan's Taliban regime requested a meeting with Jaishankar. Although no official confirmation has been given from either side, diplomatic sources told ThePrint that both sides have been asking for a meeting.
Jaishankar and Muttaqi will be interacting face-to-face for the first time if such a meeting occurs.
Top-level sources said the meeting would solely focus on humanitarian assistance and support to Afghans.
Jaishankar is on a two-day trip to Uzbekistan as part of the SCO foreign ministers' meeting, where he will meet with Chinese foreign minister Wang Yi, as well as many bilateral meetings.
In addition to discussing humanitarian aid flowing from India to Afghanistan in the proposed meeting, sources told ThePrint that the Afghan side will seek to resume working on some of the mega Indian infrastructure projects that were put on hold by the overthrow of Ashraf Ghani.
Jaishankar, however, is likely to reiterate India's stance under UNSC Resolution 2593 passed last August during its presidency of the UN Security Council, by "insisting strongly" that New Delhi will not tolerate a surge in terrorism on Afghan soil.
In August last year, the Taliban took over Kabul. Since then, India has been engaging with them. A "technical team" was sent to Afghanistan by New Delhi in June this year to reopen its embassy.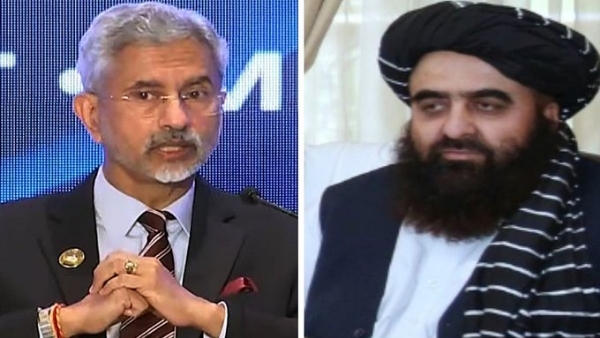 A delegation from India had visited Kabul earlier that month, led by J.P. Singh (Pakistan, Afghanistan, and Iran division), who also met with Muttaqi. The Indian delegation is also attending the SCO meeting in Tashkent.
International conference on Afghanistan
During this week, Muttaqi has also attended a special Uzbek government-hosted meeting on Afghanistan in Tashkent. Over 30 countries attended the meeting, including India.
The Uzbek foreign ministry stated: "The main goal of the event is to develop a set of actions and proposals for promoting peace, security, reconstruction, and integration of Afghanistan into regional cooperation processes in the interests of the multinational Afghan people."
At a media briefing Thursday, MEA spokesperson Arindam Bagchi said India "participated (at an official level) in that event".
In the spirit of international engagement, we continue to discuss Afghanistan-related issues. During the conference, India reaffirmed its commitment to providing humanitarian assistance to Afghans during this difficult time. During the meeting, we also reiterated UNSC 2593," Bagchi said.
Uzbek Foreign Minister Vladimir Norov, chairing a conference on Afghanistan, confirmed to all participants that the Afghan government is focusing on reconstruction while making Afghanistan secure. It is, therefore, possible to do business in Afghanistan.
The violence in Afghanistan used to be called for by everyone before we came to power. Muttaqi added, "We want investment so that our country can be rebuilt and developed.".
Additionally, Muttaqi and Pakistani Foreign Minister Bilawal Bhutto Zardari met on Thursday to discuss "economic, political, and humanitarian cooperation between the two countries."
Muttaqi and Bilawal discuss the Afghan situation
The Shanghai Cooperation Organization (SCO) has summoned Bilawal to Tashkent to attend the Council of Foreign Ministers (CFM) meeting. Bilawal and Muttaqi met for the first time. Former foreign ministers have criticized the Afghan Taliban policies of Taliban.
Pakistan is committed to establishing a stable and prosperous Afghanistan, according to an official handout issued by the Foreign Office. As well as promoting contact between the two countries, he stressed the importance of humanitarian assistance and expanding trade.
An Afghanistan conference was held along with the SCO meeting on the sidelines.
Next month will mark the first anniversary of the Afghan Taliban taking power. While many countries have maintained contact with them and few have established diplomatic missions in Kabul since they returned to power in August 2021, none of the countries have yet recognized their government.
Taliban's failure to fulfill commitments regarding girls' education and women's rights led to a lack of recognition from the international community.
On the sidelines of the Council of Foreign Ministers (CFM), Chinese Foreign Minister Wang Yi met with Foreign Minister Bilawal. A review and discussion of regional and international issues of mutual interest were held between the foreign ministers of both countries.
The foreign minister reaffirmed Pakistan's commitment to SCO's goals and principles as well as the 'Shanghai Spirit' after meeting with the SCO secretary general in Islamabad. Pakistan and China have completely converged on the importance of SCO as a regional platform for connectivity and development.
The two sides reaffirmed their commitment to deepening strategic communication, including political level engagement and practical cooperation, and their strong support for each other's core interests and major concerns.
A key feature of bilateral relations was the frequent high-level interactions between the two sides, and Bilawal expressed satisfaction with these interactions. During his third meeting within a month with State Councilor Yi, he stressed the importance of maintaining strategic communication, advancing economic engagement between Pakistan and China with mutual benefit, and deepening the Pakistan-China strategic cooperation partnership.
He underscored the fact that China-Pakistan Economic Corridor (CPEC) development had reached a new stage, focusing increasingly on high-quality industrial, agricultural, information technology, and science and technology development, as well as tangible socioeconomic benefits for the local populations.
There was a discussion between the two sides regarding recent developments in Afghanistan. For regional development and prosperity, peace and stability in Afghanistan were essential. According to both sides, increased regional trade and connectivity could be enhanced only if Afghanistan remained peaceful, stable, and connected.
They also agreed to maintain close coordination.
Edited and proofread by Nikita Sharma