Stories
Pele passes away: How the Brazilian great personified the 'beautiful game'?
How the late Brazilian legend Pele personified the "beautiful game"? The fact that Pele played in a league without complete television coverage really long ago is a part of his legend. However, tales of Pele's greatness have been passed down through the generations, just like most myths. We recount the life of Pele and how he embodied all that was admirable about football as the world also mourns the passing of the Brazilian legend.
The renowned footballer Pele died on December 29 in a hospital in Sao Paulo following a protracted battle with colon cancer. He was 82.
"Thanks to you, we are everything we are. You have our undying love. His daughter Kely Nascimento posted on Instagram, saying, "Rest in peace.
Football is the perfect subject for a romantic comedy because of its unpredictable nature, appealing aesthetic, and capacity to evoke strong emotions in a crowd. The uninterested are forced to pay attention.
It often causes the devoted to cry and laugh at the same time. A certain footballer from Sao Paulo, Brazil, may have been the only one to truly capture the beauty of the game, despite the fact that football has had stalwarts throughout history.
Pele was widely regarded as the best that has ever been and will ever be. He served as a representation of what football should be like and was instrumental in making the term "the beautiful game" (o jogo bonito) more widely known.
Footballer Pele was way ahead of his time.
The fact that Pele played in a league without complete television coverage really long ago is a part of his legend. Nevertheless, tales of Pele's greatness have been passed down through the generations through spoken words and emotional expressions, just like most myths.
The footage that can be pieced together reveals a man who is early and out of place. Even today, most people could not imagine doing what Pele was doing in the muddy fields of Brazil in the 1950s and 1960s. He possessed unmatched control, a unique imagination, and classic Brazilian flair.
Pele most likely performed all the same actions that your favourite football player does today. He invented and refined a wide range of abilities and strategies that are still employed today at the highest levels of the game.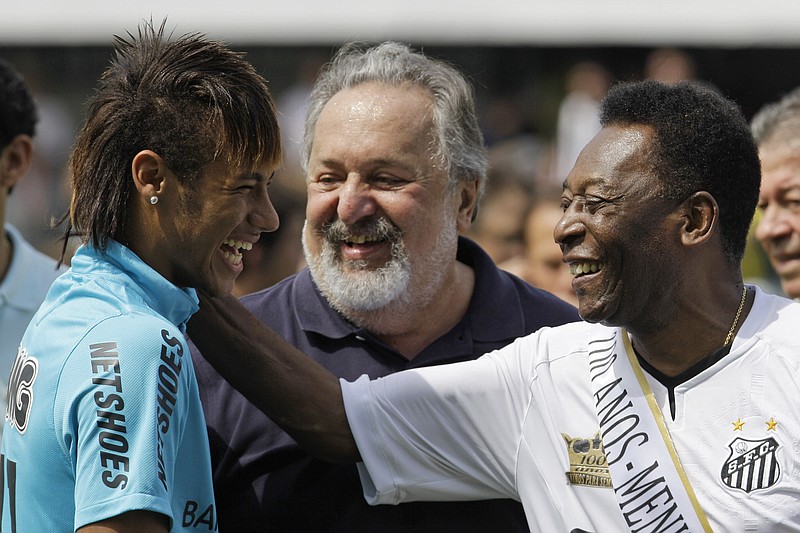 Pele, the all-time great
Only one person—Pele—has won the World Cup three times in the illustrious history of the sport, and he or she did so in four tries. Only twice during his 14 World Cup games, which were the two contests in which he sustained an injury, did he fail to score or provide an assist. In 14 games, he contributed to 20 goals through his 12 goals and 8 assists.
To put things in perspective, Lionel Messi has contributed to 21 goals in 26 games, 12 more than Pele. Pele would have contributed to more than 37 goals if he had played as many games as Messi and continued his production.
Even more amazing are Pele's domestic accomplishments. Official records show that he scored 757 goals in 812 games, despite his own claims that he had scored 1283 goals in 1363 games. In either case, Pele's career goal average was close to one per game. Strikers today are revered if they have a few seasons like that. Pele battled ferocious opposition throughout his entire career while working in swampy fields while wearing thick leather boots.
Pele, the Heart King
Pele's full story cannot be fully told by statistics or abilities. The fact that Pele held so much sway over people's hearts is what gives The King of Football its enduring appeal. Pele is revered everywhere, from the slums of Kolkata to the streets of Sao Paulo.
He represented everything admirable about football, including its artistry, passion, and never-ending pursuit of excellence.
World Cup of 1970 and O Jogo Bonito
Football has long been a battle between individual skill and team cohesion. The game has become increasingly systematised over time, with clear roles, automatisms, and scientific analysis of shape and structure. However, for many people, the most basic, unadulterated version of the game is still determined by personal skill and creativity.
Pele embodied football's unrestricted artistic expression. And his masterpiece was the 1970 World Cup. According to one of Pelé's biographers, Angelica Basthi, "He said that he would never play if he also had to stop every time he heard those chants." When he made his club debut in 1956 at the age of 16, the Brazilian team quickly gained notoriety on a global scale.
He also mispronounced the name of a player named Bilé, which is how he got the nickname Pelé.
He was a backup at the 1958 World Cup but ended up being an important member of his nation's victorious squad.
One of the current best goals in World Cup history was his first one, which he scored by flicking the ball over the head of a defender and racing around him to volley it home.
For Pelé, who was already regarded as the best player in the current world at the time, the 1966 World Cup in England—which the hosts won—was bittersweet.
Brazil was eliminated during the group stage, and Pelé vowed it would be his final World Cup due to the rough treatment he had received.
He had a change of heart and felt revitalised during the 1970 World Cup. He attempted to score with a header against England, but the legendary goalkeeper Gordon Banks miraculously flipped the ball over the crossbar.
One of the greatest saves in World Cup history, according to Pelé, was like a "salmon climbing up a waterfall." Later, in his final World Cup game against Italy, he scored the game's first goal.
Pelé played for Brazil in 114 games overall and scored a record 95 goals, including 77 in competitive matches.
His tenure with Santos lasted for three decades before he entered semi-retirement following the 1972 campaign.
Rich European clubs tried to sign him, but the Brazilian government intervened and declared him a national treasure in order to stop the sale.
On the field, Pelé's enthusiasm, insight, and creativity inspired the talented Brazilian national team to play in a quick, fluid manner that epitomised "O Jogo Bonito," or "The Beautiful Game." In 1977, he published his autobiography, "My Life and the Beautiful Game," which popularised the expression.
He began playing for the North American Soccer League's New York Cosmos in 1975. Even though he was 34 and past his prime, Pelé raised the profile of soccer in North America. In three seasons, he scored 64 goals while helping the Cosmos won the league championship in 1977.
In front of an audience of about 77,000 people in New Jersey, Pelé ended his career on October 1, 1977, during a match between the Cosmos and Santos.
He used each club for half of the game. Muhammad Ali, who is most arguably the only other athlete whose fame is known throughout the world, was one of the dignitaries present.
In his personal life, Pelé would also experience hardships, particularly after Edinho, his son, was also detained on drug-related charges.
Five children were born to his very first two marriages to Assiria Seixas Lemos and Rosemeri dos Reis Cholbi, and two daughters were also born out of wedlock.
Marcia Cibele Aoki, who is a businesswoman, was his future wife. He was never interested in carrying the flag, but he is important for Black people's pride in Brazil. Pelé had a varied life after soccer. He was a wealthy businessman, a politician (Brazil's Extraordinary Minister for Sport), and an ambassador for UNESCO and the UN.
He played parts in motion pictures and soap operas, and he even wrote songs and produced CDs of well-known Brazilian music.
His travels and appearances lessened as his health deteriorated. He frequently used a wheelchair in his later years and skipped a ceremony to dedicate a statue of him as a member of Brazil's 1970 World Cup squad.
At a beach house, Pelé spent his 80th birthday alone with a small group of family members. On October 23, 1940, Edson Arantes do Nascimento was born in the rural Minas Gerais state city of Tres Coracoes. As a child, he worked as a shoe shiner to pay for his modest soccer equipment.
When Pelé was 11 years old, a local professional player noticed his talent and brought him to Santos' youth teams. His ascent to the senior squad didn't take long.
He also scored against grown men with the same ease he showed against friends back home, despite his youth and 5-foot-8 frame.
Brazil and Pele captivated viewers to victory in the first World Cup to be broadcast in colour. Each dribble, pass, and the outrageous goal was a protest against the modern football regimentation that was just starting to take hold at the time. The Italian machine, renowned for its stern defence and highly systematised play, was the opponent Brazil faced after dancing its way to the championship. In addition to two football teams, it was a clash of two cultures, two playing methods, and two philosophies.
Brazil triumphed, scoring one of the all-time great goals in the process. Seven Brazilian outfielders collectively passed the ball before captain Carlos Alberto, off a carefree pass from Pele, hammered it into the corner of the Italian goal.
Pele was the ultimate example of football's beauty, and football was indeed beautiful. He could have easily taken the shot himself, and even if he had scored, it would have been a fantastic goal. A great goal, however, only became legendary because of that decisive pass that defied expectations and that only Pele could see and execute. Its beauty came from this.
We get to relive some of his most memorable moments as a result of his passing. Pele, the personification of football's beauty, may you rest in peace. Long live football, the beautiful game.
Edited by Prakriti Arora