Stories
Why you should learn career cushioning and how it will help to deal with the fear of job loss?
As soon as we've mastered a new workplace jargon, such as "quiet resignation" or "quiet firing," a new catchphrase becomes popular. What does "career cushioning" entail in the workplace, and why is it gaining popularity now? Should you do it, and how should you go about it?
While our age is still grappling with new workplace terms such as "quiet quitting" and "quiet firing," a new buzzword known as "career cushioning" emerges. Now your mind is searching for the meanings of this word, why it is used, and what significance it bears in these difficult times of unexpected layoffs. Continue reading to find out more.
Why career cushioning is the talk of the town?
The second year of this new decade made us witness some tough times in the professional field. One after another, we have seen several rounds of layoffs from a large number of corporations. Not only the junior or mid-senior level of personnel but also the people sitting at the topmost positions are fired. One recent example of this is the firing of Twitter CEO Mr.Parag Agrawal. This trend shows that no one knows when you can get a termination letter from your current employer. 
These layoffs can be a result of a difficult economic year, marked by sky-high inflation, and a terrific bearish attitude of the market. This layoff is even more pathetic as it is followed by last year which saw a significant year of hire. In such a situation of frenzied and sudden layoff and emotional trauma, candidates are worried about their future and making attempts to revive their professional life back on track. And hence the concept of 'career cushioning' emerges as the savior.
What is career cushioning?
The definition of the phrase may be deduced from the words themselves. Simply defined, career cushioning is the process of looking to add security to the chosen profession and planning for the sudden layoff, whether at the beginning of a career to start planning for a job hunt or aggressively looking for a new work that feels more secure. In a nutshell, career cushioning is the process of safeguarding your career with layers of new learning and connections.
What are the methods through which you can cushion your career?
Make a habit of learning.
There was an ancient phase where people used to say that only lawyers and doctors need to learn throughout their life, and the rest others in different professions can sit and relax. I think, gone are those days. In today's competitive world, there is always something in every domain for every individual to learn and practice so as to make a smooth journey of career. Your abilities follow you wherever you go, and they simply serve to boost your worth in the job. It is also critical to promote your abilities since recruiters seek them.
Now there was again an ancient notion that people tend to work more on hard skills. Definitely, hard skills still have an importance of their own, however, with the passage of time, soft skills have taken the dominant position. In data, 78% of jobs posted annually marks that employers nowadays are more interested to hire candidates who are more focused and confident about their soft skills. Now the company believes that a candidate can be trained as per the requirements of the job, but it is important to hire candidates who have an open attitude to learning. So, working on soft skills can be a game changer in the process of career cushioning.
Make good connections and a decent social profile. 
We all have good Facebook, Instagram, and Snapchat profiles. But if you want to have a good career, work on making a decent LinkedIn profile. "Your professional connections are the most valuable commodity during your career." Maintain communication with your contacts. Those connections are bidirectional. In the last few years, LinkedIn has marked its importance in making great career shifts for many individuals.
You don't want to rely on your network solely when you need something. The golden technique for getting your foot in the door is to approach the right person at the right moment. You may also use the 'OpentoWork' photo filter on LinkedIn to communicate to your connection that you are interested in a new career, which is an amazingly successful technique to acquire inbounds on job postings.
Set up job notifications on multiple websites.
Create an account on every job posting site, keep it up to date, and set up job notifications by email and text messaging. There is one potential disadvantage to this: you may become irritated by the frequent emails and texts. However, if you have kept your search intent clear and straightforward, you will almost certainly receive the job posting that you are looking for.
Consider a supplementary career.
Many people cushion their careers by developing a side hustle or side employment. There are many debates over moonlighting these days, but in my opinion, there is nothing wrong with having a side hustle as long as you do not lie about your current job or create any conflict of interest. Starting a side hustle is not only a great way to make additional money, but it also helps you to keep current with industry trends, experiments with new ideas, and "try on" a new job. It can also serve as a confidence booster if your current employment does not allow you to pursue your passions and interests.
Your side hustles can include trading activities, working as a consultant, content writer, graphic designer, transcriber, and many more. Along with that, having a decent YouTube channel can also be a great aspect of career cushioning.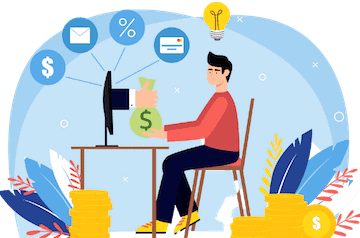 The last call.
Why learn the art of career cushioning? Instead of reacting when your job is gone, better you start living with a proactive approach toward life and career. When circumstances are rough and are a part of an unexpected challenge, some professionals turn their moves to the concept of 'career cushioning,' which is equipping yourself with a set of new skills and networks in order to mitigate the effects of a prospective job loss or deal with the fear of a sudden layoff.  Even the smallest move forward can lead to enormous long-term career success.
edited and proofread by nikita sharma