Trends
'Treated Like Slaves, Abusive Practices': Byju's Staff Reveal Harsh Work Conditions
Staff at Byju's reveal abusive working conditions and being treated like slaves. Employees at the Indian tech giant in education claim that the company's workplace culture is exploitative and preys on consumers who are weak and vulnerable.
Education technology company Byju's quickly became a ray of hope for Indians looking for a better future, from parents wanting the best education for their kids to next-generation tech-savvy professionals trying to build their careers.
As members of the nation's growing middle class looked for employment and financial security in one of the biggest tech hubs in the world, the Bengaluru-based startup, founded in 2011, quickly expanded into a multibillion-dollar behemoth and became India's top edtech company.
But as the company(Byju's) has also grown, so have the complaints.
Byju employees allege that the business employs predatory and exploitative working conditions as well as dishonest sales practises, such as profiling, pursuing, and pressuring potential students from less privileged backgrounds to enrol in its courses.
Context spoke with 26 salespeople; 18 are still employed and 8 have left the company. They spoke about long hours and difficult working conditions, instances of physical and verbal abuse, and a culture where deceiving customers is encouraged in an effort to boost sales.
According to WhatsApp messages, internal emails, business contracts, and audio recordings of calls and meetings, some bosses at Byju's pressure and threaten employees into working more than 72 hours per week and deny them lunch breaks, vacation time, or even the ability to leave the office.
But Byju's employees, many of whom are low-income or first-generation college graduates, claim that they put up with the harsh working conditions because they are worried about losing their jobs in India's competitive job market because their families depend on them.
Context spoke with a number of Byju's clients who claimed that they had been coerced into taking courses, duped into taking loans, and left with few options after losing money.
But Byju's staff, many of whom are first-generation college graduates or are from low-income homes, say they put up with the punishing environment out of fear of losing their jobs in India's competitive job market because their families are counting on them.
22 Byju's clients were also interviewed by Context, and many of them claimed that they had been pressured into main enrolling in courses, conned into taking loans, and left with little recourse after losing money.
According to a Byju's spokesperson, in response to Context's findings, the employees who spoke up represented a "infinitesimal percentage" of the company's workforce, and the business had "zero tolerance for unfavourable behaviour at the main workplace."
We also uphold the highest safe workplace standards at mainly each of our business units, the spokesperson wrote in email comments.
Byju's was forced to respond to customer complaints by stating that its business practises were "centred around customer respect and also satisfaction" and also that staff members did not "pursue customers who are also either uninterested in or unable to pay for our products."
Pratik Makhija, a former salesman for Byju's who had previously worked there twice, claimed to have gone through "daily mental torture."
The 27-year-old asserted instances of this included his manager berating him, making him work nonstop for seven days, and fostering animosity among coworkers.
You feel as though you are confined and unable to look around or escape from the bottom of a well or a bubble. There is no such thing as called work-life balance. Zero, "declared Makhija, who had left Byju's in January 2021 after working there for 18 months.
We are treated like slaves. What cost does it incur to keep their revenue and valuation stable? By suffocating us, "He went on.
Makhija stated that he returned to Byju's in July for financial reasons; however, after complaining about the aggressive behaviour of his managers in August, he was suspended for one month. He once again left the company in October, but this time he claimed he was still "haunted" by the way his managers had treated him, manhandling and yelling at him.
"It got so so bad that I had to seek professional help, and also eventually got diagnosed with anxiety," said Makhija, who is currently unemployed and looking for work. "I've got terrible flashbacks."
Byju's did not even respond to a request for comment on Makhija's account.
The Indian labour and information technology ministries repeatedly declined requests for comment regarding Context's reporting.
Advocates claim that worker abuses are going unreported while the government has expressed concerns about how edtech companies treat their customers, such as through false product advertising.
Labor lawyers, academics, and workers' rights experts are cautioning that without strict oversight, employees run the risk of suffering the worst results of unchecked exploitation as edtech startups, including Byju, compete to become the next major players in India's economy.
The industry is currently unregulated, according to main economist K.R. Shyam Sundar, who has also written extensively on labour reforms in India. To also ensure the welfare and protection of workers, he is advocating for regulation of the industry, including the development of a specific edtech policy.
He continued, "In situations like this, labour rights are always the first victims.
Work insecurity
There have been reports of poor working conditions and abusive behaviour across the board in India's edtech industry, not just at Byju's.
Context also spoke with three former Vedantu employees and four current Unacademy employees, all of whom mentioned arbitrary pay reductions, high pressure work environments, and encouragement of product misrepresentation.
The insecurity of their jobs was another issue raised by these workers. Requests for comment from Vedantu, another significant edtech business with Bengaluru-based headquarters, went unanswered.
The employees' claims were vehemently denied by Unacademy, an educational technology start-up backed by Japan's SoftBank, who called them "a factually incorrect representation of our culture" and insisted that the business was "focused on enhancing and also nurturing growth of every employee."
Labor activists are concerned about working conditions across the board, but Byju's has recently drawn the most attention.
One of the main largest hedge funds in the world, Tiger Global, which supports Byju's, benefited greatly from the surge in demand for online education that occurred in India during the COVID-19 pandemic.
To finance its rapid expansion, it also attracted funding from some of the top venture capital funds and financiers, including Mark Zuckerberg's Chan-Zuckerberg Initiative, the US-based Sequoia Capital and General Atlantic, and China's Tencent.
According to industry analysts, demand began to decline as soon as schools resumed classes and the global economy became less certain.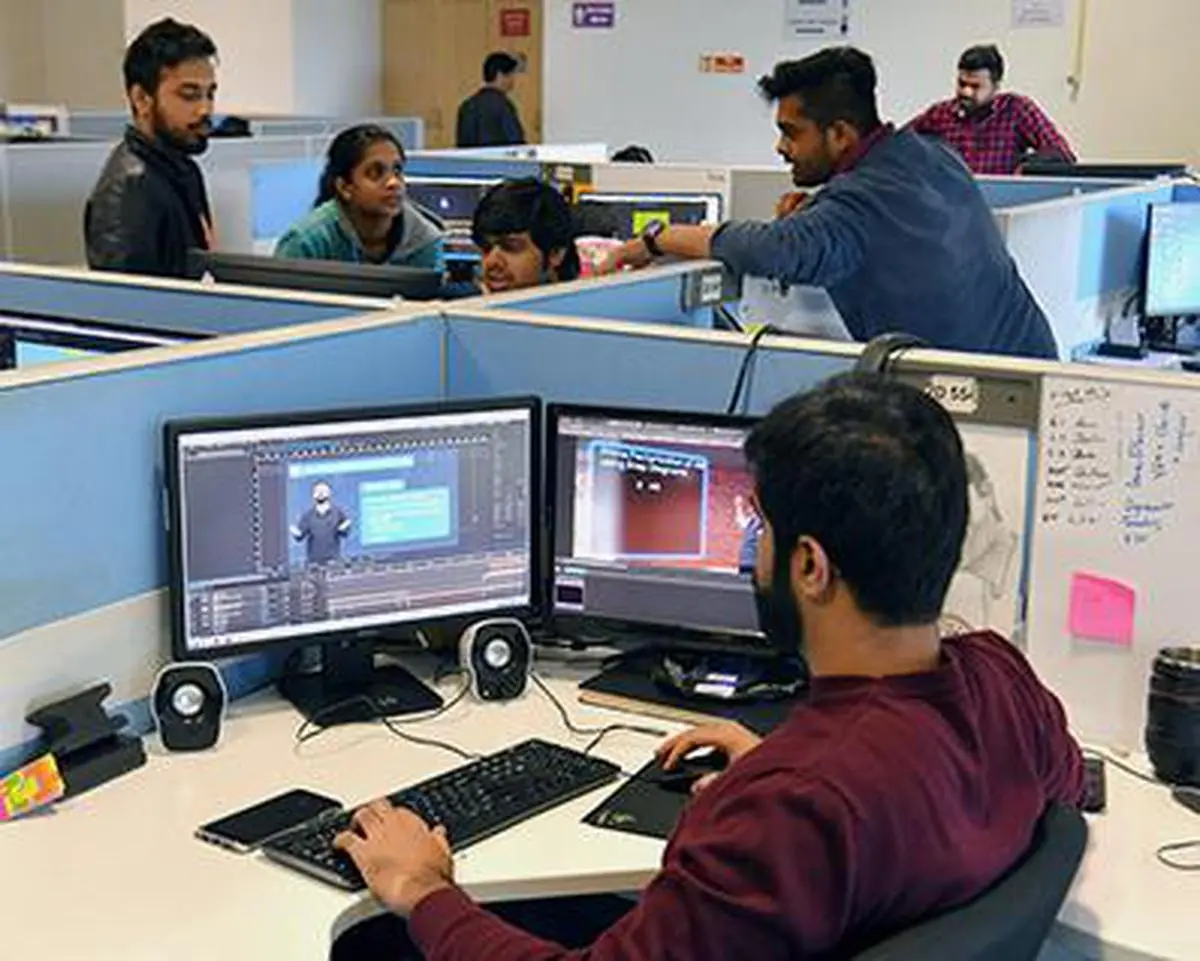 In September, the $22 billion startup, one of the most valuable in the current world, reported a loss of over Rs 4,564 crore ($550.5 million) and a 3% drop in revenue for fiscal year 2021.
As the company deals with a more difficult business environment, more criticisms of its workplace culture and business model have surfaced.
Former employees and industry observers have been outspoken on social media about what they see as unethical business practises, such as pushy sales tactics, delays in processing cancellation requests, and also a lack of refunds.
Former employees and industry professionals widely criticised Byju's recent social media announcement of football star Lionel Messi as a brand ambassador. This came just a few days after the company announced main plans to lay off 2,500 of its 50,000-person workforce.
Employees have expressed to Context their growing fear of losing their jobs, as well as the pressure to work even harder as coworkers are laid off.
The 26 employees interviewed claim that they are frequently required to work at least more than 12-hour shifts six days a week, with the majority speaking on the condition of anonymity for fear of retaliation.
Context has access to Byju's employee contracts, which do not even specify the number of hours an employee must work per day or week.
According to a Byju spokesperson, no manager was urged or permitted to make their teams work more than a five-day workweek.
"In situations where an employee is also required to work an extra additional day, it is always on a voluntary basis and with additional compensation paid for the extra effort," a company representative said.
Employees claim they frequently work shifts was longer than 12 hours, sometimes for even seven days straight, with no extra pay, and that they are mainly forced to accept these demands out of fear of losing their jobs.
Each of the state in India has its own set of laws governing employee pay, working conditions, leave, holidays, and other aspects of their employment.
Fourteen of Byju's employees are based in Bengaluru, the state capital of Karnataka, where regulations state that an employee may not even work more than nine hours per day and also 48 hours per week. After that, they are legally entitled to overtime pay.
"Hellish pain"
Byju's provides current online tutoring to a diverse group of clients, ranging from adults attempting to pass competitive exams for engineering and also civil services to parents of the children as young as six.
The majority of employees describe their jobs as an endless grind in order to meet main weekly sales targets of Rs 1 lakh, which requires selling one to four courses depending on their cost.
Salespeople not only even spend hours on the phone each day, but they also frequently visit schools, malls, and also temples to persuade people to sign up, often low-income workers who are not technologically savvy, such as market vendors and tuk-tuk drivers.
"You have to also let go of your conscience and also be absolutely shameless to do this job," a former salesperson who left in September said on the condition of anonymity.
She remembered breaking into people's homes, shamed them into purchasing a main course for their children, and blocking their phone numbers if they requested refunds. "I (was) so consumed with guilt at times that I couldn't sleep," she explained.
Makhija claimed that Byju's did not provide sales training to its employees and instead expected them to close deals by any means necessary.
He stated that it makes no difference how you do it; you can act unethically, make false promises, commit fraud, or intentionally mislead people."
Take any necessary steps to complete a transaction. They are saying to us, "At the end of the day, we want revenue."
On their one day off each week, Byju employees claim they receive a flood of emails and messages from their managers, and many of which Context has seen.
In a WhatsApp group, one manager questioned her sales team's attitudes and threatened to mark them absent, reduce their day's pay, and put them on main performance improvement programmes (PIP) if they did not meet their main goals, saying, "Trust that I will make you even suffer like hell under me."
Please do not message me claiming that you or your loved ones are ill. As a result, the manager advised in a subsequent message not to even consider requesting such leave. If you want to bring up HR, do so.
Five employees recalled being physically prevented from leaving work by even managers who had locked their bags or were holding them by their arms. Many employees claimed that if they fail to meet targets, they are barred from taking lunch breaks.
Byju's also claimed to have a strong system in place to handle such complaints and did not assign "irrational goals" to its employees.
"Managers are encouraged to look at quality rather than quantity of work," said the spokesperson. "We have increased our efforts over the last two years to create a work environment where employees feel safe, supported, and in good physical and emotional health."
Every employee stated that taking any type of leave, including their monthly sick day, is nearly impossible. They went on to say that because requests are never granted, they rarely take annual leave and rarely get bank holidays.
One Bengaluru employee claimed that after her mother was admitted to a main hospital in Mumbai in August, her manager refused to allow her to visit the sick woman. "You get paid to work, not go on vacations," he said, as if I were."
They treat us as if we were animals… This is not a job for the current faint of heart.
The spokeswoman for Byju claimed that the company's leave and work policies complied with the world's top human resources standards.
The representative stated, "At Byju's, employee well-being is a top priority, and we take proactive measures to ensure that all of our employees strike a healthy balance in their work lives.
Strikes against organising
In recent years, various Byju employees have attempted to organise and bring their coworkers together to demand better working conditions, whether it be through WhatsApp groups or LinkedIn forums.
However, Byju's has put up a very strong fight against them. A 30-year-old who also requested anonymity out of concern for his current future employment claims claimed that he was fired after he and also a colleague created two current WhatsApp groups in September calling on other salespeople to band together and fight for their rights.
They demanded changes to the workplace, including set working hours, fair attendance evaluations, and an end to the arbitrary use of main PIPs for employee discipline or termination.
The two WhatsApp groups had almost 1,000 members each, according to Context. However, after managers began threatening employees if they were also discovered to be a part of "anti-organization" groups, that number dropped by more than half in a matter of weeks.
One manager warned her sales team via WhatsApp that they could "face termination" if they also continued to be a good part of the two groups in question, and demanded screenshots as proof.
The co-founder of WhatsApp groups and former salesman recalled how senior managers had also flown in from offices all over the nation to mainly inquire about his team's values and suitability for Byju's.
He stated over WhatsApp, "I'm getting married (next month) and also I don't have a job." "Byju's is also not a company; it is a prison."
About six employees also claimed that the HR division had disregarded their grievances and actively discouraged workers from elevating problems to higher management.
Requests for comment on the 30-year-account old's or inquiries about organising and dissent went unanswered by Byju's. Manjari Singh, a professor of subject human resources at the Indian Institute of Management in the western Ahmedabad, said that for workers attempting to organise or seek legal redress over the abusive conditions they describe, "there was no easy solution."
Employees frequently hesitate to file main lawsuits out of concern that they will be "blacklisted," according to Sheena Ogra, a partner at the Delhi-based law firm Ahlawat & also Associates with expertise in current employment law.
They worry that if they take on the business, no employer will want to hire them tomorrow or that they won't receive proper experience letters from their current employers, she said. It might be very challenging. aspirations for the middle class
The edtech sector, according to experts in technology and labour law, straddles a number of laws and regulations, including national e-commerce standards and IT legislation, and escapes scrutiny in the absence of a specific policy to regulate the industry.
Experts worry that edtech companies could take advantage of the hopes and ambitions of an increasing number of workers who come from low-income backgrounds even though the sector largely operates without regulatory oversight.
Context's interviews with Byju employees revealed that nearly half of them came from low-income families and were the first in their families to enrol in college.
They emphasised that one of the main reasons they put up with workplace abuse is to use their education to provide a better life for their family members.
Many people also feel trapped because their monthly paycheck is used to cover a variety of expenses and debts.
Former Byju's salesman Nitesh Kumar resigned last month as part of a mass resignation involving at least 40 employees, alleging mistreatment during two separate employment periods.
The 26-year-old claimed that the company forced him to resign after he broke his leg in a car accident the first time.
Kumar claimed that after re-joining, he was forced to work 15-hour shifts, denied lunch breaks, had his pay reduced, and was forced to report for duty sick because he had fallen short of his sales goals.
Byju's requests for comment on Kumar's account were not answered. He claimed that he intended to stay with the company until the end of the year in order to pay off loans for his family's car and his sister's wedding. "(but) they (Byju's) made the working conditions so awful, so intolerable, with ridiculous targets that I thought I would rather default than suffer any more of this," says Kumar, who is currently looking for work.
edited and proofread by nikita sharma