Trends
As inflation affects Europe, bread prices are rising.
The cost of the wheat Julien Bourgeois grinds for boulangeries at his family's flour mill in central France has soared by more than 30% since Russia invaded Ukraine. The cost of the increased amount of power required to run the mill. Even the cost of the paper used to make flour bags has skyrocketed. These factors, collectively, are increasing the cost of a loaf of bread.
When Bourgeois looked over the enormous crushers that the mill used to grind the wheat into flour, he said, "Inflation is brutally high." To make up for the extra expenses that he has had to pass along, he has advised the 1,000 bakeries that his firm, Moulins Bourgeois, supplies to mark up the well-known French baguette by 10 cents from its current price range of one euro to 1.30 euros ($1.27).
Consumers can already afford to pay more, but prices will continue to rise, according to Bourgeois. It's alarming. He said, "We remember that the revolution started over the price of bread," referring to France, where baguettes are already over 8% more expensive than they were a year ago.
There are indications that European inflation is worsening. According to data released on Wednesday, consumer prices worldwide increased quickly in September compared to the same month last year, rising by around 11% in the European Union and 10.1% in the United Kingdom. Food costs increased by more than 14% in the European Union and more than 14% in Britain, while energy prices increased by almost 40% in both regions.
Few issues are more concerning than the price of a basic loaf as inflation continues to soar. According to Eurostat, Europe's statistics department, prices for the most important food items have never been higher and are currently up about 19% from a year ago, the fastest growth on record. According to Eurostat, the rise is mostly attributable to Russia's war in Ukraine, which has agitated the energy markets and raised the cost of cereals, oilseeds, and fertilizers.
The United States is also concerned about high consumer prices. Despite the Federal Reserve's efforts to slow the economy, inflation is still running at a nearly four-decade-high rate. Even there, the cost of bread has increased by 15% since last year. Policymakers and economists are becoming increasingly concerned that price increases are becoming ingrained and will be more difficult to control due to the wide-character of inflation.
Policymakers and economists are becoming increasingly concerned that price increases are becoming ingrained and will be more difficult to control due to the wide-character of inflation. People notice a price increase in bread immediately. The nations that are most hit are the nations that are closest to the war, like Hungary, where the price of a basic loaf increased by 77% in September from a year earlier, according to Eurostat. Bread costs have increased by over 30% in Croatia, Estonia, Latvia, Lithuania, Poland, and Slovakia.
In Germany, where the price of bread has increased by almost 18% in a year and total inflation has rocketed into double digits, hitting 10.9% in September, the whirlwind has come as a shock. According to an employee named Alice Zuza, Berlin's Fine Bagels recently increased the price of their New York-style bagels from 1.10 euros to 1.20 euros. According to Zuza, there was a discussion at the bakery. The owners opposed price increases, but ultimately there was no other option.
The propensity of Russia to use energy as a weapon against nations that support Ukraine has exacerbated issues by increasing the cost of gas and power for wheat suppliers. Energy-dependent companies' bills are also skyrocketing, including hundreds of industrial and specialty bakers that use their ovens continuously throughout the day. Since the end of the summer, phalanxes of bakeries have closed their doors in the Netherlands due to rising energy prices. In Belgium, bakeries are hiking prices, yet one in ten has had to close, and more closures are anticipated before the year is up.
Vaidas Baranauskas has made an effort to avert a similar destiny at Velzelio Duona, an artisanal bakery in northern Lithuania. His traditional rye bread, which he makes using his grandmother's recipe, is particularly coveted. He increased prices this year by 33%, to as much as 12 euros a loaf, to make up for increases in the prices of flour, sunflower oil, and sugar. Dried fruits and seeds, which are utilized in certain pieces of bread, have doubled in price. Baranauskas put solar panels on his roof to save energy costs. He must now purchase power at costs that are 500% more than a year ago, as winter draws near and the sky becomes darker sooner.
According to Baranauskas, nothing similar to this has ever occurred. It's a challenging period when many businesses must decide whether to move forward with their production or not. Even industrial bakeries may become sick. Major European grocery chains that sell enormous amounts of bread have attempted to artificially keep costs low to entice customers by bargaining with suppliers over the price of ingredients and energy. However, many had to mark up prices due to persistently high costs.
By forcing workers to demand greater salaries as their living expenses rise, inflation is also increasing the cost of operating a firm in Europe. Attila Pécsi, owner of the famed Arán Bakery in Budapest's 7th District, claimed to have increased the pay for his 30 employees twice this year. A loaf of bread costs about half as much as payroll costs. Energy and raw materials make up the remaining third.
Pécsi has increased bread prices by 12% since January due to rising costs. Before the year is through, he intends to raise the price once again. Customers anticipate more, he added. This is because, according to Johan Sanders, head of Fedima, the European organization of bread suppliers, prices are unlikely to decline. We haven't had inflationary consequences on staple goods in many years, according to Sanders. It's intimidating because it's inevitable and because it will be hard to keep costs from rising.
The Bourgeois of the nearby flour mill was getting ready for precisely that scenario. He pointed out that the war with Russia has already prevented Ukrainian farmers from sowing a complete harvest for 2023. Our success is closely related to the battle, he declared. "If it continues, grain costs will remain high for a very long time."
Production expenditures at Moulin Bourgeois increased by 30% in a single year. The monthly cost of only the power will shortly increase from 50,000 euros in 2021 to 200,000 euros. In 1895, Bourgeois' great-grandfather built a single water-wheel-powered stone mill. Today, the firm, which spans six acres and has 18 silos, can grind 450 tonnes of wheat per day, and requires endless hours from Bourgeois to manage its finances. He most recently issued a depressing letter to the 1,000 bakeries he works with. It started, "Dear clients."
"The cost of goods and energy has never been higher than it is right now." As of November 1st, we must increase our prices. To make up for the shortfall, we advise you to boost your rates; 10 cents for each baguette is appropriate.
Serge and Marie Pinguet, the proprietors of a well-known boulangerie in the green village of Crécy-la-Chapelle, 40 minutes north of Bourgeois' mills, were attempting to put off that fatal day. As a line of customers snaked out the door, enticed by the aroma of freshly made baguettes, Marie Pinguet commented, "In France, when bread costs in the corner bakery climb even 5 centimes, people notice it instantly."
The pair isn't hiking baguette pricing just yet for fear that even their most devoted customers will start shopping at supermarkets. However, to make up for the difference, they are raising the price of patisserie and croissants. Serge Pinguet, who arrives at work every day at two in the morning to begin mixing bread dough for the morning rush, lamented that "prices are changing so quickly." According to him, the price of butter quadrupled in a year to 12 euros per kilogram, while the price of sugar increased by 30%. A carton of 360 eggs now costs Pinguet 78 euros, up from 39 euros.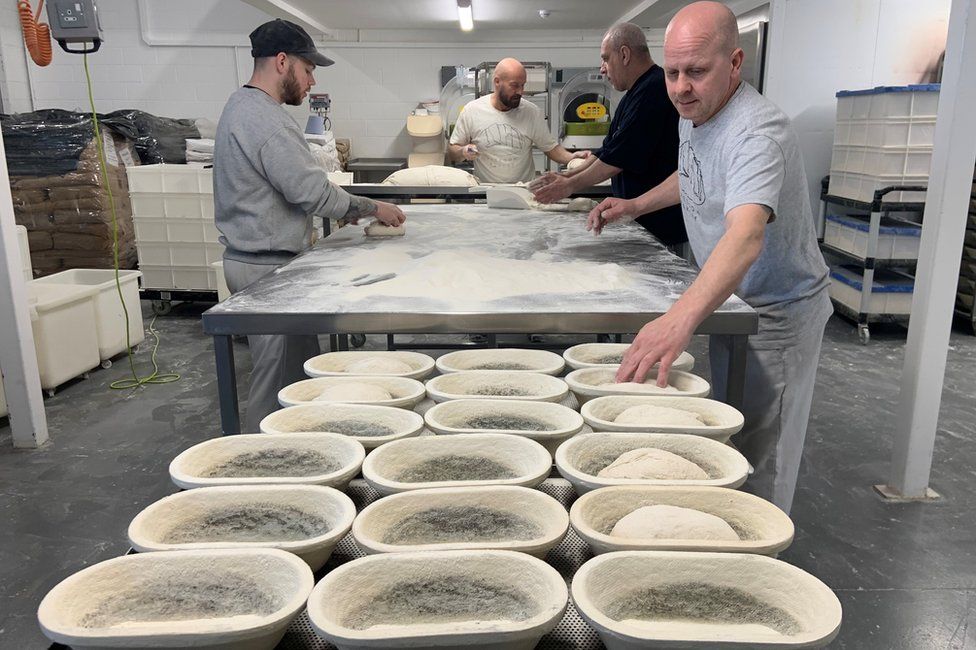 Although the price of the hallowed baguette has not increased, he claimed that "other commodities have increased, therefore prices will continue to grow, not only this year but definitely for the next two to three." People won't be able to purchase when prices increase too high, Pinguet added.