Trends
Byju's having trouble paying back the $1.2 billion debt to the lenders.
Bad times for Byju's seem never-ending now. Byju's, the most valuable Edtech company in the world, has requested more time from creditors in order to renegotiate the terms of a $1.2 billion loan that breaks covenants, people with knowledge of the matter claimed.
Edtech startup Byju's was struggling to calm down its creditors and investors about its huge debts who were already very concerned about the rising losses of Byju's. The Indian company has promised to increase its equity funding efforts, provide creditors with a "quality of earnings report," and have outside auditors verify its cash flow.
It was found last month that Prosus' 9.67% ownership stake in BYJU'S was worth $578 million. Technically, this reduces Byju's estimated value from its earlier estimate of $22 billion to just under $6 billion.
The new loan terms and circumstances, including repayment, require the approval of at least 51% of the lenders. This is a common clause in every term loan issue, and if it is not met, the huge loan issue cannot be revised. The loan payback criteria originally agreed upon will be satisfied, and the company is unlikely to accede to any requests for pre-payment, according to a source close to the Edtech major.
Byju's executed a $1.2-billion term loan B (LTB) raise with a five-year tenure in November of last year. The term loan, according to S&P Global, promised a yield-to-maturity rate of 6.78% but was an unrated issue. The loans' terms specified a nine-month window for rating the issue,
Following the parent company's failure to meet a September deadline for filing earnings, Bloomberg reported last month that some debtors are requesting early repayment of debt using cash reserves totaling around $850 million from Byju's US subsidiary in the past.
When Byju's reportedly violated restrictions, including a September deadline for filing its results for the year ended March 31, 2022, the lenders hired Houlihan Lokey Inc. to help them with altering covenants, according to the Bloomberg report. Additionally, it was stated that Rothchild and Co. were assisting Byju's in the negotiations.
According to the persons, who asked to remain anonymous since the material was private, creditors had until Tuesday to sign a forgiveness agreement, which would give the business till February 10 to negotiate more favorable terms on the term loan.
The debt was stated at 81.9 cents on the dollar. The people previously stated that lenders who purchased the debt from primary holders in September, when the debt fell to a record 64.5 cents, are looking to profit from hastened repayments, according to information gathered by Bloomberg,
According to JPMorgan Chase & Co., one of the deal's book-runners, the loan, which will have a price of 550 basis points above Libor in November 2021, will be the largest unrated term loan from a new-age corporation in history.
Byju has raised $250 million from existing investors and is using it to pay off past-due debts. It is reported that Byju will spend over $2.5 billion on numerous acquisitions in 2021.
When Byjus' floated the TLB in November 2021, it initially aimed to raise $500 million, primarily for company expansion and funding capital requirements. However, because of strong demand, the round size was expanded to $1.2 billion. Banks, financial institutions, and wealth funds were among the significant investors who expressed considerable interest in the term loan issue. JPMorgan Chase & Co. and Morgan Stanley are the loan arrangers.
The report claims that Byju's has pledged to increase equity funding and to provide creditors with cash verification statements and quality of earnings reports from external auditors. It should be highlighted that the agreement cannot be amended without the simple majority of the lenders' approval.
The drive for early loan payback comes at a time when Byju's is making headlines for numerous rounds of layoffs and dubious accounting methods that were investigated by its own financial auditor. The government and the ministry of corporate affairs also gave Byju's close attention after learning that its FY21 financials were over 18 months behind schedule.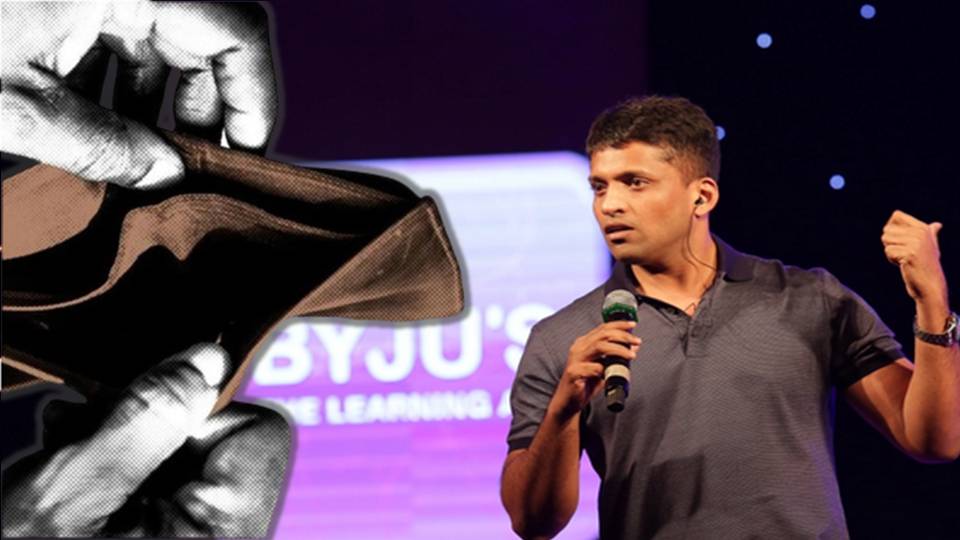 The reason for Byju's struggle to pay its debt is mainly the huge losses and allegations it faced
According to the financial statement of the company, the Edtech giant Byju's, owned and operated by Think & Learn Pvt Ltd, had its consolidated losses over 20 times increase to Rs 4,588.75 crore for the financial year ending March 2021 from Rs 231.69 crore in FY20.
Operations' revenue increased slightly from Rs 2189 crore in FY20 to Rs 2280.26 crore in FY21. From Rs. 2511.77 in the prior fiscal year to Rs. 2428.39 crores in FY21, its entire income decreased by a little over 3%.
The total expenditures of the company increased from Rs 2873.34 crore in FY20 to Rs 7027.47 crore in FY21. Notably, business promotion expenses accounted for the majority of its spending last year and increased from Rs 900 crore to Rs 2251 crore.
With millions of dollars in the bank, a presence in the offline market to take on traditional coaching heavyweights, and market dominance in the online sector, Byju's was prepared to make 2022 a memorable year. To top it all off, the company signed a multi-million dollar arrangement to sponsor the FIFA World Cup, making the edtech powerhouse look little. But only a small number of people were ready for what transpired next.
Byju's planned fundraising in March 2022 for $800 million with a valuation of around $22 billion. The corporation, however, did not receive a large amount of the funds. Due to the withdrawal of Sumeru Ventures, a VC firm that was supposed to participate in the investment round, Byju's was short on cash.
In November, Prosus, one of Byju's main shareholders, cut the fair value of its nearly 10% ownership stake in the company to $578 million, effectively establishing Byju's 'fair worth' at $6 billion. The investor from the Netherlands also decided not to participate in Byju's subsequent funding rounds, which resulted in a reduction in its ownership to less than 10%. As a result, it claimed it lost influence over Byju's operations.
Besides the declining valuation, Byju's was also facing pressure from other investors. It would have been difficult for any company, even Byju's, to carry on as usual in the face of pressure from investors, the media, auditors, creditors, and the government. Throughout the year, Byju's also had to deal with pressure from its two most important stakeholders: its personnel and customers.
The company has already come under discussion for allegedly mistreating both clients and staff.
This year, when the broader media narrative moved against Byju's, stories of the mistreatment of employees and customers circulated more widely than before.
After the mass layoff, the company had a lot of tantrums and allegations from the ex-employees about how they were treated in the company and also about the work pressure.
The Edtech company also got continuous complaints from parents of the students which portrayed a negative image of Byju's. These defamations and allegations are affecting the company's revenue as well.
All at once, the company is having a bad time for a long which doesn't seem to end anytime soon.
Additionally, there have been allegations that Byju Raveendran, co-founder, and CEO of Byju's, is in discussions to expand his percentage of ownership in Think and Learn Pvt Ltd, the company that owns Byju's, to 40%.
The firm is putting the finishing touches on the $1 billion initial public offering of its education subsidiary Aakash Educational Services, and Bloomberg reported in November that it would potentially be considering IPOs of other subsidiaries.
edited and proofread by nikita sharma