Trends
Byju's is moving closer and closer to a painful and gradual death.
Byju's, a provider of educational technology, reported flat revenues for FY21 while experiencing a 20-fold increase in losses. The future of the unicorn is still uncertain, even though it might survive this crisis.
A company's primary goal is to make money, and in order to do this, it uses a variety of market instruments, including mergers, acquisitions, and amalgamations. Profits depend on the growth of the customer and capital bases. The monopolization of the market is another method for achieving this expansion.
However, the market's democratization and the surrounding competition have produced a thriving business environment, leaving little room for monopolization. Companies are thus trying to grow through acquisitions in an effort to establish their monopoly, but this zeal for market dominance is costing them dearly.
Byju's reported a loss of Rs. 4,588 crores.
Every company must conduct an audit of its financial accounts in accordance with the Companies Act 2013 and submit the results to the Ministry of Corporate Affairs (MCA) within one year of the fiscal year's end. The filing should not be postponed for longer than seven months in addition to one year.
But BYJU's company has finally turned in the required financial statements and annual returns for the fiscal year 2020–21 after 18 months of delays. BYJU's reported that for the fiscal years 2020–2021, it had revenues of Rs 2,428 crore and losses of Rs 4,588 crore. The loss is allegedly fifteen times greater than for 2019–20. The education technology company had lost Rs 300 crore as of 2019–20.
An outcome of the digital revolution
Byju Raveendran and Divya Gokulnath founded the international company BYJU's in 2011 to develop educational technology. The company is currently valued at USD 22 billion, and there are over 115 million registered students. BYJU's growth trajectory was heavily skewed toward the online education model as it entered the digital era. In a very short amount of time, the company established a global presence, coinciding with India's own digital revolution.
The method of instructing students using 10–20 minutes of digital animation videos significantly enhanced their learning. In order to "inspire kids all over the world to fall in love with learning," the company is currently concentrating on creating BYJU's Future School.
The company had a huge funding base as a result of its success in such a short period of time, and it was valued at about $22 billion. A significant influx of cash has also given the business the ability to maneuver for acquisitions.
Purchases and buoyancy of Byju's
Early market success and a significant inflow of cash enabled the company to acquire numerous burgeoning start-ups, and during the buyout frenzy, dozens of them were done so.
The company's key acquisitions include:
Acquired businesses and their websites Buyout Year
Vidyartha is a data-driven platform that provides individualized learning advice bought in December

 2016.

TutorVista and Edurite from Pearson, a UK-based company, were bought in

July 2017.

The math education program Math Adventures was bought in

July 2018.

Osmo, a US-based maker of educational video games, was bought for $120 million.

WhiteHat Jr, a company that teaches young people how to code, was bought for $300 million.

Startup for digital simulations LabInApp was bought on September 2020.

Scholr, a platform for dispelling doubts bought on February 2021.

HashLearn, is a tutoring service that was bought on May 2021

Aakash Education Services for $1 billion due in April 2021

The acquisition of US-based digital reading platform Epic for $500 million in

July 2021

Great Learning, a player in professional and higher education, for $600 million. July 2021

In August 2021, they bought Whodat computer vision startup developing augmented reality products

In September 2021, Gradeup, one of India's biggest online test preparation platforms, will launch.

Tynker, a top K–12 platform for creative coding, will launch in the US in September 2021.

In December 2021, the Austrian company GeoGebra, which offers collaborative mathematics learning tools, will launch.
If we examine the list above, it can be concluded that after the Pandemic, buyouts became much more common. Additionally, the company's loss of Rs. 4,588 crores is from the same year that they bought these fledgling start-ups.
The total lockdown and online education initiative would have given the business's strategists the notion that the educational sector might completely transition to a virtual environment. Numerous other Indian companies also made this prediction public. However, the easing of the pandemic wave and the lifting of lockdown restrictions allowed businesses to resume operations offline.
As a result, buyout investment dried up, and the move of business to offline mode reduced the sources of income. Businesses no longer anticipated converting the entire educational system to a virtual one. The previous large buyouts began to put the company under financial strain. The company has now reported the big loss that was suggested by the delayed financial statement filing, the subsequent buyout, and other unfavorable reports.
Employees Are Fired
Due to the weak business performance earlier this year, Byju's and its subsidiaries went on a hiring spree. According to reports, BYJU subsidiaries Toppr & WhiteHat Jr. have jointly cut at least 600 jobs. Additionally, 800 full-time WhiteHat Jr. employees reportedly left their positions in May of this year. According to reports, the delay in AESL acquisition payments was the cause of the layoff.
The company's mass expansion strategy appears to be failing, as evidenced by the extensions of payment due dates and employee layoffs. The company increased its business and incurred a significant financial burden in an effort to establish its monopoly. The business appears to be in serious trouble right now as it deals with a winter of funding inflows.
Fraud on Indians in Need
The distinction between ambition and greed is very fine. The sky is the limit when it comes to the heights of business success that can be reached with a strong desire and commitment. However, the desire to rule the market can make you drown in the trenches. That appears to be what happened with BYJU's, a multinational educational technology company based in India.
During the covid and post-covid periods, BYJU's company purchased dozens of businesses in its desire to grow to be the largest EduTech company in the world. presently experiencing financial and business loss. The situation has gotten so bad that BYJU's is currently having trouble keeping its payment commitments. It is deceiving underprivileged Indians in an effort to boost sales.
According to reports, BYJU's corporate management has turned to fraud to market its online educational products. They first go after middle-class and lower-class parents who will do anything to improve their children's lives. Salespeople for the company entice parents by promising a bright future for their kids and get them ready for the loan application process. Without knowing how EMIs and interest rates operate, poor and illiterate parents consent to taking out loans.
The damage is already done by the time they understand the purchase's ongoing costs. They block the parent's phone number and proceed to the following victim. Many poor families have been destroyed by this online Ponzi scheme. They become entangled in an expensive BYJU's course out of love for their kids, incurring significant debt in the process.
Crisis in Liquidity at BYJU
How did BYJU's company come to be in such an obvious situation when it was once the leader of Indian start-ups? The company was successfully ascending to new heights prior to the pandemic. However, the desire to control the global EduTech market through monopoly led to disaster. Although they bought the company in their zeal to rule, they now lack the funds to pay for these expensive buyouts.
Businesses are struggling mightily to control their initial extravagant spending as start-up investment is declining. Similar to how BYJU's initial spending had already dried up their revenues, the low subscriber base made the financial situation even worse. They started to loot the poor in an effort to increase their market share and resorted to unethical business practices. Even though they have not yet filed for bankruptcy, they are already morally bankrupt.
Recently, Unacademy cofounder Gaurav Munjal made a similar statement. He claimed that because funding winter has arrived, the business needs to concentrate on profitability. The winter has arrived for BYJU's business, which was sustaining and growing thanks to a sizable spring of funding. The strength of the company is now beginning to reflect the shift in business to offline mode. According to Byju Raveendran, founder, and CEO of BYJU's, their gross revenues reached Rs 10,000 crore in the fiscal year 2021–2022. But their annual financial statement for 2020–21 reflects the subsequent unethical and greedy business attitude. BYJU's will result in a slow and agonizing death if he does not change his attitude.
Byju's chewed off more than it could chew, perhaps?
The past six months are now behind Byju Raveendran and his business, who will be relieved. Byju Raveendran is the founder and CEO of Byju's, the highest valued start-up in India. Following the release of his company's FY21 financials, Raveendran spoke with Business Standard and stated that the company was now ready. He said the edtech giant was strengthening the finance function and would soon hire a global CFO, asserting that events of this nature only occur occasionally.
Whenever it decides to cross that bridge, Raveendran added that the business is now ready not only for the upcoming year but also for life as a publicly traded company.
The FY21 financials, however, don't show a promising future. Consolidated operational revenue for the company increased just 4% from the previous year to Rs 2,280 crore. And the losses increased by a factor of 20 to Rs 4,589 crore. The loss for BYJU's FY20 was revised to Rs 232 crore.
But why, despite Raveendran's claims of significant business growth during the fiscal, have the company's revenues remained unchanged? This resulted from the adoption of a new revenue recognition practice in FY21. The company's auditing firm, Deloitte Haskins and Sells, requested this change.
Streaming revenue, which was previously fully recognized at the beginning of the contract, is now being recognized by BYJU's over the period of consumption. After full collection, credit and EMI sales will also be recognized. Due to the fact that "BYJU's did not meet the criteria that it was probable it will collect the consideration to which it is entitled," according to the auditor, 1,156 crore rupees in revenue from sales made with deferred payment terms were not recognized.
Deloitte also emphasized the challenges with the auditing procedure. In a typical situation, the fee for the statutory audit paid to Deloitte would have increased from 73 lakh rupees in FY20 to 1 crore rupees.
Deloitte claimed that the additional statutory audit fees of Rs 3.5 crore were necessary due to "the additional effort incurred in the audit as a result of material weaknesses observed in internal controls."
The auditor claimed that BYJU's experienced difficulties as a result of the pandemic not only in terms of business operations but also in the implementation and operational efficacy of some internal controls over financial reporting.
The preparation of the financial statements for FY21 was delayed as a result of BYJU's efforts being diverted toward integrating and streamlining the operations of the various entities it acquired after the end of the financial year.
As a result, BYJU's were unable to adhere to some Companies Act requirements. Despite the difficulties involved in reworking the numbers based on the new revenue recognition model, it ultimately received a clean audit report from Deloitte.
It's interesting to note that India's contribution to total revenue at BYJU decreased from 73% to 43%. US share increased from 16% to 35%, while Middle East share increased from 11% to 22%.
The startup's August 2020 acquisition of WhiteHat Jr has ruined BYJU's financials. The only business challenge, according to Raveendran, is lowering WhiteHat Jr.'s high customer acquisition costs. Whitehat Jr. has only added Rs. 326.66 crore to BYJU's total revenue since the acquisition. However, the loss before tax from operations was Rs. 1,548 crore.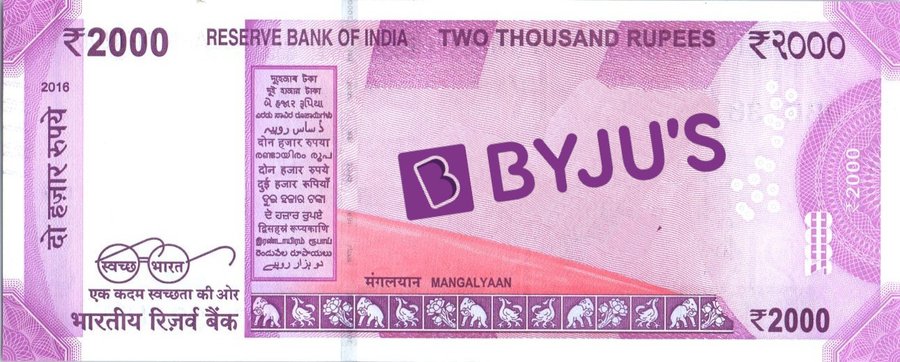 The embedding of processes, according to Shriram Subramanian, founder and MD of InGovern Research Services, has not kept up with BYJU's frantic rate of expansion. Evidence suggests that BYJU's are not in for the worst. In a challenging funding environment, a reputational hit will make fundraising more difficult.
The brand has also been impacted by the string of negative news that has come after Byju's.
According to Christopher Roberts, founder and managing director of Engaged Strategy, Byju's brand is being harmed by bad word of mouth from customers and employees. If BYJU's does not alter its aggressive sales strategy, worse is yet to come. Frontline staff must be included in BYJU's policies and procedures.
BYJU's claimed that its sales for FY22 increased more than fourfold to close to Rs 10,000 crore, citing unaudited data. After earning 4,500 crore rupees in the first four months of the current fiscal year, revenue is predicted to rise by more than 50%. However, the harm to one's reputation has already been done. The worst may not yet be over for BYJU's if it is unable to implement the proper internal procedures and address the mounting customer complaints.