Trends
How Byju's losses rose to Rs 4,500 crores in delayed FY21 results?
In comparison to the Rs 2,704 crore it reported in FY20, Byju's reported revenues of Rs 2,428 crore in FY21, a decrease of nearly 14%. It reported a loss of Rs 4,588 crore in 2020–21 as opposed to a loss of Rs 260 crore in FY20.
The Edtech giant Byju's reported revenue of Rs 2,428 crore for the fiscal year that ended in March 2021, far below its own expectations. The start-up's loss increased 17-fold to more than Rs 4,500 crore during the fiscal year as a result of an 18-month delay that also attracted government attention.
In comparison to the Rs 2,704 crore it reported in FY20, Byju reported revenues of Rs 2,428 crore in FY21, a decrease of nearly 14%. It reported a loss of Rs 4,588 crore in 2020–21 as opposed to a loss of Rs 260 crore in FY20.
The year ending March 2021, which was considered a peak period for the adoption of online learning due to the closure of schools and other educational institutions due to the pandemic, is important to note.
Following what appeared to be a delay in the auditor Deloitte's approval of the results, which had caused compliance-related concerns at the start-up, Byju made its financial disclosures. Deloitte had concerns about Byju's revenue recognition procedures, which delayed the submission of the findings to the Ministry of Corporate Affairs (MCA).
What has altered the way Byju recognizes its revenue?
According to Deloitte Haskins & Sell, Byju's auditor, there are two significant changes to how the company was calculating its revenue in the notes that are included with the company's annual financial statements:
Revenues from streaming services, which were previously fully recognized at the beginning of the contract, have been changed to be recognized ratably throughout the duration of the contract.
Take the following example into consideration to show exactly what has changed: Consider a user who paid Byju's Rs 5,000 over the course of two years for access to streaming media. The startup was previously reporting the full Rs 5,000 in revenue for that year. Under the new system, the Rs 5,000 will now have to be divided equally between the two years rather than being fully accounted for in the first year's financials.
Finance costs have been reclassified and adjusted against revenues because interest payments made to loan partners on behalf of customers for loans made directly to customers have the nature of payments to customers.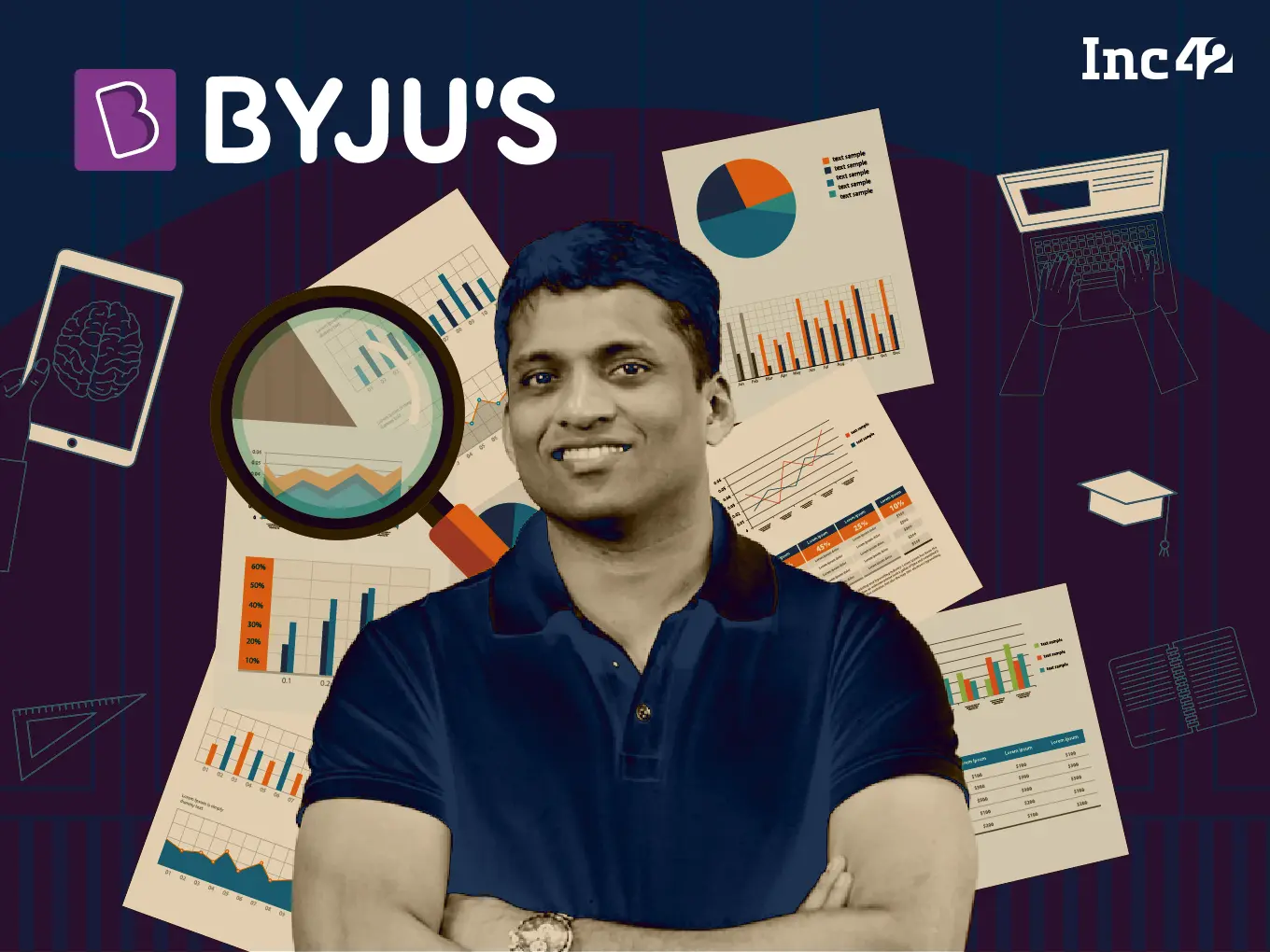 Before FY21, a borrower who wanted to pay for Byju's course with a loan had to give the lender a down payment; Byju would then receive the remaining balance of the course after interest was deducted. The startup then recorded the full revenue and added it to the cost of financing. However, this interest payment has been deducted from its revenue under the new arrangement.
What impact has the new revenue recognition had on Byju's?
Byju's top line in FY21 was impacted by the new revenue recognition approach by Rs. 1,156 crores. This sum hasn't been included in calculations, per the auditor's note, "because (Byju's) did not meet the criteria that it was probable it will collect the consideration to which it is entitled at the point of these transfers."
When substantially all of the consideration is received by (Byju's) or when the deferred payment terms expire due to default or any non-performance by the customer, according to the note, revenues from these transfers of products will be recognized.
Although FY21 over FY20 saw "significant business growth," according to a statement released on Wednesday by Byju's, "this is the first year where new revenue recognition started due to a Covid related business model change, so almost 40% of the revenue was deferred to subsequent years." The adjustments made to the way the company recognizes revenue, in the opinion of Byju's auditors, are what resulted in the "rationalized growth" between FY21 and FY20.
What's the status of Byju's purchases?
Only Rs 326 crore of WhiteHat Jr's $200 million acquisition by Byju in 2020, which provides coding lessons to students, could be attributed to Byju's total revenue in FY21. Its losses, however, were Rs 1,548 crore, five times that amount. In fact, during Byju's fiscal year that ended in March 2021, WhiteHat Jr. was in charge of about one-third of all losses incurred by the company.
The financial statements revealed that Byju has not yet received payment for its $1 billion acquisition of Aakash Educational Services Limited. According to the terms of the contract for the acquisition of Aakash, Byju was required to pay Rs 1,983 crore in consideration by June 2022. But that has been put off until September 23.
Interview: According to the CEO of Byju, both growth and profitability are now equally important.
Recently, Byju has received considerable attention from the general public, its own users, regulators, and government bodies. CEO and co-founder Byju Raveendran talks about how the company has been managing expectations from regulators and how it's resolving ethical questions raised against its business practices in an interview with FE's Salman SH and Rishi Raj.
Although some customers may choose to pay in instalments, we are aware that some of your courses can be purchased upfront for up to two or three years in a single transaction. In your books, how are these transactions being recognized?
A services component or a (live) streaming component is acknowledged wherever it exists in our books the same year. While service sales revenue is recognized over the course of the customer's lifetime, product sales revenue is recognized immediately. Revenue from businesses like Whitehatjr and Akash, which were not accounted for in FY21, is now recognized based on the duration of the course because live classes are involved.
Are you considering hiring a CFO or head of the financial strategy to avoid filing delays in the future?
Despite the fact that there are many factors behind the delay, we have already started the hiring process for someone to manage our financial operations. We already have a CFO for Amazon AWS who is crucial to the management of our subsidiaries and our acquisitions. We will also hire a global CFO to assist with the company's IPO. Enhancing the financial function and controls has already started.
You have expanded into a variety of other courses over the past two years and added a number of acquisitions. There have also reportedly been several layoffs. Do you think diversifying was a smart move or a mistake in hindsight?
We have laid off a small number of employees—approximately 500—from a base of 50,000 employees that we currently have. So little, only 1% of our entire employee base was let go. On a monthly basis, our normal attrition will be higher than that. Over the past five to six months, we have optimized roles or functions that were duplicated across a number of acquisitions. We over-indexed on growth over the previous two years in the growth versus profitability matrix. We are currently equally focused on both.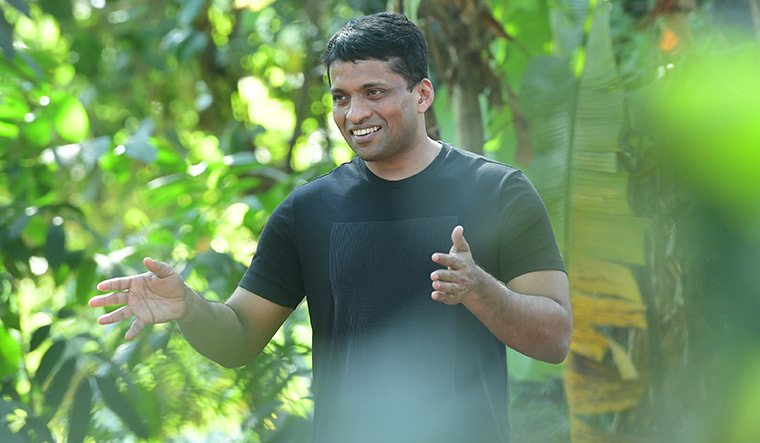 Do you intend to raise any money, given the current situation? Additionally, your IPO was initially intended for the US market. Is India now a viable option, though, now that Sebi has loosened listing requirements?
We have excellent capitalization on a cash basis. Over $1 billion worth of cash is already in our possession. We have delayed the planned IPO because of the current state of the world, just like every other company in the world. We put off the IPO by at least 9 to 12 months, and we won't decide until we know how the macroeconomic environment has changed or improved. Both a US listing and an Indian listing are still available.
Recent reports claim that Byju's sales team is under considerable pressure to convince parents and students from underprivileged backgrounds to enrol in loans and courses. 
How do you kind of intend to handle these issues and the bad press these complaints have caused?
We have 50,000 people, so there will always be a few who try to short-circuit the process, but it's not a big issue. Claims of pushy sales tactics, misrepresentation, and attrition of the sales team have been denied by our new investors. The incidents show that there is room for improvement in the sales culture (relating to work culture). The entire Byju's team is unaffected by this culture.
Edited by Prakriti Arora