Trends
Starbucks CEO Laxman Narasimhan to get Rs 140 crore annual salary?
Nearly 30 years of experience in management and consulting for international consumer brands go to Laxman Narasimhan.
Laxman Narasimhan was recently appointed as the new CEO of Starbucks, the biggest coffee chain in the world (CEO). A report in The Guardian claims that the company will now pay him a sizable salary. The outlet claims that if Mr. Narasimhan achieves his objectives, he will earn approximately $17.5 million (roughly Rs. 140 crores) per year. He left Reckitt Benckiser to become CEO of Starbucks. Mr. Narasimhan received a 6 million pound yearly salary from Reckitt Benckiser (Rs 55 cr).
The position of the 55-year-old is better in many ways. Starbucks generates about $100 billion (£87 billion) in revenue, according to The Guardian, while Reckitt Benckiser is worth 45 billion pounds. As a result, Mr. Narasimhan will have significantly more personal incentives.
The greatest roaster and retailer of specialty coffee in the world is Starbucks, which has 34,000 locations worldwide and a successful track record spanning five decades.
Mr. Narasimhan is organized to start working for the best coffee company as the upcoming CEO on October 1 after moving from London to Seattle. Before officially becoming CEO and joining the board on April 1, 2023, he will work very closely with the interim CEO named Howard Schultz.
Mr. Narasimhan has nearly about  30 years of experience managing and advising international consumer-facing brands.
He has held several executive positions at PepsiCo, including global chief commercial officer, where he was in charge of the business' long-term strategy and technological prowess. He graduated from Pune University with a degree in mechanical engineering.
As the company's CEO, Mr. Narasimhan's biggest challenge will be to deal with Starbucks' worsening labor relations issues. According to a statement from Starbucks, Mr. Narasimhan would spend his first few months getting to know staff members from all over the world.
All information you need to know about Narasimhan
Laxman Narasimhan, a former CEO of Reckitt who is of Indian descent, was chosen by the US-based coffee giant Starbucks after a five-month external search as its new CEO. The Independent Starbucks Board of Directors' chair, Mellody Hobson, stated that the former CEO, Kevin Johnson, who also worked in that post for a minimum of five years, was replaced by Hobson.
Narasimhan will move from London to the Seattle area on October 1 of 2022 to take over as the new CEO of the international Starbucks coffee chain. He will work closely with acting CEO Howard Schultz until April 1, 2023, when he will take over as CEO and join the board.
He understands our lifestyle and morals, and his skills as a brand maker, innovation king, and operational leader will be true differentiators and determinators as we position Starbucks for the next 50 years.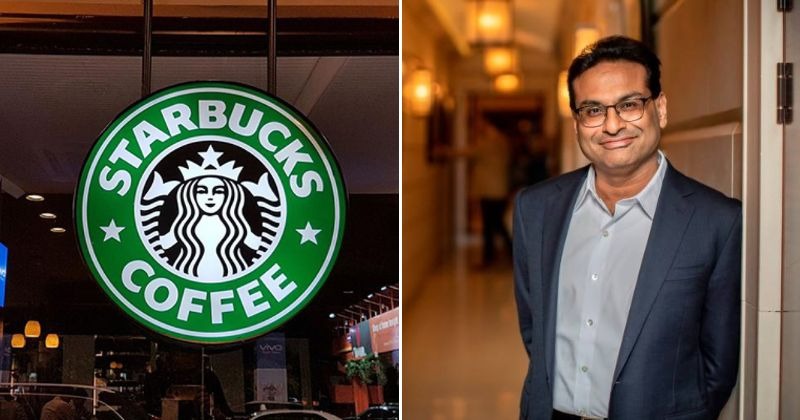 Following his graduation from Loyola High School in Pune, Narasimhan attended the College of Engineering in Pune and received a bachelor's degree in mechanical engineering. After receiving his degree, he shifted to the US and completed his MA in International/Global Studies at the University of Pennsylvania. The Indian-born CEO of Starbucks also holds an MBA from the Wharton School.
Narasimhan began his career with the consulting firm McKinsey in Delhi and has since held a number of positions, including CEO, with the major soft drink manufacturer PepsiCo and the UK-based Reckitt consumer health, hygiene, and nutrition company.
Narasimhan, 55, is relocating to Seattle to take the CEO position at Starbucks. He was previously from London. Prior to moving to London almost three and a half years ago, he resided and worked in New York.
During his tenure at Reckitt, the newly appointed CEO of Starbucks showed the company through a great strategic transformation and a return to high-class growth. Narasimhan has nearly 30 years of experience and a track record of building brands with a purpose, despite having no prior experience working in restaurants.
Before joining Reckitt, Narasimhan held several executive positions at PepsiCo, including Global Chief Commercial Officer, where he was in charge of the company's long-term strategy and digital capabilities. He had also worked as the president of the company's operations in Europe, Sub-Saharan Africa, and Latin America, as well as CFO of PepsiCo Americas Foods and CEO of PepsiCo Latin America.
According to a Bloomberg report, he will be compensated for incentives lost by leaving Reckitt with a replacement equity grant with a target value of US $9.25 million, a cash signing bonus of US $1.6 million, and an annual base salary of US $1.3 million. In addition, Narasimhan has held trustee and membership positions with a number of think tanks, including Verizon, The Brookings Institution, and the Nature Conservancy Latin America Conservation Council.
Narasimhan is the newest CEO of a US-based corporate giant of Indian descent, joining Sundar Pichai, Satya Nadella, Shantanu Narayen of Adobe, Punit Renjen of Deloitte, and Raj Subramaniam of FedEx.
Does the departing Starbucks CEO promise not to come back?
After Starbucks announced a new succession plan last week, outgoing CEO Howard Schultz vowed that he would never again lead the company.
He said that he is not going to come back again as Starbucks got the best person on CNBC's "Squawk Box" on Wednesday.
Laxman Narasimhan, who is recently the CEO of Lysol's parent company Reckitt, will enter the coffee industry in October and take the helm in April. Schultz will continue to serve as an advisor and a member of the Starbucks board after Narasimhan succeeds him.
Schultz, 69, returned to Starbucks for a third stint as CEO after Kevin Johnson resigned in April. Despite rumors from Wall Street and industry insiders, Schultz stood by his assertion that his current stretch would only be temporary.
Schultz asserted that when Johnson announced his retirement, he had no intention of going back to Starbucks. He led the Seattle coffee chain to become a market leader while serving as CEO from the year 1986 to the year 2000 and then back again from 2008 to 2017. He also openly discussed the prospect of running for president prior to the 2020 election.
Narasimhan hasn't yet started working for Starbucks, but Schultz told CNBC's Andrew Ross Sorkin that he has recently grown "very well acquainted" with him. Prior to leading a turnaround at Reckitt, Narasimhan served in a variety of capacities for PepsiCo and the management consulting firm McKinsey. The reaction on Wall Street to Narasimhan's appointment was muted. Schultz's previous departure was announced in late 2016, and the stock price experienced a double-digit decline.
Starbucks will also hold an investor day in Seattle on Tuesday, and it is anticipated that the company will share more details about the reinvention strategy that Schultz has developed.