Trends
It's time for women-led startups to shine: Google's initiative to fund startups of Indian Women Through the Google India Digitization Fund (IDF).
It's time for women-led startups to shine: Google's initiative to fund startups of Indian Women Through the Google India Digitization Fund (IDF).
Google will take $300 million for Indian startups from the $10 billion Google for India Digitization Fund, with 25% of the money going to women-led startups in the country, according to CEO Sundar Pichai.
To make internet connection more accessible, the corporation established a $10 billion initiative, which would be equivalent to approximately 75,000 crores at the end of 2020 at the current exchange rate. The business spent $4.5 billion and $700 million through Google IDF to acquire 7.73% and 1.2% stakes in Jio and Bharti Airtel, respectively.
The gender gap is one of the areas that need attention. The present statistics on women's participation present a sobering picture, and the Indian startup ecosystem needs more female founders and investors.
Only 15% of Indian unicorn companies have at least one female founder, and financing raised by firms with only female founders is likewise quite low.
Numerous studies have shown that having more female founders can both increase the number of women in the workforce and significantly boost both the national and global economies.
Other socioeconomic constraints also prevent women in India from achieving their full potential. For instance, the gender gap in internet usage is also fairly pronounced. According to the IAMAI-Kantar ICUBE 2020 report, men make up 57% of urban India's active internet users, while women make up only 43%. Additionally, only 42% of women use the internet actively in rural India, compared to 58% of men.
On the plus side, according to the most recent report from the Unified District Information System for Education Plus, more than 12.2 Cr girls enrolled in elementary to higher secondary school in 2020–21, a rise of 11.8 Lakh as compared to the enrollment of girls in 2019–20. According to the All India Survey on Higher Education, female college enrollment increased by 18% between 2015 and 2020, which helped to close the gender gap in higher education in India. The data, however, dates from before the pandemic.
Women-founded and -owned businesses have increased dramatically in the Indian start-up ecosystem in recent years.
The days of women lagging behind are largely gone in today's fast-paced society, where women's speeds are constantly contrasted with those of males. It has been demonstrated how unstoppable feminine energy has become by the exponential growth of women in all conceivable fields of interest.
The startup sector is only one of the numerous industries where women are making a huge impact. There is a noticeable degree of expansion in the unicorns led by women with each passing year. With each passing quarter, the entrepreneurial endeavor is embraced more enthusiastically than before.
According to Sanjay Gupta, Country Manager & VP, Google India, during the Google for India event, going ahead, as part of our IDF investments, we will be seeking support for early-stage companies with an emphasis on women-led startups. The company launched many AI-driven projects, including speech recognition, voice and video search, and other projects.
Text-based material may be instantaneously translated into a video thanks to AI. Almost every language can be translated into English on a large scale. With its improved threat detection, AI can change online safety, "commented Sanjay Gupta. The business partnered with the Indian Institute of Science, a research institution with its main office in Bengaluru, to advance its language translation and search capabilities.
According to Sapna Chadha, Vice President of Marketing for Google India and Southeast Asia, the company makes every effort to prevent the creation and reinforcement of injustice, particularly in the context of gender. She added that it is their duty to create technology that is fair and inclusive of women.
Speaking in New Delhi at the Google for India 2022 meeting, Chadha also emphasized some of the steps the internet giant's Indian subsidiary has taken to empower women. This includes programs like DigiPivot for women who are returning to the workforce and Google for Start-ups Accelerator, which is designed for Indian women creators.
According to Chadha, eight years ago, hardly one in ten women accessed the internet. There was one, but now there are four. She said Google worked hard to develop resources to aid women in their professional aspirations.
The need to prevent "real life prejudices from emerging in technology" was emphasized as she talked about using technology responsibly and emphasized the significance of AI. Chadha contends that removing bias requires an understanding of the context. She also made available the Bias Interventions for Natural Language Processing and Data in the Indian Context, or project BINDI. BINDI will consider "contextual" elements such as societal background, technological gaps, as well as local culture and customs in order to make sure that technology is used properly.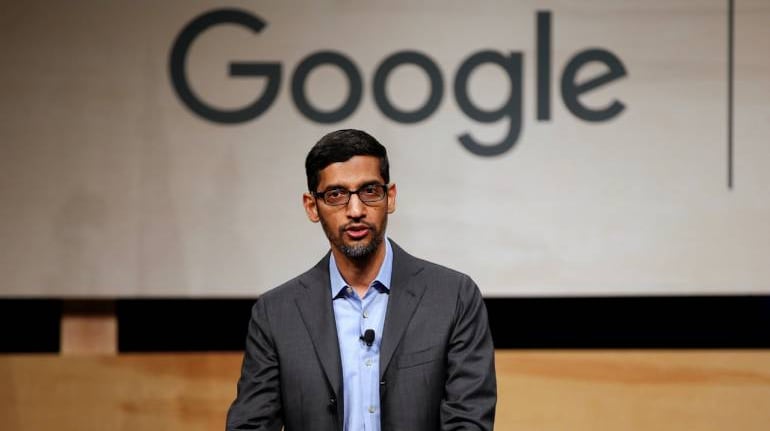 While speaking at the Google for India event Sundar Pichai stated that India has the chance to provide companies with scale across its markets, which is challenging in areas like Europe.
Pichai said, "That's critical to make sure you are balancing, putting in safeguards for people given the magnitude and technical leadership it (India) will have. By developing an innovative framework, you enable businesses to innovate while also benefiting from legal framework certainty. It seems like a crucial time in history. India will have significant export potential. An accessible and connected internet will be beneficial to it, so finding the correct balance will be crucial, he added.
Pichai is visiting India for the first time in over three and a half years. In order to discuss Google's goals for India and its startup environment, he also met with President Droupadi Murmu. The Google CEO asserted that he had noticed a quantifiable rise in the sophistication of the Indian startup environment and in the stature of Indian companies like Glance with each visit.
India's startup ecosystem is becoming significantly more sophisticated. With the India Digitization Fund, one of the things we've done is put more of an emphasis on Indian startups. The Google CEO stated that these businesses are growing noticeably and that there is no better moment to launch a startup.
Google for Firms Accelerator Women Founders, a new cohort-based startup program for women-led startups in the nation, was introduced earlier this year.
Google supported 20 female-led firms as part of the program, focused on the pre-seed and Series A phases. The program was provided without charge, and no funding was given to it. Additionally, Google India did not charge the entrepreneurs any onboarding fees or equity to join the cohort.
20 women-led startups working in the fields of AI/ML, cloud, UX, Android, web3, product strategy, and growth make up the accelerator's cohort, which was revealed in October 2022.
Other initiatives to promote inclusivity in India's digital ecosystem were also announced at Google for India 2022 by the internet behemoth.
Google announced Project BINDI at Google for India 2022, along with a number of initiatives to make the internet more accessible, including vernacular language support in Search and YouTube. Project BINDI will assess and address unfairness issues in open-source natural language processing (NLP) models.
In order to gather and transcribe open-source speech data from all 773 districts in India and make it available through the Government of India's Bhashini project, Google has also teamed up with the Indian Institute of Science's "Project Vaani." By utilizing the power of AI and other cutting-edge technologies, the Bhashini project seeks to create a National Public Digital Platform for languages to create services and goods for people.
Edited by Prakriti Arora