Trends
$8.5 Million Invested In Matrimony App Betterhalf By Instagram Co-Founder And Others
Betterhalf asserted that it was "uniquely positioned as a new-age matrimonial platform" and that it "envisions developing a super app unicorn of Indian matrimony and full-stack tech-enabled wedding services as the company's growth pillars".
Arash Ferdowsi, co-founder of Dropbox, and Mike Krieger, co-founder of Instagram, among others, have invested USD 8.5 million in Betterhalf, a matrimonial app for urban Indians. Along with Rebel Fund, Nurture Ventures, Leonis Investissement, Scott Belsky, the founder of Behance, Brendan O'Driscoll, the former product head of Spotify, Manik Gupta, the former chief product officer of Uber, Punit Soni, the former chief product officer of Flipkart, and Ravish Naresh were the other significant investors in the round (co-founder and CEO of Khatabook).
Betterhalf said in a statement that it has secured USD 8.5 million in funding from FinSight Ventures (a former investor in Bumble), the co-founder of Instagram, and other parties. Betterhalf asserted that it was "uniquely positioned as a new-age matrimonial platform" and that it "envisions developing a super app unicorn of Indian matrimony and full-stack tech-enabled wedding services as the company's growth pillars".
Betterhalf, which recently launched AstroZodiac, is on a strong development trajectory in online matchmaking, full-stack tech-enabled wedding planning services, and astrology services, according to the statement. Betterhalf.ai promises to be a "real compatibility" partner search solution using Artificial Intelligence and Machine Learning for independent working people to meet their better halves, stands out from the crowd of dating/matrimonial websites and apps.
Extensive Procedure Of Betterhlf
With almost 7,000 users since its inception in March, the Betterhalf.ai website has more users than the app, which was released in the middle of December and has already seen 5,000 downloads. More than 70% of talks culminate in extended engagements. Each user undergoes an exhaustive 6-level profile verification process, which includes checking their mobile number, work email, personal email, government ID, Facebook, and LinkedIn. Only profiles with a compatibility rating of at least 70% are matched.
A user must respond to 16 questions based on social, emotional, intellectual, and relationship values in order to register on Betterhalf.ai. Paid users receive 2-5 matched profiles per day for 3/6/12 month packages costing between 5,999 and 15,999, while registered users receive at least one matched profile every day.
"Via Betterhalf.ai, we are meeting the requirements of 5 million working professionals in India and 1.5 million NRIs. Now, 30% of our customers are business owners, fashion designers, scientists, and bankers. These 10,000 individuals come from 4,000 different businesses, including Accenture, Amazon, Facebook, Adobe, Axis Bank, and Cisco. In the following two years, we want to have one million users, according to Gupta.
Growth Of Betterhalf
The seriousness of the desire to find a mate is clearly correlated with our target age group, claims Gupta. "With the support of cutting-edge technology, we are confident that we will draw in high-caliber, non-casual consumers who will irrevocably alter the future of the partner search process. Betterhalf.ai received $500,000 in seed money from angel investors in October, and to this point, it has raised roughly $750,000".
An AI-based matrimonial app called Betterhalf was established in Bangalore in 2016. the first AI-driven matrimonial app without direct parental participation Betterhalf is the first and only matrimony app in India that doesn't include parents in any way. The free matrimonial app in India, with the fastest expansion, uses AI to bring together couples. Better half is a matrimonial business revolution.  With its cutting-edge compatibility algorithm powered by AI, it is coming to disrupt the traditional model of dating apps in India.
Betterhalf saw a sharp increase in revenue in 2022 of $2M annually with 50% quarterly growth. The primary matchmaking service of Betterhalf.ai, which generates 70% of the company's revenue, drove the company's documented growth. Non-matchmaking services, including wedding decorations, photography, loans, verification, and astrology, generate 30% of the company's revenue. In addition to experiencing record-high revenue growth, the app added 75 full-time staff in just six months, representing a 250% increase in team size. By the end of FY23, the app hopes to reach $3M in annualized revenue, adding 75,000 new users each month.
Betterhalf.AI is now working to develop the biggest AI-based relationship engine that can make matches based on both the users' rich personality profiles and substantial data on relationships between couples. Their matches get better over time as people provide input through private ratings.
Data-driven Matching is Powered by Betterhalf.AI
A congested network of users and parents, basic matching based on age, height, and caste, and a poor user experience are all used by some participants in the dating or matchmaking industry. To locate compatible couples, Betterhalf.AI combines a targeted subset of matches with a short turn-around time.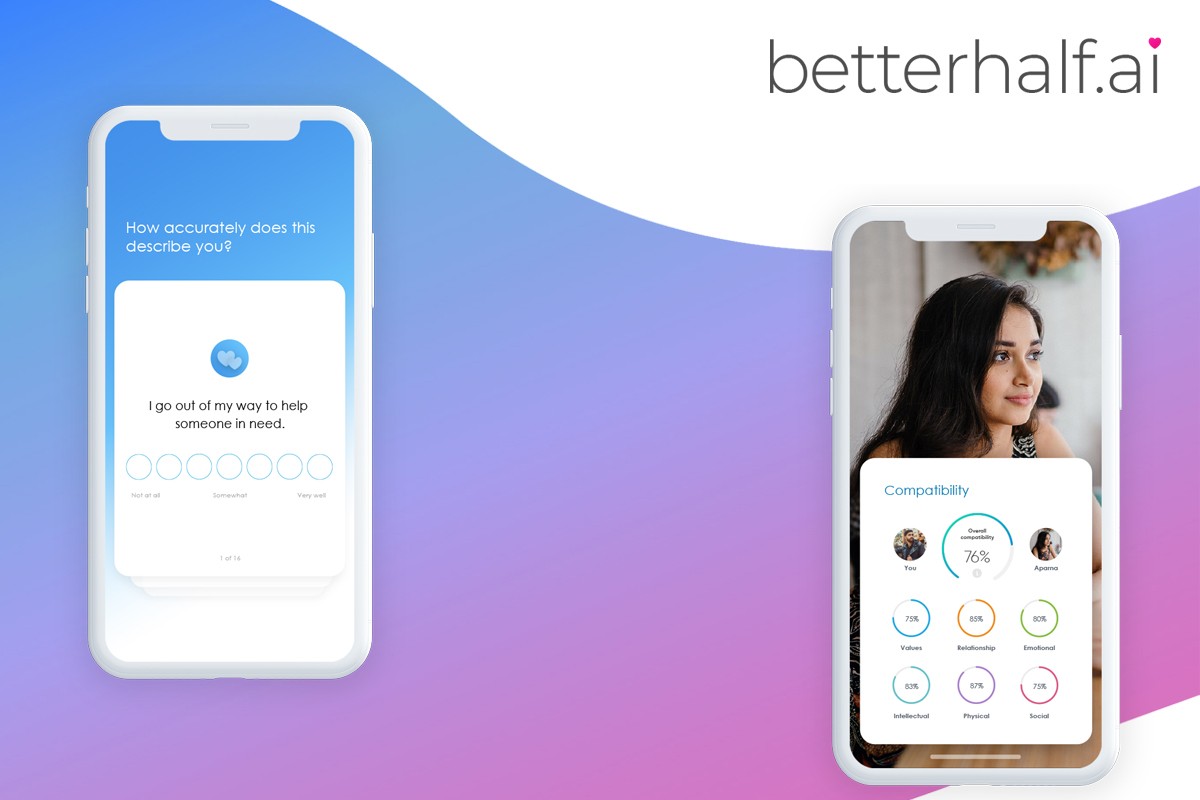 More than 17,000 users from 4,000 different businesses, including Google, Facebook, Amazon, LinkedIn, Adobe, and Accenture, are currently using Betterhalf.AI. Also, 30% of their users are bankers, scientists, fashion designers, and entrepreneurs. The profiles are verified at six different levels, including LinkedIn, Facebook, personal email, phone number, business email, and a government-issued ID. True compatibility scores, which are determined based on six aspects of a relationship, include emotional, social, intellectual, interpersonal, physical, and moral ideals.
Given its enormous success in the dating industry, the company currently plans to reach a million users within the next two years. Using an AI-based relationship prediction engine, Betterhalf.AI aims to make the partner search process for 500M individuals worldwide certain, timely, and enjoyable. As soon as the user begins the onboarding process, the platform's AI engine begins to learn about the personality of the user.
Before using the platform, users must first register and fill out various pieces of information. Users then view matches with percentages of overall compatibility. Users can also make connection requests to matches, and once those requests are accepted, they can communicate with the person. Private user ratings and reviews, in addition to verification programs, aid the site in weeding out creepy and unreliable daters.
Not only that, but the site also uses AI to improve how people's profiles and personalities are represented depending on comments from other users. This enables Betterhalf.AI to produce a more realistic representation of the "user" and "their personality," resulting in matches that are actually compatible with the user.
After everything is finished, the last step is to eliminate or correct any outlier data, which is accomplished using an ML algorithm. If 99.9% of users rate their own level of short-temperedness as between 1 and 4, and one user rates themselves as 7, Betterhalf will apply ML-based rectification to improve the data.
edited and proofread by nikita sharma