Trends
Rahul Gandhi's Bharat Jodo yatra is Commendable but attacking the Sangh is baseless.
Rahul Gandhi's Bharat Jodo is Commendable but attacking the Sangh is baseless.
Rahul Gandhi's daring Bharat Jodo Yatra began with him visiting the Vivekananda Rock Memorial in Kanyakumari before embarking on his 3,500-kilometer, five-month-long mass-contact walk to Kashmir. This writer whole-heartedly supports the yatra because India needs a revitalized Congress, and Rahul is a much-misunderstood leader with a good heart. We don't know if Rahul's coworkers briefed him on the significance of this memorial.
If they had, Rahul would have realized why so many Hindus admire the RSS for its patriotism while rejecting his party's constant and vehement condemnation of it as a fascist organization. Furthermore, Rahul would have discovered that the Congress and RSS had previously collaborated for the benefit of the country on several occasions.
Swami Vivekananda (1863-1902), a towering spiritual figure, reawakened Indians' sense of national identity after the British crushed the 1857 war of independence. Few have paid him more eloquent tribute than Jawaharlal Nehru, who wrote about him in The Discovery of India: "Vivekananda's approach to life's problems was rooted in the past and full of pride in India's heritage. He had a fiery, dynamic energy to advance India.
Vivekananda visited Kanyakumari before making the historic journey to America to participate in the first World Parliament of Religions in Chicago in 1893. From December 25 to 27, 1892, he had done meditation on the rock at the meeting of three seas for three days and three nights and discovered his life's work: to spread Hinduism's message of human unity and alleviate the suffering of enslaved Indians.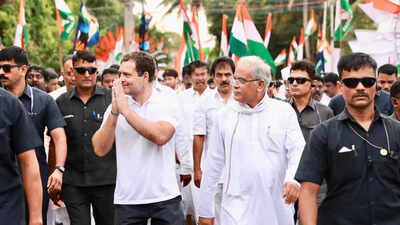 Following his triumphant return from the west, Vivekananda delivered a rallying speech for "Bharat Jodo" at a public gathering in Madras in 1897. Let us worship our great Mother India as the sole deity for the next fifty years, he said. Remove all other meaningless deities from our minds. India attained independence after 50 years, and we must now worship our fellow citizens rather than being envious of and fighting with one another.
On September 7, Rahul prayed at the magnificent memorial built by revered RSS pracharak Eknath Ranade. On the centenary of Swamiji's birth in 1963, Rahul launched his own "Bharat Jodo" campaign to fund its construction, collecting one-rupee donations from nearly one crore ordinary Indians across India. Rahul also gathered the support of 323 MPs, primarily from the Congress, to back his project. President V V Giri officially opened it on September 2, 1970. Indira Gandhi paid a visit to the memorial and made a Rs. 15 lakh donation.
Ranade accepted her with open arms. "How this grand monument, a tribute to one of the greatest saints of modern India, came to be built is truly an inspiring saga," writes veteran BJP leader L K Advani in his memoirs. Advani worked closely with Ranade on this project as an RSS Swayamsevak.
If Rahul and his coworkers choose, they can learn two lessons from this brief history of the Vivekananda Memorial in Kanyakumari. To begin with, when compared to Congress leaders, RSS pracharaks and swayamsevaks have worked far harder to honor and popularize India's spiritual and cultural roots.
The Nehru family's contributions and sacrifices, while admirable, have largely been lauded by the latter, who have failed to motivate the current generation of Indians. Second, and related to the first lesson, many modern Congress leaders either deny or are extremely hesitant to acknowledge that inclusive Hindu spiritualism and culture are the primary pillars of India's unity.
I'd like to expand on the second point. The leaders of the Congress party correctly state that secularism, defined as equal respect for all religions, is the true guarantor of India's unity. The soul of India can be found there. They object to the assertion that the Hinduism advocated by Vivekananda and Mahatma Gandhi is the foundation of Indian secularism. Previously, Congress accepted this reality.
On January 16, 1999, the Congress Working Committee (CWC), the party's highest decision-making body, unanimously adopted a resolution stating that Hinduism is the most effective protector of secularism in India. However, in order to avoid alienating Muslims, it never repeated this position or supported legitimate Hindu concerns with this conviction.
For the same reason, it has never ideologically opposed the anti-secular, supremacist, and separatist interpretation of Islam that inspired "Bharat Todo" in 1947. As a result of the Sangh's flawed and majoritarian concept of Hindu Rashtra, many Hindus began to question the Congress' concept of a plural India. This, along with other factors that have weakened the Congress, is the primary reason for the BJP's meteoric rise.
Making the RSS the primary target of his ideological assault is a waste of Rahul's impressively large energy reserve. Rahul should be aware that Hinduism is stronger and more resilient than the RSS, and that it will outlast people like Narendra Modi, Amit Shah, Yogi Adityanath, and Himanta Biswa Sarma.
It is possible to overcome the current threats to social cohesion and tolerant discourse if Congress and other non-BJP parties succeed in recapturing the hearts and minds of Hindus with a non-communal narrative of nationalism and development while simultaneously urging the Muslim community to become more reformist, inclusive, and forward-thinking.
However, given the ominous trend toward one-man autocratic rule, India's real threat is not its unity, but rather its democratic system, fundamental constitutional principles, and institutional integrity. The Constitution's main victim has been the preambular ideal of equality. There has never been a more unjust period in Indian history.
Some members of the RSS and BJP, two organizations that could work together to save democracy, are deeply concerned about all of these developments. After all, Sangh Parivar members Atal Bihari Vajpayee and Advani were both instrumental in restoring democracy following the brutal Emergency rule in 1977.
As a result, the Congress should shed its arrogance and mental rigidity, engage in open introspection, and publicly admit its past mistakes. It should initiate a positive dialogue with various ideologies and stakeholders, such as the RSS, as Mahatma Gandhi did during the freedom struggle. Nobody can claim that the Muslim, RSS, or Congress are India's only legitimate governments. To bridge the gaps in our democracy, development, justice system, and national fraternity, everyone must admit their shortcomings and work together to achieve true "Bharat Jodo."
Rahul Gandhi Bharat Jodo Yatra off to a rousing start in the state.
The fourth day of Congressman Rahul Gandhi's "Bharat Jodo Yatra" started bright and early on Sunday. Thousands of party members descended on Parassala to greet the rally, which began in Kaniyakumari and will travel 3,570 kilometers through 12 states before concluding in Srinagar in just over five months.
A number of senior members of Congress led the rally. The 19-day padayatra will pass through several districts in Kerala, including Thrissur, Palakkad, Malappuram, Alappuzha, Kollam, and Thiruvananthapuram. The historic rally, which had arrived in Cheruvarakonam, close to the border between Kerala and Tamil Nadu, resumed around 6.30 a.m. on Sunday with the raising of the national flag at the Samuel LMS Higher Secondary School, where the "yatris" had camped overnight.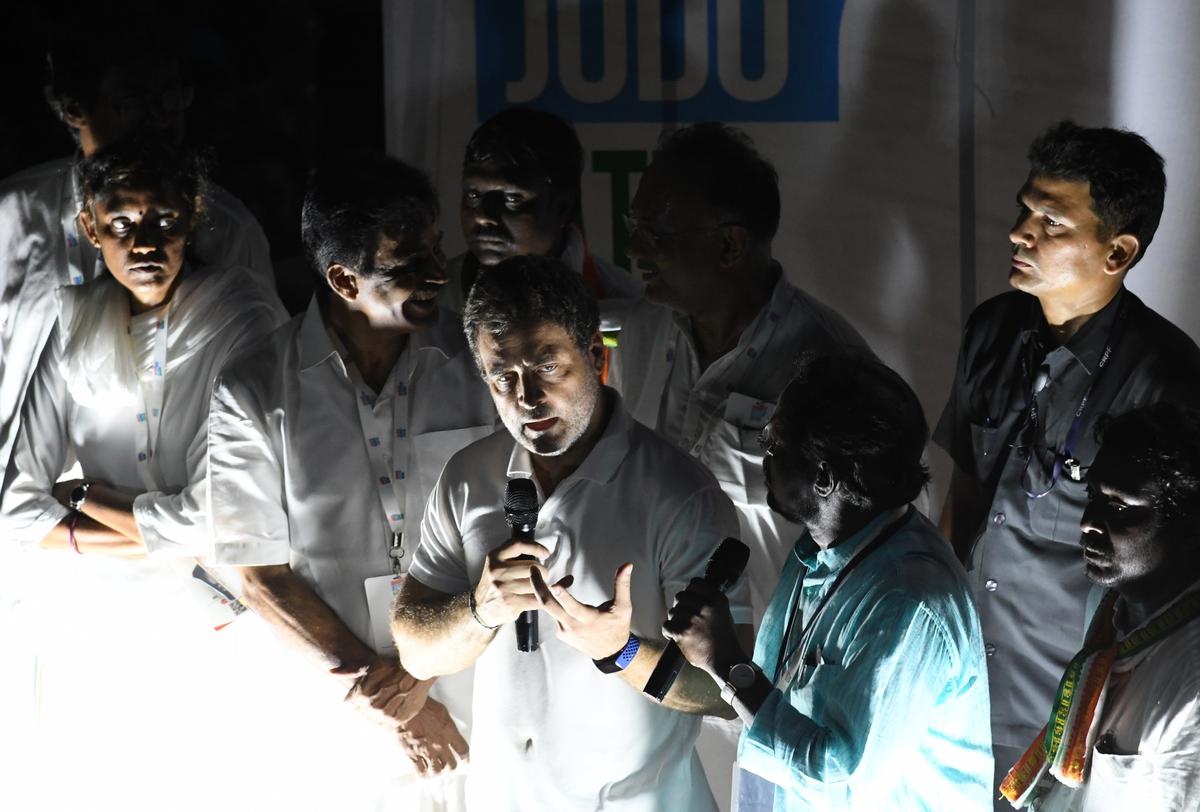 Sudhakaran, President of the Kerala Pradesh Congress Committee (KPCC), V.D. Satheesan, Leader of the Opposition V.D. Satheesan, Tariq Anwar, AICC general secretary, senior leaders Oommen Chandy, Ramesh Chennithala, Shashi Tharoor, K. Muraleedharan, Benny Behanan, Adoor Prakash, Anto Antony, Jebi Mather, Mr. Gandhi began the Kerala leg of the foot rally by laying floral tributes in front of the statues of K. Kamaraj and Mahatma Gandhi.
Women and children flocked the streets to welcome Mr. Gandhi as he and the "yatris" trudged their way to Neyyattinkara. Rahul stopped for a quick snack at a tea shop in Kunnathuvila, near Udiyankulangara. A visibly shocked Stanley, the shop owner, hurried to serve his VIP guest tea, banana fritters, and biscuits before taking a picture with him and the other leaders.
During their lunch break, Mr. Gandhi spoke with handloom workers at Madhavi Mandiram in Neyyattinkara about their concerns and hopes for the future of the traditional industry. He also spoke with a group of Dr. GR Public School students and teachers before continuing on his journey. He left floral tributes at the Ayyankali memorial in Venganoor on his way to Nemom.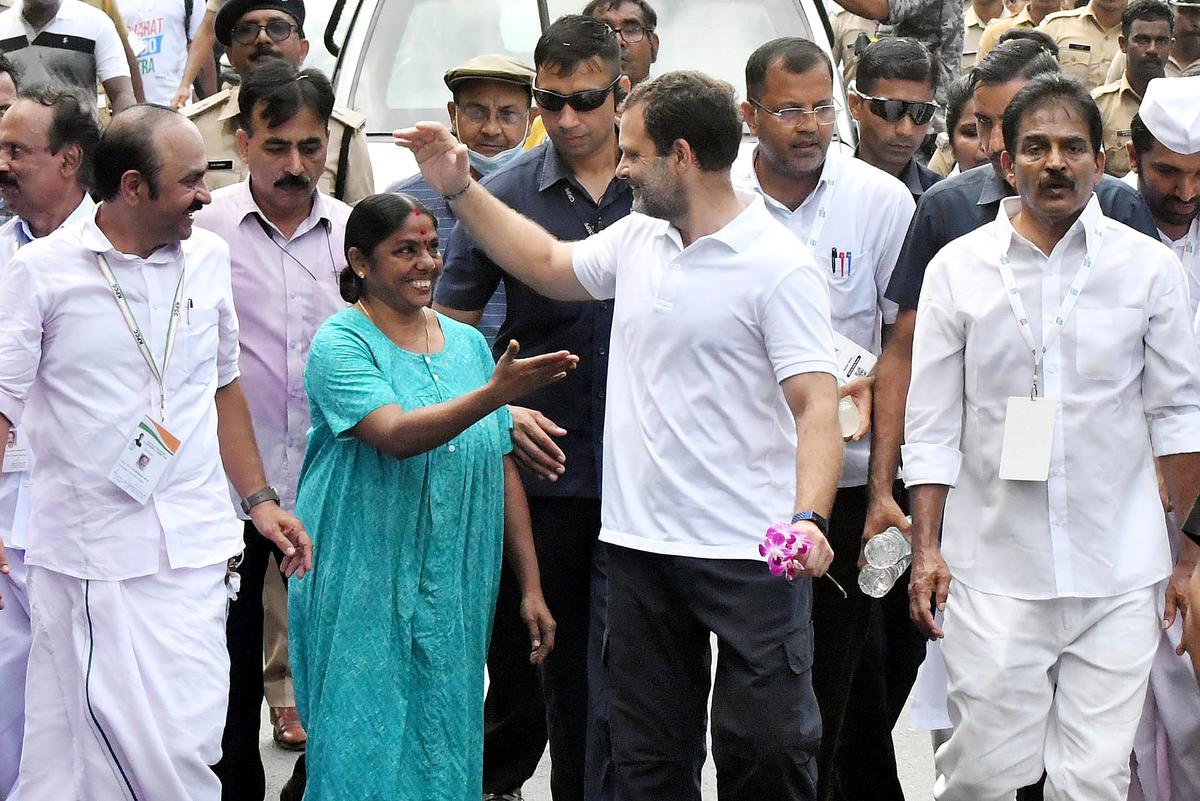 Mr. Gandhi stated at Nemom, where his yatra was coming to an end for the day, that the rally was a continuation of the prevalent viewpoints in the State.
"Sree Narayana Guru delivered the message of Bharat Jodo many years ago (unify India). We are spreading an old message that is ingrained in the DNA of Kerala rather than a new one to the rest of the country.
You, the people, have shown the rest of the country how to stand together and cooperate peacefully. "Kerala will not allow itself to be divided and its community to be inflamed with hatred," he said. During a public speech, the Congress's leader praised the state's educational system and nursing profession.
edited and proofread by nikita sharma