Trends
Reliance Industries and Adani Group Sign a No- Poaching Agreement
Reliance Industries and Adani Group Sign a No-Poaching Agreement
Recent reports claim that a no-poaching agreement has been inked between Mukesh Ambani's Reliance Industries and the Gautam Adani-led Adani Group, prohibiting either company from hiring employees from the other. It will apply to all of the businesses in both groupings.
Both organizations are competitors in some industries and have a significant presence in others. These agreements are not new in India and have also been there informally for a time.
The eighth-richest person in the world and the second-richest billionaire have been avoiding each other's turf for more than ten years, but it appears that their separation is closing. It is crucial to keep them and avoid losing them to competitors in a world of rising labour expenses and in-demand specialized expertise.
While Ambani's Reliance operates in the oil to chemical, telecom, and retail sectors, Adani has a substantial footprint in ports, power, renewable energy, distribution, and cement. Despite their disputes, both parties continue to have significant capital expenditure plans for aggressive growth and market encroachment.
Reliance Industries' share price is currently trading at Rs 2,455, down 1.27 per cent, while Adani Enterprises is trading flat at Rs 3,718.
Adani Group and Reliance Industries have not responded to the report's assertions or verified them. These agreements have always existed and will always be informal. From this point on, the two organizations cannot steal employees from one another, a prominent executive search consultant who works with both conglomerates told Business Insider.
Reliance Industries and Adani Group Rivalry is starting to develop
The two richest people among India's top ten billionaires are Mukesh Ambani ($88.8 billion in net worth) and Gautam Adani ($150 billion in net worth). The overall market capitalization of the listed companies in The Adani Group is $21,28,656 crore, compared to RIL's market capitalization of $16,94,143 crore.
The two groups are competitors in a few businesses due to their presence across sectors. For more than ten years, the tandem of the second-richest billionaire in the world and the eighth-richest person had avoided each other's domain however, due to Adani's move into the telecom sector, as well as his most recent acquisitions of media companies like The Quint and NDTV, as well as Ambani's foray into clean, green energy, their competition is beginning to take hold.
The biggest conglomerates in India have recently entered industries where the other is a major presence. Adani Group announced its debut in the petrochemical industry last year through Adani Petrochemicals Limited, but Reliance already has a large footprint in that industry. High-speed data services, for which Adani has submitted a 5G spectrum bid, are the other sector in which their rivalry has surfaced.
Ambani declared in August that the organization would invest Rs 2 lakh crore in constructing its Pan-Indian genuine 5G network. He asserted that Reliance Jio Infocomm had developed the nation's fastest and most comprehensive 5G rollout plan ever.
No-poaching pacts are not new.
In India, no-poaching agreements between businesses are nothing new. They have long been a common practice in India, but as the competition for talent heats up and wages soar, they are becoming more and more common.
Companies are at risk from rising labour expenses, particularly in talent-scarce areas, and a potential bidding war can make this risk worse. As long as they don't prevent someone from looking for work, no agreements to engage in poaching are legal.
Many businesses have previously incorporated such provisions that forbid employees from joining the competition into their employment contracts. In certain circumstances, even after the contract had expired, employees were prohibited from joining competitors. There is a cooling-off period in these situations before employees are free to join competitors.
Such agreements between two businesses are acceptable, according to a legal expert quoted by Business Insider, as long as they are not the dominant players in the sector. Both of these businesses do not now have a dominant market share.
Strengthening their talent pipelines
This agreement enables Adani Group and Reliance Industries to strengthen their respective talent pools in India and overseas because they both have global ambitions across numerous industries.
The Adani Group has stakes in solar energy, natural resources, ports, airports, and electricity generation and distribution. Additionally, it is experimenting in the petrochemical and enterprise broadband sectors, where it recently finished bidding for a spectrum valued at 212 crores. It aims to provide enterprise customers with service in six authorized service areas through Adani Data Networks.
The third-largest mobile network provider in the world, Reliance Jio Infocomm, which has 426 million subscribers, has emerged as the top bidder for the 5G spectrum.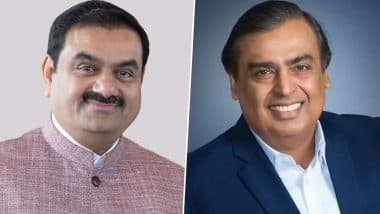 Reliance, on the other hand, has equally ambitious plans in the solar and new energy sectors, where Gautam Adani is a leader. Both companies are present in the media industry, and their employees have been informed that they cannot accept job offers from rival organizations.
Senior management employees who were in discussions with either party about potential opportunities have reportedly been informed about the agreement by the executive search firms and have been forced to withdraw their applications.
edited and proofread by nikita sharma