Trends
SoftBank-backed Oyo seeks to resurrect IPO after growth resumes.
Oyo Hotels, a once-flying Indian startup, is reviving plans for a stock-market debut after cost-cutting measures and a rebound in travel helped it reduce losses.
According to people familiar with the matter, the hotel-booking company filed new financial documents on Monday and is now targeting an initial public offering in early 2023 if India's stock market holds up and economic conditions improve. Oyo, formally known as Oravel Stays Ltd., is internally working toward a January IPO as executives are encouraged by an increase in demand, they said, declining to be identified because the plans are confidential.
Oyo had submitted draft IPO documents in 2021 because to abandon the plan earlier this year after the prolonged pandemic hampered its growth and forced the company to lay off thousands of employees. It released its most recent financials in an IPO filing addendum on Monday, showing narrower losses and a sales rebound for the fiscal year through March 2022 and the following three months.
The startup is now concentrating its efforts in four major markets: India, Malaysia, Indonesia, and Europe, where it manages vacation homes. According to one of the people, it has reduced operations in previously critical markets such as the United States and China, where its employees now number in the single digits.
Oyo, valued at $9 billion by researcher CB Insights, may struggle to reach that level given rapidly deteriorating investor sentiment. But, according to Manav Thadani, co-founder and chairman of hospitality industry consultancy Hotelivate, the company appeared determined to cut costs and improve the bottom line, which would appeal to markets.
"Nobody expected such a quick and robust turnaround after a series of Covid-related challenges," Thadani said. "It's encouraging to see that they've abandoned expansion in China and the United States in favor of focusing on niche markets." They are concentrating on results."
Following a series of setbacks in their efforts to change the hotel and lodging industry, Oyo and founder Ritesh Agarwal are attempting to pull off a successful IPO. Masayoshi Son, the founder of SoftBank Group Corp., was an early and enthusiastic backer, and the Japanese conglomerate now owns approximately 47% of the Gurgaon-based startup. Agarwal, 28, owns roughly one-third of the company.
The resurrected listing plan also demonstrates how India's stock market is defying the global trend of declining tech stocks. Accelerating inflation, lingering Covid-19 infections, and the Ukraine war have all contributed to a 27% drop in the tech-heavy Nasdaq index this year. Meanwhile, the NSE Nifty 50 index in India is up 1%.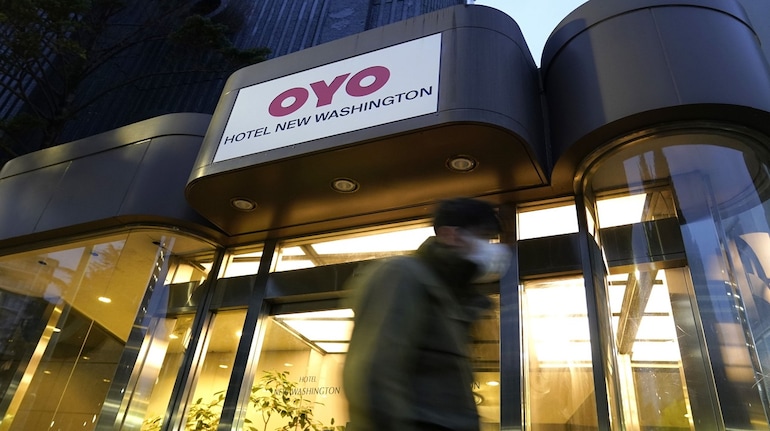 Oyo reported a loss for the fiscal year that ended in March 2022 of 18.9 billion rupees ($237 million), nearly halving the previous year. The figures were restated from previously undisclosed figures and included in an addendum to the IPO document made available by its bankers.
The annual loss before interest, taxes, depreciation, and amortization was reduced from 18.7 billion to 4.8 billion rupees. For the three months ending June 2022, earnings calculated using that standard were 105.75 million rupees, while the net loss was 3.5 billion rupees.
Revenue from customer contracts increased 21% to 47.8 billion rupees for the fiscal year ending March 2022, with travel picking up as the pandemic eased. Revenue remains far below the 131.7 billion rupees forecasted for fiscal 2020 before the full impact of the coronavirus was felt.
Oyo filed its preliminary document, known as the Draft Red Herring Prospectus or DRHP, for a $1.1 billion IPO in September of last year, but the listing has yet to be cleared after a year. It attempted to file additional documents earlier this year and received regulatory approval for the move.
Agarwal, then 19, founded Oyo in 2013 after dropping out of college to travel around the country. The startup began by collaborating with small hotels to standardize everything from bed linen to bathroom shower fittings, which it then branded with its distinctive red and white Oyo logo.
With backing from high-profile investors such as SoftBank and Lightspeed Venture Partners, it aggressively expanded into Southeast Asia, China, Europe, and the United States, signing hotel partners with guaranteed returns. At one point, founder Agarwal aimed to be the world's leading branded stay operator.
Agarwal was forced to redesign the startup's business model during the pandemic. Oyo laid off thousands of workers and stopped offering hotel vendors guaranteed returns or capital to renovate their properties. He referred to the transition as a "asset light" model. Instead of providing minimum guarantees, Oyo now provides technology, product services, and customer support to hotel and vacation home partners. On its app, hotel owners can self-enroll and manage bookings and services.
According to one of the people, the new strategy helped the company become cash-flow positive in the quarter through June, and a similar positive trend has continued in the current quarter.
Deciphering Oyo's fiscal health in FY22
During FY21, the pandemic wiped out the global scale of travel and hospitality companies. With over 100 subsidiaries and a presence on almost every continent, Oyo was one of India's worst-affected startups in FY21. However, the company regained some lost ground in FY22, with revenue from operations increasing 20.7% to Rs 4,781 crore.
According to a new financial document filed with SEBI, the SoftBank-backed company's losses decreased 51% to Rs 1,940 crore in FY22. Oyo also revealed its Q1 FY23 results, reporting Rs 1,459 crore in operating revenue and a loss of Rs 414 crore over the three-month period.
While we'll get to the company's FY22 expenses and resurrected IPO plan in a moment, let's start with the revenue.
The sale of accommodation services and commissions from bookings were Oyo's two primary sources of operating revenue, accounting for roughly 90% of total revenue. In the fiscal year ending March 2022, these earnings increased by 12.6% and 42.3%, respectively, to Rs 3,189 crore and Rs 1,127 crore.
Income from rental and cancellation fees, sales of tours, food and beverages, subscriptions, and value-added services increased by 37.5% to Rs 465 crore in FY22.
Employee benefits emerged as Oyo's most expensive cost element, accounting for approximately 27% of the total cost. In FY22, this cost increased by only 7% to Rs 1,862 crore. Employee benefit costs in FY22 include Rs 680 crore in employee stock option (ESOP) expenses.
Other significant costs for Oyo include lease rent and lease service components, which increased 10.7% and 13.7% to Rs 1,316 crore and Rs 1,262 crore, respectively, in FY22. Finance costs increased 32.6% to Rs 744 crore, including Rs 539 crore in interest on borrowings. It also added Rs 546 in commissions and brokerage, bringing the total cost in FY22 to Rs 6,984 crore.
With a significant increase in scale and cost control, the company's losses fell 51% to Rs 1,940 crore in FY22 from Rs 3,945 crore the previous fiscal year (FY21). As a result of the austerity measures, Oyo's cash outflows decreased 62% to Rs 922 crore.
In FY22, the company spent Rs 1.46 to earn one rupee of operating revenue. In FY22, the company's EBITDA margin and ROCE improved to -21.12% and -20.67%, respectively.
Oyo's financial performance improved significantly during FY22, but the road to IPO will be difficult given the company's loss of Rs 1,940 crore. And the experience of Paytm, Zomato, Policybazaar, and other companies that have lost significant market capitalization demonstrates that public markets can be harsh on earnings misses.
Oyo plans to go public by the end of this fiscal year (FY23), and its DRHP from October last year stated that it would raise Rs 8,430 crore through a mix of primary (Rs 7,000 crore) and secondary (Rs 1,430 crore) share purchases.
As it does so, it will discover that its business model, which was such a departure from the 'traditional' hospitality model, is increasingly resembling the very same chains in terms of share of 'owned' properties, income from food, and other packages, and so on. All of this, despite the fact that smaller, niche offerings continue to proliferate, despite the fact that players like Airbnb continue to gain traction. That means the valuation premium Oyo has received over the years for its "disruptive" model may no longer exist by the time the company goes public. And, as most publicly traded hotel companies will tell you, a loss-making hospitality chain will face an indifferent market at best.