Trends
The Indian economy is booming as the Festive period approaches.
The festival of Diwali this month, which is often a period when consumer spending soars in Asia's third-largest economy, is anticipated to provide Indian businesses a much-needed boost, Despite recent indications of decreasing economic activity in the nation and high inflation, as well as worries about the global economy entering a recession, optimism is robust.
Ram Kalyan Medury, the founder and CEO of the investment adviser Jama Wealth, claims that consumption tends to increase dramatically around Diwali. Even the possibility of a recession with high inflation on a global scale "cannot damper the holiday spirit." Demand rises as a result of sales, discounts, and general increases in foot traffic to both physical stores and e-commerce websites. More holiday commerce is good news for the economy.
In India, which has a consumer-driven economy, Diwali is a crucial time of year for many industries. Manufacturing and other businesses profit from the increase in expenditure, in addition to the retail sector. With the Covid-19 limitations gone, the industry group's 80 million small and medium-sized enterprises, which produce more than $1.5 trillion in yearly sales, predict that Diwali sales this year would increase 30% compared to 2021. According to government statistics, India's gross domestic product increased by 13.5% in the quarter between April and June, the quickest rate in a year, as the economy recovered from the devastating effects of the epidemic.
But in recent months, the economic climate has grown increasingly difficult. In September, inflation reached a five-month high of 7.41%, spurred by increasing food costs and Russia's invasion of Ukraine, which raised commodity prices all over the world. The Reserve Bank of India, the country's central bank, raised interest rates for the fourth month in a row in September due to rising inflation. Due to rising borrowing rates, both individuals and companies may see a decline in spending patterns.
According to polls of purchasing managers, the industrial and service sectors in India saw a slowdown in activity in September as a result of inflationary pressures. The International Monetary Fund on Tuesday reduced its GDP growth prediction for the country for the current fiscal year through the end of March from an earlier expectation of 7.4 percent to 6.8 percent. Most organisations have been decreasing their growth forecasts for India. IMF managing director Kristalina Georgieva called India a "bright point on this otherwise darkened horizon" due to its comparatively rapid development in a difficult global climate.
Despite these difficulties, consumer mood reached a 30-month high in September, according to the most recent Consumer Pyramids Household Survey from the research tank Centre for Monitoring Indian Economy. This year's Diwali, India's equivalent of Christmas in the West will be the country's first season of celebration since the pandemic began, with no virus-related restrictions. The return of consumers will promote spending, which is the backbone of the economy.
According to figures from the Federation of Automobile Dealers Associations, new car sales increased 57% year on year over the nine-day 'Navratri' period before Diwali. Two-wheeler sales in India increased 3.7% year on year, indicating rural demand. According to the Society of Indian Automobile Manufacturers, car and SUV sales increased 92% year on year in September. Maruti Suzuki India Ltd., India's largest manufacturer, saw demand for its vehicles climb 20% year on year, spearheaded by its premium offering. "The growth statistics have been similar in both urban and rural locations," said Maruti Executive Director Shashank Srivastava, adding that rising borrowing rates have had minimal effect on demand.
Businesses increased capacity as demand for commodities increased. According to the Reserve Bank of India, the total flow of financial resources from banks and non-banks to the commercial sector nearly fivefolded to 9.3 trillion rupees between April and September, up from 1.7 trillion rupees a year before. "Non-oil non-gold imports were resilient, reflecting continuing domestic demand recovery." Good monsoon rains and the lifting of pandemic restrictions sped up economic activity in agriculture, the services sector, and small and medium-sized businesses. In September, the unemployment rate fell to its lowest level in more than four years.
According to RBI studies, Indian families plan to spend more when the economy recovers and income levels normalise. Much of this spending is on necessities, which have become more expensive in recent months owing to supply side shocks. However, overall consumer confidence is high, indicating a stronger readiness to spend discretionary funds. "This festive season is witnessing significant demand for the first time in three years," said Gaurav Kapur, chief economist at IndusInd Bank. "Since the beginning of the year, individuals have increased their spending on products and services, mall traffic has increased, and aeroplane seat occupancy rates have increased despite high ticket costs."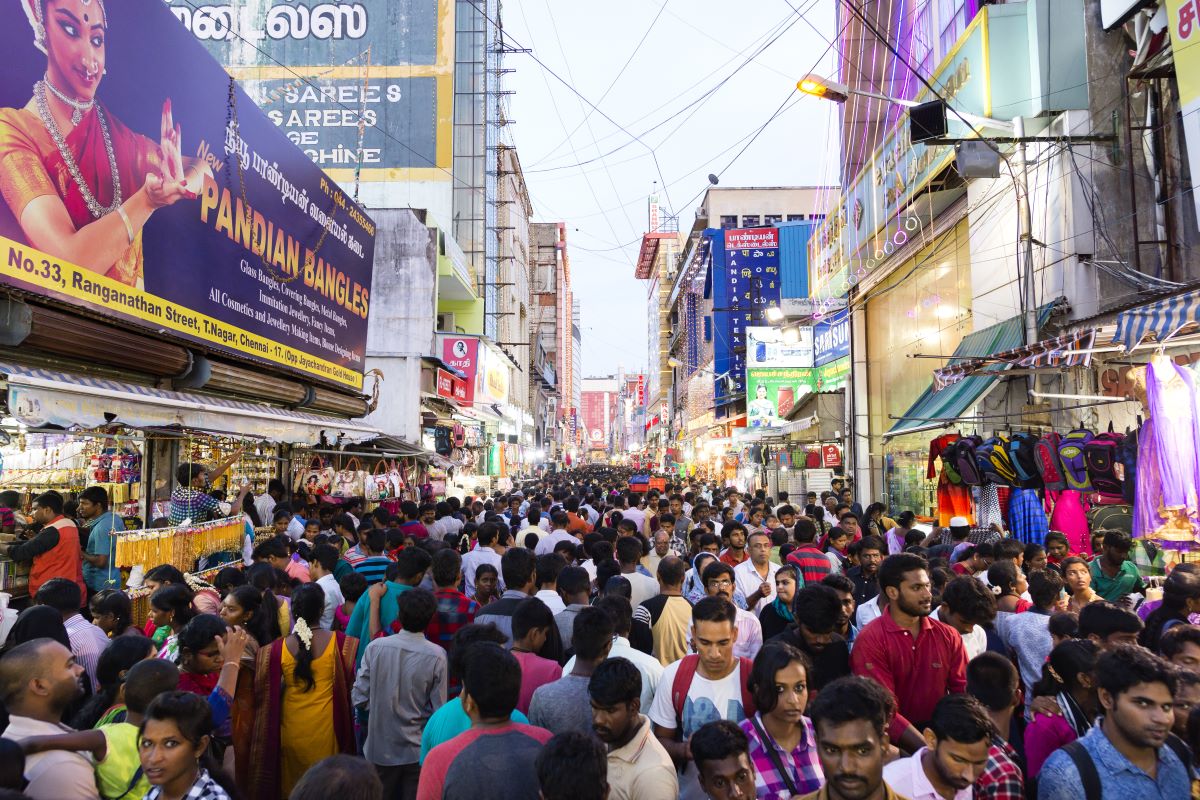 Indian companies prepare to fulfil customer demand
As the nation prepares to enjoy its peak festive season sans COVID restrictions for the first time in three years, Indian businesses are recruiting thousands of temporary employees, expanding to smaller cities, and releasing new items.
Around the Hindu holidays of Durga Puja and Diwali, which take place between September and November, a large portion of the 1.4 billion people in the nation decorate their homes and buy new clothes, vehicles, phones, and other products. Amazon and Walmart's Flipkart, two of the biggest names in e-commerce, have already announced significant discounts.
Sales for the upcoming Diwali season are expected to be at least 30% higher than they were the previous year, according to the Confederation of All India Traders (CAIT), whose 80 million small- and medium-sized company members produce yearly sales of more than $1.5 trillion.
After two years of limitations, consumer attitude is "extremely positive," according to CAIT Secretary-General Praveen Khandelwal, who has been touring the nation this month to urge retailers to stock up and make sure they have a wide range of goods to compete with online retailers.
He said that more than 90% of pre-COVID levels had already been reached in terms of demand for CAIT members. Although India's annual retail inflation increased to 7% in August after a three-month decline, Khandelwal claimed that the key was to provide customers alternatives that fit their budgets. To that end, he was hosting seminars for the firms he represented across the nation.
Which distributes goods on behalf of e-commerce businesses, announced that it had increased its capacity to process 6 million parcels per day and anticipated volumes to rise up to 65% over the holiday season, a large portion of the growth is expected to come from smaller locations. In addition to opening additional centres in several other major cities, including New Delhi, where it already has a presence, Smartr Logistics, which started operations a year ago, announced that it was expanding into a dozen largely smaller locations. It highlighted rising demand during festival season and its intention to link smaller cities.
Due to the several celebrations that occurred in August, online delivery service Dunzo, which is supported by Indian retail-to-energy behemoth Reliance Industries, reported a busy month. Demand normally increases by up to 30% throughout the whole Diwali season. To accommodate "much greater volumes over the festive season," logistics operator Delhivery Ltd said late last month that it will add more than 75,000 seasonal positions around September. A healthy monsoon and the impending holiday season are anticipated to improve demand, but high gasoline prices are a concern, according to industry group Society of Indian Automobile Manufacturers earlier this month.