Trends
Top 10 best books and reference apps of India 2022
Top 10 best books and reference apps of India 2022
"Reading is the gateway skill that makes all other learning possible" – Barack Obama
The above quote is rightly quoted, as reading is said to light up one's mind with an enormous amount of learning, knowledge and gives a wider perception to our thoughts. Reading opens the opportunities of so many doors, like, increased vocabulary, knowledge, better communication skills, and many more.
If you're a reader, you would be knowing how much impact a bookmark has on an individual and how one gets addicted to the habit of reading. It helps you grow mentally and emotionally and boost your confidence in various aspects of life.
Books are said to be our best friends. This is because friends are an integral part of life and they enrich our mind with the deepest knowledge, guide us at times, and teach about a lot of things. In the same way, books always have our back and if we read it carefully, the knowledge which is embedded in a book can be as vital for us as a best friend in our life. 
However, it is very important and inquisitive for book lovers to create an atmosphere to know more about books, their different genres, recommendations, and everything related to that. For this, there are several books and reference apps, in which you can get to explore ample books of multiple genres, can meet like-minded book lovers and receive suggestions and even give book-related recommendations to others. The books and reference apps have gained a lot of engagement from users as it is convenient to use.
Such apps help you pave the way for your interests and help the most budding readers as they can have an insight into which kinds of books are best for beginners. So, to make the task easy, enlisted below are the top 10 best books and reference apps of India 2022. Let's have a look at them!
1. Wattpad – Read & write stories online
The best place to work on your reading, as well as writing, is Wattpad. If you are a reader, no need to spend your hours in the library, searching for the right book of your niche, Wattpad will help you through it!
It has various genres like – Fanfiction, Romance, Rom-coms, Paranormal, Werewolf, and everything you desire for! Enjoy reading millions of exciting real stories for free and if you want to read later, at leisure time, you can save them and read them in offline mode anytime, anywhere.
If you're thinking that Wattpad is only for reading and not for writers, you're wrong! Wattpad is for all the new writers who want to get their work published and acknowledged by other readers and writers. It helps you build your writing skills and encourages you to write by other writers on the app.
Therefore, Wattpad is a perfect place to dive if you are into reading and writing.
Key features:
a) Read offline
b) Explore different genres
c) Save your favorite stories
d) Interact with like-minded readers and writers
Ratings: 4.3/5
Number of downloads: 100M+
2) Audible: audiobooks & podcasts
Do you too suck at reading books but love to listen to stories? Then what are you waiting for, download Audiobooks now!
This application provides its users audiobooks of various stories and different genres. From fantasy to True crimes, plug your earphones in and get into the stories.
Apart from audiobooks, it has some amazing podcasts from well-known speakers that will compel you to listen. You can never have a dull moment when you are using this application because it will hook you like never before!
Audiobooks can also be your kid's bedtime story partner as it has multiple stories for kids and that too audiobook!
It is always a pleasure to hear your author read their best work, so don't miss Audiobooks!
Key features:
a) Listen to books
b) Discover podcasts
c) Listen anytime, anywhere
Ratings: 4.3/5
Number of downloads: 100M+
3) ReadEra – book reader pdf, epub, word
This is a great application for all the bibliophiles out there! You can binge-read various e-books from different authors in PDF form, download it on your phone, and that too for free! Isn't it an amazing deal?
Some quotes catch your interest the moment you read them and to consider this problem, how can you highlight your favorite quote in an e-book? No worries, ReadEra has an amazing feature of "quote" which enables the readers to quote or highlight their favorite excerpts and lines from the book. The highlighted quotes will be saved in the "Quote section" of the app.
Talking about the general settings, from the font size to font thickness, everything is in your control and you can change it according to your preference.
Key features:
a) Read your favorite books and documents
b) Highlight your favorite quotes
c) Switch to the dark or light mode
d) Add bookmarks
Ratings: 4.7/5
Number of downloads: 10M+

4)Amazon Kindle – ebooks & more

Having a subscription to Amazon Kindle is to have a library in your pocket. You can read thousands of books of different kinds, from coursebooks to series, everything in an app!
You can explore all genres of e-books from your favorite Indian and international authors. They have e-books in English and Hindi, whichever you prefer.
What about gifting "e-books" to your fellow book lovers on their birthdays? It's possible with Kindle! One feature that makes this application stand apart is that you can gift e-books to your fellow book lovers.
Also, if you are into comic reading, don't worry, Kindle has comic e-books too! Most of the books apps do not have comics but this application has all that you need.
This application has all the right features that will give you insights into reading, books, and authors. A perfect blend of literature world!
Key features:
a) All kinds of books – fiction & non-fiction
b) Gift e-books
c) Hindi books
d) Well-known authors
Ratings: 4.5/5
Number of downloads: 100M+
5) Pratilipi – World of Stories
This app is for all logophiles and bibliophiles. You can read and write through this app in 12 different languages.
From History to Horror, you can hook on to more than 20 such genres. If you don't will to read the whole book, you can read the synopsis/summary of the story. Apart from it, the books can be downloaded and you can read them in offline mode.
There are numerous authors with whom the readers and writers can chat, gain knowledge them and seek suggestions. Isn't it a great way of consulting your idol without hustling? Indeed it is.
For all those budding readers and writers, Pratilipi is the right place for you to develop and build in your interest in the literature domain. So, download Pratilipi now and explore the world of stories!
Key features:
a) 12 different languages to read and write
b) A "Make in India" app
c) More than 60 lakh stories
d) 20 genres
Ratings: 4.5/5
Number of downloads: 10M+
6) Lithium: EPUB Reader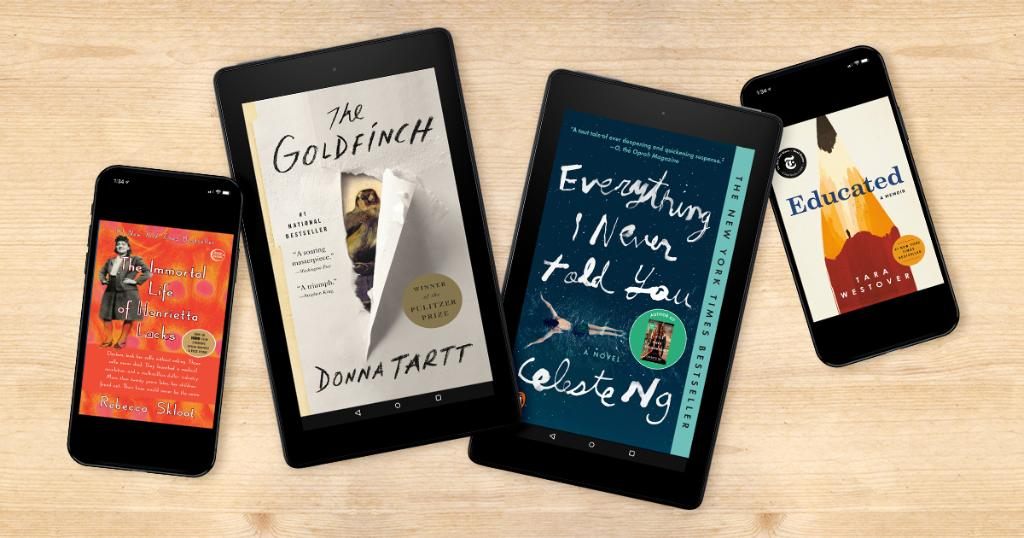 Read your favorite books or novels on your phones with the help of Lithium: EPUB Reader. It has a wide range of interesting books to offer to its readers and build up their interest in reading.
You may understand the importance of highlighting excerpts, lines, and quotes from the book you're reading, but how's it possible to do so in e-books? In Lithium, you can highlight the lines and take notes of them for future reference.
The settings of the book can be changed by the users, like the text alignment and text size.
If you're a night reader, you can switch on to the night mode theme or if you don't want the theme to be dim, you can switch to the light mode theme as well.
So many features in a single app, such a great deal it is!
Key features:
a) Variety of books
b) Access to general settings
c) Dark/light mode
d) Can take notes
Ratings: 4.7/5
Number of downloads:5M+
7) Google playbooks and audiobooks
A must-have app for all the readers! It has all your favorite books of established authors and you can enjoy reading on any device.
It will give you personalized recommendations to help new readers and through that, you can dive into many books. The prime feature that many books application lacks and this application provide is that you can pick up where you left off the last time. Isn't it amazing?
You can create your shelves of the library by organizing different genres of books, like – self-help, religious, romance, thrill into each shelf.
Highlight and take notes of your favorite quotes that get synced in your google drive, so that you can read them later. The settings of the app are flexible, for instance, font size, style, and light/dark mode.
Your reading progress can be tracked as the number of pages left and the percentage of book read is displayed on the screen.
Key features:
a) Track your reading progress
b) Notes get synced in google drive
c) Create shelves of different genres
d) Receive notifications about new releases and price drops
Ratings: 4.1/5
Number of downloads: 1B+
8) Kuku FM – Audiobooks & Stories
You can pick any audiobook from a collection of 1,000+ stories, from autobiographies, Self-help books to thrill and crime.
Those days are gone when it took so long to complete a book. Kuku FM has audiobooks summaries that will help you complete a book in a day and with all the relevant details about the book. So, learn about the book in lesser time!
Kuku FM is an application for every generation and when we say it, we mean it! Plugin your earphones and listen to spiritual audiobooks like Ramayana and Mahabharat. Listen to the soothing Hanuman Chalisa and all types of religious songs in the morning to ease your soul.
Apart from listening to audiobooks, you can learn and grow by binge listening to some of the most demanding professional courses, competitive exams, and government exams.
Key features:
a) Listen in various languages
b) Learn with audio courses
c) Different audiobooks for different generations
d) 10+ genres
Ratings: 4.5/5
Number of downloads: 5M+
9) Goodreads
This application is the world's largest site for readers and book recommendations. You can search, rate, and review the books you like or don't like and comment on your views on them.
Discover more books of different genres, share them with your friends, and see what books they are up to by tracking.
You can scan your favorite book cover to know more about the book, its author, reviews and save it in your shelf list. The application will automatically recommend books of your taste based on your search history and reading habits.
The best feature of Goodreads is that it helps you keep track of the books you have read up till now and the books you'd wish to read.
Key features:
a) Scan book covers
b) Buy or borrow books
c) Share with friends
d) Join reading challenges
Ratings: 3.2/5
Number of downloads: 10M+
10) Inkitt: Books, Novels & stories
Discover a wide range of fiction as well as non-fiction novels through this application. Rom-coms, Crime, Thrill, Sci-fi, spiritual, and many more kinds of books!
It also serves as a platform for aspiring writers to get their work published and read by the users. It helps the new writers gain recognition, acknowledgment, and appreciation as this platform has over 2 million readers and writers. Isn't it a great way for your work to gain cognization?
The general settings of the application are under the reader's control and the background and the font can be adjusted by the reader, according to their preference. There are three types of theme – White (light mode), Black (dark mode), and eggshell mode. The readers can even read books in offline mode by downloading them.
Key features:
a) Free fiction stories
b) Offline reading
c) Customizable settings
d) 5,00,000 novels
e) Over 2 million readers and writers
Ratings: 4.3/5
Number of downloads: 1M+
edited and proofread by nikita sharma