Trends
Top 6 Differences between Real Estate and Stock Market you must know!
Top 6 Differences between Real Estate and Stock Market you must know!
Indians have favored Real Estate Investments for a long time now. Our ancestors believed in accumulating safe and tangible assets like real estate, gold, and so on. Such assets are easy to recognize and identify ownership and possession.
With the globalization of the Indian Economy, the country witnessed a large rise in popularity of the capital markets like the Bombay Stock Exchange and National Stock Exchange.
The trading and investment in shares of well-known companies during the bull run of the early 2000s made profits for many investors. The economic conditions also favored the capital markets in those times.
However, as the 2008 financial crisis in the U.S crashed worldwide capital markets, the enormous losses of shareholders shifted their belief again to real assets providing tangibility and security. Thus, two categories of investors exist in our country.
The debate, therefore, arises as to which is the best investing option between Stock Market Investing and Real Estate Investing in today's times.
In this article, we dive deeper into the distinguishing factors of the two investment options and how investors can decide between them.
Real Estate Investing
Real Estate Investing primarily has been to earn the rental yield and capital appreciation. Renting out a real estate property is one of the common forms of passive income cash flows
These rental yields depend on a majority of factors that determine the profitability of the investment. Factors like location, infrastructure, connectivity to the city, interior and amenities, landmark projects in the vicinity, and so on are the key drivers for real estate profitability growth.
Along with the rental yield, capital appreciation is another fascinating aspect that increases the value of your property over the long term.
Apart from Real Estate Rentals, the emerging forms of real estate investing are Real Estate Crowdfunding, Fractional Ownership and REITs are becoming increasingly popular in the crowds.
In a Crowdfunding a Real Estate Project, one invests money through a platform to finance a real estate project to get regular interest cash flow in return.
Crowdfunding provides indirect exposure to the real estate sector without the hassles of maintaining a property.
For starting your journey in Real Estate Crowdfunding, Assetmonk is the best place to provide you with smart real estate investment options through Growth, Growth Plus, and Yield Models in major cities like Hyderabad, Bengaluru, and Chennai.
On the other hand, investing in a fractional real estate property requires less initial investment to get percentage ownership in high ticket-sized properties generating high returns.
Investing in REITs (Real Estate Investment Trusts) happens through Direct Stock Investing or REIT Mutual Funds with high dividend yields as a passive income cash flow.
Stock Market Investing
Stock Markets have become quite a rage post the Covid-19 crash in March 2020. The 'V' shaped recovery witnessed in 2020 excited many new investors to try their hands in stock markets.
The usual approach for stock market participants is either 'trading' or 'investing'. 'Trading' in stock markets is an extremely short-term approach to profit from minor price changes with heavy quantities. The time frame is generally 1 to 2 days.
As against this, 'Investing' in the stock market is a strategic call to invest in a company with a longer time frame to profit from price appreciation
For earning high returns, an investor needs to carefully pick stocks of companies performing efficiently on fundamental parameters and their business having an edge over their competitors.
Along with the micro aspect, the investor should also consider the macro aspects like Sectoral Demand, Future Prospects, Economic Conditions, and Global cues. Thus, an active contribution is required from the investor in the stock markets.
However, this task can be outsourced to experts like Financial Advisors and Portfolio Managers for a predetermined fee. Though price appreciation is of prime importance to attract returns, some stocks offer phenomenal dividend yield too.
Thus, depending on the investor's preferences, the stock portfolio can be diversified.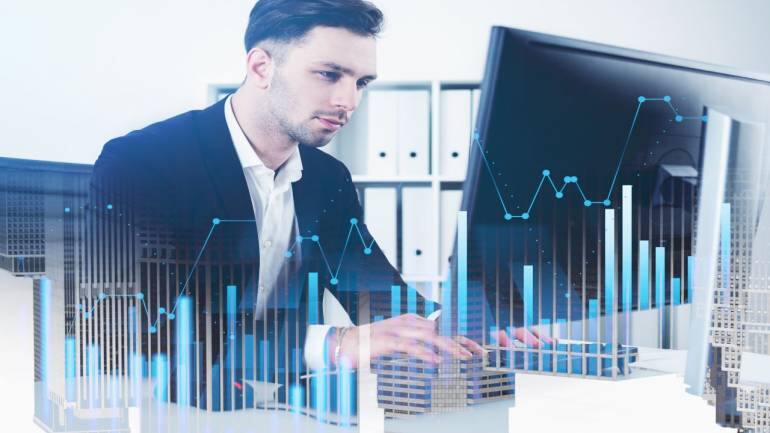 Real Estate Vs. Stock Market Divide
Here is a brief comparison between Real Estate and Stock Market Investing:
Comparison Points

Real Estate Investing

Stock Market Investing

Initial Investment

Requires high initial investment to purchase a rental or fractional property.

For crowdfunding, smaller investments are feasible.

Small to Large Investments can be undertaken as per the investor's preferences.

Returns

The average 10 year capital appreciation return in real estate as per RBI's House Price Index is 11.6% p.a.

The average rental yield is 2 to 8 % p.a.

The average stock market returns since the last 25 years has been 11.1% p.a.

Risks

Market Risk exists, along with tenant default. Moreover, developer's default in interest payments may occur.

Price fluctuations and volatility risks exist in the stock market. Moreover, company-specific risks like demand lull, low profit margin and market conditions may also occur.

Liquidity

Real Estate Investments are extremely illiquid assets except REITs.

Stock Market Investments are highly liquid in nature.

Tenure

Generally, a long term tenure is required for real estate investments

Stock market investments can be for a day or even for years.

Taxability on Passive Income

Rental Income – Taxed under Income from House Property

Crowdfunding Interest Income – Income from Other Sources

Capital Gain – Taxed as per LTCG and STCG

Deductions available.

Dividend Income – Taxed under Income from Other Sources

Capital Gain – Taxed as per LTCG and STCG
The above-detailed comparison highlights the key factors that define both the investment options. Real estate investment offers an investor long-term growth of their investment as well as consistent passive cash flows.
Moreover, real estate investments have outperformed the Stock Market indices in the long-term horizon. On the other hand, stock markets have fared decently over the years and made investors money through some seemingly fantastic companies.
Which is the BEST INVESTMENT OPTION for you?
The suitability of any investment option depends on the preferences of the investor. 5 things that investor should be clear about before investing in any option are:
Investment Goal
Need for liquidity
Risk-Taking capacity
Expected Returns
Growth Prospects
According to the above list, Real Estate Investments are better suited when the investment amount is high and is done for long-term goals with no urgent need for liquidity. Real Estate Investments take time to set up and flourish.
Thus, to build tangible and long-term wealth, Real Estate is the best investment option for you.
Moreover, for comparatively lower investment size, Stock Markets provide you with desired returns offering the flexibility to liquidate whenever needed.
However, to make massive money through stock markets, one needs to practice financial discipline and ensure that entry and exit decisions are not taken emotionally.
To advise better financial planning, investing in multiple assets through a diversified investment portfolio serves the long-term as well as short term financial goals of investors.
Thus, with appropriate planning, one can strike a balance in building assets that can reap passive income and at the same time add to your wealth.