Trends
Top 10 Best Customer Support Companies in India 2023
A growing area of expertise for businesses is customer support, which gives them a hard-to-imitate competitive advantage.
Although it makes use of customer support techniques, modern customer support is not the same as customer service. Additionally, it has changed since it was first defined 50, 20, or even 5 years ago.
In addition to helping customers solve problems and make decisions, the new customer support also serves as a combination of sales, tech support, and customer success. It does this by putting the concepts of customer service into practice.
Customer support has always been crucial. But today, it serves as a significant point of differentiation between businesses, a top factor for consumers, and a self-sufficient source of revenue. A strong customer support department may help your company develop and scale, draw in new clients, build customer loyalty, and raise revenues from your current clientele.
Additionally, providing speedy fixes for individual client issues is no longer the only focus of customer care. It's about creating a long-lasting connection with the consumer, one in which every interaction presents chances for a richer, more beneficial engagement.
Additionally, customer demands are still rising. Customers want quick, simple, and effective help, and if they don't get it, they're likely to search elsewhere. And a company's ability to meet or exceed consumer expectations is closely related to its ability to succeed commercially. It's a high-stakes game because 61% of current clients would switch to a rival after just one negative encounter.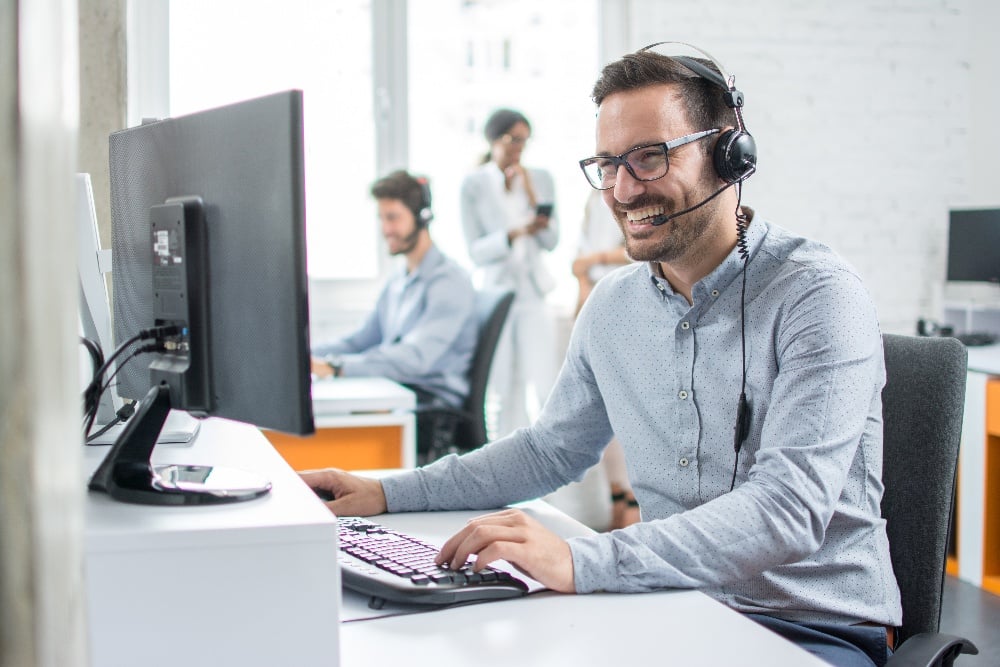 Why is customer support important to a company's expansion?
The fast answer is that customer support is crucial because it helps to satisfy customers by helping to promptly and effectively resolve customer issues. Customer lifetime value, brand reputation, and customer retention are ultimately impacted by this.
A lot will rely on the people you're supporting as well as your specific business and industry.
Customer support is a big factor in business and product decisions for Trust & Will, a company that assists families in creating personalized wills and estate plans.
Customers no longer need middlemen in the self-service internet era to assist them with simple operations like canceling accounts.
Many businesses continue to build these speed bumps to save money, but they waste time that could have been used to address a problem that only a human being can resolve.
Customers also want self-service these days, so if you delay providing it until they need to contact you, you'll hinder adoption and usage.
By automating tasks that can be done so and releasing their most precious asset — their staff — to work on issues that cannot be automated away, customer-centric businesses reduce a lot of that friction. So, instead of recruiting your typical "people person," employers are turning to highly qualified, sympathetic problem-solvers.
Top 10 Best Customer Support Companies in India 2023
To build a better reputation and increase client retention, it is essential to choose the correct customer assistance service. Here is a list of the top ten companies in India.
Helpware
Helpware is a top outsourcing organization that offers customer support to various business kinds across more than five industries. Helpware gives services in Customer Support, Back-Office Support, Marketing Support, and Image & Video Annotation and is ranked as a top business by many B2B ranking sites. The firm creates specialized teams by the requirements and preferences of your company and offers a wide variety of support in the selected sector.
Benefits they offer:
24/7 Assistance: It's fantastic to have good customer support in place, but offering round-the-clock assistance has been shown to enhance customer engagement and satisfaction, as well as happiness levels.
Cost-effective: Helpware gives economical outsourcing solutions while having a scale for teams customizing and guiding successful organizations because of its offices in the Philippines, Mexico, Germany, Ukraine, and the US.
Reliable: It's one thing to outsource to a respected organization, but it's quite another to locate a reliable partner with whom to establish a good bond. Many prestigious businesses rely on Helpware for its great service delivery. According to Clutch, the company will be the leading supplier of Answering Services, Outsourced Customer Support, Inbound Call Centers, Back Office, and Medical Billing in 2021.
Delivery of superior services: The business shows its ability to recruit and retain subject-matter specialists who produce great results and meet or even surpass the goals set by the clients. Helpware has accumulated years of expertise and has handled a large number of tasks and inquiries, as well as encountered unanticipated difficulties that resulted in new chances.
Go4Customer
It is known as a business with an outsourcing process and a contact center based in Noida. Since 2004, the business has been operating with dedication and has further offices in different Indian cities. The business has been able to provide services to people all around the world as a result of its enormous expansion. About 200 experts who have been offering voice calls or non-voice calls and associated back-office services for years make up the Go4Customer team.
It has already worked with a variety of industries, including those involving information technology, consumer goods information, and financial services. They have acquired clientele who are well-known, including BSNL, Hudson, and TIMEX. The business gives a variety of call center services and has steadily grown its clientele.
The company's workflow is expertly managed to take into account the needs of those who seek their assistance. Their total reputation is highly regarded by both businesses and people. One platform for addressing all of the issues people have been called Go4Customer.
MattsenKumar LLC
This is the only location where outsourcing has been associated with a highly fast-growing business process that aims to give customers the greatest possible experiences. Mike Mattsen and Aarati Kumar, two well-known industry professionals, launched this business, which has delivery hubs in the cities of Gurugram and Jaipur. It was established in the year 2010, and now, the business employs more than 2000 people in three locations, all of whom are focused on providing individuals and the nation's top companies with exceptional services.
Services offered by MattsenKumar LLC:
Services for outsourcing call centers
Businesses may easily outsource professionally trained agents from MattsenKumar LLC to increase customer happiness, guarantee customer retention, and ensure customer loyalty. For the company's needs, the company may create and run outbound and incoming call centers.
Services for outsourcing back-office tasks
Outsourcing back-office business operations is another service provided by MattsenKumar LLC.
Services for outsourcing in e-commerce
The following category of service is exclusive to the requirements of e-commerce businesses. MattsenKumar LLC gives a variety of e-commerce outsourcing solutions for businesses in this industry, including seller and buyer management, product discovery, catalog management, and much more.
Services for Professionals
Additionally, MattsenKumar LLC provides businesses with expert services to help them streamline operations, maintain competitiveness, improve analytics, and visualize data.
Management of Performance and Compliance
By assisting you in maintaining regulatory compliance and elevating the effectiveness of your personnel, the team at MattsenKumar LLC can help your company increase CSAT and NPS.
Last but not least, MattsenKumar LLC provides companies with cutting-edge options for improving the effectiveness of interaction analytics, social media monitoring, and speech analytics.
Fusion BPO services
A B2B corporation with headquarters in the US, Fusion BPO Services focuses on providing customer support for process outsourcing and international business solutions. It works with many clients in various industries, assisting them in managing their business operations while taking care of the routine tasks that must be completed without error. In Draper, Utah, Fusion BPO Services was established in 2004. The business thinks all outsourcing and offshored operations from other businesses, and it provides call centers, customer support, and other services in several places across the world. In recognition of its performance and accomplishments, the company has received a few honors.
The business provides back-office services, telemarketing, order taking, answering, collection, and outbound and inbound call centers.
The success of their clients has an impact on lead generation firms' growth, maybe more so than in any other B2B sector. The Lead Generation 200 considers the annual revenue growth rate (measured over the past three years), staff growth rate, business model, and overall top-of-funnel prospecting services.
TDCX
TDCX is now the official name for Teledirect. The corporation, which celebrated its 25th anniversary this year, started as an outsourced call center that processed voice calls, emails, and faxes. Currently, the business has developed alongside the industries it was created to serve, embracing the vibrant digital economy and adapting to the growing complexity of its high-end clientele, who are growing and running at incredible rates.
TDCX is a combination of TD, Teledirect's well-known abbreviation, and CX, which stands for creative Customer Experience and is the company's future focus for its goods and services. TDCX acknowledges that digital connections are now a given in business though digitalization significantly increased Teledirect's portfolio of services in 2012, the company is nevertheless adamant that providing customers with a personal touch is still of the biggest importance.
MISSION
To help the partners and employees succeed more by providing cutting-edge, high-performance solutions.
VISION
To be the go-to partner for high-growth businesses and accomplished people.
VSynergize
Global Sales and Marketing services are given by VSynergize. The team is committed to the success of its customers and partners, for customer support, content creation and distribution, lead generation and nurturing, demand generation, appointment setting, delivering demos, and closing the deal by signing on the dotted line. VSynergize increases your sales and marketing team's efforts to hit their goals in a way that is specifically inspired by the concept of forging synergies with their clients and partners.
VSynergize gives solutions to B2B businesses operating in a range of sectors. According to the business, it is much more than just another customer support for generating B2B sales leads. It asserts to be a good partner that aids B2B USA companies in growing and achieving their goals.
VSynergize has earned the trust of clients because of its great history in the sector. It has already worked with hundreds of businesses, including big corporations and industry titans.
Invensis
It is described as a BPO, IT, and customer support company with headquarters in Bengaluru. The business was established in 2000 and has been offering its knowledge in specific customer-related industries. This company's staff, which has more than 350 people, has been providing non-voice, back-office, and BPO support. Such companies as Sprint, Web2Carz, and Wyndham are one of their clients. It is famous as a marketing company that strives to handle a better volume of incoming calls. To that end, it has employed staff to take calls, process orders, and offer answers to difficulties.
Since 2000, Fortune 500 corporations and small and medium-sized firms worldwide, have benefited from the creative process efficiencies provided by Invensis – Global Outsourcing Customer Support. Every company is unique, and Invensis is aware of this. To comprehend each client's business and tailor the outsourcing services to meet their unique requirements, they work closely with each client.
BPO services from Invensis are given to companies in a big range of industries as an all-inclusive solution. They have a solid awareness of the difficulties that companies in these sectors encounter, and they give solutions to help their customers overcome these and become distinctive in their industry.
Trupp Global
Trupp Global Technologies, a well-known outsourcing firm in Bangalore, is redefining the business world with its cutting-edge outsourced customer support, especially for small and medium-sized firms worldwide.
The outsourcing industry has grown tremendously over the last 20 years because of technological and digital developments. Today, outsourcing encompasses more tasks than only back-office support jobs like customer service. However, companies are placing more value on client relationships, which has led to many of them outsourcing their back-office work to reliable outsourcing partners. The industry's top outsourcing partner, Trupp Global, is famous for offering these companies custom outsourced solutions, becoming a crucial element of the operation.
As a partner in the expansion of business and profit, Trupp Global's clients benefit from the industry expertise and in-depth domain knowledge of the company. Trupp Global Technologies maintains an internal team of qualified people who are committed to providing customized BPO solutions in a shorter turnaround time as an obsessively value-driven business.
Global Response
When compared to other businesses in the same act of providing customer support, this company's overall rating is really good. The company has demonstrated an excellent rating in all of the services when it comes to the NPS's quality, scheduling, cost, and service. It was founded in 1974. The team, which has over 450 members, provides contacts, communications, incoming processing, and order processing services. Along with social media help, the staff of this business gives chat assistance, email support, and other services to its consumers.
Lacoste, MoMa, and Crate & Barrel are just a few of the notable clientele the business has acquired. Global Response has given the top technology billing services and deals for life science businesses. It operates daily with 100 calls made or answered, followed by order processing. The company's entire effort has improved overall processing effectiveness, which is again good for both the business and the clients.
The businesses that have already worked for them have provided positive feedback, designating the firm as one that serves as a strategic partner for them and prioritizes its success of it.
Simply Contact
This type of outsourcing business excels at providing customer support. It was established in 2015, employs about 400 full-time team members, and gives the most effective services. The mid-market and all business sizes are catered to by the Simply Contact organization. When providing its services, it considers a variety of businesses and provides the highest standard of hospitality and leisure at its corporate headquarters. Calls from many cosmetic and beauty brands are also handled by Simply Contact, both inbound and outbound.
This business's objective is to provide the highest level of customer satisfaction while assisting in growing both sales and the number of consumers. The team makes sure that the job is monitored while facilitating a simple workflow for both the analytics procedures and the entire action.
The Bolt, Wizz Air, and Yves Rocher are some of its clients. Customer service, business process outsourcing, data entry services, technical support, telemarketing, and back-office support are all provided by the company. The company is well-versed in the retail, banking, e-commerce, finance, travel, and telecommunications sectors.
Bottom line
Every kind of organization needs customer support because it essentially consists of a group of workers hired to help the company resolve the issues of the clients that contact it. The team that offers customer support is the one that quickly recognizes issues and effectively handles them. Every challenge depends on the visitors to your location and the kind of business you are doing. Many families receive assistance from a team in drafting their wills and plans. As a result, it is considered to be a key element in deciding how businesses and other items operate.
Outstanding customer support is crucial since most Indian consumers value it the most while making a purchase. It is worth noting that Indian customers often prioritize inexpensive acquisition prices when making a purchase decision without recognizing that some items may require pricey maintenance contracts and downtime owing to the shortage of spare parts.
By comparison, U.S.-made equipment enjoys a reputation in India for premium quality, durability, and low maintenance costs. Customers expect high-quality service, as they focus on getting good value for money in a difficult economic environment.
Edited by Prakriti Arora