The first meal Abhijit Banerjee ever cooked was at the age of 15.
The celebrated economist and Nobel Prize winner, Mr Banerjee, did not embark on a culinary career with that first meal.
But, according to him, it was just the start of "hundreds of thousands of meals" over the next four decades. The result is now a book that quite pleasantly surprises the reader.
A friend of his publisher, Chiki Sarkar, made a joke about Abhijit being better at cooking than an economist.
You'll learn not just how to cook a raspberry ceviche or a tasty bowl of dal, but also when to do it in the new book Cooking to Save Your Life out this week by a novel prize-winning economist. A raspberry ceviche impresses others with its sophistication; a dal to wrap yourself in when the weather is cold, Mr Banerjee writes.
He was initially planned as a book of recipes for his brother-in-law for Christmas; the economist realized as he compiled them that his instincts and insights as a cook might have more value.
The act of cooking is a social one, he says. A meal may be a gift for your family, it may be an act of seduction, or it may be an expression of self.
All of these moments are covered in his book, as well as others. Spanish chickpea soup might spark your friend's marriage proposal; a Moroccan cooked salad that will be a talking point during the in-laws' visit; and a jade biryani to ease alcohol poisoning.
Cheyenne Oliver, the family's au pair, who has cooked with Mr Banerjee a lot, illustrated the book with bright geometric illustrations instead of the usual glossy photographs of dishes.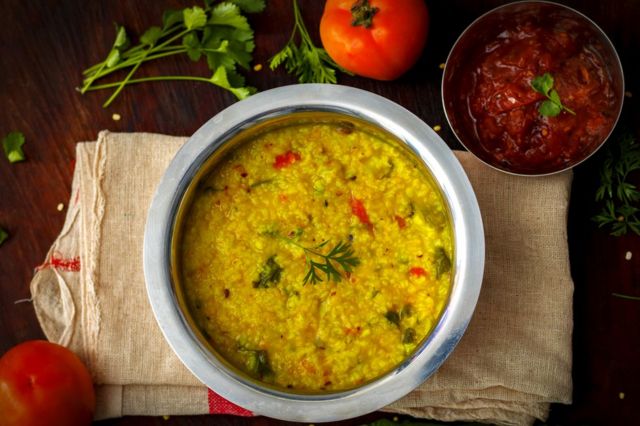 According to Ms Oliver, they wanted to make people focus on the flavour of the food and not on how it should look.
Unlike cookbooks that celebrate cooking only as an act of generosity, Mr Banerjee's irreverent and relatable work shows how emotions like envy, pride, and necessity drive the desire to cook. He clarifies that his book might not offer much direction to experienced cooks, but there are valuable lessons to be learned themselves.
He and his colleagues have won the Nobel Prize economist for their pioneering work understanding how the poor lives and their choices. Contrary to popular belief, he discovered that delicious food trumps nutrition regardless of income.
Indulgent, even decadent, recipes, with conscious choices and without many ingredients, crafted and cleverly, are what he serves. He explains that his goal is to help you cook a delicious meal even if you are short on time and resources.
A Recipe of Novel prize-winning economist
How to serve vegetables with meat on the side, serve chicken like vegetables (as his wife used to do), and put together a dessert when you don't have sugar on hand.
It throws up recipes from Nepal to Sicily, but with enough nods to his Bengali roots and upbringing, it makes it a book that belongs nowhere in particular. Aside from the many Bengali staples here, including prawns simmered in coconut milk and khichdi (a rice, lentil and vegetable dish, Mr Banerjee rates as one of his favourite comfort foods), there are also plenty of foreign foods.
Mr Banerjee's friend says that the spicy, sour potatoes pair perfectly with a shot of chilled gin or vodka in the chapter on hors d'oeuvres. A mango ceviche recipe calls for banginapalli, an Indian mango not commonly found in South American cuisine.
As part of the chapter, he includes three different dal recipes, which he refers to as "India's greatest contribution to human civilization". Besides these three, Mr Banerjee says he can come up with 20 more recipes for dal.
Article Proofread and Edited by Shreedatri Banerjee