Google has made a comeback. The Google Pixel 6 Pro is ahead of its predecessors in design, software, new camera sensors, a fresh and unique design, and loads of new software features that maximise Google's custom-built Tensor processor. 
The Pixel 6 Pro has been completely overhauled, with dual-tone glass and a camera array that spans the whole back of the phone in a bar. The 120Hz LPTO AMOLED is the biggest (and smoothest) of other Google Pixel smartphones, and there's now an in-display scanner.
The Google Pixel 6 Pro, from years of research and development, resulted in Google's first bespoke Tensor processor (made by Samsung) and the integration of the chipset with sophisticated software capabilities. The new processor allows for faster and more efficient on-device language processing and more immediate computational photography from Google. 
All of the camera sensors on the Google 6 Pro are bigger than those on other Pixel phones. Google says that the 50MP Samsung ISOCELL GN1 sensor can capture 2.5X more light than the 12.2MP primary sensor in the Pixel 5. A 48MP periscope telephoto camera with 4X optical zoom and an improved ultrawide camera with a new 12MP sensor is available. The front camera has been upgraded to 11.MP and can now shoot 4K video. Google has changed the camera's facial recognition and introduced Real Tone, a set of improvements to capture people of all skin tones correctly. 
Compared to the Snapdragon 765G used in the Pixel 5, there is an 80 per cent increase in CPU performance and a 370 per cent increase in GPU performance. Throughout its presentation, Google emphasised Tensor's enhanced language processing capabilities and included the ISP and Context Core into Tensor to improve image processing and background operations efficiency.
Packaging of the Google Pixel 6 Pro
Since a charger is no longer included, the Pixel 6 Pro arrives in a more compact packaging. A USB-C to USB-C charging cable, SIM-eject tool, paperwork, and a 'Quick Transfer Adapter' are all included in the box. You may use a USB-A cable to transfer data from another Android or iOS device to the Pixel.
Design, construction quality, and handling
According to Google, the style and look of the Google Pixel 6 Pro was inspired by quality finishes, according to Google. The back's dual-tone design is understated but gorgeous. The "glass window" on the back of the first three iterations of the Google Pixel inspired this dual-tone design.
Above the pitch-black camera bar, our Stormy Black device includes a dark rear panel and an upper accent glass mixed between grey and silver. The Google Pixel 6 Pro is the company's first phone to have three primary cameras. The 48MP periscope camera with optical zoom is hidden behind the rectangular opening in the camera bar and includes a new 50MP primary camera, an upgraded 12MP ultrawide, and a new 50MP primary camera. This camera bar reminds me of the Huawei Nexus 6P from a few years ago. 
Both back glass panels are constructed of Gorilla Glass Victus 3D glass and curve uniformly along the Pixel 6 Pro edges. Gorilla Glass Victus protects the front panel, which offers two times the scratch resistance of Gorilla Glass 3 on the Pixel 4a 5G. 
With its glossy surfaces all around, the phone is readily buried in fingerprints, even with the fingerprint-resistant coating. 
The Pixel 6 Pro weighs 210g and dimensions 163.9 x 75.9 x 8.9 mm (with the camera hump). With an IP68 dust and water resistance rating, the hardware can endure up to 1.5 metres of water for up to 30 minutes. 
With its 6.71″ edge-to-edge display, HDR10 compatibility, 120Hz refresh rate, and high brightness, there's no denying the Pixel 6 Pro is a big phone. It is also the first Pixel with curved glass on the screen. These curves nestle perfectly in the palm of your hand when you hold the phone, and no sharp edges intrude into the palm. 
The display's rounded corners are a little more squarish for a more robust aesthetic. A centred punch-hole cutout at the top of the production houses the 11.1MP camera, and a tiny slit across the top edge of the glass contains the phone's in-call speaker.
The frame is made of "polished alloy," which is made from recycled aluminium. The top border is sealed with plastic, which blends in nicely with the metal. It allows radio signals to travel through the top of the phone, which is very important for mmWave 5G. A USB-C port, microphone, and loudspeaker ports are located on the phone's backside. 
The accentuated power key has been a Google Pixel trademark since the Pixel 2. We're sorry to see the colourful trend fade away. Adding accent colours to a single button across numerous colour schemes may have caused the Pixel 6 models to be delayed longer than Google intended. The keys themselves are highly tactile, and pressing them produces an excellent, clicky sound
There are no keys on the left side. However, the nanoSIM tray is located here. These sides provide a decent size of the camera hump. 
Since the Pixel 3, Google has made fabric covers for its Pixel smartphones, but the firm has stopped creating them for undisclosed reasons. Instead, it has transitioned to colourful transparent coverings manufactured from over 30% recycled plastic. We're not sure if the new cases will age and turn yellow with time, like earlier transparent cases. The first-party claim isn't as strong as it should be; dust accumulates between the patient and the phone, perhaps leaving marks if it isn't cleaned regularly. 
The Google Pixel 6 Pro is a giant smartphone. It has a curved and angular form. Although the dual-tone finishes are beautiful, they aren't smudge-proof. Aside from that, some people may or may not want the display's edges to be curved.  
Display
A high-end LTPO AMOLED display is included with the Google Pixel 6 Pro. The 120Hz refresh rate of the 6.71″ production is automatically scaled down to 10Hz to save electricity. Google Pixel achieves a pair of firsts with this screen: the Pixel 6 Pro's display is the first Pixel to enable a 120Hz refresh rate and the first Pixel to include curved corners. It boasts a QHD+ resolution of 1440 x 3120 pixels, a pixel density of 512ppi, and a 19.5:9 aspect ratio. It also supports HDR10 and 24-bit colour depth. 
The Google Pixel 6 Pro used the manual slider to achieve 497 nits of maximum brightness in our display brightness testing. When using Adaptive Brightness, the total intelligence reached 860 nits. These figures are imposing that Google's Pixel phones have always lagged behind the competition regarding screen brightness. Despite this, display panels on recent Apple, Samsung, and Vivo flagships have already surpassed 1000 nits for peak brightness. 
Whatever the case may be, sunlight legibility is good. Even with the dark theme turned on, the menus and panels are visible, and the viewfinder is bright enough to see what you're shooting.
On the Pixel 6 Pro, there are three preset colour modes. The default colour mode is "Adaptive," which is based on the DCI-P3 colour space. "Natural," based on the sRGB standard's accuracy, and "Boosted," a saturated form of the Natural profile, are two further colour options. 
On the DCI-P3 colour space, we found an average deltaE of 2.5 and a maximum deviation of 5.3 units using the default Adaptive profile. In the sRGB colour space, the Natural shape was the most accurate, with an average delta E of 1.5 and maximum deviance of 2.8. 
We can't tweak the colour modes, and We can't change the display's resolution mode. The Pixel 6 Pro's display does not allow you to change the colour temperature or move between FHD and QHD resolutions.
Battery Capacity
The Google Pixel 6 Pro boasts a large 5,000 mAh battery that supports 30W charging. Google has announced a new 30W adapter, which will be available on the Google Store website. Any PPS-compatible charger with a 30W or higher output should be able to attain maximum charging speeds.
Wireless charging up to 23W is supported, but only with the updated version of the Google Pixel Stand. Although the Pixel 6 Pro supports Qi wireless charging and reverses wireless charging, it isn't accessible from Google. 
The Pixel 6 Pro is reported to have a battery life of "over 24-hours" or "up to 48-hours with Extreme Battery Saver." 
We regret to inform you that the Pixel 6 Pro's battery performance fell short of our expectations. The Google Tensor chip, which debuted with the Pixel 6 and 6 Pro, is a first-generation processor, and the data show that battery life isn't vital. Despite the LTPO display and promises that the Tensor can perform various tasks with half the power. 
Speakers
The Pixel 6 Pro has a dual-loudspeaker with one bottom-firing speaker and another in-call speaker. It hid the in-call speaker on the Pixel 5 below the display, which we didn't like. The audio on the 6 Pro is pretty loud, and it sounds fantastic at total volume. 
The maximum volume, there is no distortion. However, the mids and trebles may sound tinny while playing music. Otherwise, the phone's speakers are loud enough for spoken word material, but you shouldn't rely on them if you want to listen to music while cooking.
Software
Both the Pixel 6 and 6 Pro versions now have an optical in-display fingerprint scanner.
The built-in keyboard app from Google is the other update. Because the iPhone 6 Pro display has curved edges, there is cushion space on either side of the keyboard to increase typing comfort. Palm rejection is prominent across the UI and is not a hindrance. 
With Gboard, you could always type by voice, but the Tensor chip adds Assistant Speech Typing, a better method for typing by vote. Because the language model is on-device and analyses language very instantly, this will operate even if you don't have access to the internet. 
You may start typing with your voice by pressing the microphone button or saying "Hey Google, type" and yapping away. Because the Assistant will handle punctuation, you won't have to say things like "period" or "question mark," you'll be able to respond more naturally with your voice. 
If you touch on a dictated word, recommendations will now provide phonetically similar alternatives to what you're saying, rather than options for text input. Without having to click the voice button again, you may tap on a word and re-speak it to fix it, or you can reposition the mouse before inputting additional text. You may also say "Clear" to erase the previous voice entry, "Send" (incompatible apps), "Clear all" to clear the full-text field, or "Stop" to stop voice input. Some emojis, like the "smile with teeth emoji," may be inserted by speech, and you can spell out things that Assistant may not comprehend. 
The new language model allows for faster and more accurate transcription of speech to text, reducing the time it takes Google Assistant to respond to voice questions. When you need help chatting to someone in their native language, or if you're using a compatible messaging app, translation is added to the mix, which enhances Google's Interpreter mode. You may have a text discussion with someone in a different language, and Google will automatically translate both sides. 
Except for a handful of minor issues, Live Translate performed admirably. This option is hidden in the System Settings, and you must manually download the language from which the translation is to be made. The translations were adequate, and the outcome will be determined by whether or not the other individual writes in whole sentences. Even so, once everything is set up, the feature performs as expected and saves you from manually translating each message you send and receive. 
Only a few dozen chat applications now enable Live Translate, and it only works in English, French, Japanese, Spanish, German, Italian, Portuguese, Simplified Chinese, Hindi, Polish, and Russian. 
Live Translate may also translate spoken-word information into English, French, German, Italian, or Japanese (Beta). Real-time transcription and translation of sound from a video or audio source are possible.
The disadvantage of employing this function is that the actual translation remains sluggish and clumsy. The text you read in the translated language changes during its recital until the sentence is completed. The punctuation is inserted since the words begin to appear as they are uttered in their native language. Reading Live Translated subtitles can be unsettling and difficult to understand due to this. 
Apps with copyrighted material may not be able to use Live Translate. For example, Live Translate would not operate on the Netflix app to subtitle a Japanese TV episode because They deactivated the capability for the app. While the functionality performs as expected and the concept is sound.
Performance
Google's first-generation Tensor chipset is included in the Pixel 6 Pro. With Google Tensor, which was co-developed and produced by Samsung, you can see 80 per cent faster CPU performance and 370 per cent better GPU performance than the Qualcomm Snapdragon 765G that powered the Pixel 5.
Since 2017, Google has been working on a proprietary chipset for the Google Pixel to put it ahead of the competition regarding what can be accomplished with Google's machine learning and developments in computational photography. Google used a new strategy with the Tensor chipset, incorporating separate processing units that processed different software commands simultaneously and harmoniously. 
With its 2+2+4 core arrangement, Google takes a unique approach to this chipset. Two strong Cortex-X1 cores clocked at 2.8GHz, a pair of Cortex-A76 hearts clocked at 2.25GHz, and a low-power quad-core cluster of Cortex-A55 cores clocked at 1.8GHz make up this processor. Tensor is tailored for the twin X1 cores to perform medium-level jobs more effectively by allocating a portion of the burden to the mid-cores rather than maxing them out. A 20-core Mali G78 MP20 graphics processor is included.
The machine learning engine in this TPU within the Tensor chip is designed for "where ML engines are headed, not where they are today." This Tensor chip component handles new camera capabilities like the new HDRnet technique for capturing video and an upgraded language model for Google Assistant that allows faster and more accurate translation. 
This variant also enabled the Pixel 6 Pro's new Live Translate functionality. The Tensor chip can work with other portions of the chipset, such as the ISP or the CPU, to complete tasks with minimal power consumption. A "Context Hub" conducts background operations or "ambient experiences" like the always-on display and Now Playing functions without wasting battery life.
The following is a quote from Google's press conference: "Mobile phone software applications are becoming more complicated, and they are running on many sections of the chip. Instead of aiming for peak speed, Google's goal with the Tensor processor is for all of the components to operate together efficiently. This is what heterogeneous computing is all about." 
The Tensor chip from Google handles multiple app operations, language transcription, and translation more efficiently. It enhances the speed of voice inquiries with Google Assistant and the efficiency of transmitting information to and from Google. Even though Google Tensor is a sophisticated chipset by today's standards, it is unlikely to shatter records.
Starting with Geekbench 5, the Pixel 6 Pro performed admirably in the single-core test, with scores in the range of Snapdragon 870 and Snapdragon 888 smartphones. Tensor scored similarly to the Snapdragon 778G in the Samsung Galaxy A52s 5G and the Density 1200 5G in the OnePlus Nord 2. 
They placed the Pixel 6 Pro just behind the Snapdragon 888 in Antutu 9 but ahead of the Snapdragon 870, Density 1200 5G, and Snapdragon 778G. 
The Pixel 6 Pro is on its toes by the Mali-G78 MP20 GPU, which has 20 cores. In offscreen testing, the Pixel 6 Pro's performance was on par with comparable devices running the Snapdragon 888, with only the Snapdragon 888+ outperforming it. 
Meanwhile, onscreen testing reveals that the Samsung Galaxy S21 Ultra, the Snapdragon 888 and Exynos 2100 models, has a significant edge. Because the Pixel 6 Pro and the S21 Ultra have the exact resolution, this is an appropriate point of comparison. 
The Google Tensor's raw performance stats demonstrate that it isn't the greatest in CPU activities, but it excels in graphics-intensive circumstances because of its 20-core GPU. We shouldn't take these figures too seriously, metaphorically speaking. We have outstanding day-to-day performance with Google Tensor, and you may expect the same. 
On the Pixel 6 Pro, games operate well. If you plan on playing high-performance video games like Genshin Impact or Call of Duty Mobile on your phone, be aware that it will become quite hot. In an air-conditioned environment, we played a 20-minute session of Genshin Impact without a case, and the CPU temps rose to 150 F/65 C. The battery temperature was about 110 degrees Fahrenheit/43 degrees Celsius. 
On the bright side, even if the performance losses are significant, they are not abrupt; instead, they are gradual and presumably imposed purposefully at the CPU governor level. The crucial thing to remember is that a slight decrease should not cause stuttering in games or heavy programmes. We're guessing it's the best Google could do with the hardware they had at the time. 
While the Pixel 6 Pro can occasionally have high-end gaming, some smartphones may be more suited to playing intensive graphic games for extended periods. Better in-game settings, active cooling, and sophisticated performance enhancements are available. 
Camera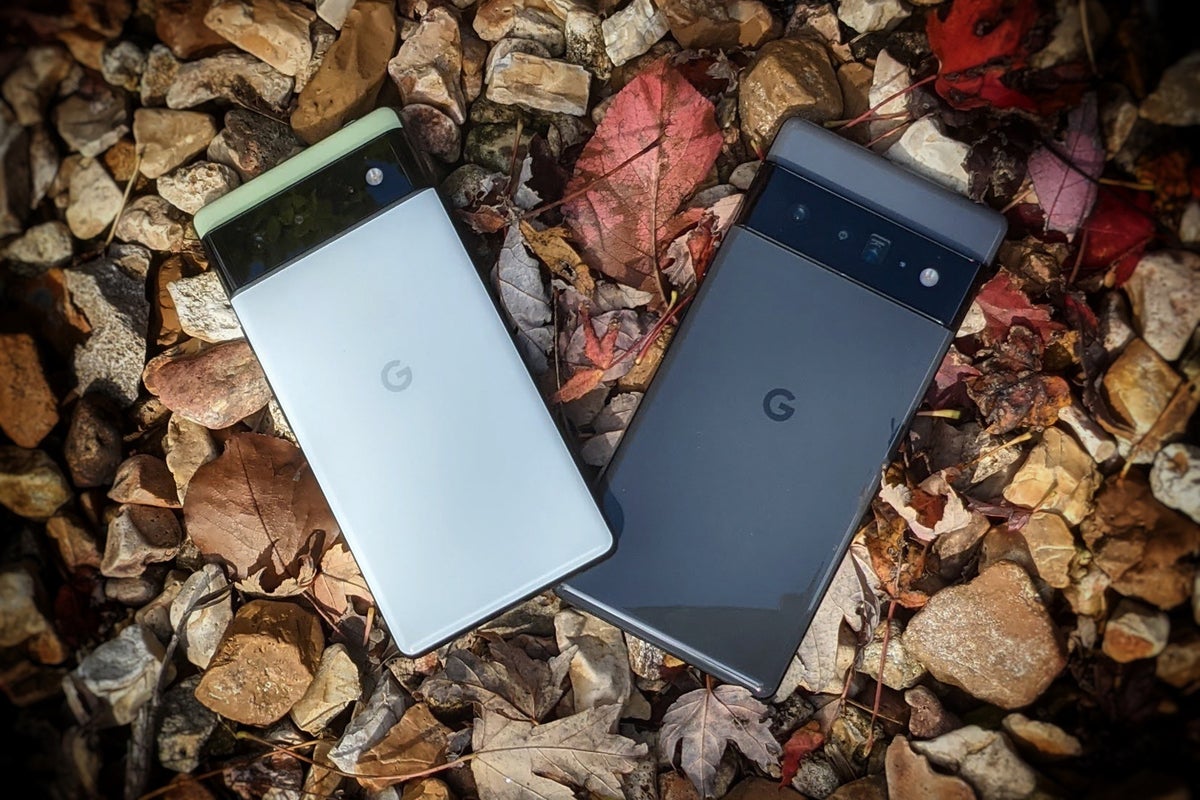 The Google Pixel 6 Pro features a redesigned camera system that has been long overdue and well appreciated. The Google Tensor processor uses the new camera technology and shooting modes, while all four cameras (three main + one selfie) have unique, bigger sensors. 
The primary camera is a 50MP Samsung ISOCELL GN1 1/1.31″ sensor with Omni-directional phase-detection autofocus and optical image stabilisation behind an f/1.85 lens with 1.2m sized compared to the Pixel 5's 1.4m pixels. This sensor can capture 2.5 times the amount of light as the previous 12.2MP sensor. There's also a laser-assisted autofocusing module in the camera cluster, and the Spectral/Flicker sensor is back. Even though the primary sensor has a resolution of 50 megapixels, photos are only produced in 12.5 megapixels. 
The Pixel 5's 24mm lens, the Pixel 6 Pro boasts an improved 11.1 MP Selfie camera with a wide 20mm lens. Pixels are significantly bigger here, at 1.22m vs 1.12m on the Pixel 5. The front camera on the Pro can shoot 4K video, but only at 30 frames per second. 
The 48MP periscope zoom camera with 4X optical zoom is the other star of the show. This 1/2″ sensor contains 0.8m pixels and is housed in a lens assembly with an f/3.5 aperture. PDAF and OIS are also included in this camera. The Pixel 6 Pro can accomplish up to 20X magnification using a mix of Super Res Zoom and an optical 4X zoom. Finally, the improved ultrawide camera has a 12MP sensor with 1.25 million pixels and an f/2.2 aperture. The front camera has been upgraded to 11—MP with an ultra-wide lens and captures 4K video. 
Google discussed its Real Tone function, which is built into the Pixel 6 cameras. It results from gathering tens of thousands of photos from visual artists whose work focuses on people of colour. Google enhanced every element of photographing a person of colour with the Pixel 6 and 6 Pro cameras thanks to these examples and input from hundreds of photographers and cinematographers.
The final word
The Pixel 6 Pro competes directly with higher-end smartphones, offering a modest pricing advantage at an $899 starting price. The Pixel 6 Pro is available in a limited number of countries, including the United States, Canada, Australia, France, Germany, Japan, Taiwan, the United Kingdom, and Ireland.
When Google revealed that the flagship Pixel phone for 2020 will be reverting to a mid-range handset with the same camera technology as the Pixel 5 last year, many people (including ourselves) were confused. We were dismayed by Google's decision not to produce a genuine flagship in our review of the Pixel 5, but now we know it could have been due to supply chain concerns that began in early 2020.
The Pixel series has been overdue for a refresh, and Google has been pleased with the Pixel 6 Pro. The phone looks great, the cameras have been improved, and Android 12 is as excellent as it's ever been. In addition, Google has committed to providing software maintenance for up to 5 years, matching its practises with Apple's. 
Even while the cameras are excellent, with deep colours and well-defined details, we believe they may benefit from a few changes. HDR+ appears to be more aggressive than it needs to be, resulting in photographs that appear somewhat overprocessed and sharper than they are in reality. Colour uniformity between the primary and ultrawide cameras is also an issue. Still, the resulting photographs are attractive to the eye. The video quality has also improved significantly, with superb dynamic range and outstanding stability. We wish to use the 4X zoom camera in lower resolution modes, but this is a glitch. 
So here's the question: Is the Google Pixel 6 Pro worth the money? It depends on where you live and whether you're ready to wait for a new phone for a while. Backorders for the Pixel 6 family have been extended till December and January for some models as of November 1st. Furthermore, the Pixel 6 pair is only accessible in a few markets around North America, Europe, and Asia. 
The Pixel 6 Pro is a beautiful take on Android that many have been waiting for, and we'd suggest it to anyone who has been holding on to an older-generation Pixel smartphone in the hopes that Google will finally deliver. If you have a Pixel 5 or 5a, we recommend waiting for a Pixel with the second-generation Tensor processor, which is better at managing battery life and less prone to throttling.
If you can get your hands on a Pixel 6 Pro, this is the most significant Google Pixel money can buy right now. Google has continued to innovate in software features, going to great lengths to tailor the chipset to make use of more software capabilities that are only available on the newest Pixels while also pushing the boundaries of computational photography. 
Pros: 

Beautiful hardware design with IP68 rating and Gorilla Glass Victus protection.

With a refresh rate of 120Hz and excellent sunlight readability, this is a fantastic display.

Beautiful user interface with bright and colourful features; Google Tensor processor gives superb all-around speed and exceptional graphics performance; newly enabled Speech Typing and on-device voice to text processing are fantastic.

Pixel camera gets much-needed improvements in still photos and video; 4X periscope camera captures stunning views.

Cons: 

The battery life falls short of expectations.

There is no charger in the box.

The charging time with 30W is not the fastest.

In static shots, HDR+ is quite harsh and might use some tweaking.

Colour calibration differs between the primary and ultrawide cameras.

Under continuous peak performance, the Google Tensor processor throttles Limited availability.
Article Proofread and Edited by Shreedatri Banerjee