Stories
Checklist for a unicorn company; Is It True That 90% of Startups Fail?
Checklist for a unicorn company; Is It True That 90% of Startups Fail?

Unicorn companies are well-respected in the business world for a good reason. To be classified like a unicorn startup, a firm must have an investor valuation of $1 billion or more, and there will be only 554 unicorns in the world by 2022. In the first week of 2021, fintech business Divvy, analytics startup Starburst, and sales engagement platform Salesloft joined the unicorn club.
While it's not impossible, being a unicorn is extremely tough. In fact, a company has a 0.00006 percent chance of becoming a unicorn, and young companies require an average of seven years to mature into unicorns.

However, some businesses succeed despite the odds. How do they manage to achieve it? We'll go through the usual qualities and techniques of successful unicorns in our unicorn startup checklist so you may follow in their footsteps and become more unicorn-like.

Checklist for a Unicorn Startup

While this unicorn startup checklist does not ensure that you will become a unicorn, it will assist you in better understanding the procedures and business strategies that unicorn companies use to flourish in their industries.

To design a product, find out a profitable business model, attract investors, and finally, scale up, follow these steps.

-Create a minimal viable product (M.V.P.) (M.V.P.)
-Determine a user issue and provide a remedy.
-Find a suitable target market that is "big and homogeneous."
-Create a product that is easy to use, affordable, and accessible.
-Create a minimum viable product (M.V.P.) that only includes the elements that are absolutely important.
-Users should be able to give comments on the M.V.P.
-Make adjustments to the M.V.P. being a result of user input.
-Calculate the product's manufacturing expenses.
-Create and release your product.
-Establish a Business Model
-Based on customer input and early performance, confirm that your product solves actual problems.
-Determine who your key client and audience are.
-Create a compelling value proposition that sets you apart from the competition.
Your product's price should be determined by:

-The benefit delivers to users
-Price comparisons
-Demographics of the target market
-Choose your product's distribution channels.
-Validate your company concept by doing a small-scale or local launch.
-Maintain a laser-like focus on providing good client experiences.
-Obtain feedback from customers.
-Periodically review and adjust your company model.
-Assurance of Funding
Bootstrap was created by:
-Putting your personal money into the market
-Obtaining contributions from family and friends
-Raise Venture Capital funding through seed and/or series rounds.
-Make a presentation deck.
-Make a pitch to investors.
-Make sure you've done your homework.
-Sign the deal after negotiating with investors.
-Start a crowdsourcing campaign.
-Demonstrate your product or company concept.
-Make the benefits of investing in your firm known.
-Set a financial target.
-Make your campaign known.
Take out a loan from:
-Banks
-Firms that invest in startups
-Credit unions are cooperative financial institutions.
-Providers of online business loans
Expand Your Business
-Make sure your product is suitable for the market.
-Customer acquisition and sales procedures should be documented and standardized.
-Determine ways to spot potential customers.
-Create marketing and advertising strategy.
-If at all feasible, automate marketing and sales procedures.
-Expand your company's reach to new areas and regions.
-To current offers, add additional features or products.
-Create a team by bringing on new people.
-As needed, create additional departments.
-Increase the number of new investors
Unicorn Startup Characteristics
While hundreds of new businesses are launched each year, most of them fail, and only a small fraction of those that do go on to become unicorns. Let's take a look at what these unicorns have in common and how you may replicate them to increase your startup's chances.

1. Unicorns are Unprecedented
Disruption is a positive thing in business, especially for aspiring unicorns. Disruption is a term used to describe innovation in an industry that has a major impact on how the industry or market functions. Disruptors usually begin at the low end of the market, providing simpler, less expensive solutions that satisfy the same demands as higher-end items.
Because of their affordability, these items become increasingly enticing to customers, and the company steadily advances up the market, maybe even taking it over. Netflix, for example, has wreaked havoc on the video and television industries by providing low-cost streaming services.
Startups must come up with innovative, unique ideas that are different from the norm in order to survive disruption. To do so, try out several business models, including freemium, subscriptions, and commissions, until you find out one that works for you. Think outside the box and try new things, but stay flexible so you can pivot at any point.
2. Unicorns know how to use technology.
Growing businesses take advantage of existing technology and tools to help them scale. Leveraging technology, whether through cloud computing, Customer Relationship Management (CRM) systems, or business software, helps businesses to operate more efficiently with fewer resources.
A.I. advancements have made it one of the most flexible technologies available to enterprises. A.I. may be used to automate operations, personalize user experiences, and improve customer service, among other things. DoorDash, for example, employs A.I. for logistics, while Kabbage is disrupting the banking business with A.I.
You may, in addition to employing technology, base your product or business on it, like most unicorns do. In fact, roughly 90 percent of unicorns are software companies.
3. Unicorns are customer-oriented
A B2C (business-to-consumer) business system is used by over 60% of unicorns, which indicates their business strategy focuses around providing inexpensive products and services to regular people. You must find methods to better the lives of a certain target population in order to build items that people actually want. In addition, items must have an intuitive UX design that is simple to use and understand by users.
Unicorns have a compelling value proposition or a promise to customers about how and why the product will benefit them. Your sales and marketing activities will benefit from having a solid value offer.
These important tools can assist raise your startup in technology becoming increasingly intertwined with commercial processes.
4. Unicorns are Powerful
The notion of M.V.P.s is based on the Lean Startup business model, which states that companies may improve efficiency by continually testing and updating their M.V.P.s based on user input.
M.V.P.s are more cost-effective to construct since they just include the "must-have" features. This allows you to pivot without compromising a completely finished product.
Uber, which was formed out of the founders' attempts to hail a cab on a cold winter night in Paris, is an example of a successful M.V.P. They started by testing their M.V.P. with just three automobiles and a rudimentary U.I., gathering customer input after each journey to improve it. Uber has evolved to be a globally recognized company because it has added new services over time.
Your M.V.P. doesn't have to be completely functional, like Uber's early version. It's designed to see if people are interested in the product at all, so if they aren't, you can discard it and go on to something else.
5. Unicorns are motivated by growth
Unicorns, according to the authors of the startup book Exponential Organizations, use techniques that allow them to expand at exponential rates, earning them the moniker "exponential organizations."
The unicorns profiled in the book choose a Massive Transformative Purpose (MTP) for their company, like Google's "Organize the World's Information." An MTP is a lofty aim that inspires the team to think outside the box in order to achieve it. These unicorn companies grew by confirming their marketing and sales channels with local testing, then immediately copying the winning techniques in additional places, all while keeping a clear vision in mind.
To scale your business like a unicorn, you'll need to set clear growth targets and create a vision, or possibly an MTP. Create a scaling strategy by finding prospective sales channels and tracking key performance factors.
New Unicorns Teach Us About Growth

Growth isn't something that happens overnight. Even the fastest-growing companies may need several rounds of fundraising to reach unicorn status. Follow in the footsteps of the last unicorn companies by using their advice on how to establish and maintain a business.

Employ the Correct Personnel – Guild Training
To develop a successful company, you'll need a strong staff that can help you expand. It's critical to recruit people who share your beliefs and the skillsets you need. You'll be able to cooperate more cohesively to achieve your goals if everyone is on the same page about where they want the firm to go.
This method may be used to hire both team members and board members. A board, according to Rachel Carlson, co-founder, and C.E.O. of ed-tech startup Guild Education, is critical in identifying business risks and possible development opportunities.
She proposed that when your company grows, you change the board member roster to establish a board that can assist meet the firm's new demands.
"It's easy to slip sideways," she added. "A common value system and a degree of trust [are] incredibly important."
Canva can help you solve real-world problems.
Customers will naturally gravitate toward products that satisfy their requirements or desires. That's why it's critical to start by identifying an issue that your company wants to solve the platform for creating infographics online, Canva was able to achieve unicorn status in 2020 by doing exactly that.
"If your startup addresses a problem, you'll have an audience who cares about it when you debut." "And then they'll tell other people because they care about the situation as well," said Melanie Perkins, the company's founder and C.E.O.
Personal experiences or common concerns experienced by the general public probably spark problems. Continue to improve your product by adding features that people desire and ask for after you've solved the Initial issue.
Know Your Stuff – Airwallex Investors play a critical part in the funding of your firm. Thus it's critical to get them on board.
According to Lucy Liu, C.E.O. of Airwallex, a cross-border payment platform, fundraising may be a long and laborious process, but the key to success is having faith in yourself and your firm. In 2019, the firm designated a unicorn, and its worth has subsequently surpassed $1 billion.
When it comes to fundraising, Liu believes that you must show investors that you know your business and your rivals inside and out; otherwise, "why would they trust you with their money and support you?"
Because investments are commercial connections rather than loans or charity, you'll need to persuade V.C.s that your firm is worthwhile, according to Liu.
"You have to think like an investor to appeal to investors," she remarked.
Effective Cost Management – Quizlet
To become a unicorn, you may need to think like a camel, an animal that symbolizes flexibility, tenacity, and resilience due to its ability to thrive in the desert.
This approach is especially important in times of business uncertainty, like during a pandemic, since it helps you to get through the crisis and maintain development in the face of unpredictability.
Achieve a long-term growth curve and this necessitates financial planning and excellent cost management throughout the firm life cycle. Cut superfluous expenditures and invest in the most important things — your product and your team — to lower your burn Rate.
Quizlet's C.E.O., Matt Glotzbach, stated, "You want to develop a business that can weather the ups and downs." During the epidemic, the firm, which provides online study platforms, became a unicorn.
"For me, resiliency is defined by two factors: the business's unit economics for user acquisition, and how far do you invest in manpower ahead of the revenue curve to fuel that growth?" "This is where we make reasoned judgments and set expectations for investments such that if we're correct, we gain tremendously, and if we're wrong, we don't suffer much," Glotzbach stated.
Calendly – Cultivate Relationships
Building and maintaining relationships is an important aspect of running a successful business. You can more quickly identify acceptable business partners, prospective clients, or possible investors if you have a network of connections.
For newer businesses, building a close relationship with experienced company leaders may be extremely useful because they can give major business insights and teach you business skills that would otherwise be learned through trial and error.
"It takes a community," says the narrator. "Find a founder or C.E.O. peer network," stated Calendly C.E.O. Babatope Awotona. In early 2021, the software business was valued at $3 billion.
"Aim to establish a balance between peers who are now at the same level and those who are a few years ahead of where you'd like to be," Awotona added.
Establish a strong Foundation – Razorpay
While desire may propel you forward, going too quickly is probable to cause you to crash and burn.
Instead, take C.E.O. Harshil Mathur's strategy and focus on long-term growth. Instead of pursuing transaction numbers or high values, his payment gateway startup Razorpay, which joined the unicorn club in 2020, Initially focused on building payment solutions for the target market.
Big clients need time and effort to recruit, and even if you succeed, "your whole bandwidth would go towards supporting this one big customer," Mathur explained. He suggested that businesses focus on smaller clients at first, then move on to larger clients once they have the infrastructure and Cash to do so.
"The plan is to show a scalable business model first, and then expand from there," Mathur explained.
Although there is no perfect formula for creating a unicorn firm, adopting the tactics and methods of successful unicorns will help you take your company to the next level. You'll be one step closer to unicorn standards after you design a simple, economical solution to meet consumers' concerns and scale it up.
Is It True That 90% of Startups Fail?
"Nine out of ten new businesses fail."
You've probably heard the statistic if you work in technology. Is this, however, correct?
Over a ten-year period, the assertion that 90 percent of businesses fail is true and validated by many studies within seven percentage points. The assertion only applies to Venture-backed companies, and failure is defined like any result that is less than a 10X investor return on capital over a ten-year period.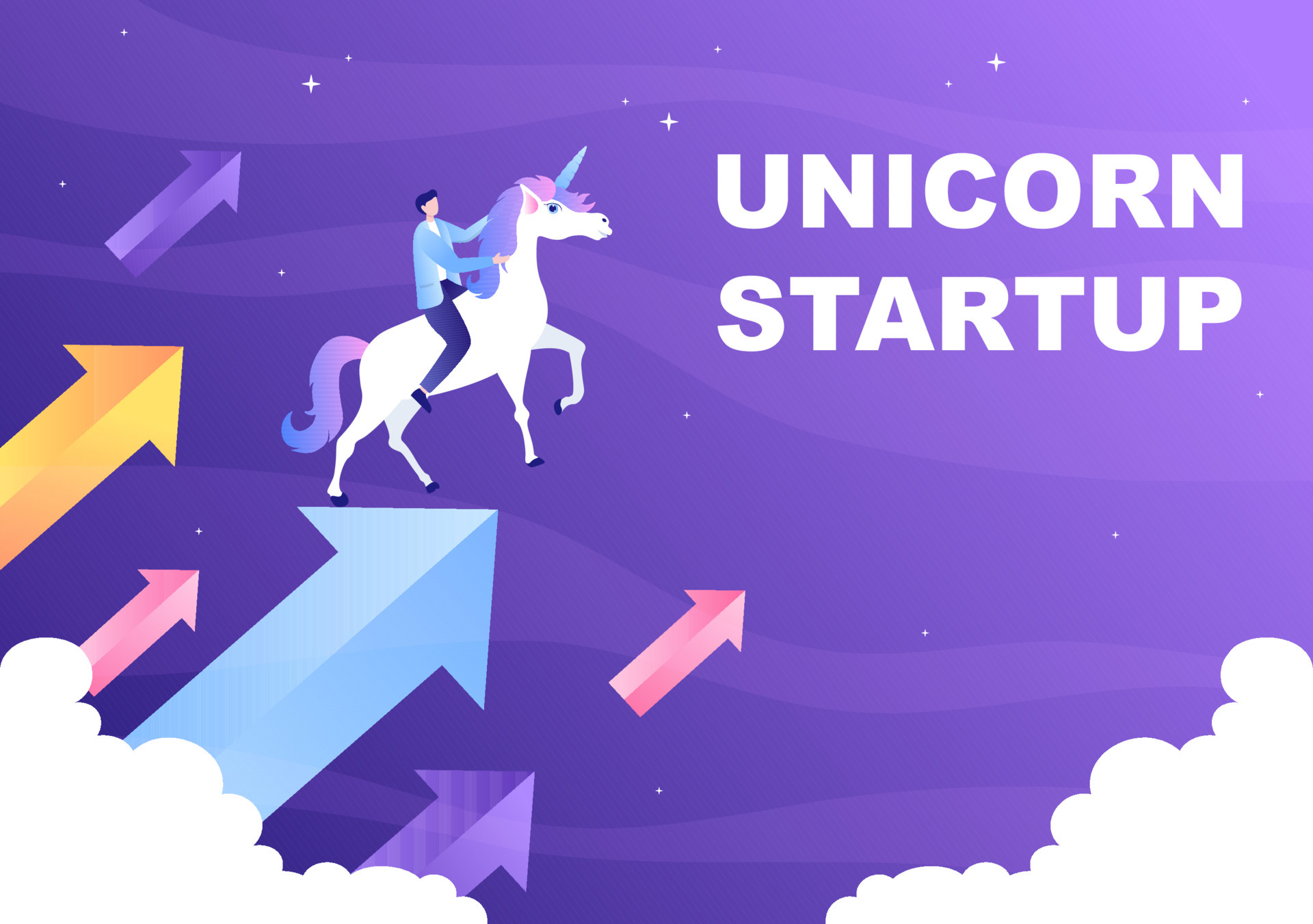 Outside of the United States, startup closure statistics1 are broadly equal to the 90 percent rule2. However, in this situation, the sample size is substantially lower. Around 70% of all Venture Capital investments will be made in the United States by 2021.
According to Census Bureau data, company success Rates range from 30 to 50 percent across all industries. According to the Bureau of Labor Statistics, the failure Rate for all company initiatives studied during a five-year period is just over 50%. 
In most metrics of company failure rates, everything short of closure is considered a success, including scenarios that have historically been frowned upon in the Venture Capital ecosystem, like linear growth patterns and "acqui-hire" exits.
The distinction between startup and business definitions has an influence on the success rate.
several descriptions of what a startup is may be found depending on where you look. According to Forbes, a startup is a new business that employs innovation to produce a disruptive product or service.
"A startup is a human institution built to build a new product or service under conditions of great uncertainty," writes Eric Reis, author of The Lean Startup. A startup, according to Startup Commons, is a group of entrepreneurs that work together to create new businesses with high growth potential and scalability.
Even with this in-depth examination of what a startup is, some clarity seems, but the complexity grows. Who, for example, determines what constitutes innovation? By these parameters, the tenth franchise location is unlikely to be a startup, but I am confident that every potential startup founder believes they are innovating with the potential for rapid development. That assumption may or may not be supported by the market.
Another question is how long a new, inventive company can remain a startup. The commonly accepted startup designation may cease after five years in several cases. According to some sources, like OECD.org, a startup becomes a scaleup after three years of average yearly growth of 20%.
This is further complicated by the amount of money invested. A consistent 7-figure ARR (Annual Recurring Revenue) can be considered a company-ending failure by a SaaS firm that has taken on considerable 8–figure funding and diluted founder shares down to single digits. A smaller firm that bootstrapped or secured only a tiny amount of seed money would consider the same result a big success.
The failure rates of startups, scaleups, and new firms differ.
The distinction between these three sorts of businesses is a key factor in risk percentages. I'll go into how they vary and why it matters in more depth later.
1. The failure rate of new firms is 70%.
In general, official statistics classify all new enterprises as startups. New franchises, a barbershop, or a florist might be among them.
Yes, they are tiny and new businesses at first, but they do not always have disruptive or compound growth choices.
The Bureau of Labor Statistics (BLS) provides the most detailed yearly information for US firms. According to the statistics of 2020, the failure rate for US-based firms in their first year is only 20% (and that includes eateries!).
By the end of year five, the failure rate has risen to 50%, and by year 10, it has risen to close to 70%. Although data from non-OECD nations tends to be less detailed, this is approximately comparable with the 40–60 percent range reported in international research on five-year cycles.
2. Startups have a 90% failure rate.
The failure rate is substantially greater for firms classed as startups because of their creative and possibly disruptive product. This is due to the fact that they have not yet achieved their growth stage or even assessed product fit during the ideation process.
This is where the statistic that "nine out of ten startups fail" comes into play.
The actual source of this statistic is unknown, however according to Startup Genome's 2019 report, just one out of every twelve entrepreneurs succeeds in developing a profitable firm. Despite the differences in percentages, this is very well in line with the initial estimate of a 10% success Rate.
3. Scaleups backed by Venture Capital have a 75% failure Rate.
Furthermore, statistics on Venture Capital failures tend to include those companies in which VCs have invested. The startup industry refers to these businesses like scaleups since they are usually past the ideation stage and into the growth stage. The product-market fit has already been proven, and a large percenatge of the high-risk ideation phase has been avoided. According to study conducted by Harvard's Shikhar Ghosh (2012), three out of every four venture-backed enterprises fail. As a result, 75%.
This figure may change in 2021, although specific national data are difficult to come by. For any Venture Investor, it is importantly a high-risk investment, but the rewards from high-growth companies that thrive should presumably offset the losses from those that fail.
As it becomes clear that different data sources define a startup differently, varying failure percentages are reported. It's difficult to provide an all-encompassing statistic of failure rates since no one is comparing like with like. A claim that 9 out of 10 companies fail is true for startups that fit a narrow definition of the word, but it doesn't tell the whole story for scaleups or even new enterprises in general.
The closest response is that establishing your own company, whether it's a startup or not, is a high-risk proposition. However, this leads to another point about which individuals dispute.
4. The failure Rate of unicorn enterprises is 99.9%.
Companies who regard unicorn status with a $1B+ valuation to represent success are highly unusual, with a success Rate of 0.00006. This category is only reached by a small percentage of all startups.
What is the definition of success and failure?
The definitions of success and failure are the next questions to consider. Is the startup doomed if it fails? Is success defined by the term exceeding a particular average yearly growth Rate for a set number of years? Is a founder's, investor's, and talent team's success or failure the same? Let's take a closer look at the details.
1. The startup is shutting down.
This definition of failure is one that everyone can agree on like a statistician's failure. It is doubtful that a firm will be classed like anything other than a failure if it ceases to trade or exist in any manner. It may not show any genuine returns in terms of return on investment. It spells job loss for talent teams. It is often the end of a wonderful concept for founders. Instead of being a total dead end, the culture of startup failure post mortems has introduced an angle of beneficial group learning from failure. Nonetheless, this scenario is a failure in almost every other way.
2. Acqui-hire of a startup
The purchase of a startup's talent rather than its actual product is one type of acquisition. These purchases aren't strictly about the product; rather, they're about acquiring access to the people that work there. Acqui-hires have been around for at least as long as Google's purchase of Milk or Facebook's acquisition of Lightbox in 2012.
Is this a setback? That is debatable. Acqui-hiring may benefit everyone from buyers to investors to founders and talent teams in companies that have already failed or halted. In a usual Acqui-hire scenario, the target firm hasn't been lighting up the market in terms of sales or market momentum. The buyer is primarily interested in retaining talent after the sale.
The savings in terms of money, effort, and time associated with forming high-performance teams would make the agreement profitable. After all, the investors may be compensated in shares by a fast-growing private firm, and thereby achieve their promised returns and timelines.
A hot, high-growth private firm or a slower-growing corporation probably pay founders in cash or equity. Their relative failure would be monetarily minimized in either case. Depending on the deal, talent teams may get shares and maintain their positions.
Investors' results, and those for talent, are more uneven for companies in their early stages or even successful post-investment stages. An Acqui-hire may be less of a failure for the entrepreneur than for anybody else in certain situations. The laws and loyalties that these circumstances entail are much beyond the scope of this paper.
For Venture Capitalists, what constitutes success?
Again, there are differing viewpoints on what constitutes success. According to Ventureburn, Venture Capitalists demand a 10X return on their investment of supporting a year or two of a scaleup's expenditures over five years. Some VC funds, like Angelhub Ventures in Stellenbosch, believe that their six successful investments are creating enough growth to fulfill these standards.
Other statistics are lower, with a return of 3X after ten years to assure a profitable investment. Only 5% of companies, according to Gil Ben-Artzy, are earning these types of profits.
So, while your scaleup may not fail in the sense that it shuts down and stops operating, it may fail to provide the necessary growth or returns to justify the money spent. Is this a setback? For Venture Capitalists or funders, the answer is almost certainly yes.
Specifics vs. generalizations
According to current statistics from Startup Genome, a respected published source, an approximately 90% failure probability for an ideation phase firm that fulfills the criteria of a startup.
Even after five years, the failure Rate for new firms with linear growth models is lower than this. However, owing to the inflow of Cash and knowledge from advisers, the figure for scaleups that have gained VC capital increases once again.
Another thing to think about is the time period. Regular enterprises can be judged on their success or failure over a set period of years. Startups and scaleups, on the other hand, are more probable to be more precisely evaluated by failure or success in a certain phase. As a result, putting up a statistic that covers all sorts of new enterprises and their failure Rate with any degree of precision is challenging.
Taking a deeper look at this well-known and often referenced statistic reveals that like an entrepreneur, you are unlikely to know the exact chance of success or failure. Even like an investor, judging whether a scaleup would follow or even yield the ideal X10 over five years will be unpredictably difficult.
How to increase your chances to more than 10%
To improve your chances of success in a startup, keep the following in mind:
-Early on, enlist the help of seasoned counsel.
-Don't dismiss long-term growth curves.
-Before you begin, think about your exit strategy.
-Utilize offshore talent to lower your burn Rate.