Stories
Not Allowed To Take Exams While Wearing Hijab, 2 Karnataka Students Leave is the latest dramatic twist in the Karnataka Hijab ban tale.
Udupi, Karnataka: Two girls who petitioned the court to allow Hijab inside classrooms were sent away from the test centre today for their final class 12 board examination after insisting on taking the exams in burqas, in yet another dramatic twist in the Karnataka Hijab ban tale. Aliya Assadi and Resham had obtained their hall tickets and were wearing burqas when they arrived at Vidyodaya PU College in Udupi to take their exams. They tried for 45 minutes to persuade the invigilators and the college principal, but they were denied any exception to the court order that upheld the state government's ban. They were then spotted quietly leaving the premises without completing the examinations.
According to the principal of Vidyodaya College, which was the scheduled examination centre, the females were to blame.
"We are adhering to the rules. Our exam invigilator tried to persuade them, but they were adamant. They had made it apparent that they had no intention of taking their tests. They only wanted to make a fuss, "Sandeep Kumar, the college's principal, stated.
The examination, which started on Friday, will last through May 18. Business Studies was the first paper. Around 6.84 lakh students will take the exam at 1,076 locations. Officers will be stationed at various sites throughout the state to ensure that no adverse circumstances arise due to pupils failing to follow the dress code.
BS Nagesh, the state's education minister, has stated unequivocally that students will not be permitted to take examinations while wearing the Hijab. This comes after several Muslim female students petitioned the Minister to allow them to take their final tests while wearing their hijabs.
Many Muslim females who attended the exam wearing Hijab stated that they would remove them inside the segregated enclosure and re-wear it once the exam was completed.
"Writing and passing the exam are just as crucial as wearing the Hijab. Our future is determined by the results of our exams "According to a news agency, a Muslim girl student in Bengaluru informed reporters.
The hijab debate has already polarised educational institutions on a political and social level.
Aliya Assadi, a 17-year-old activist fighting the state's Hijab prohibition, made a renewed appeal to Chief Minister Basavaraj Bommai last week, claiming he still had a chance "to save our future from being damaged."
Aliya, a state-level Karate champion, claims that the restriction on Hijab or headscarves will prevent many kids from taking the Pre-University exams.
"You still have a chance to save our future from being shattered. You have the option of allowing us to take tests while wearing Hijab. Please think about it. This country's future is in our hands "She had sent out a tweet.
On March 15, the Karnataka High Court dismissed petitions asking for permission for women to wear Hijab in the classroom. The court upheld the state ban, which stated that wearing a headscarf "is not an essential religious practice of Islam" and that the uniform dress code should be followed in schools where it is mandated.
Over 40 Muslim women students from Udupi, in coastal Karnataka, skipped the first pre-university exams last month, claiming that the High Court decision had injured them. The females had previously skipped the practical exams as well. The Supreme Court has turned down an urgent hearing on the appeals of the High Court's decision.
The only Muslim woman in the class voiced the subject in February: "How can you sit in a classroom with people shouting slogans against your right to wear a hijab?"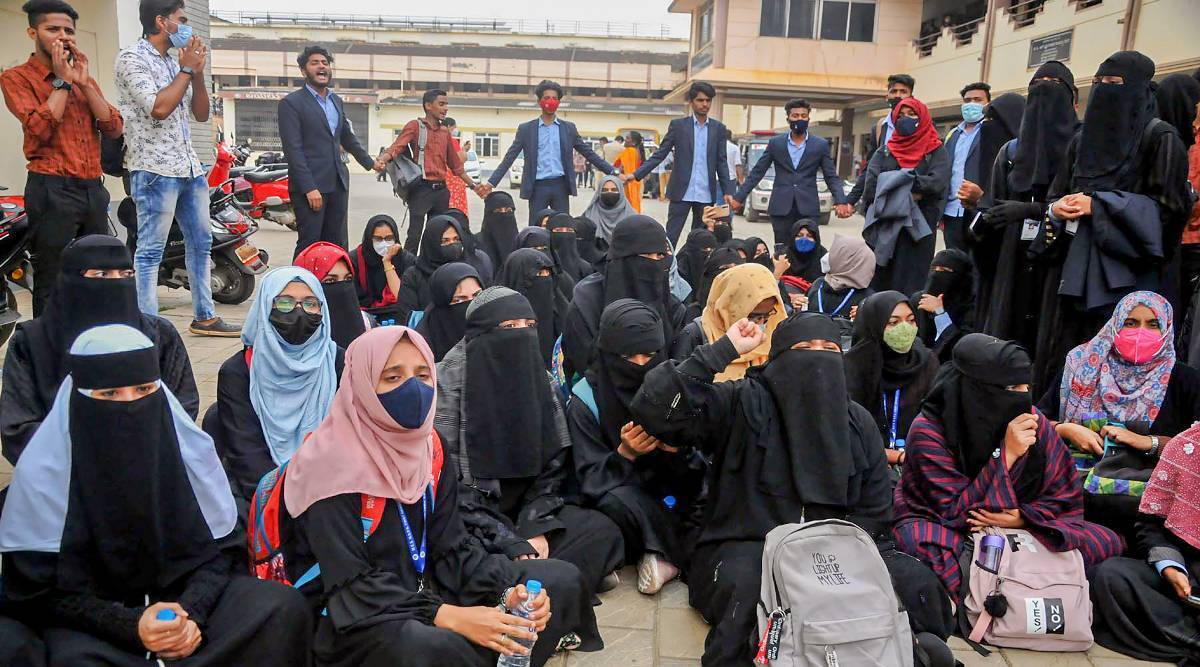 Saima, whose name has been altered at her request, is troubled by this question. Hundreds of Hindu students demonstrated against Islamic headscarves last week, and the 20-year-old was one of several hijab-clad Muslim women who stood by nervously. They were dressed in saffron scarves and turbans, shouting Jai Shri Ram, or "victory to Lord Ram" – a mantra and colour associated with Hindu right-wingers.
According to Saima, many of her classmates were among the demonstrators, the only Muslim woman in her class. In India, the Hijab has been a point of contention. Six teens from a government-run college in Karnataka's Udupi county began protesting last month after being excluded from classrooms for wearing headscarves.
With Hindu students wearing saffron scarves on campus and right-wing organizations on both sides making aggressive statements, the topic swiftly became acrimonious. Because of the threat of violence, the state administration closed all high schools and institutions.
The state's high court, now considering the case, will decide whether Muslim girls and women in Karnataka can wear the Hijab at school and college.
Young people on both sides of the divide struggle to understand their classmates and friends as they prepare to return to school on Wednesday. "I'm concerned that this will inevitably create a hostile environment in the classroom," Saima says.
"They'll assume he's a Hindu and that's why he stood against me, and we'll assume she's a Muslim and that's why she stood against me." Last Monday, Aakanksha Hanchinamath, a student at Saima's college, was one of the saffron-clad demonstrators.
Ms Hanchinamath stated that the protest resulted from a "collective decision" by Hindu pupils.
"We wanted to show them what happens when religion is brought into it," she explained.
Whether it's the student wing of the Hindu nationalist Bharatiya Janata Party (BJP), which is currently in power in the state, or the Campus Front of India (CFI), the student wing of the radical Islamic group Popular Front of India, this part of Karnataka has long seen radicalization among student groups.
In this case, the CFI backed the Udupi girls who were protesting, and as the matter grew, the BJP's student wing organized marches with students wearing saffron shawls.
"Why should we and our females observe silently if sectarian organizations like the CFI encourage Muslim students?" argues Raghupathi Bhat, a BJP lawmaker from Udupi.
This isn't the first time the Hijab has prompted protests in Karnataka's polarised coastal area, which has long been home to Hindu and Muslim right-wing parties.
Prof Phaniraj K, who belongs to a civil society body that analyses communal occurrences in the state, said that such situations were promptly settled in the past.
He cited a 15-year-old protest in Mangalore when college officials and students negotiated a "middle ground" in just five days.
"There have been sporadic incidences of people questioning hijab and skull caps within educational institutions," he continues, "but they have never blown up like this."
However, rising polarization has resulted in disparities in hijab policies across colleges.
Many private colleges, like Saima's, allow students to wear the Hijab in class.
Every year, the rules at government-run colleges are revised. The Development Committee, chaired by a local legislator, makes legal decisions.
Mr Bhat, a BJP MP, was in charge of the Udupi institution where the demonstrations first erupted. However, conversations between him, the parents of the protesting girls, and college officials came to a halt.
Rashmita Shetty, a student at a Udupi private college, says she and her Muslim friends have been watching the situation unfold with fear in recent weeks.
Her college has several Muslim students, but there have been no Hindu counter-protests. Nonetheless, she claims that things have changed. "We had never paid attention to whether or not a girl wearing a hijab. Because it was heated, they would occasionally remove it. This was never a problem, "she continued.
"My Muslim friends have informed me that this will stay with them for the rest of their lives, that they were denied their rights at such a young age and that they will be treated differently now."
Provocative comments by political leaders, she claims, exacerbated the situation: one BJP politician told Muslim students to leave for Pakistan if they wanted to wear a hijab. At the same time, another stated the Hijab had to be resisted in universities. So that Karnataka didn't become a "Taliban state."
Ms Hanchinamath claims she never considered religion while making friends, but she is adamant that she will not back down now. "I know it'll affect things among us because they think we're against them," she adds. "But all we're asking for is discipline and equality, and everyone should wear the same uniform."
Ms Shetty, on the other hand, says she will stand with her Muslim friends since they have a right to wear headscarves.
"The fact that I did not raise slogans with Muslim girls continues to upset me. But how am I going to achieve it in this environment? It's such a conundrum, "she explains.
"I've chosen to remain silent and stand with my pals. That is my objection."
edited and proofread by nikita sharma