Stories
Mukesh Dhirubhai Ambani, the corporate mogul and chairman of the Reliance Group conglomerate, also faces failure. Future Retail, his $3.2 billion venture, fell through.
Mukesh Dhirubhai Ambani, the corporate mogul and chairman of the Reliance Group conglomerate, also faces failure. Future Retail, his $3.2 billion venture, fell through.
Debt-laden According to persons familiar with the situation, Future Retail Ltd.'s offshore bondholders — a minor fraction of the creditor pool — were offered 100 per cent payment in the rescue package from billionaire Mukesh Ambani.
What would have been India's largest retail sale came to a standstill due to a disputed plan to repay offshore bondholders fully.
Debt-laden According to persons familiar with the situation, Future Retail Ltd.'s offshore bondholders — a minor fraction of the creditor pool — were offered 100 per cent payment in the rescue package from billionaire Mukesh Ambani. According to the persons, Indian lenders were requested to accept a 66 per cent haircut. They begged not to be identified since they were revealing secret information.
Last week, the action was precipitated by the local banks' rejection of Ambani's conglomerate's $3.2 billion offer. Reliance Industries Ltd. revealed the purchase proposal in August 2020, but it struggled to close the deal due to legal hurdles from Amazon.com Inc., which claimed it had the first right of refusal contractually.
The principal bankers to Future Retail, Bank of India and State Bank of India did not immediately respond to emails seeking comment on why the deal was rejected. Future Group and Reliance representatives did not immediately respond to requests for comment.
If state-run lenders accepted these discriminatory terms, they risked being investigated by federal agencies, they claimed, explaining their preference for a court-mediated insolvency process in which bids are solicited. There is no possibility of their being accused of making a poor deal. The Bank of India has already requested that an Indian court start the procedure.
Hard-bitten Choice
The tough decision by Indian banks has pushed Future Retail, which was one of the country's major retail grocery chains before the outbreak, one step closer to bankruptcy. S&P Global Ratings stated Tuesday that Future Retail is almost certain to default on its $500 million bond coupon payment due July 22, further lowering its ratings into junk territory.
The lenders' move has taken the wind out of a two-year-old legal battle between Reliance and Jeff Bezos' Amazon — the e-tailer had filed arbitration proceedings in Singapore to block the deal — but has left the door open for Ambani to snag these retail assets under the bankruptcy process, possibly at a lower price.
Even if Future Retail goes bankrupt, Satwinder Singh, a New Delhi-based partner at legal firm Vaish Associates Advocates, believes that "Reliance and other parties could be qualified to bid for its assets by presenting their resolution plans." "Any or all pending arbitration proceedings against Future would be put on hold as a result of this."
While local bankers were initially supportive of the arrangement when it was first announced, things have shifted dramatically in the last year. The asset value plummeted as the Amazon case dragged on, and the pandemic exacerbated the liquidity pressure at Future Retail, which began defaulting on its debt repayments.
According to the persons, secured Indian lenders were guaranteed recovery ranging from 34% to 88 per cent of the total $4 billion in dues, with payouts phased over seven years.
Bloodless Coup for future retail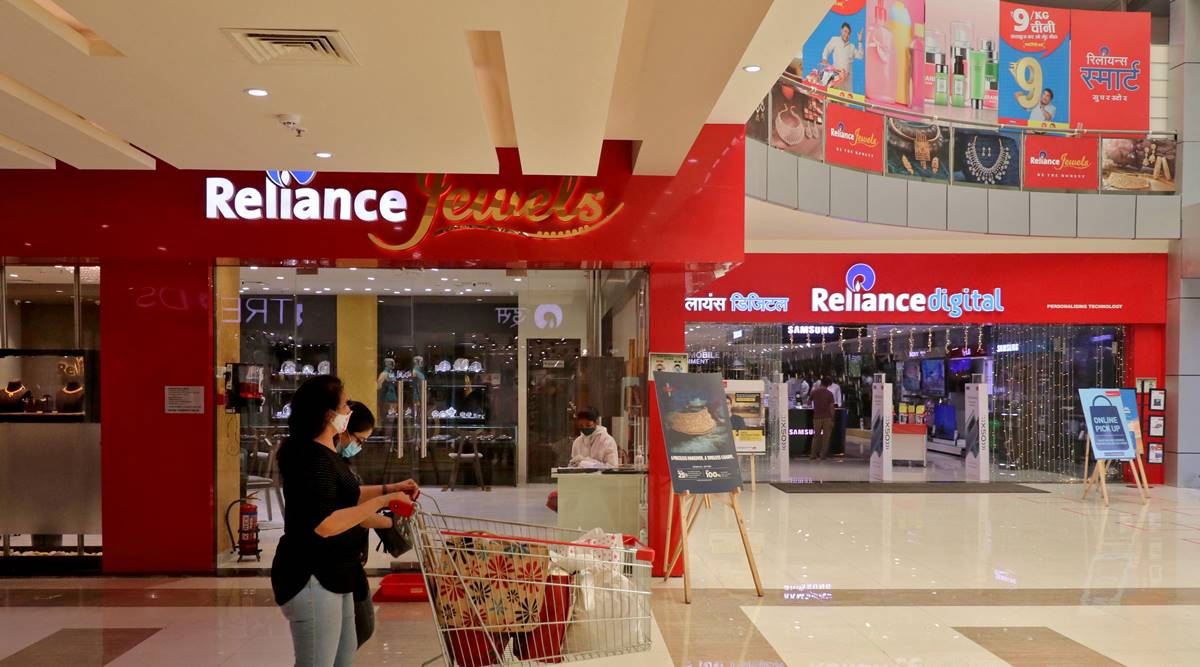 In February, Reliance quietly began poaching workers and taking over the rental leases of hundreds of outlets previously owned by Future Retail and Future Lifestyle Fashions Ltd, dealing a death blow to Kishore Biyani's Future Group. Amazon suggested settlement negotiations on the heated dispute after Ambani's bloodless coup frightened Future's investors and lenders concerned about asset stripping.
Banks' confidence in the deal was weakened by Reliance's surprise takeover of Future's outlets, which took value from the chain and may undercut Reliance's offer terms.
The firms informed India's top court on March 15 that the out-of-court peace talks between Amazon, Future, and Reliance had collapsed soon after the shop purchases began.
According to a person familiar with the subject who asked not to be identified because the conversations are confidential, Amazon will continue its arbitration procedures against Future Group in Singapore.
"When Reliance physically took over Future's stores, it became a no-holds-barred situation," said Devangshu Dutta, head of retail consultant Third Eyesight in New Delhi. "Previously, the battle was waged in the courts and at the negotiation table. But at this point, it was time to get down to business."
Kishore Biyani vs Jeff Bezos 2.0: RIL may be able to acquire FRL due to its insolvency. According to those familiar with Amazon's strategy, the Jeff Bezos-led company may continue its legal struggle with Future Retail Limited (FRL) over the $3.4 billion merger transaction between Future Group and Mukesh Ambani's Reliance. This is even though Reliance Industries told the BSE on Saturday that its agreement to buy Future Retail for over Rs 25,000 crore could not be completed since the retail company's lenders had rejected the deal.
Amazon petitions the Delhi High Court to overturn FRL's outlet closure.
Even though the merger with RIL fell through, Future Group's legal woes could worsen as e-commerce behemoth Amazon continues to seek the enforcement of a Singapore Arbitral Tribunal judgement prohibiting Future from alienating its assets. On Monday, Amazon contended in the Delhi High Court that Future Retail's (FRL) "transfer" of 835 outlets to RIL breached a Singapore Arbitral Tribunal injunction prohibiting FRL from alienating its assets until the tribunal issued a final ruling.
After bankers for the retailer voted against the agreement, RIL and Future Group broke off a contract agreed in August 2020, including the sale of Future's retail, wholesale, and logistics operations to the former for Rs 24,713 crore. In October 2020, Amazon filed a complaint with an emergency arbitration in Singapore, alleging that the proposed sale violated various agreements between Amazon and promoter group firm Future Coupons in 2019. The EA sided with Amazon, and the Arbitral Tribunal upheld the EA's award to the e-commerce behemoth. FRL requested a stay of arbitral proceedings from the Delhi High Court and subsequently the Supreme Court, which remanded the case to the Delhi High Court, which is currently hearing a provisional application.
Despite being aware of the injunction and before the NCLT approved the proposed transfer scheme, Amazon claims Future Group and RIL conspired to allow the latter to take over FRL's 835 stores on February 25 under the excuse of non-payment of rent.
Amazon senior counsel Gopal Subramanium questioned FRL's financial distress in March, citing the firm's annual account submission for FY21 as late as July 21, where it stated it was in a "comfortable financial position," and a meeting with bankers as late as December 2021, where it reportedly said it was in a shortfall of only about Rs 250 crore in lease obligations, just before its March disclosure to stock exchanges referred to its dire financial position lea.
On April 28, the hearing will resume. The judge also inquired whether RIL was a party to the motion for interim relief, to which Amazon replied that it was not yet.
Amazon attempts to have an arbitral order prohibiting Future from alienating assets enforced.

In February, RIL took possession of 835 Future outlets after the latter failed to pay its rent.

Bankers are likely to take Future to IBC now that the RIL deal has been cancelled.

Future is said to owe creditors Rs 29,000 crore.
Amazon is unable to purchase a stake in FRL due to FDI restrictions in the retail sector, but its partner Samara Capital and others such as RIL can bid for assets.
So, what's next?
Reliance Industries Ltd (RIL) has called off the agreement with Future Retail Ltd (FRL) after secured creditors voted against the scheme. Amazon and FRL had previously told the SC that they wanted to appear before the Singapore International Arbitration Centre in connection with pending arbitration proceedings. The fundamental question is: What happened to Reliance's reported acquisition of FRL's stores and assets? While Amazon claims asset transfer, Future Retail told the SC that no support had been moved and that the landlords had terminated the leases since the rentals had not been paid for over two years.
RIL claims in a regulatory filing, "The Future group companies, which include FRL and other publicly traded firms involved in the plan, have informed their shareholders and creditors of the results of the scheme of arrangement vote at their respective meetings. According to these results, FRL's shareholders and unsecured creditors voted in favour of the plan. The secured creditors of FRL, on the other hand, voted against the plan. As a result, the subject scheme of arrangement will be unable to be executed."
Future Retail filed the voting results and scrutiniser report of a secured creditors meeting held on April 21, 2022. The conference was called after the Mumbai bench of the National Company Law Tribunal (NCLT) issued an order. The resolution to study and adopt the composite scheme of arrangement between FRL and Reliance received 69.29 per cent of the vote against it, while 30.71 per cent voted in favour of it.
Under the scheme of arrangement, Future Group's retail and wholesale businesses, as well as logistics and storage, were transferred to Reliance Retail Ventures Ltd (RRVL), a subsidiary, and Reliance Retail and Fashion Lifestyle Ltd (RRFLL), a wholly-owned subsidiary of RRVL, for Rs24,371 crore.
Amazon has been fighting the acquisition since it was disclosed, and there have been numerous judicial skirmishes.
In 2019, Amazon invested in Future Coupons Ltd (FCL), acquiring 49 per cent of the company's shares to get a foothold in the booming multi-brand retail market. The terms of the investment and the conditions tied to it do not appear to be publicly disclosed.
Future Coupons invested the funds in Future Retail. This publicly-traded company operates in the limited multi-brand retail sector, where foreign investment is subject to several restrictions.
The Competition Commission of India has scrutinised both Amazon's investment in FCL and FCL's subsequent investment in FRL (CCI).
Future Group agreed to sell its retail company to another large group within a year of this happening. Amazon attempted to stop it, which is now keeping many attorneys and courts busy! (Read: The King's Knights Have Finally Awakened in the Future Group-Amazon Feud)
Independent directors of Kishore Biyani's Future Retail reportedly accepted the deal with Mukesh Ambani's Reliance Retail Ventures in January. These directors notified Amazon.com NV Investment Holdings that the company's pledge to give Rs3,500 crore in funding was a "smoke and mirrors" stunt.
"It (Reliance's offer) helps FRL to satisfy practically all FRL's liabilities and, in the process, helps protect the investment of small shareholders and jobs of over 25,000 people," the report from Business Standard reads, citing a letter issued by FRL on January 25, 2022.
"We would have been pleased to engage with you if you were serious about providing money to the tune of Rs3,500 crore within the timeframe (in order to repay banks and avoid being classified as a non-performing asset, or NPA)." "However, it is now evident that your letters were really a game of smoke and mirrors designed to garner maximum public attention and create media headlines stating that 'Amazon is prepared to assist,'" the letter states.
Future Retail also submitted the letter to the Enforcement Directorate (ED), Securities and Exchange Board of India (SEBI) (then) chairman Ajay Tyagi, and CCI chairman Ashok K Gupta, according to the article.
In a previous hearing, senior advocate Harish Salve, representing FRL, told the Supreme Court that no one wants to do business with the company today because Section 7 of the Insolvency and Bankruptcy Code (IBC) could be implemented at any time, and the company owes landlords thousands of crores in rent. "Because Amazon was unable to acquire Future Retail, the company was destroyed."
Mr Salve claimed that Reliance and the landlords reached an arrangement, and Future Retail owes Rs3,000 crore in rent. He went on to say that once this is included in Section 7 of the IBC, everything will come to a halt, and no one would want to do business with it.
According to the senior lawyer, Amazon destroyed his client's company for Rs1,400 crore. "They couldn't get Future Retail, so they destroyed it," he added, adding that Big Bazaar and its assets are also gone.
"Nobody wants to touch us, so all of my accounts are frozen. After states implemented lockdown, future retail cash flow dropped even further. Suspended by a thread, "Mr Salve had informed the apex court.
Amazon's senior lawyer, Gopal Subramanium, argued that in terms of resuming the arbitration, it appears that both parties have discovered common ground and are interested in resumption.
On the other hand, he was adamantly opposed to the abrupt transfer of Future Retail assets. Mr Subramanium contested the alienation of Future Retail purchases, citing a prayer in Amazon's application "There's no way it's a miraculous switch… Future retail stores shall continue to be operated by FRL until an arbitral tribunal resolves the question."
In its application, Amazon cited the issue of Reliance taking over Future Retail's stores and assets and the restart of arbitration over FRL's merger arrangement with Reliance Retail.
Future Store had been subletting retail space from Reliance Group. FRL said in a regulatory filing on March 9, 2022 that Reliance firms had terminated sub-leases for 342 large stores and 493 smaller outlets, accounting for 55 to 65 percent of retail revenue.
So, while RIL's deal with the Future group may have fallen through, Amazon and FRL will undoubtedly continue their legal battles.
edited and proofread by nikita sharma