Stories
Rahul Gandhi's Controversial Remarks Leading To Multiple Defamation Cases.
A prominent member of the Indian National Party, Rahul Gandhi, has been charged with making defamatory remarks in a number of public speeches. He has been the target of several defamation lawsuits brought by groups and people in India.
Rahul Gandhi's Controversial Remarks Leading to Multiple Defamation Cases.
A prominent member of the Indian National Party, Rahul Gandhi, has been charged with making defamatory remarks in a number of public speeches. He has been the target of several defamation lawsuits brought by groups and people in India.
Rahul Gandhi was sentenced to two years in prison by a Surat court on Thursday. The complaint was filed against him in 2019 for criminal defamation because he said that "all thieves have the Modi surname."
The Wayanad MP was given bail and his punishment was put on hold for 30 days so that he could file an appeal. Gandhi's comment was the subject of a complaint made in April 2019 by BJP MLA from Surat West and former Gujarat minister Purnesh Modi under IPC 499 and 500. The Wayanad Lok Sabha Member allegedly made the remark while campaigning in Kolar, Karnataka, shortly before the 2019 Lok Sabha elections.
A person who receives a sentence of two years or more in jail is prohibited from running for office "from the date of such conviction" and is also prohibited for a further six years after serving their term, according to the Representation of the People Act.
The inflammatory comments made by the Gandhi scion have caused a quarrel before. Let's look at a few instances where the previous leader of Congress got into difficulty because of his divisive comments:
"Chowkidar chor hai"
Rahul Gandhi asserted that the SC has ruled that "chowkidar" (PM Modi) is a thief," which caused controversy. Meenakshi Lekhi, a member of the BJP, petitioned the SC to hold Gandhi in contempt for attributing his comments against the Rafale verdict to the supreme court.
For attributing his political catchphrase "Chowkidar Chor Hai" to the Supreme Court, Rahul Gandhi filed an unqualified apology to the court.
A Mumbai court ordered Rahul Gandhi to appear after he attacked Prime Minister Narendra Modi by calling him "commander-in-thief" in relation to the Rafale deal. He later clarified that he had "incorrectly ascribed" the comment to the Supreme Court in an affidavit that was submitted to the court.
"The RSS murdered Mahatma Gandhi."
The Indian Supreme Court decided in 2019 not to charge Rahul Gandhi with contempt for making a "chor" joke about Prime Minister Narendra Modi. Gandhi was a well-known politician, and the supreme court told him to be more careful going forward.
Rahul Gandhi told the Supreme Court in an affidavit that his remarks were delivered throughout a political campaign and that his opponents had taken them out of context.
Following Gandhi's 2014 speech at Thane's Bhiwandi township, in which the Congress politician claimed that the RSS was responsible for Mahatma Gandhi's murder, Rajesh Kunte, a local RSS functionary, filed a lawsuit against Gandhi. Rahul Gandhi asked to be exempted from appearing in person on a regular basis.
Gandhi was charged in the case in 2018; however, he entered a not-guilty plea. Rahul Gandhi admitted to the highest court that he never held the RSS responsible for the assassination of Mahatma Gandhi while facing defamation proceedings in Maharashtra.
As RSS member Anjan Bora filed a criminal complaint against the Congress leader for making false claims to harm the reputation of the group, he was also called before a Guwahati court.
Rape in India
When he claimed that although Prime Minister Narendra Modi had said "Make in India," what we are seeing now is "Rape in India," Rahul Gandhi sparked yet another controversy while speaking at an election rally in Jharkhand. Rahul Gandhi criticized the BJP and the Modi administration, saying, "In Jharkhand, women are being violated.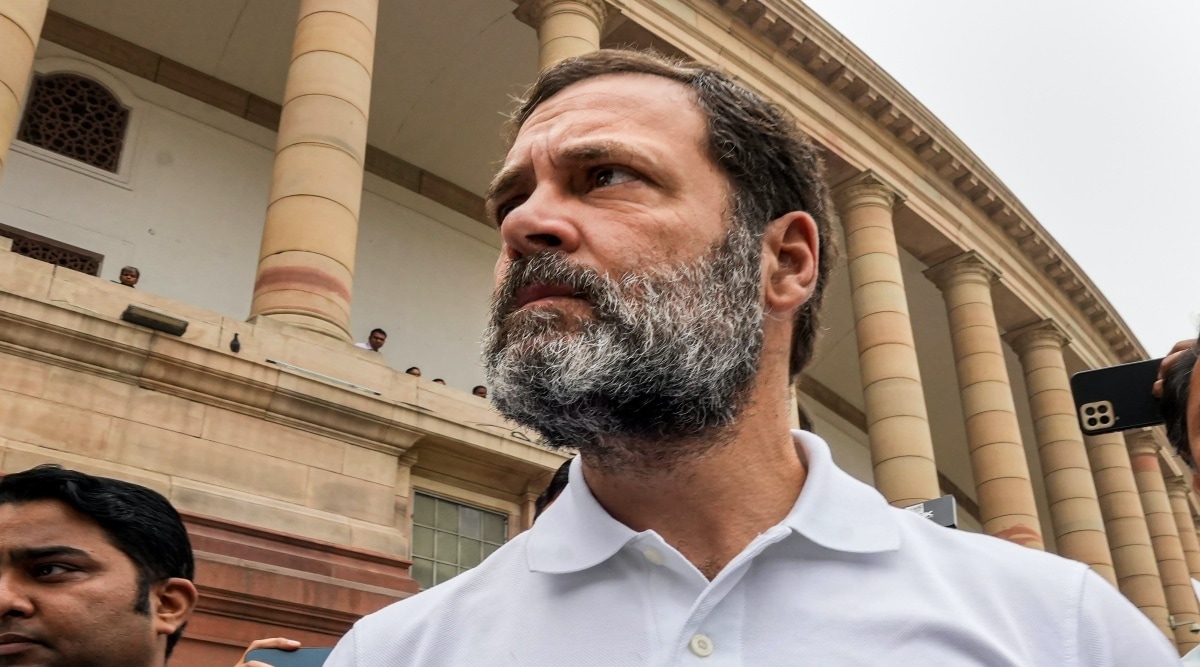 A BJP Lawmaker (Kuldeep Senger) sexually assaulted a woman in Uttar Pradesh. Rapes occur every day in every state. Protecting females and educating them is another of PM Modi's catchphrases, although he omitted to specify from whom the daughters should be shielded in his statement. Should BJP MLAs be kept at bay from them?"
In response, a social worker accused Rahul Gandhi of sedition on the grounds that his comments had wounded people's feelings.
"Khoon ki dalali."
Rahul Gandhi claimed in 2016 that PM Narendra Modi was engaging in "khoon ki dalaali" by attempting to use the Army's anti-terror operation for political gain. "Jinhone surgical strike kiya, hamare jawaan hain jinhone khoon diya hai, unke khoon ke peechhe aap (PM) chhupe hue ho. (You are sheltering behind the soldiers who performed the surgical strikes and shed their blood.) "Rahul Gandhi had stated that.
The Gandhi scion later clarified his position on surgical strikes against terrorists on his Twitter account, saying that while he supports them, he will never accept the use of the Indian Army in political advertisements or other forms of propaganda.
Comments about Amit Shah.
After reportedly referring to Union Home Minister Amit Shah as a "murder suspect" at a Lok Sabha campaign address in Jabalpur, a complaint was brought against Rahul Gandhi in May 2019.
He referred to the Congressman's remark as "slanderous," noting that Shah had been freed in 2015 after being found not guilty in the Sohrabuddin Sheikh fake encounter case. A Gujarat court eventually awarded him bail in the slander case.
Comments on the Assam monastery.
An RSS volunteer launched a criminal defamation action against Rahul in Assam in December 2015 because of his claims that Sangh members prevented him from entering Barpeta Satra, an Assamese Vaishnavite monastery from the sixteenth century. That year, he came before the local court and was given bail.
Based on a tweet sent on June 23, 2018, a charge was brought against Rahul "Congratulations to Ahmedabad District Co-operative Bank Director Amit Shah ji on your bank's victory in the conversion of old notes to new race.
Seven hundred fifty billion rupees in five days! We admire your accomplishment on behalf of the millions of Indians whose lives were ruined by demonetization! #ShahZyadaKhaGaya". A criminal defamation complaint was filed in an Ahmedabad court more than ten months after Rahul's tweet by the bank and its chairman, Ajay Patel.
In the lawsuit, Rahul received bail in July 2019. Ajit Jadeja, the solicitor for the complainants, announced that the following session is scheduled for July 1 and that plaintiff evidence in both instances is now being cross-examined.
Comments on the Rafale.
In November 2018, Mahesh Shrishrimal, a Maharashtrian BJP official, filed a defamation action in retaliation to Rahul's purported description of Narendra Modi as a "commander-in-thief" during the Rafale controversy.
Around that time, Shrishrimal had also remarked, "Rahul had defamed Modi as well as BJP workers by dubbing the PM commander-in-thief throughout a rally last year," in a conversation with The Indian Express.
Rahul went to the Bombay High Court to attempt to have the complaint dismissed, and the court granted a stay of the proceedings. The trial has not yet started in this instance either.
Remarks on Gauri Lankesh.
Dhrutiman Joshi, an RSS activist and lawyer based in Maharashtra, filed a defamation lawsuit against Rahul and CPI(M) national secretary Sitaram Yechury in February 2019 for allegedly connecting the Sangh to the murder of writer Gauri Lankesh.
Joshi argued in his petition that Rahul informed reporters that "anyone who speaks against the philosophy of the BJP, against the doctrine of the RSS, is pressured, beaten, attacked, and even killed" less than 24 hours after Lankesh's passing. The accusation further claimed that Yechury, who was renowned for sharply criticizing right-wing politics, said that Lankesh was "murdered" by the RSS and its members.
Edited by Prakriti Arora