Trends
Apna's rise in advertising expenses caused the company a 4x loss in FY22.
Apna's rise in advertising expenses caused the company a 4x loss in FY22.
The company Apna, which is funded by Sequoia Capital, had its net loss increase by approximately 4X year over year (YoY) to INR 112.5 Cr in the fiscal year that ended March 31, 2022, as a result of a steep increase in advertising costs. In the fiscal year 2020–21, the company reported a loss of 28.2 Cr. Indian rupees (FY21).
Total revenue for the job market increased by 283% to INR 65.7 Cr in FY22 from INR 17 Cr in FY21, while expenses increased by 3.9X to INR 178.3 Cr from INR 45.4 Cr.
The operating income for Apna increased by 277% to INR 63.8 Cr from INR 16.9 Cr in FY21.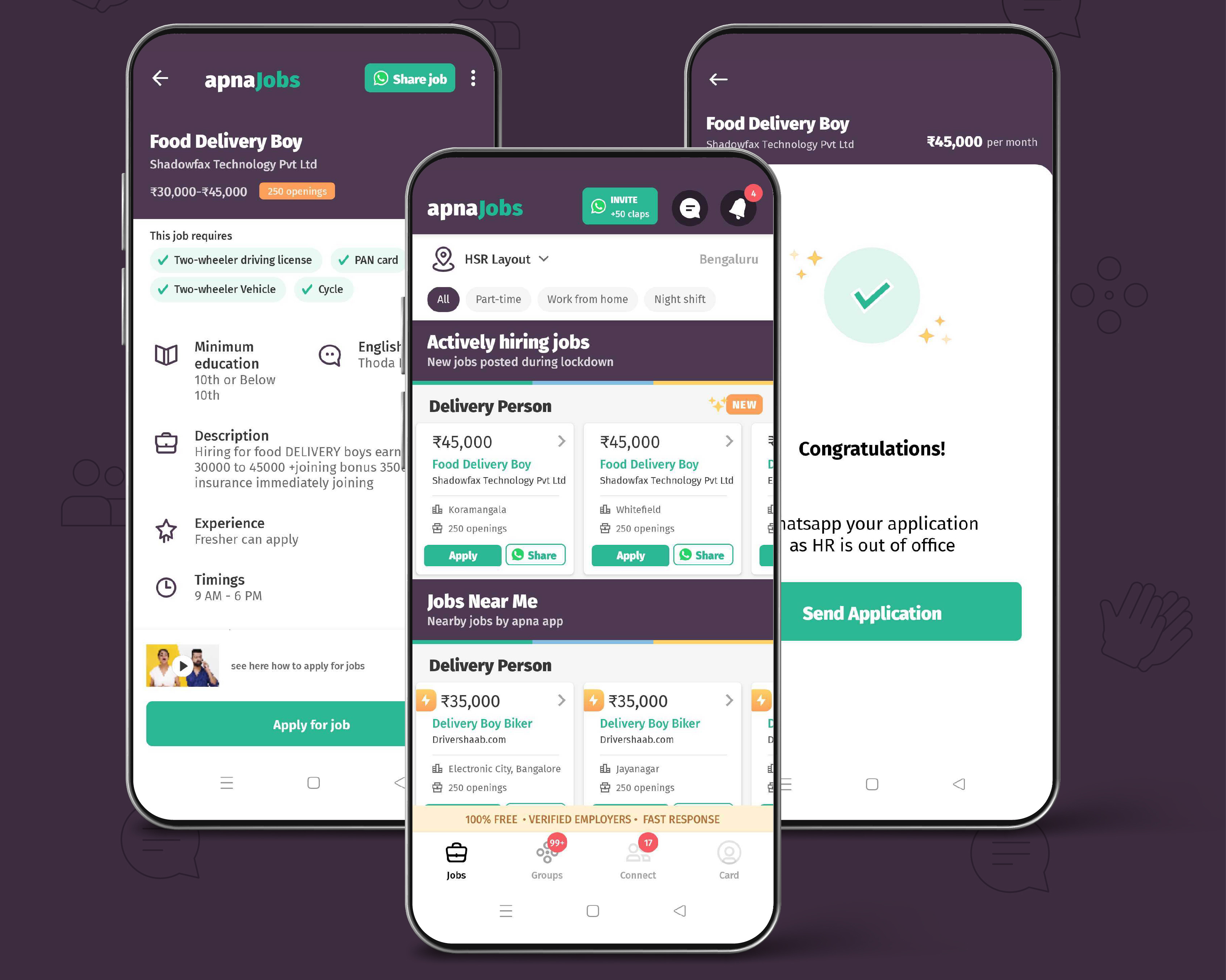 Apna, a job marketplace for India's blue-collar workers, has joined the unicorn club after raising $100 Mn in a Series C round led by Tiger Global, with participation from Owl Ventures, Insight Partners, Sequoia Capital, Maverick Ventures, and GSV Ventures, at a valuation of $1.1 Bn. This comes as the Indian job market is in flux due to the country's ongoing digital transformation.
According to its papers, the firm primarily earns money by offering recruitment solutions through its website and mobile application. When the relevant service is finished or the subscription period expires, whichever comes first, fees are paid and reported as revenue from recruitment solutions.
Within two years of its founding, Apna was the fastest startup to join the unicorn club. To assist professionals in connecting with potential employers and finding jobs, Apna has been established as a professional networking and jobs platform.
Apna was established in 2019 in Mumbai, Maharashtra, and it took about 21 months and 15 months to reach unicorn status. Nirmit Parikh, a former executive at Apple, launched the company, which has now been valued at $1.1 billion thanks to a fresh round of funding headed by Tiger Global Management.
The app is currently available in 28 cities and in 11 Indian languages. In addition, the company has created 70 community networks for experts in a range of industries, from beauticians to electricians, to share knowledge and explore opportunities.
Zomato, Flipkart, Urban Company, Byju's, PhonePe, and Burger King are some of its customers.
To assist job seekers in upskilling and reskilling, it also offers a peer-to-peer network among those who use its platform.
Before September of last year, when Apna joined the unicorn club, it had no revenue. It appears to have started charging for its services in the following months, though.
Founder Nirmit Parikh stated that the business was trying different approaches for earning income at the time on a small number of users in an interview following the fundraising last year. "We're going to start exposing our user base to this on a larger scale. We're now around 0.1% or 0.4%, and we want to gradually raise it. A long-term monetization lens exists, he said."
Particularly before a firm generates enough revenue for the financials to speak for themselves, a compelling story can go a long way.
Parikh claims he worked covertly as an industrial worker for many days at an Ahmedabad manufacturing facility. Following that, he developed the concept of hosting vertical professional groups for networking, skill-up, and job-seeking purposes.
The company's product team produced more than 30 iterations of the mobile app in a short period. A 30-person staff now communicates with 1,000 customers every day to learn about their joys and frustrations. According to the investors, "all of this is promptly fed back into the app via weekly feature releases."
The Sequoia investors wrote, "Telling stories is the unseen thread that has enabled Apna to persuade business leaders at established firms to quit their highly paid professions and join a startup with all the dangers associated. That, in addition to inspiring millions of users and thousands of businesses to devote their valuable time to a new product, has attracted some of the top venture investors in the world as long-term partners."
Why advertising is important and why is advertising expense rising?
Reaching consumers who are challenging to reach through conventional techniques can be done very successfully with data-driven marketing and advertising. Businesses can more successfully reach their target audiences and reduce their spending on advertising by leveraging data to target consumers. Additionally, data-driven marketing and advertising can assist companies in developing more specialized and successful marketing efforts by improving client understanding.
Advertising has increased in price as data costs have surged. Particularly true for digital advertising, which may be expensive to create and keep up. For businesses, this means that to maximize their advertising budgets, they must exercise greater caution. Additionally, it implies that companies must use more inventive methods to connect with their target markets. To be more specific, Apple's changes to ad targeting have made it exceedingly expensive for marketers to reach their intended consumers through social networks.
Businesses with relatively high prices and large advertising budgets, for example, made more money than businesses with relatively low prices and large advertising budgets. This consistency is crucial for analyzing how elements like product quality, life cycle stages, product risk, and market share affect the link between price and advertising. The writers also discuss whether advertising drives up consumer costs.
edited and proofread by nikita sharma