Trends
China helped Apple establish its empire. Can India intervene as fractures start to show 2022?
China helped Apple establish its empire. Can India intervene as fractures start to show 2022?
Apple presents its newest smartphones in September at its cutting-edge Silicon Valley location. A few weeks ago, tens of thousands of its latest handsets were delivered from Chinese manufacturers to customers all over the world after being assembled by hordes of temp workers employed by its suppliers.
The annual rollout of Apple's iPhones typically goes off without a hitch, serving to be a shining illustration of how the American computer giant has successfully navigated the world's two major economies to emerge as the most profitable business of the globalization age.
However, this year's seamless launch of the iPhone 14 was the latest recent victim of the escalating challenges of conducting business in China. Apple has been compelled to reevaluate important facets of its company due to Beijing's no-holds-barred strategy to stop Covid-19 and strained relations with the United States.
In Zhengzhou, central China, where Apple has its major iPhone production, a recent epidemic of coronavirus infections forced local authorities to impose a seven-day shutdown last week. The company announced on Sunday that it would not be capable of manufacturing enough smartphones to meet demand over the holiday shopping season.
Apple has also been the subject of bipartisan involvement in Washington for a major part of this year, where concern over Beijing's military provocations and technological ambitions has upended the free trade convention. In March, rumors began circulating that Apple was negotiating with Yangtze Memory Technology Company, or YMTC, an unknown Chinese memory chip manufacturer, to supply parts for the iPhone 14.
That ran afoul of the investigation being conducted by a group of congressmen and more than one dozen legislative aides, who had been studying Apple's distribution network in China for months. It was challenging for Apple to move forward with the purchase after the Commerce Department set limitations last month prohibiting American companies from exporting machinery to YMTC.
Apple has officially acknowledged that it spoke with YMTC; however, YMTC declined to comment. However, when questioned if the business had given up on the potential of cooperating, an Apple representative declined to answer.
The most recent events highlight how Apple's intimate links to China, once seen as a strength of the business, have changed into a problem.
It is no accident that China's economic expansion has closely mirrored Apple's journey from nearly bankrupt in the nineties to the top-ranked business in the world. It invented a business strategy that combined the finest aspects of both worlds: California-designed goods were made cheaply in China and then marketed to the country's expanding middle class.
Profits for Apple soared as China's economy boomed. However, as Sino-American ties deteriorate and both governments interfere with Apple's operations, the corporation has changed from being one of the biggest success stories of globalization to become a symbol of its breakdown.
According to Matthew Turpin, a guest fellow at the Brookings Institution who specializes in U.S. policy towards China, "Apple realizes that politics dictate business models — rather than the other way around." "This entire collection of vulnerabilities is turning them into a serious liability,"
Business leaders have been compelled to reevaluate long-held beliefs about doing business in China as a result of Xi Jinping, the country's leader. Economic expansion was the Chinese government's main aim for a number of decades. But Mr. Xi made it clear during a crucial Communist Party meeting last month that security concerns and the party's stronger ideological stances would reign supreme over business considerations.
Mr. Xi's "zero Covid" policy has stifled the country's economic growth and reduced industrial output, and his administration is under pressure from markets and business leaders to relax the limits. However, it hasn't been evident that a change will be made.
According to Jeff Fieldhack, a researcher with technology research firm Counterpoint Research, loosening Covid limitations would allow Apple to cover some of its supplier shortfalls and meet some demands. However, the business will still lose business this holiday season.
Apple would find it challenging to separate from China. The corporation spent two decades collaborating with major suppliers to construct massive factories supported by a sizable local supplier network. It has increased the proportion of Chinese components in its goods over time as a result of their more affordable cost.
A small part of Apple's most recent iPhones is now made in India in an effort to reduce its reliance on China. It moved the manufacturing of several other goods to Vietnam. Apple's size in China, in which its production partners employ almost three million people, is only available in plants with tens of hundreds of employees in both markets.
Apple relies on facilities like the Zhengzhou iPhone production plant run by Foxconn, its largest assembly partner. Foxconn walled its nearly 200,000 employees inside the gates of a factory that, according to Counterpoint Research, could produce up to 85% of iPhones globally when Covid-19 cases started to rise in the region. Covid quickly began to spread, and Foxconn tried to strike a compromise between corporate needs and the country's stringent pandemic policy.
Chinese social media became swamped with reports of unrest & food shortages, which made workers worry for their lives. Many ran away. At first, the assembler promised employees an extra $14 per day to stay on the job. Later, it increased to $55 per day, almost a fourfold increase.
According to Apple on Sunday, the facility was forced to work at "substantially reduced capacity" when authorities put the area around the plant under lockdown. When operations resume at full strength is unknown.
Apple was compelled to issue a third warning to investors in three years that pandemic-related interruptions could impact sales to its business in China as a result of the production delay in Zhengzhou.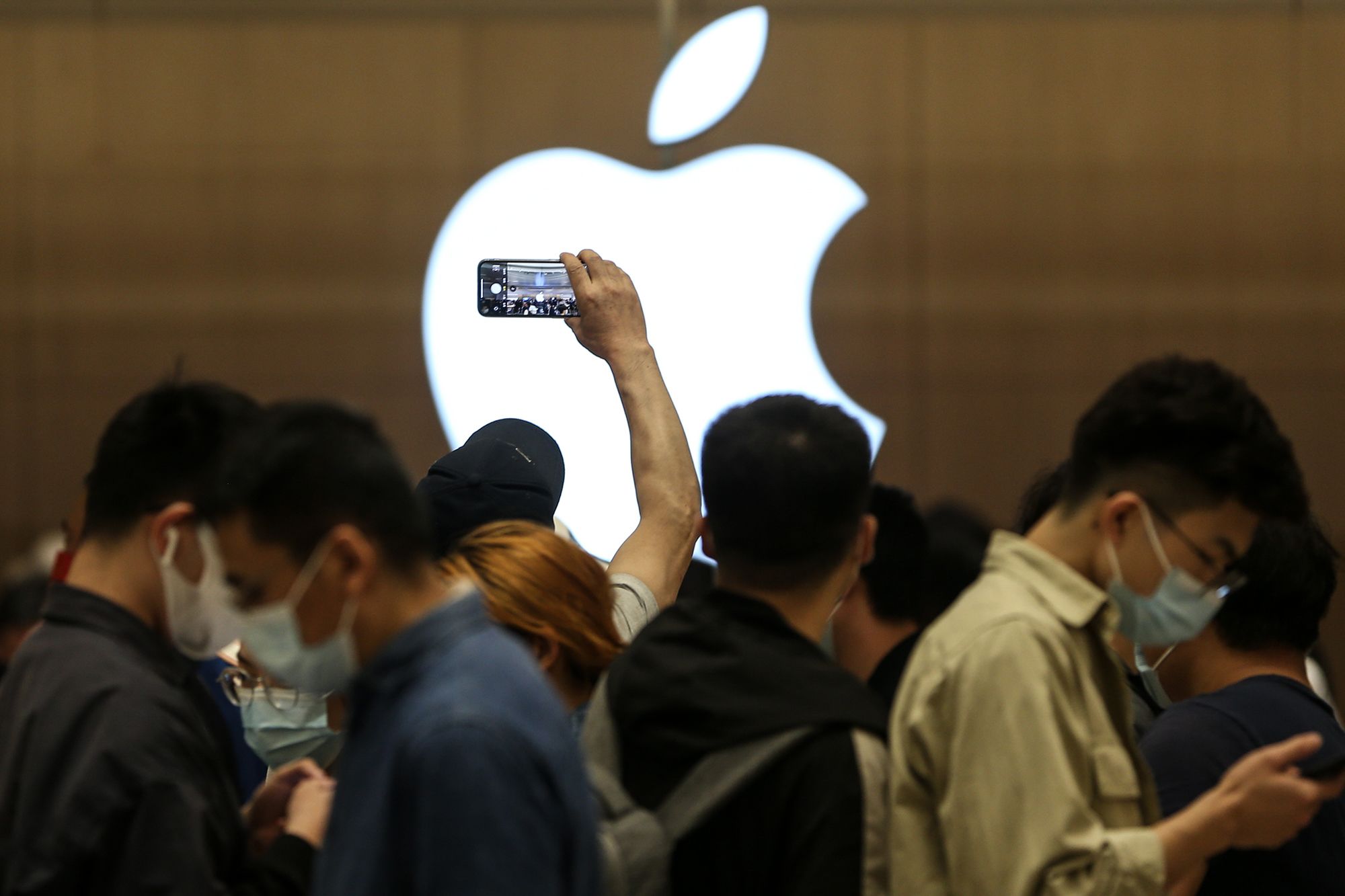 Beijing's strict Covid regulations are impeding Apple's iPhone production plans, and Washington is closely observing the elements of those goods. The $2.9 billion public investment led to the foundation of the modest Chinese chip manufacturer YMTC, which aims to lessen China's reliance on foreign chip producers.
According to two people involved in the negotiations, Apple was in conversations with the Chinese company regarding a supply agreement but chose not to comment. According to financial company Susquehanna International Group, memory chips, a specialty of YMTC, are one of the iPhone's most expensive parts, making up about 25% of its material prices.
According to Walter Coon, a chip expert with the market research firm Yole Group, YMTC could help Apple drive its present Western suppliers to reduce their costs as it would provide lower rates to acquire market share.
However, YMTC became a target of American national security researchers due to its importance to China. A team at the American defense company SOS International, led by the Chinese translator and researcher James Mulvenon, published a 17-page paper detailing YMTC's connections to companies that provided goods to the Chinese military through its parent firm, Tsinghua Unigroup in late 2020.
Mr. Mulvenon presented his results to approximately 20 Republican and Democratic staffers on Capitol Hill in February 2021. He described the dangers he thought YMTC represented because of the potential for its government subsidies to allow it to undercut rivals on pricing. The complete supply chain was never supposed to be concentrated in the country that posed the most significant cyber threat to the United States, according to Mr. Mulvenon.
In research released as Apple prepared to debut this year's iPhone, Wall Street strategists at Credit Suisse suggested that the company use YMTC processors in forthcoming models. Although Apple and YMTC declined to confirm or deny the allegation, the proposed agreement spurred senators, notably Republican Senator Marco Rubio of Florida and Democrat Senator Chuck Schumer of New York, to write letters pushing the Biden government to look into Apple's plans.
According to three persons with knowledge of the situation, representatives of the semiconductor sector expressed concerns to lawmakers about Apple's role in recruiting engineers from Western businesses to help YMTC increase its production.
Later, Apple told lawmakers that it would exclusively employ YMTC processors for iPhones made in China to assuage their concerns. However, that did not answer the more considerable worry of congressional leaders that any acquisition from YMTC would harm the memory chip market.
Congress encouraged Gina Raimondo, the secretary of commerce, to identify YMTC as an "entity" so that it would be prohibited from acquiring American elements and technology without a waiver. On October 7, the agency refrained from going that far, and imposed export controls on YMTC & 30 businesses it thought had connections to China's military.
The new limitations may make it more difficult for YMTC to partner with companies like Apple and prevent it from accessing crucial American equipment for a new facility in Wuhan. Days after the limitations were announced, the Japanese business publication Nikkei reported that Apple had abandoned its ambitions to adopt YMTC. An Apple spokeswoman declined to comment when questioned if the Nikkei article was accurate.
Lawmakers still put pressure on YMTC and Apple. "If Tim Cook understands the dangers that YMTC and indeed the remainder of the Chinese Communist Party's chip-making attempts pose to U.S. national security and the safety of our allies, then he and his company must commit not to proceed," Mr. Rubio said in a statement to The New York Times, referring to Apple's CEO.
edited and proofread by nikita sharma