Trends
China is implementing new Covid restrictions.
As China struggles with the new COVID-19 infections, localized lockdowns, widespread testing, travel bans, and other severe restrictions are in effect. On Saturday, the country reported yet another record-high number of daily infections. China reported 35,183 new COVID-19 infections on November 25, according to the National Health Commission; 3,474 of these were symptomatic, and 31,709 were not. Comparatively, on November 24, there were 32,943 new cases (3,103 of which were symptomatic and 29,840 of which were not). The public is frustrated by the lockdowns and numerous restrictions. A collapse of the economy could result from a strain on these.
The infections have extended to Chongqing from the financial centres of Shanghai and Guangzhou. Additionally affected by recent incidents are Chengdu, Xian, Jinan, and Lanzhou. In Shijiazhuang, the number of cases doubled from the day before to reach 3,197 on Thursday. Three years after COVID-19 hit China, the country enacted a strict "zero-COVID" policy.
This month, local officials were asked to be more thorough and diligent in their enforcement of COVID limitations. Chinese officials added that they would not loosen the restrictions outlined in President Xi Jinping's signature initiative, the "zero-COVID" plan. While the majority of nations have learned to live alongside the virus, China thinks that proactive measures should be taken when COVID-19 first appears to eradicate it. Instead of reducing COVID-19 instances, the zero-COVID strategy wants to completely eradicate them.
The zero-COVID policy followed by the Chinese government significantly contributes to lifesaving. It contends that the virus poses a serious threat to many vulnerable individuals, including the elderly if outbreaks go unchecked for an extended period. It's interesting to note that only 40% of those 80 and older who have received a vaccination have also received a booster shot.
Chinese health experts argue that taking swift, severe action to eliminate the virus is preferable and less expensive than waging a protracted, fruitless struggle. They claim that a "zero-COVID" strategy prevents the medical system from being overburdened. Therefore, restrictions are being imposed, and mass testing is being intensified in most cities where the new COVID variants are found. Those with COVID-19 are quarantined or kept in their homes under isolation. In many cities, businesses have stopped operating, and schools have been closed. Shops are also closed.
Conflicts between employees and security personnel recently occurred at the largest iPhone production facility in the world, located in Zhengzhou. After being shut down for many weeks due to strict rules intended to halt the COVID epidemic, a drastic reduction in industrial production across the country is having a detrimental impact on the economy. 
The economy of China is expected to contract by 0.3% from the third quarter to the fourth. Brokerage Nomura lowered its forecast for China's GDP in the fourth quarter from 2.8% year over year to 2.4%. China's stock market is declining. Up to one-third of the world's intermediate goods are exported from China, so any disruption of that country's manufacturing sector would have an impact on the entire world economy.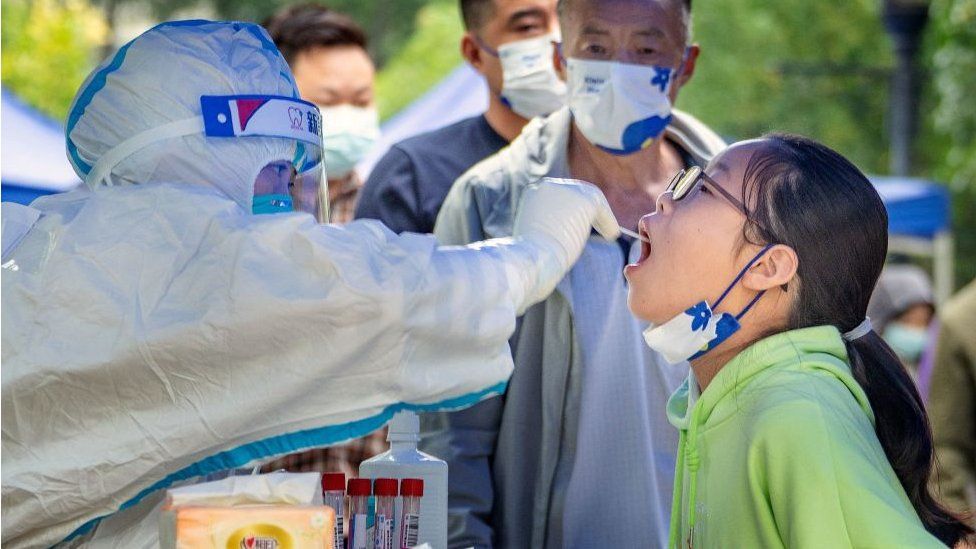 COVID cases are on the increase in China once again.
According to the National Health Commission, 20,199 new COVID-19 infections were recorded in China on November 16. The nation recorded no deaths brought on by the coronavirus, in contrast to the day before, when 17,909 new cases were documented. On November 16, India reported a daily increase of 501 new coronavirus infections. China had 277,043 active cases as of Tuesday, and there had been 5,226 fatalities.
According to reports, 1,623 of the 20,199 new COVID-19 infections in China had symptoms, while 18,576 did not. Beijing, the nation's capital, recorded 197 symptomatic and 174 asymptomatic cases, down from 303 symptomatic and 159 asymptomatic the day before, according to local officials. Guangzhou, on the other hand, reported 158 new cases of the viral illness, 638 of which were asymptomatic and 147 of which were symptomatic. 126 new COVID-19 cases were reported in the Chinese city of Chongqing, according to local government officials.
India had an increase of 501 coronavirus infections in one day. According to the health ministry, there were 7,918 fewer active cases than there were 7,561. After 474 individuals tested positive for the illness on November 15, India saw a drop in the daily COVID-19 count. According to the Ministry of Health, the number of people actively seeking treatment throughout the nation was 9,141 as of Tuesday. The health ministry reported on Tuesday that over 219.81 crore doses of the COVID-19 vaccine have already been administered in India. The weekly positivity rate was recorded at 0.55% as of Tuesday, while the daily positivity rate was 0.34%.
In response to an all-time spike in daily COVID cases, China clamps down on "iPhone City.
Instances of COVID are increasing once again in China, and localities have implemented strict controls and made efforts to contain the spread. China recorded 32,695 new local cases on Thursday, up from 31,444 the day before, of which 3,041 were symptomatic, and 29,654 were asymptomatic. The majority of COVID infections were found in Guangzhou and southwest Chongqing, though hundreds of new infections were discovered every day in places like Chengdu, Jinan, Lanzhou, Xian, and Wuhan.
For the next four days, 6.6 million residents of Zhengzhou, where Apple's largest iPhone production facility is located, have been instructed to stay inside. In what the local administration described as a "war of annihilation" against the virus, daily mass testing has been mandated, according to The Associated Press.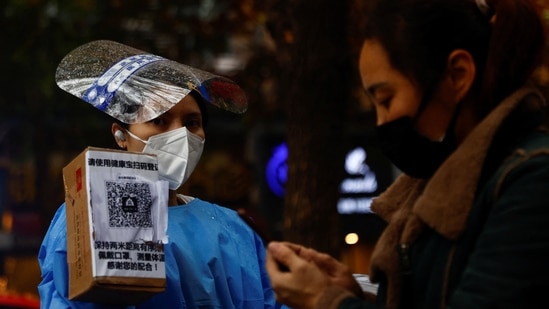 The number of new COVID cases increased by 31,444 on the previous day. Since the coronavirus was originally discovered in the central Chinese city of Wuhan in late 2019, that is the highest daily figure. The government is committed to its "zero-COVID" policy, which aims to isolate every case and completely eradicate the virus, even though hospitalization rates and fatalities are at a lower level.  
However, the government is attempting to stop the most recent breakouts without shutting down the country's industry, and the rest of its economy like it did at the beginning of 2020. Due to the tough COVID limitations, this has sparked demonstrations at the Foxconn production facility in Zhengzhou, according to Reuters. Over 20,000 workers have left the facility.
Inside the biggest iPhone factory in the world, workers have been protesting against strict measures taken to stop the virus' spread. Even this week, factory workers and police engaged in conflict. Disagreements over the salary of personnel hired to fill the void created by the departing employees catalyzed the protests on Tuesday and Wednesday.
Access to Guangzhou's 3.7 million-person Baiyun district has been suspended, and certain inhabitants of Shijiazhuang, an 11 million-person metropolis southwest of Beijing, have been ordered to remain at home while mass testing is being carried out. Thursday saw 424 symptomatic and 1,436 asymptomatic cases reported from Beijing, while 6,242 asymptomatic cases and 258 new symptomatic locally transmitted COVID-19 infections were recorded from Chongqing.
Edited by Prakriti Arora