Trends
Netanyahu set to become Israel's PM, what happens to his trial for corruption?
What happens to Netanyahu's corruption trial as he prepares to become Israel's Prime Minister?
The ongoing trial started in May of 2020. The seasoned politician is accused of bribery, fraud, and breach of trust. There are concerns that Israel's new far-right government will change the law and procedures to benefit Netanyahu.
Benjamin Netanyahu, Israel's longest-serving prime minister, announced on Wednesday (December 21) that he has reached an agreement to form a new coalition government, bringing him back to power as the main leader of the country's new far-right government.
In a video released by Netanyahu's office on Twitter, the leader is seen informing Israel's president, Isaac Herzog, about the formation of the new coalition government. "I am informing you that I have also been able to form a government that will act in the interests of all Israeli citizens," Netanyahu said, according to a report published on Wednesday by The New York Times.
The announcement came after weeks of negotiations between the six parties in Netanyahu's coalition, which won the most seats in the November 1 parliamentary elections.
Netanyahu, who was Prime Minister from 1996 to 1999 and again from 2009 to 2021, is fighting corruption allegations in court since May 2020. The allegations first surfaced in 2016, when Israeli police launched an investigation into him on suspicion of fraud, bribery, and breach of trust. Two years later, the police recommended that he be charged.
Netanyahu was indicted in November 2019 but did not resign because, under Israeli law, a prime minister is not required to resign unless convicted. He has denied all of the allegations and cast himself as the victim of a vast conspiracy.
The ongoing trial was supposed to last a year or more but has been postponed several times due to various factors such as the coronavirus pandemic. According to The New York Times, the judge in the case tested positive for Covid-19 in February 2020.
Although Netanyahu has promised not to interfere with the trial proceedings after becoming Prime Minister, analysts fear that his allies will change laws to legalise some of the major crimes allegedly committed by him, as well as limit the powers of the attorney general, who oversees his prosecution, according to The New York Times.
The charges levelled against Netanyahu
The corruption trial against the leader is divided into three cases: Case 1000, Case 2000, and also Case 4000.
* Case 1000 pertains to the charge of fraud and breach of trust for gifts worth over $280,000 that Netanyahu and also his wife Sara also received from Oscar-nominated Israeli-American Hollywood producer Arnon Milchan ('L.A. Confidential', and 'The Revenant', 'Birdman', '12 Years a Slave', 'Mr & Mrs Smith', 'Fight Club') and also Australian businessman James Packer (the son of Kerry Packer, the founder of World Series Cricket), in return for political favours between 2007 and 2016.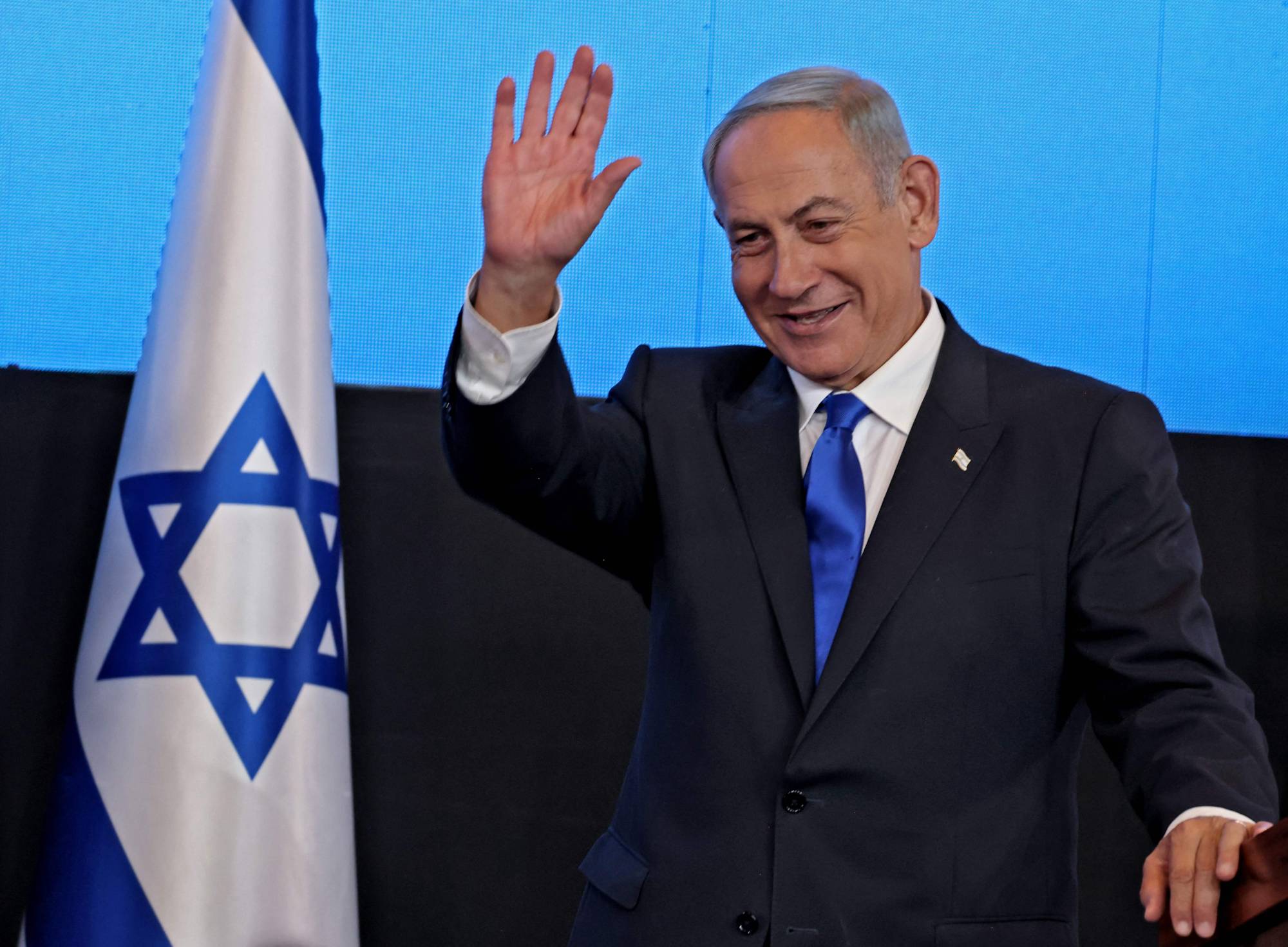 Netanyahu has not denied taking the gifts. His defence claims that receiving gifts from friends is acceptable.
* Case 2000 involves a charge of fraud and breach of trust stemming from a deal struck by Netanyahu before the 2015 elections with Arnon 'Noni' Mozes, who is owner of the Hebrew-language Yedioth Ahronoth, Israel's largest selling daily newspaper, for favourable coverage in exchange for legislation harming rival daily newspaper Israel Hayom. This transaction was never completed.
* Case 4000 contains the most serious charges levelled against Netanyahu, including bribery, fraud, and breach of trust. Between 2012 and 2017, Netanyahu is accused of granting regulatory favours worth more than $500 million to Israel's largest telecommunications company, Bezeq Telecom, in exchange for favourable coverage.
In addition to being Prime Minister, Netanyahu was Israel's Communications Minister for a time. In this case, Netanyahu's defence claims that favourable coverage does not constitute bribery. The alleged kickback was revealed for the first time in 2015, in an investigation published in the Israeli newspaper Haaretz.
Influence on the trial
According to analysts, Israel's right wing has long viewed the judiciary as an obtrusive and left-leaning impediment to its legislative agenda, as reported by the Associated Press on November 29. The new coalition is expected to enact far-reaching legal changes that will significantly weaken the judicial system and may result in Netanyahu's exoneration.
One of the proposed changes is to pass legislation that would prevent a sitting prime minister from being prosecuted for alleged crimes until he leaves office. It is known as the "French law" because sitting presidents are not prosecutable in France. However, unlike France, Israel has no term limits, and the new law could protect Netanyahu from prosecution for the foreseeable future.
Another likely change is the main removal of the criminal offences of fraud and breach of trust from the penal code, which are key charges against Netanyahu in his ongoing trial. According to the AP, Netanyahu's allies have claimed that these crimes are poorly defined and put lawmakers at risk of unfair prosecution.
According to the AP, the new coalition government is also likely to split the position of attorney general into three separate jobs, with at least two of the positions filled by political appointments. Currently, the attorney general is appointed by the government and must be approved by a professional committee made up of former justice officials and others.
Giving political appointees some of the powers of the country's highest law officer could help Netanyahu stop the trial.
The most significant change proposed is the ability for lawmakers to overturn some Supreme Court rulings. Although this has no direct bearing on Netanyahu's trial, it has the potential to upset the power balance between the legislature and the judiciary.
Former Israeli Prime Minister Benjamin Netanyahu has been re-elected with a clear majority after the final vote count from elections.
With 99 percent of the votes counted, Netanyahu's right-wing Likud party earned 32 seats in Israel's 120-seat Knesset (parliament) and a solid majority with its ultranationalist partners.
Yair Lapid's supporters won 51 seats. This decisive victory is expected to bring political stability to Israel, which has seen five elections in less than four years.
Why was Netanyahu removed from office? Netanyahu was deposed in June 2021 after the Opposition leaders, primarily Naftali Bennett and Yair Lapid, formed a coalition with at least eight political parties and won a parliamentary majority against Netanyahu.
Bennett and Lapid reached an agreement on a power-sharing formula, and their alliance brought an end to Netanyahu's 12-year government. Netanyahu then became the Knesset's Opposition Leader.
In addition, several corruption allegations against Netanyahu harmed his reputation in the government in 2020.
Netanyahu's childhood:
Netanyahu was born in 1949 in Tel Aviv, Israel.

His family moved to the United States in 1963 after his father, a historian, was offered an academic position.

He returned to Israel at the age of 18 and served in the army for five years, rising to the rank of captain in the elite commando unit Sayaret Matkal.




During his army career, he was injured on a Belgian airliner hijacked by Palestinian militants and landed in Israel in 1972.

In 1976, his brother Jonathan was killed while leading a rescue mission from a hijacked airliner in Entebbe, Uganda. The death of his brother had a profound impact on Netanyahu, who quickly established an anti-terrorism institute in his brother's memory and became Israel's deputy chief of mission in Washington in 1982.

He quickly became a familiar face on US news channels, and by 1984, he had established himself as an effective proponent of Israel.

Nentanyahu rose to power in 1988, when he returned to Israel and won a Likud seat in the Knesset, eventually becoming Deputy Foreign Minister.

He later became the party's chairman, and after an early election following the assassination of Yitzhak Rabin, he became Israel's first directly elected Prime Minister in 1996.

However, he was defeated by Labour leader Ehud Barak, Netanyahu's former commander, in 1999 after calling elections 17 months early.

Netanyahu then stepped away from politics for about two years.

His return to politics occurred in 2001, when then-Israeli Prime Minister Ariel Sharon appointed Netanyahu first as Foreign Minister and then as Finance Minister.

He resigned in 2005, following the withdrawal of Israeli forces from the Gaza Strip.

When Sharon suffered a massive heart attack and fell into a coma in 2005, Netanyahu reclaimed the Likud leadership. Sharon had also broken ties with the Likud Party by then, forming a new centrist party, Kadima.

Netanyahu was re-elected Prime Minister for the second time in 2009.




In 2009, he hardened his stance on Palestine, saying: "A Palestinian state, such as the one being discussed, will not be established. It's not going to happen."
The Palestine-Israel conflict: The conflict between Palestinians and Israelis continued both before and after Netanyahu's presidency, reaching a climax in May 2021.
Throughout his tenure as Prime Minister, he had good relations with former US President Donald Trump but not so much with Barack Obama.
Trump's relationship
Former US President Donald Trump went a step further in 2017, declaring Jerusalem to be Israel's capital.
The Arab world, which recognises the Palestinian claim to the eastern half of Jerusalem occupied by Israel since 1967, condemned the move.
He also backed Trump on Iran, applauding the President's withdrawal from the Iran Nuclear Deal in 2018.
However, Donald Trump accused him of betraying Israel when he congratulated Joe Biden on his election as US President.
Accusations of corruption: In November 2019, Netanyahu was also dogged by corruption allegations in at least three separate cases. In three separate cases, he was charged with bribery, fraud, and breach of trust.
He was accused of accepting gifts from wealthy businessmen and of doing favours in exchange for favourable media coverage.
In 2020, he went on trial, becoming the first Israeli Prime Minister to do so. Though he denied any wrongdoing and called the investigation a political witch hunt by his opponents. His popularity has not suffered as a result of the trial.
edited and proofread by nikita sharma