Trends
Who Me? No, Its The Feds; Twitter And Tesla Want Him Out! Musk Blames Rising Interest Rates Even As He Battles Huge Wave Of Disdain
The world is on Elon Musk's case, for he has antagonized not only Twitter-ties but also Tesla investors with his non-stop antics, and now they are not shying away from mincing words and what they think of him.
Talk about setting oneself up for target practice, something that Musk has been accused of by former women employees of Twitter, the lawsuit for which is already in federal court in San Francisco.
As a really dumb move, considering that he is probably the most disliked person on the planet currently, Musk set himself out for target practice as he asked the question as to how many of the people would like for him to step down as "chief Twit"?
But to his horror, utter embarrassment, and now a ghostly silence since more than 12 hours after an unscientific poll posted by the Twitter CEO showed that 57.5% of participants voted that he should step down as head of the torn-to-bits social media company.
So let's see, did Elon Musk think that after – 
Increasing criticism of his chaotic leadership at Twitter, 

Including recent decisions to suspend journalists and

Introduce and then delete a controversial policy banning linking out to rival platforms.

Laying off half of the company's staff

Firing others who disagreed with him; and welcoming back onto the platform previously banned figures who trafficked in misinformation, conspiracy theories, and hate speech.
Now Musk is rather excellent and regular at conducting polls, expressing his opinion, and answering blatantly and confidently to any tweet that catches his ego, but this time things are very different. 
Because this Elon Musk has gone SILENT!
Twelve hours after the result of the poll came out, Musk is yet to respond; forget about his usual witty confident reply, there is not even a squeak, and in fact, Musk spent most of Monday conspicuously quiet, refraining from tweeting for a remarkable 18-hour period.
Musk, however, did fire off some tweets Monday evening, posting statistics on Twitter usage during the epic World Cup final and retweeting posts from his Tesla and SpaceX companies.
But it remains unclear if he will, in reality, step down from his position at Twitter this after he insanely vowed to "abide" by the poll results. 
The Twitter boss, by his own admission, in one Sunday night tweet, wrote, "No one wants the job who can actually keep Twitter alive. There is no successor."  
This translates to the fact that no one is interested in joining hands with him and reworking the Twitter horror. 
Tesla Investor's Growing Horror And Pain
Now Tesla investors also seem to be rising and cornering Musk, increasingly vocal that they hope that Musk finds someone else to hand over the Twitter reins. 
The growing uprising among Tesla investors prompted Musk to announce last month that he would find someone to run Twitter and that he wants to work out a scenario wherein he spends less time managing Twitter.
While this may have come as – now – our – nightmare – it may – turn – into a – happy- dream, as many names were floating around; however, even after the poll result, Musk is yet to say what he will do. 
In the meantime, Tesla shares have slid 28% since Musk took over Twitter.
On Monday, the electric automaker bore the brunt of more bad news related to Musk's Twitter obsession. 
Oppenheimer & Co. downgraded Tesla's rating, with analyst Colin Rusch writing, "We believe Mr. Musk is increasingly isolated as the steward of Twitter's finances with his user management on the platform. We see potential for a negative feedback loop from departure of Twitter advertisers and users."
Musk's behaviour over the past few months as "chief Twit" has created "brand public backlash" that could tarnish Tesla's brand image — particularly with key consumer groups.
And while Musk finds himself in the most uncomfortable position yet of having being forced to hand over daily control of the company he just purchased to the tune of $44 billion, it could work out well for him as it would please some of his allies who wish he would get back to work at Tesla and knock off the distractions.
What Have You Done Elon Musk???
A top company shareholder at Tesla accused Tesla CEO of erasing $600 billion in wealth.
Musk, in turn, has tried to put the blame on the Federal Reserve, saying that is the "real problem" here and that Tesla is executing better than ever!
The billionaire further said if Treasury bills and stocks both have a 10% rate of return, everyone will buy the former… hmmm…..so the U.S. authorities are the ones to blame for Tesla's fast sliding stocks and Twitter's major debacle. 
According to Musk, the massive drop in Tesla stock this year is on the Federal Reserve, arguing the U.S. central bank's interest-rate increases have made the stock market less attractive to investors.
Now the U.S. inflation has surged to 40-year highs this year, prompting the Fed to hike interest rates from near zero in March to over 4% in hopes of cooling the economy and curbing the pace of price increases. 
Higher rates boost saving over spending and make borrowing more expensive — implying they typically weigh on asset prices.
Musk clarified in a follow-up tweet that higher rates support the yields from low-risk assets such as government debt, heightening their appeal relative to riskier assets such as stocks.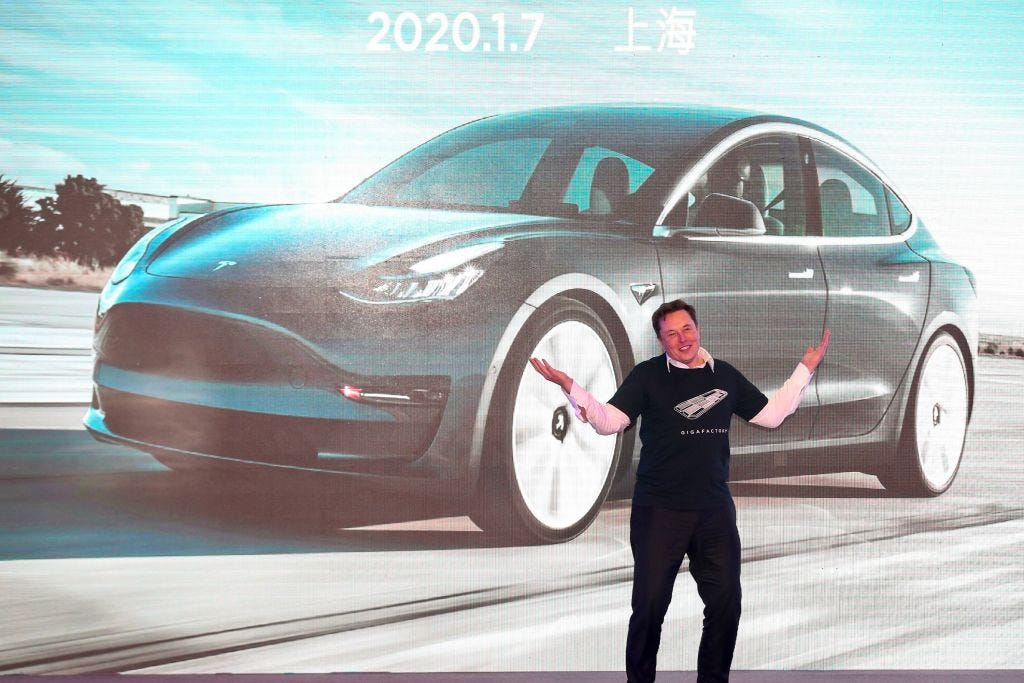 Who Me? It's The Feds
Shares of fast-growing companies like Tesla have been explicitly hit hard this year, as they're predominantly valued based on their future cash flows. 
But investors find those prospective cash flows less appealing when prices are soaring, they can earn solid and safer returns elsewhere, and since fear of a recession is looming strong, it could demolish their wealth.
However, this year Tesla stock has more than halved in price due to other reasons as well. 
For example, Musk has warned about the downturn in China's property market, and the energy crisis in Europe may weigh on demand for the company's vehicles in the months ahead.
But still, these parameters are being unseen and what has remained the focus and thorn on the side of Tesla investors is their concern that Twitter, which Musk bought for $44 billion in October, has become a costly distraction. 
In the interim, the tech billionaire is busy overhauling the social-media company and has sold about $8 billion of Tesla stock in recent weeks — most likely to service the billions of dollars in bank loans he used to finance the takeover.
Musk has continually blasted the Fed for hiking rates too aggressively this year. He's warned it needs to cut rates immediately, as current levels are "massively amplifying the probability of a severe recession."
He's also underlined the dangers of debt when rising rates and accused the central bank of paying too much attention to historical economic data instead of current conditions.
Conclusion: Elon Musk has lost his precious position in the hearts and minds of Tesla investors, who see him as the sole reason for the downslide that Tesla shares are witnessing in the market.
Seeing one's wealth erode in front of one's eyes is not easy, and also, what is not easy is to understand that the CEO who once was regarded in such high esteem has squandered that position due to his unfocused biased approach towards Twitter. 
If Twitter was doing well, maybe there was a chance for Tesla, but since the elephant in the room has quietly and steadily taken its seat, Tesla investors will continue to see this as their worst nightmare come true!