Trends
Elon Musk Top Loser With Over Rs. 2000 Crore Drop In Wealth Every Day for 2022 So Far, Tesla Stocks Downturn Wipes Out Musk's Net Worth
Elon Musk was the top loser in terms of wealth in one year.
Elon Musk, the world's richest man but also the top loser in terms of wealth this year, has lost a significant portion of his wealth to the tune of over $100 billion in net worth.
The new boss of Twitter has seen his wealth erode on account of Tesla Inc. stocks that have been on a downward spiral and dropped to the lowest level in two years.
However, if you think that he has been ousted from the top position of the world's wealthiest man, think again; the Tesla – co-founder and the new boss of Twitter is still the world's richest man with a total fortune of $169.8 billion.
This even as he saw his wealth erode and his net worth shrink on Monday by $8.6 billion, taking the total aggregate down this year to $100.5 billion.
By far, Elon Musk has set a record of losing the most wealth than anyone on the wealth index after reaching the high of $340 billion, which was a little more as compared to last year.
In terms of the rupee, the annual loss translates to roughly Rs. 826,158 crore, which means that the new Twitter boss has lost nearly a whopping amount of Rs. 2,263 crores every day so far in 2022.
Tesla Takes Down Elon Musk
The electric-car maker constitutes the bulk of Elon Musk's fortune; the fact that he may have sold a bunch of Tesla stocks in order to fund the Twitter deal is presently struggling with burgeoning Covid-related restrictions in China, its largest market outside of the US. 
Tesla stocks have been trading volatility in the stock markets and, as mentioned before, have dropped to a two-year low of $167.87 in New York on Monday, seeing a drop of 6.8%, the lowest since November 2020.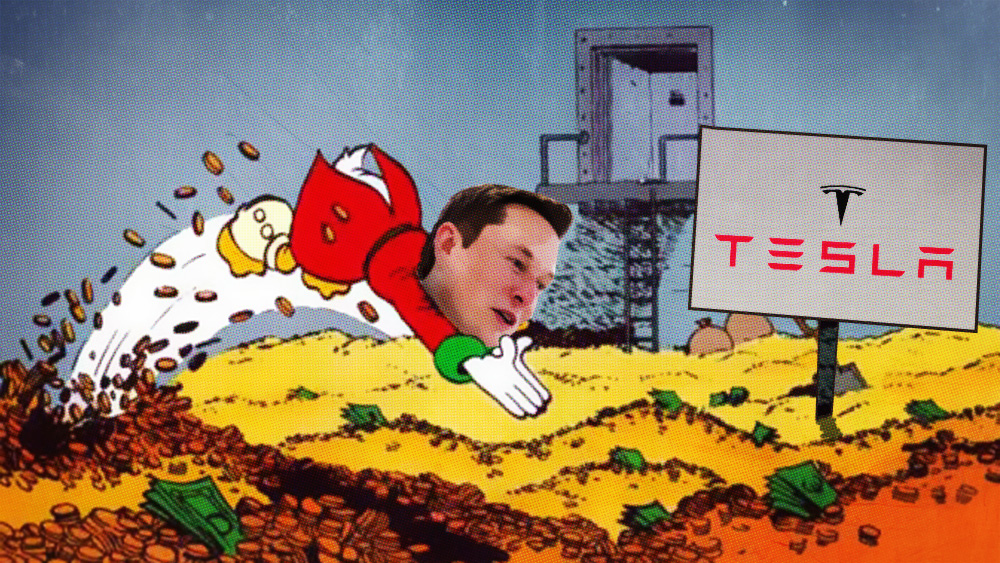 Tesla shares have registered a loss of nearly half of their value in the span of two months as snarls in the supply chain mount, and the cost of raw materials has risen tremendously. Also, the buyers are presently feeling the pinch of stubborn inflation and rising interest rates.
The Austin, Texas-based firm recently also announced a recall of more than 300,000 cars due to faulty taillights.
Tesla, incidentally, just earlier this month was supplanted as the fifth-most valuable company on the S&P 500 INdex by old-economy stalwart Berkshire Hathaway Inc. 
According to a Bloomberg report, Tesla, which has already lost its trillion-dollar – valuation status in April this year, only needs its shares to further slide another 5.7% from its current levels for its valuation to drop below $500 billion.
Tesla stocks have also taken a slide since the overall sentiments are that Elon Musk is too preoccupied with Twitter. Some investors are wary and worried that Tesla's strategy and scope might fall by the wayside. 
China Wipes Musk Out
Beijing has been struggling with Covid related restrictions even as the rest of the world has moved forward. A city near Beijing returned to lockdowns and restrictions, which has resulted in Tesla production and sales. 
Twitter Too Expensive for Musk
Following a lot of controversies, Musk was finally able to make his dream come true to own Twitter, but this buyout of $44 billion has proved to be quite costly for Musk. As per reports of acquiring Twitter, Musk lost an estimated $33 billion in valuation. To finance the buy, Musk reportedly sold $15.3 billion shares of Tesla – in April for $8.4 billion and $6.9 billion in August. 
Global Tech Slowdown to Blame?
Global corporations are trimming their budgets due to no or slow growth. This is accounted for due to record-high energy prices and the continuing fear of global recession. 
The tech companies saw phenomenal highs during the Covid -19 lockdown phase; however, for the last eight-nine months, tech companies are now facing pressure due to subdued sentiments regarding the macroeconomic situations and geopolitical uncertainties. 
Global financial markets have been witnessing stress even as the monetary policy continues to tighten its grip across all major economies. 
What is ironic is that it is the tech industry billionaires who saw the maximum climb in their wealth just last year when markets reached all-time highs and venture capitalists were pumping vast amounts of money into startups. Sadly today, things have turned around.
Another billionaire who has lost their wealth this year is Mark Zukerberg, who lost $83.5 billion in a year. Followed by Changpeng Zhao, CEO and founder of Binance, who lost nearly $82 billion, while Amazon's Jeff Bezos saw his wealth erode by $76.7 billion. 
Out of the top ten biggest losers this year, seven billionaires belong to the tech sector. 
In aggregate, the top 10 billionaires and the biggest losers accounted for a combined wealth erosion of &183.5 billion this year compared to a year ago. 
The Gainers turned out to be India's own Gautam Adani gained almost $53 billion in net worth. He is also the third richest in Bloomberg's billionaire list, with a total wealth of $130 billion. 
The second position goes to Jeff Yass, the founder of Susquehanna International Gropu, which is a proprietary trading firm; he added $29.4 billion to his wealth. 
Zhang Yiming and Alain Wertheimer are placed next with net additions of just a little more than $10 billion.
Conclusion: The IT space has seen its bubble burst, which had seen a tremendous high during the Covid -19 pandemic; today, the picture is slowly turning around.
Elon Musk and the other billionaires have witnessed a significant amount of their wealth erode. However, it doesn't make a dent compared to their overall wealth; they may just be seeing a re-arrangement in order as the macroeconomics plays spoilsport with their plans.
For Tesla stockholders, there is a concern as any further dip in valuation will have an impact on the investors who were promised by Musk that someday Tesla stocks would be as valuable as Apple's.