Trends
Zomato's Recent Acquisition of Blinkit is a Last-Resort to Enter the Fast Commerce Marketplace
Zomato's Recent Acquisition of Blinkit is a Last-Resort to Enter the Fast Commerce Marketplace
The online food delivery service Zomato has announced the acquisition of Grofers India's Blink Commerce (Blinkit). An agreement was approved by the business's Board of Directors to buy cash-strapped fast commerce company Blinkit for Rs 4,447 crore. Zomato provided Grofers India Private Limited with loans totalling USD 50 million last year. Zomato already held a stake in Blinkit of more than 9%. The value of the original Blinkit deal was approximately $700 million, but due to the decline in Zomato's share price, it was just $568 million.
Grofers was renamed Blinkit after a shift to fast commerce last year. Groceries and other necessities can be delivered to customers quickly with the rapid commerce platform Blinkit. With the eagerly awaited acquisition of Blinkit, Zomato has entered the rapid commerce market. The online food aggregator has been eyeing this market for quite some time. The business's board of directors eventually approved the acquisition of an all-stock deal of Rs 4,448 crore to buy the speedy delivery platform on 24th June 2022, nearly a year after Zomato, an online food aggregator, planned to acquire Blinkit, a hyperlocal delivery company.
Last year, Blinkit, formerly Grofers, joined the unicorn club. The company has entered the rapid commerce market with the highly anticipated acquisition, which caught the attention of even Zomato's investors. This is a market segment that the online food aggregator had been pursuing for some time. Quick commerce, as opposed to e-commerce, refers to the delivery of groceries and FMCG items in a matter of 15 to 20 minutes to the consumers.
Early August of this year is when the deal is anticipated to be finalised. As opposed to prior estimates that stated it would be valued at $700-$800 million, the quick-commerce firm was valued at $568 million for the deal. When Zomato acquired a 9 per cent in Blinkit (formerly Grofers) last year, valuing the business at $1 Billion, it became a member of the coveted unicorn club.
Additionally, the warehouse and ancillary services business of Hands-on Trades Private Limited will be purchased by Zomato Hyper pure, the restaurant suppliers supermarket company, for INR 60.70 Cr. After the acquisition, Zomato intends to keep the Blinkit app and brand independent. The business will still be managed by the Blinkit team and its founder, Albinder Dhindsa. However, neither during the acquisition nor during the business's investment in Blinkit (in 2021), did the corporation makes any such statement in its reports.
It should be emphasised that Dhindsa is married to Akriti Chopra, a co-founder of Zomato. Chopra was elevated from her previous position as Chief Financial Officer to cofounder by Zomato (in June of last year) in preparation for its first public offering (IPO). Chopra was mentioned in Zomato's DRHP as the Key Managerial Personnel and joined the business in 2011.
Zomato co-founder Deepinder Goyal stated in the regulatory filing, 'As a food firm, Zomato is already taking advantage of the significant meal delivery market in India. In addition, as a logical progression of its meal delivery business, Zomato now wishes to concentrate on rapid commerce. How does it follow naturally? because, like food delivery, it is a hyperlocal business. Additionally, it meets the clients' desire for prompt product delivery. It will boost client wallet share on the platform with the aid of quick commerce, which will also increase customer engagement and frequency.'
The acquisition was the subject of lengthy discussions. Zomato provided a $150 million loan to the struggling rapid commerce firm in March and a $100 million equity investment. In describing how Blinkit fits into Zomato's company, Goyal said that the rapid commerce startup is likewise a hyperlocal enterprise, similar to food delivery and that it meets customers' needs for prompt goods delivery. Quick commerce will boost customer spending on the platform and encourage more frequent and active customer interaction, he continued. 
According to a statement from Zomato, the potential acquisition targets had net debt of around INR 6,731 Million as of the signing date. From INR 816.4 Cr in FY21 to INR 1,222.5 Cr in FY22, Zomato's net loss increased. Blinkit's gross order value (GOV) in May of the current year was INR 4,02.8 Cr. The online food aggregator had introduced a 10-minute delivery app dubbed 'Zomato Instant' across four stations in Gurugram, months after the quick delivery business revealed significant losses.
Details of the Zomato Blinkit Acquisition
According to Zomato's most recent report, Blinkit had annual revenue of Rs. 263 crores in FY22, Rs. 200 crores in FY21, and Rs. 165 crores in FY20.
The main meal delivery service's top shareholder, SoftBank, will receive 28.71 crore shares of Zomato, followed by Tiger Global with 12.34 crore shares, BCCL with 1.5 crore shares, and South Korean investors DAOL with 3.66 crore shares.
Blinkit (formerly Grofers) received $100 million from Zomato in a transaction that awarded the business Unicorn status in August 2021.
Through a loan of $150 million to its parent business Grofers India Private Limited, Zomato also provided a lifeline to cash-strapped Blinkit. According to Blinkit, not all of the money has been distributed, and the remaining sum will be distributed based on the business's needs.
For an additional $8 million, Zomato purchased HOTPL, a provider of warehousing and related services, from Blinkit. However, it stated that it will not purchase the B2B trading company since it no longer serves its strategic goals.
According to estimates from VCCircle, Japan's SoftBank, the largest shareholder in Blinkit with a 46 per cent investment, will receive a 3.2 per cent ownership in Zomato as part of the deal. Tiger Global Management will receive a stake of about 1.3 per cent, while Sequoia Capital an existing Zomato investor will receive an extra 0.5 per cent.
Other Blinkit (formerly Grofers) investors that stand to get new Zomato shares includeYuri Milner's Apollete Asia, Bennet Coleman & Co. Ltd., and Korea's KTB Ventures.
The promoter company for the Grofers founders, Grofers International Pte, will receive 759 million shares, or more than 0.8 per cent of Zomato. 
Additionally, the remainder of the shares attributable to Blinkit's creator, Albinder Dhindsa, will be locked in for a year and the remaining half for two years. 
The shares associated with Blinkit's exercised/vested employee stock options will be restricted for the required six months.
Reasons for Zomato's Acquisition of Blinkit
There were rumours that Blinkit, the new Grofers avatar after switching to 10-minute delivery, was laying off staff and closing dark storefronts in March of this year to reduce financial loss. Zomato came up with a different strategy despite being apprehensive to invest another $500 million in the supermarket startup due to the global tech stock crisis. It consented to extend a lifeline of $150 million in debt to the reeling portfolio company until conditions improved and all parties could be convinced to join forces for an acquisition.
Rapid commerce is a fiercely competitive and resource-intensive industry, as illustrated by the Blinkit deal. Over 40 unicorns were made in India last year, including Blinkit. The term unicorn refers to a startup worth more than $1 billion. In a last-ditch effort to establish a presence in the supermarket sector after two failed tries, Zomato has bought Blinkit. In the meantime, it appears that the Indian market for meal delivery is expanding less quickly than it was. Zomato acquired quick Commerce Blinkit in a stock-only transaction valued at about $570 million.
But Zomato's acquisition of Blinkit is about far more than just grabbing a delivery rival at the right moment. Three equally compelling reasons to purchase a grocery company include the company's numerous internal attempts to break into the grocery market, the threat posed by rival Swiggy's early success in the area, and a potential slowdown in India's food delivery market.
Yogesh Aggarwal and Abhishek Pathak of HSBC Global Research wrote in a brokerage note earlier this month, 'In our recent interactions, we find investors largely divided on Zomato's strategy to acquire Blinkit, and some even doubt the usefulness of foraying into grocery (hyperlocal).' It is asserted that creating a supermarket business will act as a setback for Zomato. Zomato can't afford to not do it, but it would require a fair amount of investment, which would result in a financial burn. It would also likely present considerable logistical challenges.
Speaking on the acquisition of Zomato Blinkit, Zomato CEO Deepinder Goyal stated that fast commerce has been a strategic objective for Zomato for the past 12 months. The business has witnessed this sector expand quickly both in India and internationally as consumers have come to appreciate the importance of receiving food and other necessities quickly. He continued by saying that this industry works well with Zomato's main food business, allowing the latter the chance to succeed in the long run. The company's current food business is steadily growing towards profitability, so this entry into the next big sector comes at a good time.
Zomato Gets Blinkit's Dark Stores
Zomato will gain access to Blinkit's 400 dark stores as a result of this deal. Notably, Blinkit has previously reduced the number of dark stores from 450 to 400 to reduce costs. Dark stores are retail distribution warehouses that stock a variety of products from third-party distributors and FMCG businesses. They are a crucial component of the fast commerce environment. When a consumer puts an online order, the employees of the dark stores choose and package the requested items for immediate delivery to the customer's location. It is noteworthy that dark stores are typically found nearer to the delivery locations.
Blinkit's dark stores contain a vast selection of goods. 'Blinkit has visibility into inventory controlled by third-party distributors and retailers that carry 4,000 stock keeping units (SKUs) across several product categories, in a network of warehouses and scattered dark storefronts,' the regulatory filing states. A dark store often has a delivery radius of fewer than 2 kilometres, allowing for speedy product delivery. Notably, the company's third-party distribution network produced Rs 64.33 crore in FY2021, up 28.1% from Rs 50.23 crore in FY20 from the same vertical.
Additionally, the purchase of dark establishments fits nicely with the recently released software Zomato Instant from the online food aggregators, which guarantees meal delivery in 10 minutes. Zomato Instant, which was introduced to compete with Swiggy's Instamart, is having trouble meeting the deadline, which, according to reports, can be related to the location of dark retailers farther from the delivery area. The online food aggregator has justified purchasing the dark stores as a time- and money-saving technique, in contrast to its rivals Swiggy Instamart, Zepto, and Dunzo, which have their dark stores across the rapid commerce area.
'Blinkit's proprietary tech platform, the scale of business, relationships with third-party brands and sellers, and the warehouse & dark shop network made it a compelling decision for Zomato to buy it vs. constructing it in-house,' stated Akshant Goyal, Chief Financial Officer of Zomato. To construct this internally would have taken a lot of effort, which would have increased the intangible cost significantly.
Zomato's goal to become profitable through Blinkit's dark storefronts within a year, however, would take some time. It is possible that the path to profitability for the Zomato group (post-acquisition) can be extended by at least a year (from FY25 to FY26) given the severe competition intensity in the rapid commerce market. Notably, Blinkit's losses grew to Rs 6,127 crore in FY21 despite the company's sales increased to Rs 2,725 crore.
Quick and Competitive Commerce Space for Zomato
Zomato's most recent acquisition of Blinkit is a last-ditch effort to enter the supermarket market after the company twice withdrew from the sector in 2021 and 2020. The company declared its investment in Blinkit as its future wager on supermarkets in 2021.
Analysts claim that by making the acquisition, the Deepinder Goyal-led food delivery business is constructing a long-term play. Food delivery revenue growth is slowing down. How do you keep progressing? Since the grocery business is far larger than the market for food delivery, quick commerce opens up a new industry. A company's sales will increase even if it is only able to obtain a little portion.
According to Zomato, rapid commerce will eventually become a sizable source of consumer demand, at least in the major cities. Grocery is the bait for a fast trade, but it goes beyond groceries. Quick commerce encompasses a variety of industries, such as beauty and personal care, electronics, OTC, pharmaceuticals, stationery, other gift products, etc., according to the company's letter to shareholders announcing the acquisition.
Investors in the tech industry place a lot of weight on the size of the market that a firm is serving. A huge market ensures that sales can continue to increase at a quick clip despite enterprises being far from returning any earnings to investors. In light of this, hyperlocal delivery services are expanding their product offerings beyond only groceries to encompass a larger range of consumables, such as personal care and home care.
The argument is that after a consumer has been attracted through frequent purchases like bread and butter, upselling soap and detergent at least a few times each month shouldn't be too tough. And for Zomato, this is a concept that is too big to pass up because, as predicted by e-commerce consultant Redseer, this market will surpass $1 trillion by 2025. The Zomato food-tech business views this as being so crucial that it is prepared to invest an additional $240 million in Blinkit over the following two years.
For current shareholders, the planned acquisition of Blinkit by Zomato at an EV of $720 million will dilute their holdings by 7.3%. However, JM Financial stated that it would broaden its reach of hyper-local delivery services beyond food delivery and would be in line with the management's wider objectives to seize a larger portion of India's commerce.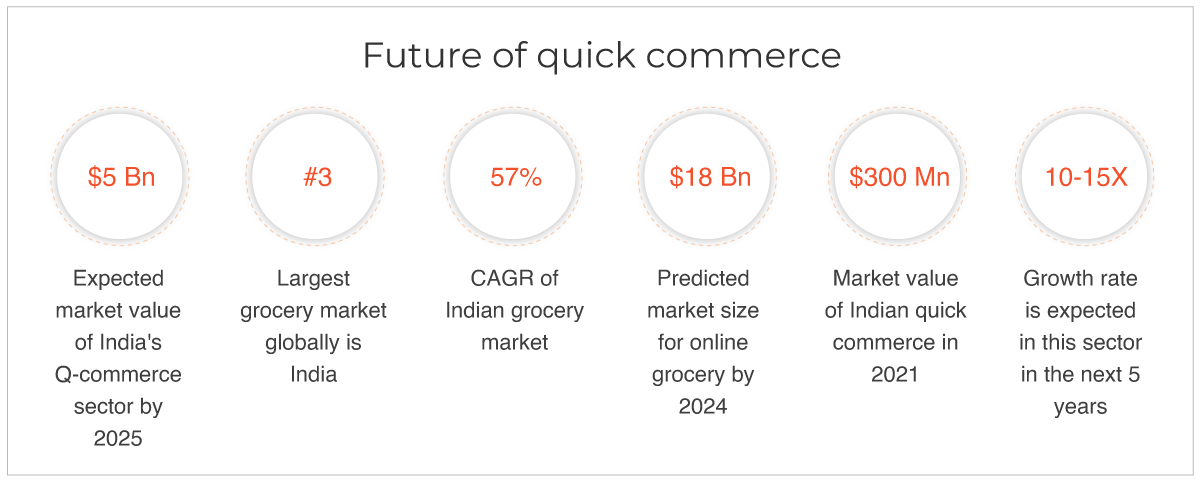 According to the analysts, companies like Zomato that have amassed significant competence in on-demand services over the years may benefit greatly from the rapid commerce market. According to experts, the transaction will be a long-term win for Zomato but could delay its road to profitability by at least a year due to increased order density, which could result in lower cost per delivery and be the main driver for synergies.
With the acquisition of Blinkit, Zomato will enter the fiercely competitive fast commerce business. Tata Group-backed Big Basket, Softbank-led Swiggy Instamart, Y-Combinator-backed Zepto, and Dunzo are already present in the market. Redseer reported that by 2025, the Quick Commerce market in India is anticipated to have increased by 15 times, reaching $5.5 billion.
Zomato wants to take advantage of delivery fleet integration synergies that will boost order density and cut down on delivery costs per order. Together, Zomato and Blinkit stand a better chance of succeeding than each of them working on their own, especially given how similar their target audiences are.
edited and proofread by nikita sharma