Economy
INDIA: World's largest education system, but unemployed – 2022
INDIA: World's largest education system, but unemployed – 2022
Educated youth cannot find appropriate jobs that match their qualifications, which is the worst form of unemployment. Education has improved in quality over the years, but the number of jobs available has not kept pace, and educated workers are unemployed.
Education in India has yielded a meagre return on investment. So there is a need to identify catalysts that accelerate skills development in the country. India has around 25 crore students enrolled in school education and about four crore students enrolled in higher education, making it the most extensive education system globally.
Large systems should enjoy economies of scale and make education cheap. Unfortunately, in India, the return on investment on education is pathetically low. Students would get an `educated` tag, but they are not skilled enough. A study by ASSOCHAM in 2016 revealed that only 7 per cent of MBA graduates churned out of 5,500 schools in India were found to be employable. The `National Employability Report for Engineers 2019` put out by a job assessment platform, Aspiring Minds, shows that over 80 per cent of engineers in India are unfit to take up any job in the knowledge economy.
Such poor employability wastes the new job opportunities and slows down the process of skill development of the younger generation. The world is changing fast towards a new knowledge economy, creating new opportunities for nations to gain dominance. He will not wait for India to progress. India needs to identify the catalysts that can accelerate the pace of training. The education proposals in the 2022-23 Union budget go in this direction. 
Convergence and complementation 
The success of electricity, internet and telecommunications penetration into India should be leveraged to penetrate education in the country. The combination of the internet, telecommunications, and television can significantly reduce the time and cost of education for students across the country.
This confluence allows one unit of good content and one session from a good teacher to have more impact than the traditional system. Critics may compare the effectiveness of online versus offline teaching, and this comparison is unfounded because the online mode is complementary, not a substitute. 
 The success of online initiatives from the previous budget 
DIKSHA (Digital Infrastructure for Sharing of Knowledge), launched on September 5, 2017, is operated and developed for school education, basic learning programs and supporting inclusive learning for the community. Untrained learners and teachers with different capacities.
Approximately 8.5 crore course enrollments were observed; 7 courses have been completed; 316 translated crore lessons with 2,775 minutes of crore lessons were experienced. It supports more than 18 languages ​​, and 2,685 systems from various NCERT, CBSE and SCERT programs are accessible. 
NISHTHA is a national initiative for the holistic advancement of school leaders and teachers at the primary level under Samagra Shiksha – a flagship program of MHRD. Over the past year, more than 30,000 teachers have benefited from digital training. This shows the power of the internet in improving the quality of education.
The eVIDYA initiative uses DTH channels to broadcast and deliver courses on television. One can use the DIKSHA app and scan QR codes to learn these courses. These initiatives have been implemented in the previous budget and have produced good results, and this budget further enhanced these initiatives.
The eVIDYA "One Class, One Channel' program spans 12 to 200 and is also available in different languages. Critics have unfairly compared the effects of schooling and televised learning, as the method is complementary, not competitive. 
Can the allocation target of NEP 2020 be met through Union Budget alone?
The proposals on education in this budget are oriented towards digital education, agriculture universities, and the setting up of the digital university. Given the uncertainty about new variants of coronavirus and to quicken the pace of learning and skill development, the country needs to create a robust online education system.
The world's largest democracy promised the `Right to Education to the nation on April 1, 2010. The date popularly known as April Fool's Day is just incidental and may not have been intentional. Unfortunately, even after a decade, India's adult literacy rate, at 81%, is well below the world average of 86%. The 81% literacy rate is in no way indicative of proficiency. The education system needs a quick overhaul.
NEP 2020 recommends spending 6% of GDP on education, while the current allocation of Rs 1,04,278 crore is nowhere around that. Six per cent of GDP means, But the entire 6% allocation of GDP does not necessarily come from the EU budget. Education is on the competitive list, and states have a greater responsibility to impart quality education to their residents. A calculation on the back of the education spending envelope for the conditions is Rs 6.11 lakh crore, less than 6% of their respective GDPs.
This causes the Center to spend around Rs 8 lakh crore to achieve its goal of Rs 14 lakh crore. The 202223 union budget shows the total projected revenue at Rs 22.84 lakh. Out of this deducting interest payment cost of Rs 9.4 lakh crore, one is left with Rs 13.44 lakh crore. If the Centre spends Rs 8 lakh crore on education, then the FM is left with a mere Rs 5.44 lakh crore to spend on the country's defence; electricity, transport, health services, agriculture, etc. Is it justified? 
Budget 2022 is a genuinely inclusive push towards taking the economy to 9.2 pc GDP growth.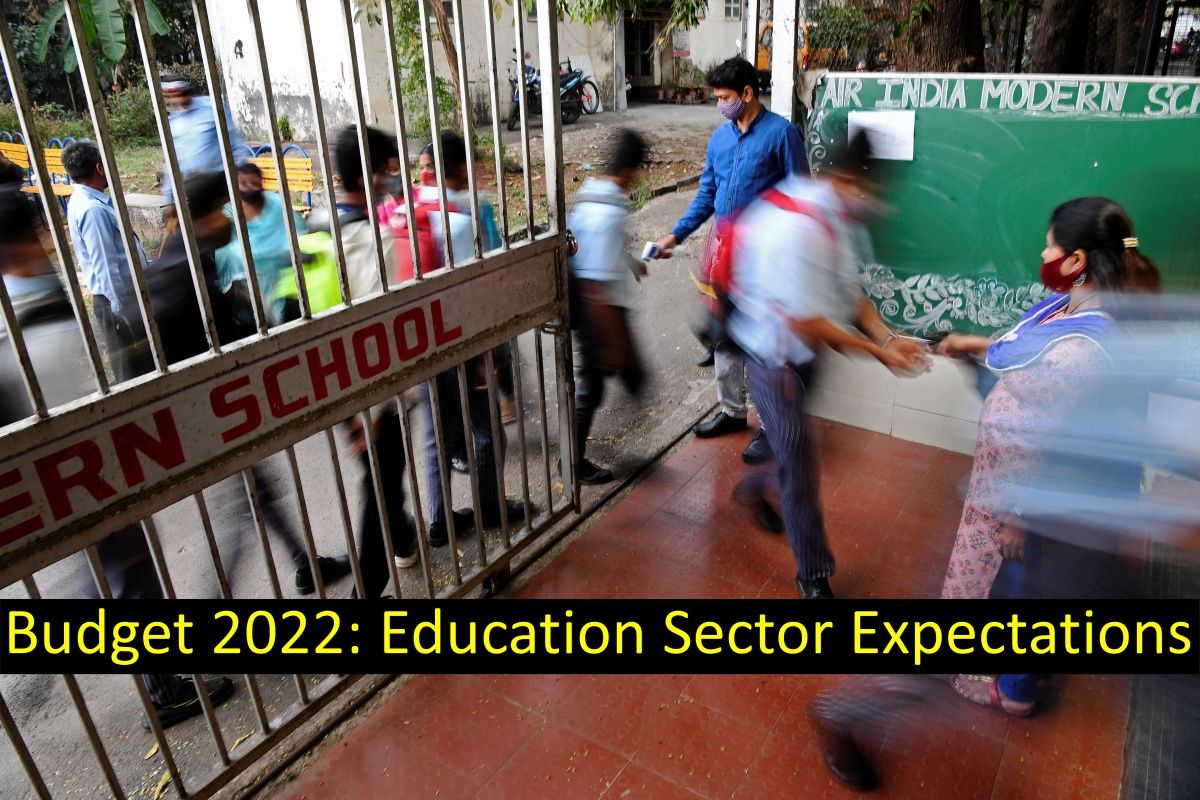 This year's budget focuses on infrastructure, digitisation, real estate, MSMEs, and upskilling to fill the demand-supply gap in jobs. 
This year's budget has been aimed at boosting the economy. A very positive budget focuses on overall economic growth as the government targets GDP of 9.2 per cent. The biggest fear amongst all industries and businesses was the fear of inflation, but the expected GDP and boosting economic growth will help cut down the worry of increasing prices. Also, the 35 per cent hike in capital expenditure is a huge move.
Digitization has received a big boost this time around, which will benefit several industries in the country. Many companies and startups will see benefits as the government has discussed digitizing agriculture using drones for agriculture and land to promote digitization in infrastructure.
Even in the fintech sector, the government has spoken of a vast digital push that will significantly benefit the financial and fintech segments as the country moves towards digital payments. The government has planned for commercial banks to set up 75 banks in 75 counties to encourage digital payments. It will also help India rise to the global scale of the digital economy. The government's digital platform, Gati Shakti, will also boost the economy and lead to more jobs and opportunities for young people. 
Advanced 
The government also announced DESHStack Eportal, which will significantly increase employment as the portal focuses on empowering citizens for skills, retraining, or upskilling through online training, making India a global talent hub. The past two years have witnessed a large gap between supply and demand for jobs; youth development is a daily need to bridge supply and demand for workers.
The government's announcement of the National Skills Framework will be in line with the dynamic requirements of the industry, where 750 virtual labs and 75 skills labs will be set up for simulated learning. Moreover, 600,000 jobs in the country is a huge step to boost employment and increase the Indian economy because of the need to create jobs. As we all know, due to the pandemic, people have been pushed back, lost their jobs and could not find jobs with the desired salary.
To support  MSMEs, the government has announced a plan of Rs 6,000 crore to be rolled out over the next five years. This will boost the MSME sector, contributing around 1518% of India's GDP. This is a very inclusive budget for financial inclusion and digital inclusion and building towards a better economy shown in this budget.
This year's budget mainly focuses on infrastructure, digitalization, real estate, MSME and skills development to close the job supply gap. PLI programs in  14 sectors, including hardware manufacturers, can create at least 60,000 new job opportunities in key sectors such as pharmaceuticals, medical devices, large-scale electronics manufacturing, food products, EV solar modules, auto/auto parts, and ACC batteries and textile products among others. 4,444 Edtech startups propose to launch  digital university, expand 'One Classroom, One TV' program 
In response to Nirmala Sitharaman's fourth Coalition budget announcement on Tuesday, Inventiva looked at how education experts responded to the reports. 
Finance Minister Nirmala Sitharaman presented the Union Budget 2022 on 1 February; education is one of the key focus areas. With the COVID19 pandemic having a significant impact on the education industry, the Union Finance Minister has focused on online education and training programmes. 
Sitharaman has also proposed establishing a digital university to provide education built on the star model. The university will develop cutting-edge information technology expertise using a star network architecture. The best universities and public institutions in the country will collaborate as a network of hubs and spokespeople," she said. The budget also proposes the launch of DESHStack eportal, a digital ecosystem for skills and livelihoods to empower people to acquire, retrain or upskill through online training.
The Minister of Finance announced the expansion of the program "One class, one TV channel" under the PM eVIDYA program from 12 to 200  channels. This will allow all states to offer supplemental education in regional languages ​​for grades 1 through 12. "This move will help children make up for the loss of formal education due to college education." translate, she said. 
India's higher education system is increasing, but the report calls for sweeping reforms. 
There are nearly 52,000 higher education institutions in India, making it one of the most extensive systems globally, and enrollment is now four times lower than it was in 2001, according to a November 2019 report by Brookings India titled Reviving Higher Education in India. Currently, 35.7 million students are enrolled in programs at universities and colleges across the country. The Gross Enrollment Rate (GER) in India was 26.3% in 2016. Although this is more than double the GER of a decade earlier (11.5% in 2006), it is still low. More than the 32.2% target for 2022 set by the Ministry of Human Resource Development.
The demand to study abroad is robust. Just over 750,000 Indians studied abroad in 2018, making India the second-largest source of study abroad after China for international students and one of the fastest-growing source markets in the world.
Why, with tens of thousands of educational institutions available in their country,  many Indians choose to study abroad?
The Brookings India report highlights "low employability of graduates, poor quality of education, weak governance, insufficient funding and complex regulatory standards" as issues facing the industry. Face to face. In addition, the report notes, the highly developed higher education sector has yet to keep up with demand, especially at the graduate level, and access to quality higher education is a problem.
The report said it is essential for the country to achieve its goal of "maximizing" higher education to allow a significant proportion of its citizens to have access to quality higher education in the country. Serious reforms are needed. The higher education system is massified, or "universal", when the GER is above 50%.
What has China accomplished in another way?
The document contrasts traits in India and China. The latter USA has also visible a significant growth in its better schooling device; however, China has finished it another way with an extra universal effect on academic and financial development.
China's gross enrolment price has climbed some distance extra hastily than India's because 2001, as the subsequent chart (primarily based totally on UNESCO data) indicates.
Why the marked distinction in the GER boom over this period?
The Chinese authorities massively accelerated its funding in its better schooling device, at the same time as India went approximately its growth with the aid of using (1) decreasing its investment and (2) inviting personal buyers in a bid to amplify capacity. This, in turn, has led to a fragmented Indian device with heaps of regularly poorly regulated vendors and comparatively few college students consistent with the group.
The document notes that, "Indian HEIs, on average, have approximately 690 college students. Chinese HEIs, on the opposite hand, have 16,000 college students consistent with HEI. Experiences from China and evolved nations propose that larger HEIs with a excessive scholar depend are simpler to manage."
More clustering of smaller Indian better schooling establishments is advice placed fourth withinside the document.
Few possibilities for postgraduates
The large numbers of Indian college students reading postgraduate stages at overseas universities are in massive component pushed with the aid of using one fact: there's little or no for them to pursue at this stage in India. As of 2018/19, the best 35% of Indian better schooling establishments impart postgraduate programmes, and simply 2.5% impart PhD programmes.
Many of those programmes are at privately controlled establishments inside a context of terrible law and accreditation. The document strongly urges the authorities to invest extra in increasing India's postgraduate capacity, explaining that personal establishments locate it "commercially unfeasible" to run such programmes.
Lack of innovation
More than 50% of college students in India's better schooling device are reading in certainly considered one among three programmes: Bachelor of Arts (BA), Bachelor of Science (BSc), and Bachelor of Commerce. These programmes are three years in duration. The document notes that due to how syllabuses are prescribed, there is a "restricted scope for innovation" and that best elite schools provide critical linkages with the enterprise. Without enterprise connections, the course from commencement to employment can work without difficulty fail.
Brookings recommends prescribing those programmes and refining present programmes to include extra vocational abilities to put together college students for the process market. The difficulty is critical: the document notes that many graduates of 3-12 months programmes – and those are 50% of all graduates withinside the Indian better schooling device – are failing to locate locations withinside the formal economy, falling as an alternative into occupations outdoor of it and transient employment.
Challenges abound
Other issues withinside the better schooling device, says the document, are:
"High access barriers, terrible incentive structures, stringent tenure guidelines and inflexible advertising practices [leading] to a restricted deliver of faculty;
Less than 10% of enrolled college students getting access to monetary aid, and hundreds of thousands extra not able to come up with the money for better schooling at all;
Faculty shortage, low inputs for studies and insufficient enterprise linkages [relative to those in the US, China, and South Korea] proscribing India's cap potential to provide a `skilled, efficient and bendy labour force;.` Not sufficient monetary, administrative, and educational autonomy is given to establishments;
Reduced authorities investment for principal universities; people who can come up with the money for it visit a personal group in which training prices are nearly two times that as the ones at a public group; Limited evaluation and accreditation capacity; Complicated distribution of roles and obligations throughout a couple of companies and vendors, hampering innovation and creativity.
Crucial to any hazard of India developing an excessive-quality, reachable schooling device with exciting possibilities at each the undergraduate and graduate degrees is a device that produces well-certified instructors and faculty: "Adequate compensation, in phrases of financial attention in addition to profession security (tenure-track), need to be furnished to coaching workforce to incentivize them."
Education 2022: 4 things to expect and how they could be different from last year
The future of education looks brighter than ever. Two years of a pandemic have paved the way for new possibilities and innovative aspects of learning. NEP 2020 planned many structural and functional changes and updates on the cards.
The education industry has evolved with the help of technology and meets the needs of children. In 2021, many schools will not be able to reach the very far reaches of the country due to a lack of basic infrastructure, including electricity and internet. It made us think about shrinking the future so that no child is left behind. The year 2022 must go to homes in the most remote places in India, not only on paper but also physically so that education remains at the primary level, but there are more jobs.
Today, all we do is teach children about facts and figures. To prepare them for the future, we must focus on enhancing the employability of education. We must first reach every corner of the country with better infrastructure and better technology integration, in addition to empowering youth through skills-based education as outlined in the National Education Policy 2020.
1. Skills Development:
Even after six years of forming a separate Skills Set, the Department for Skills Development and Entrepreneurship (MSDE) remains fragmented and fragmented. It is overseen by 17 different ministries in their respective fields without coordination. Currently, the quest "Skill India" is running at full speed, and India is responsible for employing around 104.62 million new labour market entrants in the coming years.
2. Superstars or "reflective worlds", or "spatial internets", or even "AR clouds", or augmented reality clouds, could become the future of education. Online learning will be more realistic with the help of metaverse, which involves virtual and augmented reality (AR & VR) concepts. 2021 has a large, near-realistic, virtual format that resembles platforms for hosting school events. The online classroom will be more accurate than ever with the advent of metaverse events. One can be offline or online, resulting in a surreal learning experience.
3. Blockchain in data security education:
Blockchain is still a young technology in education, but the future seems to be getting closer to using Blockchain as a data security tool. Gartner's 2019 survey revealed that almost 20% of higher education institutions would use Blockchain in the next two years. This will help streamline the tedious process of verifying transferring records, employee records, student unique credentials making the process easier and error-free.
Free digitized teaching and learning materials, known as open educational resources, will be vital to increasing access to learning for learners worldwide. This is in line with the support of the United Nations Sustainable Development Goal 4, as Blockchain will play an essential role in ensuring the quality of inclusive and equitable education worldwide to promote lifelong learning opportunities in all age groups.
Technology is recognized as part of the strategic development goals for inclusive education. Blockchain, making it cost-effective to deliver information and ready for the standardization of quality educational content worldwide. Applying advanced technologies such as Blockchain can help plan activities and use resources in education effectively.
4. Improved security with IPR
The Covid19 pandemic has revealed the limits of countries in educational management. Organizations worldwide that have moved to digitize education with e-learning have begun to consider their long-term strategies. Therefore, innovative technologies such as deep learning, machine learning, artificial intelligence (AI), virtual reality, and Blockchain are part of blended learning to support learners in this time of crisis.
In particular, all innovations like blockchain technology have the potential to revolutionize education. Research and innovation must be prioritized, with IPR playing a pivotal role in product security. Due to the sudden pandemic scenario, educational institutions have recruited the IT team to develop many innovative features.
The higher the level of data leakage, the closer you get to compete for intellectual property rights that organizations can claim to have an advantage over each other. Blockchain is a decentralized technology that includes impenetrable information infrastructure, transparency, and cryptographic encryption tools. The interface of student interaction is higher, and knowledge dissemination is more student-friendly.
Conclusion

However, technology is taking over learning. What remains in the heart is empathy, compassion and the virtue of dedication to society. The pandemic has forced children to stay at home with no social life. However, 2022 will open up children to the real world with more compassion as they will understand the value of many people they have missed during their time at home.
Edited and published by Ashlyn Joy