Looking at the current scenario, one thing is for sure that technology is what is binding us all together and helping in daily activities. Every organization must shift to the digital mode for better productivity and increasing revenues. In the coming future, contactless will be the new trend. After exploring all the areas of business, the non-conventional areas will be on a surge like creative works that include photography and art and craft.
After studying the market, we found out that Honeycomb Creative Support (P) Limited is one of the best Web Design and Development, Digital Media Marketing, Video Production, Graphic Design, and Content Marketing company in Bangalore. Unlike conventional agencies who depend on third parties for Digital Marketing, Video Production/Editing, Web Design and Development or app development, the company has a separate in-house team for each vertical, apart from the design, content, and sales & marketing teams. This enables them in providing high quality and cost-effective solutions in quick turnaround time.
Start Of Honeycomb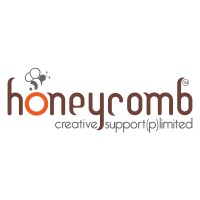 The company was started by A.N. Noufel, a Print Technologist in 2008. He is from Thiruvilwamala, a village in the District of Thrissur, Kerala. The famous Vilwadrinatha Temple is situated there. His father was a rice trader and was extremely ethical. He would always advice his children to be straight forward in business and never to cheat anybody. He grew up observing his father and followed his father's guidance throughout to be fair and ethical in business. His mother is a homemaker and she looked after the activities of Anamala Homestays, which is his ancestral home.
He set out on an entrepreneurial journey with Honeycomb as an image editing boutique studio in Bengaluru. Honeycomb has emerged as a leading 360° marketing communications solution provider in Bengaluru. Honeycomb Creative Support was started with 20,000/. Later on, friends raised about ₹2 lakhs (₹50,000/- each) and that was the initial capital.
Background
Mr. AN Noufel has a diploma in Printing Technology and bachelor's degree in Sociology from the University of Calicut. For him, education is a continuous process and he has completed an MBA, and various courses in Entrepreneurship Development, Human Resources Management, and Internal Auditing ISO 9002, among others.
His wife Reshma is an entrepreneur. She has started an enterprise called Mud Diaries.
She sells Mud Pots and Organic Food grains in Offline and Online. They have a daughter and she is studying at Cambridge Public School, Bengaluru. Their son is studying Psychology and Theatre at Christ University, Bangalore.
Mr. Krishna Kumar and Mr. Shafeeque K A are the co-founders of Honeycomb. Krishna Kumar is heading the Marketing and Sales of the Video Vertical and Shafeeque is an Adobe Certified Professional and he is heading the Graphic Design Team. The whole team was together at the Institute of Printing Technology, Shoranur, Kerala during 91-94.
Services
Honeycomb offers special services like Newspaper proofing (Printing artworks/ads on newsprint quality papers to ensure the quality of reproduction before they appear on the actual newspaper or magazine) and high-end scanning for its customers.

Web Design and Development

Digital Media Marketing

Video Production

Graphic Design

Content Marketing company

Honeycomb offers highly flexible and customizable business models. Be it retainership or rate-card model; maintaining ad-hoc studios at a customer's space or creative outsourcing, Honeycomb has a solution for each client. The young and enthusiastic Customer Relationship Management at Honeycomb is always there to monitor the expectations and effectiveness of the deliverables. Little wonder, customers keep coming back to Honeycomb with more business.
Clientele
Honeycomb has an array of clients from a diverse range of verticals including the Lifestyle industry, IT and Allied Industry, Manufacturing, Healthcare, and Pharma Industries. Many leading multinationals and emerging SMEs are among Honeycomb's Client List. That apart, all the leading Ad Agencies approach Honeycomb for the specialised services offered here. 
Art galleries and Art of Printing
The company collaborates with Art Galleries and Photographers in conducting Photography/Painting Exhibitions. Honeycomb Art Gallery is an initiative by Honeycomb Creative Support (P) Ltd., to encourage artists and photographers from all over India and across to showcase their talent and exhibit their works on a well networked platform of admirers and buyers.

Photostop is the Fine Art Printing division of Honeycomb offering museum quality fine-art (Giclee) prints to Photographers, Painters, Interior Decorators, Corporates and Photo-enthusiasts, among others. We have two branches. One in Andheri, Mumbai and the other in Banjara Hills, Hyderabad exclusively dealing with fine art printing.
Awards and accomplishments
With the customer-centric approach and with the best team, Honeycomb Creative Support was rated as the Best Operational Performance Company by CRISIL in 2016. Photostop has won Business Excellence Award issued by 1000 Petals in 2016. That apart, the Company was featured magazines like The CEO and Silicon India. We also received awards for "The best reprographic Company of the year from Printweek India during 2010 and 2011.
Honeycomb aims to achieve 15 crores annual business. The company is optimistic about opening Honeycomb Academy with the aim of producing dynamic professionals who are ready to take on responsibilities in range of areas like Digital Marketing, Web Design & Development, Video Production/Editing, and Graphic Design. I also have plans to take the fine art printing business catering to international clients.
Overall, the determination and the strength of the company solely lies in the hands of the people running it. Inventiva vouches for Honeycomb and wishes it the best in the future!