Stories
Indian Oil Will Pool Its Green Assets Under One Roof To Enable The Country's Energy Shift.
When the firm unveiled a new entity for the renewable energy industry, shares of Indian Oil Company Ltd. (IOC) increased by more than 1% on Thursday.
According to a press release, Indian Oil Company Ltd. (IndianOil) discussed a wide range of sustainability initiatives at the first IndianOil Green Energy Summit that are positioned to accelerate India's transition to green energy.
The company also reaffirmed its intention to consolidate all of its current green assets under one roof and quickly increase its presence across sustainable energy sources, including CCUS, green hydrogen, biofuels, and renewable (carbon offsets and carbon capture, utilization, and storage).
"Although IndianOil is dedicated to energizing India's exponentially expanding energy demands, we are also determined to be the flag bearer of India's green energy transition," said SM Vaidya, chairman of IndianOil, during a speech at the event. "As a result, we are boosting up our green projects with vigour. In the future, we will consolidate all of our green assets under one roof to maximize synergy".
Our ambitious green strategy also includes creating successful alliances to support large-scale green industries. We will provide opportunities for investors and technology suppliers all around the world to join our adventure as partners. Indian Oil's renewable energy portfolio, which is now 239 MW in size and being increased through new wind, solar, hydro, and pumped hydro projects, as said in an official announcement,
Also, we are working with NTPC to add around 2.8 GW to our capacity for renewable energy. With the solarization of 20,705 retail outlets with a combined installed capacity of 121 MW, the supply chain has also been made greener. By constructing 4700 charging stations and 66 battery switching stations, EV initiatives are being stepped up.
To create IOC Phinergy Private Limited, a partnership has been established with Phinergy, an Israeli start-up firm that specializes in hybrid lithium-ion and aluminum-air battery systems. Also being investigated is rhe different battery chemistry, he added. IndianOil has left its mark on the nation's developing green hydrogen environment.
For the Green Hydrogen Business, the business has a solidified partnership with Renew Power Private Limited (Renew) and Larson & Toubro Limited (L&T). In the Panipat refinery, a 7 KTPA green hydrogen capacity is being developed.
"Using the hydrogen from the refinery unit, Gujarat Refinery has established a demonstration plant for hydrogen dispensing. The whole focus of IndianOil R&D Center is on creating low-carbon technology and goods," according to the press release. Several biofuel projects and efforts in the areas of ethanol, biodiesel, compressed biogas (CBG), organic manure, sustainable aviation fuel (SAF), and energy waste are already being carried out by IndianOil.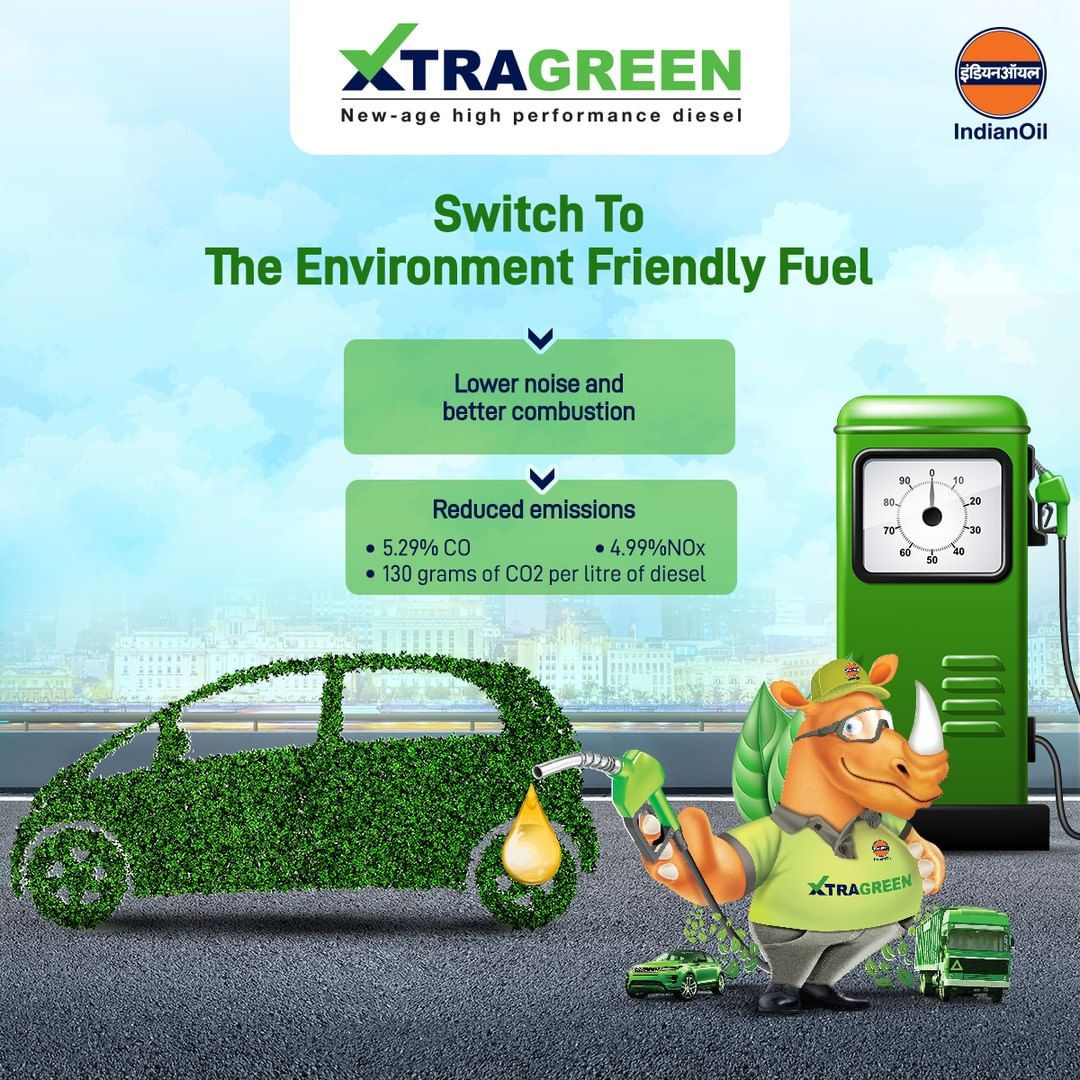 At Panipat, IndianOil has built its 2G ethanol plant based on paddy straw and its 3G ethanol plant based on refinery off-gas. With the SATAT program, 20 CBG plants have been put into operation. Under the brand name IndiGreen, CBG is also offered for sale by IndianOil at 41 retail locations throughout India.
In addition, IndianOil has built up a 200 TPD mixed waste (paddy straw, press mud, and cow dung) facility at its CBG plant in Gorakhpur, Uttar Pradesh, and a 100 TPD cattle dung facility at its CBG plant in Jaipur, Rajasthan. IndiGreen, XP95, XP100, Xtragreen, Xtra Tej, SERVO Raftaar, and other cutting-edge items are just a few of the new products that IndianOil is adding to its portfolio of greener goods.
"According to Source New Energy Finance's World Rankings on Transformation, Indian Oil is the top-ranking Indian company in the Oil and Gas industry (BNEF). Indian Oil is now rated 22nd overall in the rankings. According to the study, Indian Oil's portion of low-carbon investments made up 1.8% of its total CAPEX, making it the leader among oil and gas corporations in this category. Indian Oil now provides 9% of the country's energy needs and aims to increase this proportion to 12% by 2030.
Indian Oil increased by more than 1% following the company's IPO of a new segment for the renewable energy sector.
When the firm unveiled a new entity for the renewable energy industry, shares of Indian Oil Company Ltd. (IOC) increased by more than 1% on Thursday. According to the company's exchange filing, the board of directors has given the go-ahead for the establishment of a fully owned subsidiary in India, subject to clearance from the NITI Aayog, DIPAM, etc., to do business in the area of low-carbon, new, clean, and green energy.
The decision by Indian Oil to consolidate green initiatives into a single entity is a welcome step because it will help unlock the value hidden in Indian Oil's balance sheet of existing and future green initiatives such as renewable power, hydrogen, biofuels, EVs, and so on," said Anshuman Khanna, Director, ValPro and Enablers.
Khanna claims that the Indian Oil stock is still under pressure as a result of the ambiguity surrounding retail gasoline prices due to socio-political factors. Yet, separating green projects into a distinct organization that is unaffected by these uncertainties would make it possible to fully realize the benefits of such programs. In the future, this business may also be demerged and listed separately, generating wealth for IOC shareholders as well.
On the technical aspect, many analysts predict that the stock will increase until it reaches 86; the stock's support level is 77, and its resistance level is 85. The weekly average delivery volume for the stock is 50.76%." Since the price of crude oil has corrected substantially, oil marketing businesses have seen strong purchasing demand. Shortly, the stock may climb upward, towards 83 or 84, according to 5PASA.com's main research analyst, Ruchit Jain.
IOC has been gaining momentum over the last several trading days, says Osho Krishan, Sr. Analyst, Technical and Derivative Research, at Angel One. It is now positioned above the 21-double exponential moving average (DEMA) on the daily chart, indicating underlying strength. The current swing low, or levels around 77-odd, serves as support on the technical aspect. On the other hand, a firm close above 81 might start the subsequent phase of the rally over the same time frame, said Krishan.
Edited by Prakriti Arora