Stories
Where Is Vijay Mallya? Why Is He Still Not Brought Back To India? What Happened To Big Promises Of Government To Bring Back Economic Offenders To India?
Where Is Vijay Mallya? Why Is He Still Not Brought Back To India? What Happened To Big Promises Of Government To Bring Back Economic Offenders To India?
Is the Indian government's desire to bring Mallya back as fervent as Mallya's desire to remain in the UK? Who do you anticipate winning?
Mallya escaped to London in March 2016, leaving behind assets worth Rs 13,000 crore and debts to Indian banks of Rs 9,000 crore, in the hopes that British law would shield him and allow him to live the life that the affluent and dishonest believe they deserve.
According to the new law, Vijay Mallya is the first person to be designated a "fugitive economic criminal."
Vijay Mallya, the eluding liquor magnate, was labelled a fugitive economic offender (FEO) by a special court in Mumbai after the Enforcement Directorate filed a petition.
According to the rules of the new Fugitive Economic Offenders Act, which was established in August of 2018, Mallya has become the first businessman to be designated an EFO.
The ED had asked that Mallya, currently in the UK, be declared a fugitive and that his properties be seized and placed under the control of the Union government following the provisions of the new FEO Act. The ED had requested the Prevention of Money Laundering Act (PMLA) court.
After hearing lengthy arguments from Mallya's attorney and the ED attorney, special judge MS Azmi, found Mallya to be an FEO under Section 12 of the Act. Mallya left India in March 2016 after being charged with money laundering and loan repayment default.
According to the Fugitive Economic Offenders Act of 2018, the ED had submitted a court application in July seeking to designate Mallya as a "fugitive economic offender."
Additionally, the ED demanded the immediate confiscation of assets valued at around Rs 12,500 crore.
Mallya requested a stay on the ED's plea hearing, but the special court rejected his request in October. The Bombay High Court rejected Mallya's request for a stay on the ED's proposal to designate him as a fugitive economic offender and seize his assets in November after Mallya filed an appeal.
The investigation agencies' refusal to accept Vijay Mallya's offer to compensate lenders was initially reported by ET in September.
Mallya's offer is nothing more than a ruse to avoid court action. Mallya would attempt to portray himself as having done nothing wrong and having come clean if he successfully secured this settlement offer. This will thwart any ongoing legal action against him; a senior official had previously told ET.
Any person who has fled India to escape being prosecuted for their involvement in certain economic offences with a value of at least Rs 100 crore or more is considered a fugitive economic offender.
What does fugitive law mean?
The law grants the government the authority to seize all of a person's assets after they are designated fugitives, not simply those derived from criminal activity's earnings. Benami assets will also be a part of this. The government would later build up a cooperative international framework to seize even the foreign assets of those labelled fugitives.
A court may proclaim a person to be a fugitive based on whether any of the crimes specified in the law have been committed. Currently, the Prevention of Money Laundering Act allows the Enforcement Directorate to temporarily seize assets obtained by criminal activity and release them only after a conviction. The procedure is typically drawn out.
Following the Fugitive Bill, an administrator will be chosen to oversee and dispose of confiscated property.
What PM Modi said to fugitive eco offenders about returning to India in 2021
High-profile economic offenders would have no choice but to return to the country, according to Prime Minister Narendra Modi, who said that his administration is using all available channels, including diplomatic ones, to bring them back. But the issue that arises in our minds is: Is he actually taking action to get them back, or are these merely make-believe statements meant to distract the public?
In 2021, he challenged banks to support wealth and job creators with proactive lending while committing to stand by any loans issued in good faith during a speech on credit flow and economic growth at a symposium.
"We used policy, the legislation, and diplomatic channels in our effort to extradite fugitives (economic criminals). The message is crystal clear: go back to your home nation. We're keeping up with them, "said he.
However, he avoided mentioning or naming any specific criminal.
Don't you believe it's time that India should make more of an effort to deport notorious business criminals like Vijay Mallya and Nirav Modi, who are wanted in connection with bank fraud and money laundering cases?
Do you believe India should make more effort to deport notorious business criminals like Vijay Mallya and Nirav Modi? Are they wanted in connection with bank fraud and money laundering cases?
The recently established National Asset Reconstruction Company (NARCL) will assist in resolving stressed assets worth Rs 2 lakh crore, the Prime Minister stated, even though Rs 5 lakh crore has been recovered from defaulters through proactive measures.
He added that since his government began finding solutions to banks' issues in 2014, their financial health has significantly improved.
"Indian banks are strong enough to play a significant role in providing the nation's economy with a boost and helping it become independent.
"You should support businesses that generate wealth and jobs at this time. Now more than ever, India's banks must take aggressive steps to improve both their balance sheets and the nation's wealth sheet "He declared.
Banks, according to Modi, need to abandon the mindset that they are the approver and the consumer is the applicant and switch to a partnership approach.
Unlocking individuals' productive potential is crucial when the nation is working so hard to promote financial inclusion, he said.
Modi said that the banking sector had been supported by the government's reforms over the past six to seven years, which has led to the sector's current strong position.
"We tackled the NPA issue, recappeditalized banks, and strengthened them. We implemented changes such as the Insolvency and Bankruptcy Code (IBC), amended numerous laws, and strengthened the Debt Recovery Tribunal "said he.
Additionally, Modi encouraged lenders to provide "customized solutions" to companies and micro, small, and medium-sized organizations (MSMEs).
"Do not wait for clients to visit banks. He told the bankers, "You have to go to them, and I'll stand by them like a wall "for any moral choice they make.
Modi warned that if banks didn't adopt fintech immediately, they would fall behind. He urged them to move forward with a "bold thinking and inventive approach."
By August 15, 2022, he set a goal for banks, stating that each branch should have at least 100 customers who do all of their business digitally.
"The banking industry needs to comprehend that investing in ideas is now appropriate in India. It's time to help new businesses. The startup is only an idea; it doesn't have any assets.
"You (banks) don't lack resources or data. "You (banks) have advanced in line with the nation's commitment and aim, and the government will continue to implement reforms," he said.
The Prime Minister claimed that actions made in previous years had given banks a solid capital base.
In addition to having enough liquidity and no backlog for lousy loan provisions, public sector banks' non-performing assets (NPAs) are at their lowest levels in the previous five years. He noted that as a result, international agencies had upgraded their outlook on Indian banks.
The Prime Minister emphasized the importance of providing consumers with proactive service and requested banks to offer tailored solutions to clients, businesses, and MSMEs after thoroughly examining their needs.
Additionally, he commended the banking industry for its enthusiasm in implementing the Jan Dhan Scheme.
The prime minister advised banks to actively participate in the growth narrative. He used the Production Linked Incentive (PLI) plan as an example, where the government incentivizes Indian industries to increase production.
Manufacturers have been encouraged by the PLI programme to expand their capacity and become multinational corporations significantly.
According to Modi, banks may significantly contribute to the viability of initiatives through their assistance and knowledge.
"The banking industry is currently in a solid position as a result of reforms over the last six to seven years. Bank non-performing assets (NPAs) have been addressed, banks have been recapitalized, bankruptcy rules have been introduced, and the debt recovery tribunal has been strengthened "And Modi.
He claimed that because public sector lenders have consolidated, they can now raise money from the market.
As a result of the reforms, banks now have a sizable and robust capital base, sufficient liquidity, and no backlog of NPAs.
"The critical party involved in constructing a country is you… Banks have a significant impact on India's economy and development, "said the prime minister.
This only shows that the current administration spoke much about corruption from top to bottom. Anyhow, these financial violators getaway. A chain of dishonest business people borrowed enormous sums of money and transferred them to their accounts. Not one Nirav or Vijay Mallya, but thousands upon thousands of Mallya, and Niravs fill the books of bad debts with various psbS. RBI has not been penalizing economic offenders? Why is the financial ministry mum. not to criticize the rbi, banks, or finance ministry, but to save the welfare of respected Bharat Mata and his 139 cr sons. No development is complete without preventing corruption. The corrupt elements have an excellent opportunity to profit from products.
The government has a perfect record for sending these offenders home. It has evolved into a ten-year joke. The financial offenders are firmly established in the UK. Meanwhile, the British populace mocks the Indian government and people.
A timeline of the government's efforts to extradite Vijay Mallya, and others, Nirav, and Choksi to India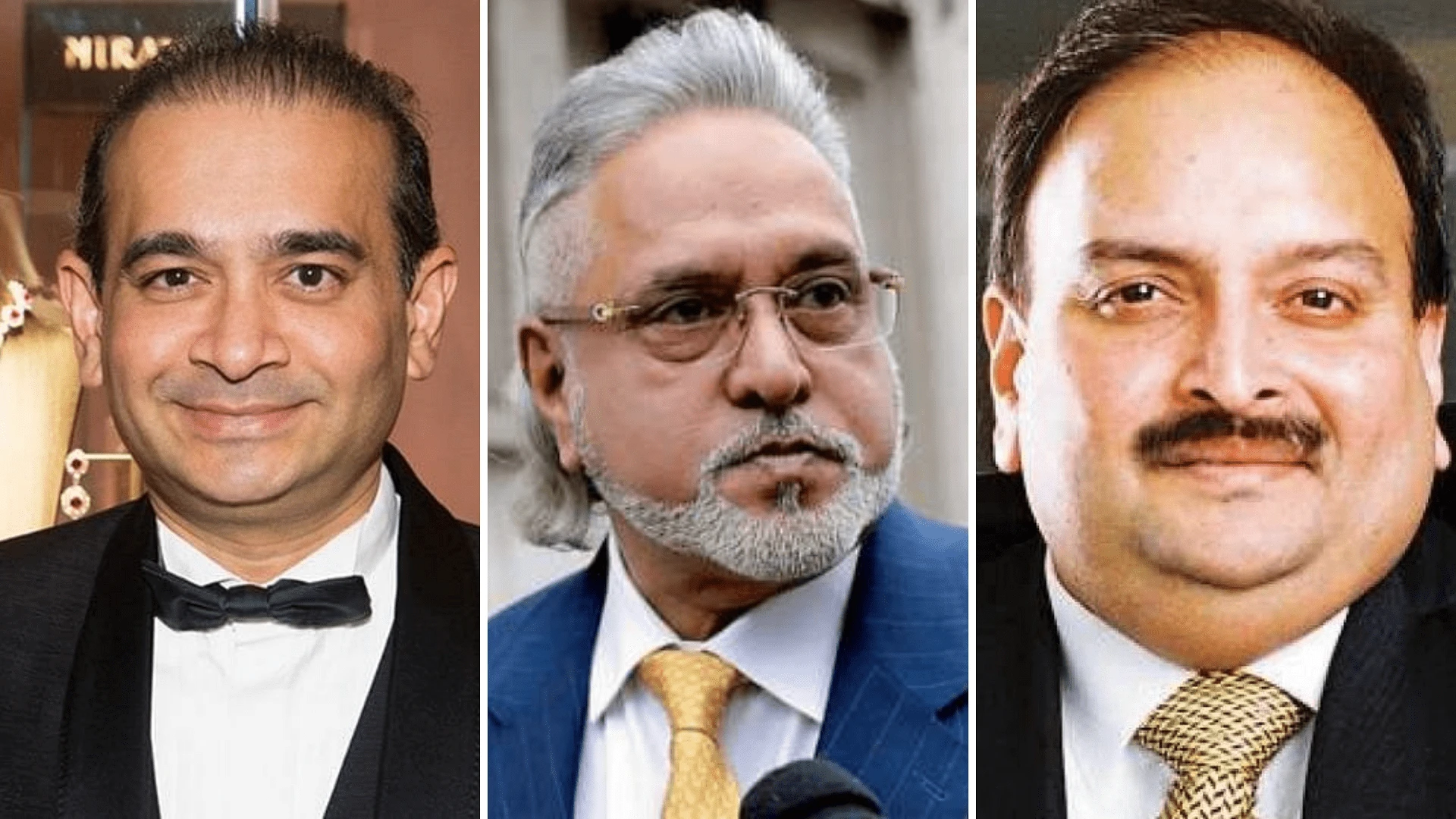 Thirty-three suspects in bank fraud cases filed by the Central Bureau of Investigation (CBI) were reported to have left the country in the previous five years in December 2021, according to information provided to the parliament.
Since Prime Minister Narendra Modi took office almost eight years ago and promised to eradicate corruption from the nation, the opposition has frequently accused his administration of failing on this front. Despite a carefully manufactured narrative of a government that didn't care about reputations, the image of Modi's administration suffered when Vijay Mallya, Nirav Modi, and Mehul Choksi fled India for bank crimes they committed while serving in the Manmohan Sing-led UPA government.
Thirty-three suspects in bank fraud cases filed by the Central Bureau of Investigation (CBI) were reported to have left the country in the previous five years in December 2021, according to information provided to the parliament.
Even though the agencies worked on the specifics of international laws to extradite the accused, the opposition led to the attack against the government for allowing the three fugitives to leave the country all these years. The three individuals, Vijay Mallya, Nirav Modi, and Mehul Choksi, who owe Indian banks a combined total of Rs 22,000 crore, are still at large. However, the administration finally has something to save its reputation.
Nirmala Sitharaman, the minister of finance, reported on Wednesday that banks have made up to Rs 13,109 crore from the sale of assets linked to Mallya, Modi, and Choksi, three fugitive business criminals.
However, getting money back from the fugitives may not be sufficient because the fight against corruption is about punishing offenders and not getting cash back.
The Directorate of Enforcement has filed applications under the Fugitive Economic Offenders Act, 2018, against defaulters evading Indian jurisdiction and made extradition requests to numerous nations.
Despite securing the three accused extradition to India, the authorities have encountered difficulties obtaining custody of the accused at various levels. It would be interesting to see if the government chooses the narrative of getting money back from Mallya, Modi, and Choksi in the run-up to the general elections in 2024 or if it decides to bring them back to India as the prize of the fight against corruption.
The timeline of prominent instances of banking fraud is as follows: Mallya, Vijay.
'The King of Good Times's Decline
1973: 1973 saw the appointment of Vijay Mallya to the position of chairman of the United Breweries Group, best known for its beer "Kingfisher."
2005: Kingfisher Airlines was founded in 2005 by "The King of Good Times," with United Breweries Group serving as its promoter.
2008: 2008 saw Kingfisher invest Rs 550 crore in a 26% stake in the bankrupt airline Air Deccan.
March 2008: Kingfisher's debt increased to more than Rs 900 crore amid a global economic downturn and skyrocketing energy prices.
2009: Kingfisher's debt increased to Rs 7,000 crore in just one year.
2011: Eleven bank accounts of the airline were frozen for non-payment of a loan totalling Rs. 70 crore as Kingfisher's losses exceeded its net worth.
2012: Mallya provided a repayment guarantee for Kingfisher's debt of Rs. 5,900 crore.
2012: Kingfisher Airlines' activities were halted in 2012.
2013: Kingfisher Airlines' net worth was minus Rs 13,000 crore in 2013.
2014: United Breweries Group was recognized as the defaulter by United Bank in 2014.
2015: In connection with the Rs 900 crore loan given to the airline by IDBI bank, the Central Bureau of Investigation (CBI) conducted a raid on the properties connected to Mallya in October.
March 2016: Mallya negotiated a debt settlement with the banks in March 2016. The SBI-led consortium complained about Mallya to the debt recovery tribunal on March 9. Mallya left India for the UK on the same day.
April 2016: Mallya's offer to pay back his debt was rejected by the banks in April 2016. In the same month, the Ministry of External Affairs cancelled Mallya's passport, and the Enforcement Directorate (ED) issued a non-bailable warrant for his arrest.
2017: 2017 saw Mallya's detention in the UK following an extradition request from India.
2018: The London court rejected to reverse the Indian Court's ruling freezing Mallya's assets globally, citing that Indian banks breached the law and conspired to lend to Mallya and Kingfisher Airlines.
September 2018: Mallya petitioned the Karnataka High Court in September 2018 and offered to sell his holdings for Rs 13,900 crore.
December 2018: Mallya pledged to pay the banks the complete principal sum in December 2018.
January 2019: Mallya was the first individual to be identified as a fugitive economic offender by an Indian PMLA court in January 2019.
February 2019: Sajid Javid, the UK's former home secretary, approved for Mallya to be returned to India.
April 2020: Mallya's appeal against the demand for his extradition by the federal government was rejected by the Royal Court of Justice in London.
January 2021: Mallya requested a different path to allow him to remain in the UK in a letter sent to Priti Patel, the UK Home Secretary at the time, in January 2021. The UK government informed India the same month that Mallya could not be extradited because of a few unresolved legal matters.
June 2021: The PMLA court approved the sale of Mallya's properties, valued at Rs 5,646 crore, to pay off bank obligations.