Trends
Former Chairman of TATA Sons Cyrus Mistry dies in a road accident near Mumbai
Death of Cyrus Mistry: Two other passengers, including the driver of the vehicle, suffered injuries and were taken to a hospital in Gujarat.
Industrialist and former Tata Group chairman Cyrus Mistry passed away in a car accident on Sunday in Palghar, a city close to Mumbai. Mistry was taken to the hospital following the incident, where he was pronounced dead. Along with the car driver, two other passengers with him were hurt and taken urgently to a Gujarat hospital.
"While traveling from Ahmedabad to Mumbai, Cyrus Mistry, the former chairman of Tata Sons, was killed in a car accident after hitting a divider. There were 4 people in the car; 2 passed away immediately, and 2 were taken to the hospital, "according to ANI, Palghar police officials.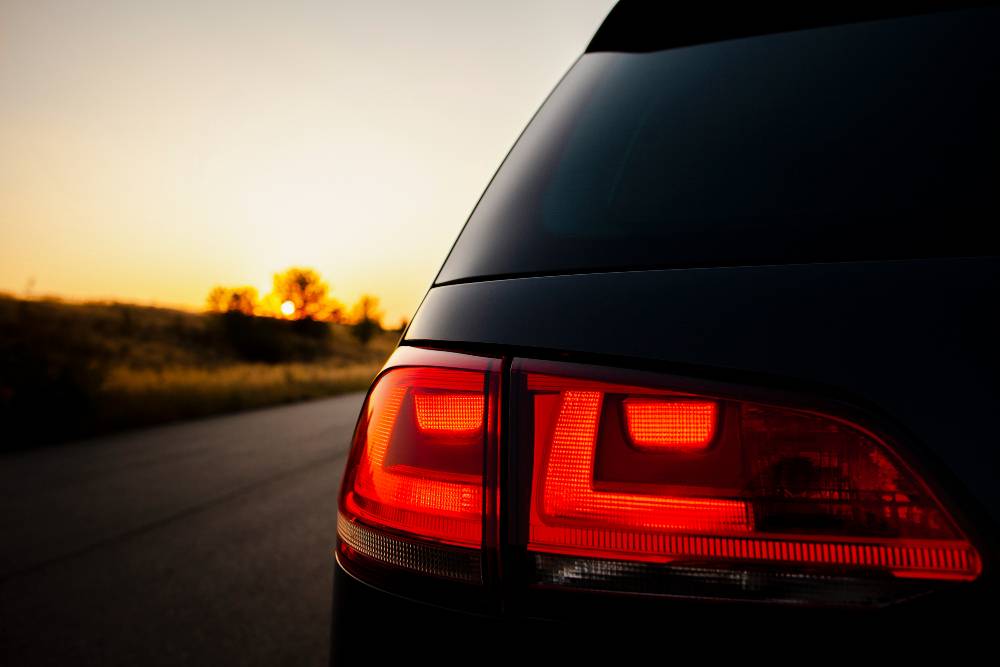 According to the police, Mistry was driving a Mercedes from Ahmedabad to Mumbai when the accident occurred at around 3.15 pm. According to PTI, Mistry's body has been moved to the Kasa Rural Hospital for a postmortem.
"Around 3.15 p.m., Mistry was traveling from Ahmedabad to Mumbai when the accident occurred. The Surya River Bridge is where the incident took place. It appears to be an accident, a police officer quoted by PTI said.
Cyrus Mistry took over as chairman of Tata Sons after Ratan Tata resigned in 2012. But after only four years, he was fired from his position.
Cyrus Mistry: Who Was He?
Businessman Cyrus Pallonji Mistry (born 4 July 1968) was appointed chairman of the Tata Group on 28 December 2012. On 24 October 2016, the Tata Group fired Mistry from his position. He was the group's second chairman, following Dorabji Tata, and it's sixth overall. The Economist referred to him as "the most significant industrialist" in both Britain and India. He was Pallonji Mistry's youngest child and an Indian construction magnate.
Cyrus Mistry's death is mourned by PM Modi, who claims that he 'believed in India's economic prowess'
Prime Minister Narendra Modi expressed his condolences and said Mistry's passing is a great loss to the business and industrial worlds amid the outpouring of tributes.
"It's shocking that Shri Cyrus Mistry passed away so quickly. He was a bright businessman who had faith in India's ability to prosper economically. The business and industrial worlds have suffered greatly since his passing. We send our heartful sympathies to his family and friends. May he find peace with his soul "PM Modi sent his family and friends condolence tweets.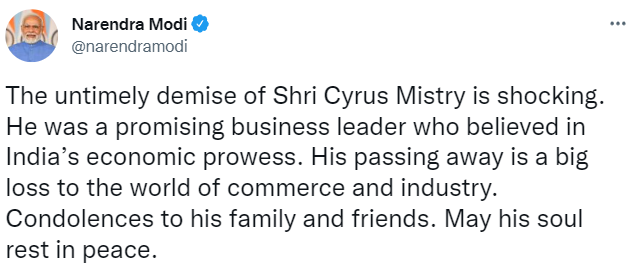 After Cyrus Mistry's passing, tributes from business titans and others abound: "He Was Destined For Greatness"
In the meantime, tributes to Mistry's family and friends flooded social media. Celebrities and prominent politicians expressed their condolences over the business tycoon's passing.
Following the passing of Cyrus Mistry, tributes from business titans and others abound.
Other prominent figures and business moguls joined Prime Minister Narendra Modi in paying tribute to Cyrus Mistry's friends and family.
Following are a few of the responses to the business tycoon's passing:

Union minister Nitin Gadkari sent his sincere condolences to Mistry's family. "When I learned that Cyrus Mistry Ji, the former chairman of Tata Sons, had tragically perished in a car accident not far from Palghar, Maharashtra, I was both shocked and saddened. My deepest sympathies are with his family. Dear, rest in peace. Shanti Osho, "Minister Nithin Gadkari tweeted.
Nirmalya Kumar, a Harvard professor who worked with Mistry at Tata Sons, expresses gratitude for the lessons he taught her. "The chairman of Tata Sons is my dear friend and former boss. I'm grateful for the lessons in life. We laughed together last month while sitting on a park bench in London. RIP, "In a tweet, Nirmalaya Kumar stated.
Naveen Jindal, chairman of Jindal Steel & Power, expressed his sadness at Cyrus Mistry's passing.
"I was shocked to learn that CyrusMistry had passed away. It's shocking how tragically he fell. He was a great person and a true gentleman, and we will miss his contagious smile. Om Shanti, say a prayer for the soul of the dead."
Harsh Goenka, the chairman of RPG Enterprises, tweeted: "It broke my heart to learn of the shocking news of CyrusMistry's accidental death. He was a serious person, a good friend, and a gentleman. He successfully led the Tata group and played a key role in the establishment of the global construction behemoth Shapoorji Pallonji."
According to Union Minister Smriti Irani, Cyrus exemplifies kindness. "As I will always remember him, Cyrus was a kind man with a mission and a vision. He embodied kindness. It shocks me to learn of his passing. His family and loved ones have my condolences. Osho Shanti "Tweeted the union minister.
In a tweet, Congress leader Rahul Gandhi asserted that Mistry was among the best business minds in the country. "Saddened by the tragic news of Cyrus Mistry's passing, the former chairman of Tata Sons. He was one of the nation's brightest business minds and significantly influenced India's success story. I extend my sincere condolences to his family, friends, and supporters, "Rahul Gandhi of Congress tweeted.
KT Rama Rao, the minister of IT and industries for Telangana, expressed shock at the information. "utterly shocked Cyrus Mistry, one of the most modest, honorable, and kind people I've had the pleasure of knowing for the past eight years is no longer with us. Cyrus, have peace. Yet another decent person Too soon gone."
Eknath Shinde, the governor of Maharashtra, paid tribute. "The sudden death of Shri Cyrus Mistry came as shocking news. A driven entrepreneur who was deeply committed to the concept of New India. We send our sympathies to his family and friends. Enjoy your peace, "Shinde tweeted as CM.
Anand Mahindra, the chairman of the Mahindra Group, declared Cyrus Mistry to be destined for greatness. Mahindra stated in a tweet, "The news is difficult to process. During his all-too-short time as the head of the House of Tata, I had the opportunity to get to know Cyrus well. He was destined for greatness, in my opinion. Life itself shouldn't have been taken from him, but if life had other plans for him, that's fine. Shanti Om."
edited and proofread by nikita sharma