Trends
Sundar Pichai said in an email that Google parent Alphabet will eliminate 12,000 positions.
In an email, Sundar Pichai said that Google parent Alphabet will cut 12,000 jobs.
It is now the newest tech giant to announce job cuts. Sundar Pichai, CEO of the firm, sent an email to all employees on Friday informing them of the cutbacks and informing them that he accepts "full responsibility for the actions that got us here."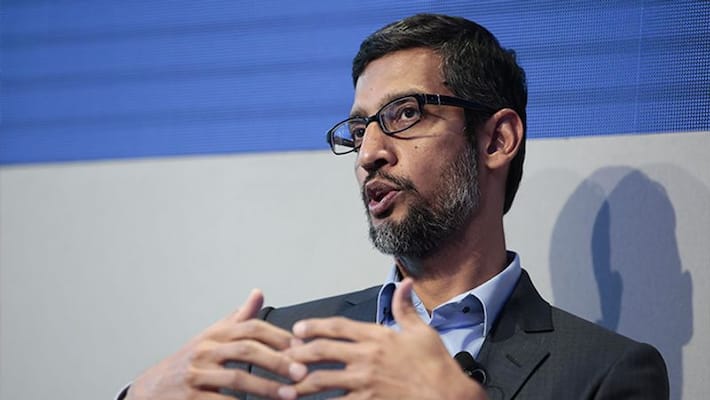 With the layoffs, Google has now joined a long list of other technological behemoths that have substantially reduced operations in the face of a collapsing world economy and rising costs. All three companies—Twitter Inc., Amazon Inc., and Meta Platforms Inc.—have cut workers. Because of a strong search business, Google has avoided severe personnel reductions for the longest period of time in the IT sector. Digital advertising is, however, declining for the company, and its cloud computing division is still falling behind Amazon and Microsoft Corporation.
"These are essential times to limit our focus, re-engineer our cost base, and devote our talent and funds to our biggest objectives," Pichai said in the email. He said that the company's use of artificial intelligence, a big area of investment where Google has recently experienced an increase in competition, has "great promise."
Sales and profitability for the firm in October fell short of analyst expectations. Profits were down 27% to $13.9 billion from the prior year. Then-CEO Ruth Porat forecast that the number of new employees will drop by more than half from the third quarter to the fourth, and Pichai said that Google would reduce expenditures.
Google's workforce decreased as a result of demand from investors to adopt a more aggressive cost-cutting approach. In an open letter published in November, TCI Fund Management Ltd. urged Google to set a target for profit margins, increase the number of shares purchased back, and reduce losses in its portfolio of Other Bets, Alphabet's moonshot companies. Chris Hohn, managing director of TCI, stated, "The business has too many employees, and the cost per person is too high," noting that Alphabet's employment has expanded by 20% yearly since 2017.
According to Inc. Challenger, Gray & Christmas, a human resources consulting firm, 97,171 jobs were lost in the IT sector in 2022, up 649% from the previous year. Google has recently implemented a number of cost-cutting measures, such as the permanent shutdown of Stadia, its cloud gaming service, and the scrapping of the following-generation Pixelbook laptop. An Alphabet biotech company called Verily said earlier in January that 15% of its staff will be laid go.
Employees who are affected in the US will get 16 weeks of severance compensation and six months of health benefits, according to Pichai, while other areas will receive packages according to regional laws and customs.
Microsoft to Amazon: The IT sector will continue to cut jobs in 2023.
In 2023, the IT sector will continue to experience hardships as more businesses declare layoffs. Microsoft, which is going to slash employees in the engineering sector, is the largest name to join the list right now. Tech firms have proceeded to take similar actions in India as well, with ShareChat being the most recent to enter the competition. The majority of IT businesses attribute the issue to the economy; however, others have acknowledged that they overhired during the epidemic.
Tech, which was formerly thought of as a wealthy businessman, seems to be going through some type of correction. Let's examine all the IT businesses that have announced these actions and their justifications.
A Bloomberg story claims that Microsoft intends to fire 10,000 workers, or around 5% of the workforce. The company stated that it will accept $1 in a blog post that was published on Wednesday and. 2 billion in charges in the second quarter as a result of the change. The software behemoth announced the upcoming layoffs since some regions of the world are experiencing a recession and its clients are becoming cautious.
The worsening macroeconomic conditions throughout the world and the anticipated decrease in the demand for software and services are once again connected to employee layoffs. The business previously suspended recruits and made employment cuts in October and July 2022.
Satya Nadella talked about the need for efficiency in the computing sector in his address. He stated that Microsoft would not be immune to these restrictions and that the next two years would be "extremely challenging," with some parts of the world going through a "real recession."On January 24, the titan of the software sector will release its financial results. The forecast is likewise anticipated to be dismal. Bloomberg reports that not even Microsoft's cloud services have increased considerably, thus this will be the poorest revenue growth since 2017.
Amazon is still cutting jobs, which is hurting people there as well.
The original news that Amazon would lay off 10,000 workers as part of its reorganization and cost-cutting efforts broke in November last year. However, the figure has been larger, and starting this month, 18,000 jobs will be lost.
Amazon CEO Andy stated in a blog post on January 4 that "in November, we announced a voluntary reduction offer for some employees in our People, Experience, and Technology (PXT) organisation and communicated the difficult decision to eliminate several positions across our Devices and Books businesses." I also mentioned that our annual planning process was not yet complete and that I anticipated that there would be more position reductions in the first half of 2023.
According to the open letter, Amazon will offer the affected parties "a separation payment, transitional health insurance coverage, and external job placement help." Amazon India has also made job cuts, as several employees have noted that approximately 75% of their team has been eliminated using applications like Grapevine.
Several complaints indicated that the Last Mile, Food Tech, Prime, Amazon Pay, and Fresh divisions were affected. Some commenters pointed out that engineers were also affected. The actions were prompted by a downturn in demand and a decline in revenue at Amazon.
20% of ShareChat's workforce will be let go.
ShareChat made job layoffs public in India, which will affect about 20% of the staff. The choice was made to "position the firm to persevere through these [external macrofactors] headwinds," according to a statement from the company. Around 20% of our highly bright workers who have been with us throughout this start-up journey had to be let go, which was one of the hardest and most painful choices we have ever had to make as a company.
Nearly 400 people will be let go by Mohalla Tech, the parent firm of ShareChat and the short-video app Moj. As the corporation has eliminated 2300 positions in December 2022 and again in May 2020, this is the third wave of layoffs. The impacted workers will reportedly get their full notice pay as well as two weeks' compensation ex gratia for each year they worked for the firm. Additionally, until December 2022, they will get 100% variable pay as well as six months of health insurance, beginning in June 2023.
Given that Instagram and YouTube have dominated the industry with reels and shorts, respectively, ShareChat has not found the expansion of the short-video sector to be as lucrative.
India's ed-tech industry and food delivery technology
The ed-tech industry in India has also been severely hit by employment losses. Byju's, previously the most valuable startup in the world, said in October that it would eliminate 2500 positions or 5% of its staff. By March 2023, the corporation claims it hopes to return to profitability. Other ed-tech companies, such as Unacademy, had also experienced job losses by the end of 2022. In 2022 as well, Unacademy sacked close to 1200 staff. Swiggy and Zomato, two food delivery businesses, also lost staff last year. Dunzo eliminated 3% of its personnel in the meantime, and CEO Kabeer Biswas confirmed this in a statement.
Job losses at SalesForce
Salesforce, a tech giant, also announced job layoffs in January of this year. To cut expenses by $3 to $5 billion, the business reportedly planned to lay off 10% of its workforce and potentially close certain operations. The business acknowledged that it had overstaffed during the epidemic and that the slump in the economy required cost adjustments and restructuring.
HP announced 6,000 job cuts that will take place over the next three years as the demand for PCs declines. Similar layoffs are expected at Intel in the future. The corporation has a strategy that was made public that calls for $10 billion in savings by 2025. In October of last year, Peloton, best known for its intelligent exercise cycles, also let go of roughly 500 workers.
A company that makes computer hard drives, Seagate Technology Holdings, announced 3,000 layoffs. 14% of the staff of the US-based payments firm Stripe will be laid off. Although hiring in Cupertino has been stopped, Apple and Google have not yet announced any job losses. Google CEO Sundar Pichai is rumored to have given workers advice to cut back on unnecessary expenditures and get ready for tough times. There were also reports in 2022 that if Google employees didn't adapt, they may lose their jobs.
edited and proofread by nikita sharma