Trends
RBI seeks to ban cryptos, but India needs global support to make that effective: FM Sitharaman 2022.
RBI seeks to ban cryptos, but India needs global support to make that effective: FM Sitharaman 2022. 
The Reserve Bank of India (RBI) has suggested the government to create legislation for cryptocurrencies, according to Finance Minister Nirmala Sitharaman. If such a ban must be implemented, the Indian government should seek international cooperation, according to Sitharaman.
The Finance Minister responded to questions about cryptocurrencies in the Lok Sabha today by stating that the RBI had advised creating rules for this industry. RBI believes that it should be illegal to use cryptocurrency. She continued by saying that because cryptocurrencies are international in nature, international cooperation is necessary to prevent regulatory arbitrage. Therefore, any legislation for regulating or prohibiting can only be effective after extensive international cooperation on assessing the risks and benefits and developing a uniform taxonomy and standards," she claimed.
The Finance Minister responded, "RBI has been warning users, holders, and traders of Virtual Currencies (VCs) via public notifications on December 24, 2013, February 01, 2017, and December 05, 2017, that dealing in VCs is affiliated with potential economic risks." This was an answer to a question about whether RBI had issued instructions, circulars, instructions, warnings, etc., regarding restricting the issuance, buying, selling, holding, and circulation of Cryptocurrency in India during the last ten years. On April 6, 2018, the RBI also published a circular forbidding its regulated firms from dealing in virtual currency (VCs) or offering services to help anyone deal with or settle VCs.
The Reserve Bank of India has asked the government to bring into action the laws and bans for cryptocurrencies.
However, as per Finance Minister Nirmala Sitharaman's comments made in Parliament on July 18, the administration appears to believe in the fact that any successful regulation or ban requires "global collaboration."
"The RBI has advocated for the creation of legislation in this area due to its concerns regarding the destabilizing impact of cryptocurrencies on a nation's monetary and fiscal stability. The RBI believes that it should be illegal to trade cryptocurrencies, "In a written response to questions in the Lok Sabha, the finance minister stated.
As a result of cryptocurrencies' worldwide reach, Sitharaman then continued that international cooperation was essential to prevent any form of regulatory arbitrage.
As a result, she explained, "any legislation for regulating or banning may thus only be effective after extensive international effort on evaluation of the benefits and risks and development of shared taxonomy and standards."
In light of rumours that the government may draught legislation to control the cryptocurrency industry during the Monsoon Session of Parliament, which began today, Sitharaman made her remarks. But no such legislation has been scheduled for the introduction.
All eyes are on the government's draught crypto consultation document before the aforementioned bill is introduced. In late May, it was reported that the paper, which is expected to clarify the government's position on cryptocurrencies, was "nearly finished." It is still awaiting, nevertheless.
 The government has so far refused to state where it stands on cryptocurrencies publicly, and there is even debate over how to classify them—whether they should be classified as commodities or financial assets. Instead, Sitharaman and Prime Minister Narendra Modi have advocated for concerted international action to address the issues brought on by the use of cryptocurrencies in recent months.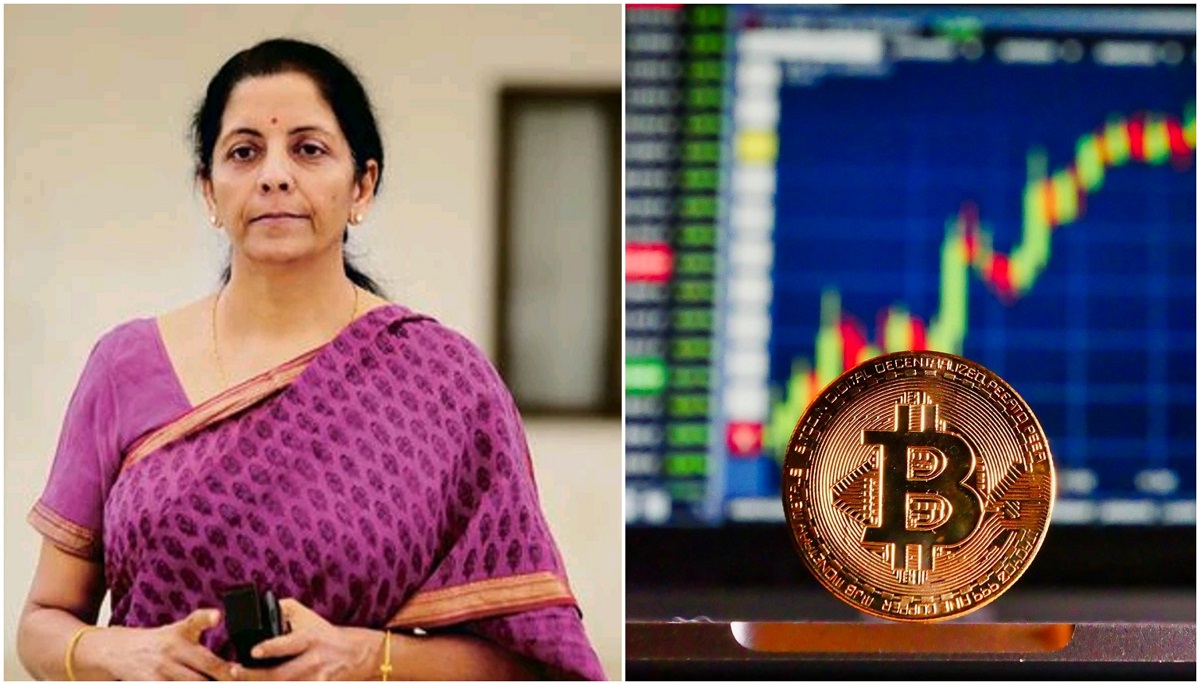 The RBI has continued to develop its own digital money, which it wants to launch this year, while legislation on cryptocurrencies is still pending. The Central Bank Digital Currencies (CBDC) may "kill" the motivations behind the development of private cryptocurrencies, as per RBI Deputy Governor T Rabi Sankar.
"RBI stated that cryptocurrency is not a form of currency because a central bank or government must issue every kind of money today. Speaking at the Monsoon Session of Parliament, she continued, "Finally, the value of fiat currencies is anchored by fiscal policy and their status as legal tender, whereas the value of cryptocurrencies rests solely on speculations and preconceptions of high returns that are not well anchored. As a result, it will have a destabilizing effect on monetary and fiscal stability and development.
The central bank has often brought up issues with digital assets. In the RBI's annual report, governor Shaktikanta Das referred to cryptocurrencies as an "obvious hazard" and claimed that anything that draws value from fantasy, "without any basis," is only speculation cloaked in a clever nomenclature.
The administration also announced a tax on virtual asset gains. The newest addition was a 1% TDS starting on July 1 of this year, while the 30% tax rate on cryptocurrency holdings went into effect on April 1. This has affected the volume of trading on Indian cryptocurrency exchanges.
"Since cryptocurrencies are by nature borderless, international cooperation is necessary to prevent speculative trading. The development of a uniform taxonomy and standards, as well as major international collaboration on risk and benefit assessment, is therefore required before any law for regulation or prohibition can be effective, "She spoke.
The Reserve Bank has consistently urged caution over the potential negative macroeconomics variables of cryptocurrencies, highlighted their issues, and questioned their basic assumptions. Even the main head of the central bank has referred to cryptocurrencies as a "serious hazard." "in the annual report of the RBI. Sitharaman briefed the Parliament's monsoon session that the RBI had proposed drafting cryptocurrency legislation and that they should be outlawed.
This is in response to RBI's concerns about the destabilizing impact of cryptocurrencies on a nation's monetary and fiscal stability, Sitharaman added.
She added that the RBI had instructed its regulated businesses to carry out Know Your Customer (KYC), Anti-Money Laundering (AML), Trying to combat Financing of Terrorism (CFT), and duties under the Prevention of Money Laundering Act (PMLA), 2002, related activities in its May 31 circular. Additionally, it had requested that the Foreign Exchange Management Act's (FEMA) pertinent regulations regarding international remittances be followed.
The CEO and co-founder of Mudrext, Edul Patel, responded to Sitharaman's remarks by saying, "RBI's attitude on cryptos has always been inflexible. But over the next few years, the crypto area might pave the way for a number of industry-wide advances. The government shouldn't outright outlaw this industry for it to develop and help realize Digital India's vision; instead, it can set regulations for the sector. A sizable portion of the stakeholders will be impacted if the government chooses to reject it. India is leading this developing ecosystem.
According to Rishi Anand, an associate at DSK Legal, "the Finance Minister's call for 'worldwide collaboration' on trying to regulate or banning cryptocurrency may be conceived as the Indian government preferring to frame laws around encryption methods in tandem with other countries, rather than making an authority specific law that might not be an efficient option."
FM Sitharaman had stated that "many Indians have anticipated a future in crypto; thus, I see a prospect of revenue in it."
The government continues to insist that cryptocurrencies are not "legal," notwithstanding the tax system. "We didn't say that this was money. We haven't stated that this has inherent value, but we have taxed since some operations are taxed for the sovereign, according to Ms. Sitharaman's comments from April.
However, unlike its neighbor China last year, the government has not taken any action to introduce legislation making them unlawful. The RBI has highlighted cryptocurrencies' hazards to investors and the Indian monetary system. The central bank had previously prohibited cryptocurrencies, but the Supreme Court removed the prohibition in March 2020.
Speaking at the International Monetary Fund and World Bank panel discussion with the title "Money at the Crossroad: Public or Private Digital Money," Sitharaman reaffirmed that the solution to these problems lies in a robust global regulatory framework. She declared, "A single country cannot regulate within its terrain using an efficient approach.
Technology does not yet have a method for accomplishing it across boundaries that will satisfy different sovereigns and work equally well in each of the areas.
She emphasized the necessity for international laws and declared, "I believe that technology-based regulation is the only solution. Technology-based regulation must be so skillful as to keep up with and be ahead of the curve. This is not feasible. If any nation believes it is capable of handling it. It must apply to everyone.
She said that, as technological solutions continue to advance, a global response to rules and comprehension of the technologies is essential. "Not so much to intervene, but to keep a keen eye" on them is necessary. This "keeping an eye" must be regionally unique and "applied differently because, for each user scenario, the hazards can also vary based on the economy you are speaking about."
The FM added that given India's level of digitalization over the previous two years, implementing CBDCs was a logical step for the country. Sitharaman clarified the highly contentious 30% crypto tax, saying, "By taxing, we were trying to ensure that we are managing to keep a trail, making sure these are going to be ultimately able to comply with anti-money-laundering rules, and making sure these kinds of processes don't end up, also, accidentally funding any kind of terrorism." We haven't stated that this is money. We haven't noted that this has worth in and of itself. But we did it because we knew that some operations were taxed to the sovereign.
Edited by Prakriti Arora