Trends
Senior journalist Ravish Kumar resigns from NDTV
NDTV: The channel's main flagship weekday programme Hum Log, Ravish ki Report, Des Ki Baat, and also Prime Time were among the programmes that the Ramon Magsaysay Award winner Ravish Kumar previously hosted.
One day after Prannoy Roy and Radhika Roy resigned as directors of NDTV promoter company RRPR Holding Private Limited, Senior Executive Editor at NDTV India Ravish Kumar announced his resignation "with immediate effect" on Wednesday.
The resignation is effective immediately, according to the channel's internal email. "Few journalists have had the kind of influence Ravish did on people.
This is clear from the email's mention of his voluminous praise, the "crowds he draws everywhere, and the prestigious awards and recognition he has received, both domestically and abroad." "Ravish has been a crucial part of NDTV for decades; his contribution has been enormous, and also we know he will be successful as he also embarks on a new beginning," the email stated.
In order to begin the process of acquiring a main additional 26% stake in the company, the Adani group launched an open offer on November 22 that is open until December 5.
Since joining the New Delhi Television Network (NDTV) in 1996, Kumar has been active with its channels. In addition to Prime Time, Des Ki Baat, Ravish ki Report, and Hum Log, he hosted a number of news-related shows on NDTV India. The Ramnath Goenka Excellence in Journalism Award was given to Kumar twice in addition to the 2019 Ramon Magsaysay Award.
When Prannoy Roy and Radhika Roy leave the RRPR board, will they also leave NDTV?
The boards of directors for RRPR Holdings have been vacated by Radhika Roy and Prannoy Roy. Does this also mean they're quitting NDTV? How far along is the open offer from NDTV? What is the current state of affairs?
Prannoy Roy and Radhika Roy, the creators and promoters of NDTV, resigned from their positions as board members of RRPR Holdings Private Limited on November 29. On August 23, the Adani Group acquired RRPR, a company founded by the Roys and named after them, as well as the company's 29.18% stake in NDTV.
Adani began the process of currently acquiring an additional 26% stake in the company on November 22 by launching an open offer that is active until December 5.
Do Prannoy Roy and Radhika Roy's resignation from RRPR Holdings indicate that they will also be leaving NDTV?
No, still. Because they directly own NDTV, the Roys have resigned from the board of RRPR Holdings but will continue to serve on the board of that organization.
While RRPR held 29.18 percent of the company, the two founder promoters of NDTV, Prannoy Roy and Radhika Roy, each own 32.26 percent of the company, giving them seats on the board of directors.
It will be interesting to see what the Roys decide to do with their personal shares in NDTV if, after the open offer is over, the Adani Group becomes the company's largest shareholder.
How far along is the open offer from NDTV?
More than 5.3 million shares, or almost 8.2% of the company's 6.44 crore shares, had been tendered as of Tuesday. The Adani Group would hold more than 37% of NDTV based on the number of shares that are currently being offered by investors, making it the company's largest shareholder.
Of the 5.3 million shares offered, corporations hold 3.7 million of them. More than 6.3 million shares of Bodies Corporate are held by institutional investors, including GRD Securities (2.82%), Adesh Broking House (1.5%), Drolia Agencies (1.48%), and Confirm Realbuild (1.33%). In reality, directors connect these four investors.
After the NDTV open offer, what happens?
If the required 26 percent of the target company is successfully acquired, bringing the group's total stake to 55.18 percent, The Adani Group will be able to assume management control of the company. The acquirer will be able to hire their own key management personnel.
In the event that they are unable to obtain a 50% stake, The Adani Group has the option to buy shares from additional institutional investors. To get the required majority, it might have to raise the offer price, though.
Is it still possible for Prannoy and Radhika Roy to submit a counteroffer?
The Roys have the option to make a more expensive counter offer in response to the open offer from the Adani Group. The Roys' financial power will determine this decision.
Although it is unknown if they will submit a counter offer, they were unable to repay the loan they received from Vishvapradhan Commercial Pvt Ltd (VCPL), which had lent the NDTV founders, led by Prannoy Roy, over Rs 403 crore in the 2009–2010 fiscal year.
In any case, the Adanis have the option to increase the cost of their initial offer and again challenge the Roys.
In a moving video explaining his decision to leave NDTV, Ravish says, "Don't know mainly what I'll do at 9 pm now."
The day after he announced his resignation from NDTV, seasoned journalist Ravish Kumar posted an emotional video on his YouTube channel explaining his decision to end his 26-year relationship with the network.
On Wednesday, Kumar, NDTV India's senior executive editor, asked for his resignation to be effective immediately. Tuesday saw Prannoy Roy and Radhika Roy resign from their positions as board directors of NDTV promoter RRPRH as the Adani group moved closer to gaining control of the television network.
The senior journalist asserted in a video posted on his current YouTube channel called Ravish Kumar Official on Thursday that all channels in the country, regardless of their many different names, are "godi media."
The Magsaysay Award winner recently made the decision to regularly post videos on YouTube after rumours about the future of his programme surfaced following reports that the Adani Group would soon take over NDTV. However, he had previously denied the resignation rumors, claiming that Prime Minister Narendra Modi had agreed to an interview.
In his 22nd video, which he uploaded to his YouTube channel, Kumar argued that the people of the country had shown him a tonne of support at a time when the judiciary had failed and those in positions of power had tried to stifle the voices of many. He continued by saying that without his audience, nothing would have been possible.
Kumar spoke about the country's social divide, his past experiences, his goals for the future, and the challenges facing Hindi journalism. On his Facebook page and YouTube channel, he pleaded with his audience to continue supporting his work. Like a test match player, he persisted in playing despite what, according to him, was a changing world. He asserted that someone had just finished the game and switched the format to T20, though.
"In my mind, when I awoke in the morning, it was nine o'clock in the evening. Every day, I would start to type between 5,000 and 7,000 words. But at this moment, it might not be nine o'clock or prime time, Kumar said.
"I don't know what I'll do at nine o'clock tonight. I really enjoy watching television. I became emotionally invested in this medium, which may be why my heart is now breaking as well. That red microphone is something I'll never forget.
The seasoned journalist claimed that despite his attempts to gradually fade from viewers' memories by missing a few days of his show Prime Time, they had not forgotten him.
"The media landscape in India has changed. Think about the young people who are pursuing journalism degrees while also serving in dalali roles. A terrified journalist gives birth to a citizen who is dying. Continue to express your lack of fear to others.
Memes and social media humour also made fun of the resignation.
The resignation is timed with the open offer by the Adani Group to buy NDTV, which started on November 22 and runs through December 5. Newslaundry has written about the trading of NDTV shares as well as the factors that led shareholders to tender over 53 lakh shares for less than market value.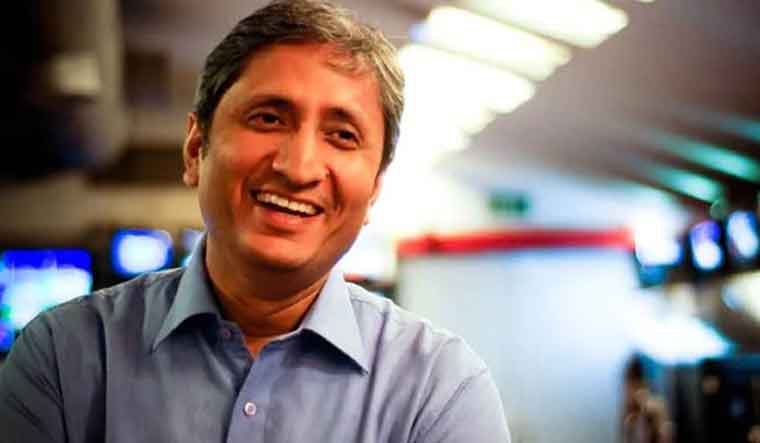 Suparna Singh, the president of NDTV, told the staff of the channel on Wednesday night that Ravish has had a greater impact on society than most journalists.
The glowing reviews he has received, the sizable crowds he draws everywhere, the prestigious awards and also accolades he has received both domestically and internationally, and his daily reports, which champion the needs and rights of the underserved, all serve as evidence of this.
Last month, when discussing the increase in subscribers to his YouTube channel, the journalist claimed that it wasn't just about subscriptions, but also about how people were responding to the "media backed by thousands of main advertisement types" and a sign that the audience had finally "understood the maneouvres of the mainstream media."