Trends
With the help of technology, doctors can digitize their medical records
With the help of technology, doctors can digitize their medical records
Our lives have been wholly transformed by technology, but the healthcare industry was lagging until the pandemic completely altered the global healthcare landscape, including India. We frequently observe doctors looking for medical information online. Additionally, during the previous two years, we have observed several medical associations and healthcare organizations organizing many online webinars and virtual conferences to inform and enlighten their members.
Before now, the provision of critical care in the healthcare ecosystem was primarily dependent on the infrastructure of secondary and tertiary care. Sadly, the two Covid-19 waves destroyed the system, which is still working to recover. Offering integrated care to individuals and populations based on specific categories and areas is a significant change in the patient care system in the healthcare sector. This change is intended to increase the quality of treatment and optimize costs.
Using efficient online learning tools, doctors should keep themselves current on best practices, pharmaceutical advancements, diagnostics, and therapies, as well as patient care.
The healthcare industry is now undergoing significant reforms aimed at increasing effectiveness and patient outcomes. The goal is to close the gaps and improve care delivery by making it more accessible and affordable. Future problems will require a workforce that is highly effective and competent. By improving the visualization of treatment gaps and other crucial issues that must be controlled, AI/ML and other developing technologies are opening up new avenues and raising patient expectations and demands concerning communicating with clinicians about their health. The delivery of healthcare to isolated areas of the nation is also aided by technology.
Upskilling doctors and other medical personnel is essential to stay up with the new treatment methods and effectively manage the overall process. Shortly, healthcare delivery may only rely on data science, digital skills, and genomics; therefore, technological expertise will be crucial for efficient operation. By offering treatments to more people with fewer resources, the healthcare system will become more effective.
India now has around 13 lakh physicians, which is still far below the optimum doctor-to-population ratio of one per 1,000 people set by the World Health Organization. Despite this load, the medical community works ceaselessly, but owing to the conventional upskilling formats, opportunities to learn about the most recent medical advancements have been few and only available to a small portion of the medical community.
Transformation to the digital age is never quick or easy. But when you include the complexities of regulatory compliance and security requirements, keeping healthcare-related documents might appear utterly overwhelming. The benefits of turning digital can, fortunately, deliver particularly significant outcomes because doing so is more difficult for public and private healthcare.
Healthcare has, however, lagged behind other sectors in the conversion from paper-based to digital systems. Because of this, managing paper-based data and procedures is expensive for the industry, both financially and in terms of lost efficiency.
Compliance in Healthcare: The Hurdles
The intricacy is understood by everyone who deals with medical records. Complex, industry-wide rules and compliance requirements, many of which aim to safeguard patient data, are at the core of it.
The Patient Protection and Affordable Care Act (PPACA) and its regulations and administrative complexities, in particular, place high operational costs on the healthcare sector. PPACA also requires industry-wide standards for healthcare information in electronic billing and other operations.
How Digitization Can Help
Under the shadow of health records standards and compliance, protecting patients' private health information has become a very challenging task—and one that might result in penalties. However, digitalization can be useful. The administrative load can be reduced, and regulatory compliance can be automated.
With digitization, document transactions may be audited with confidence and tracking. Security authorizations may be quickly specified and enforced once documents have been scanned and safely saved in the cloud. To comply with privacy requirements like HIPAA and PPACA, electronic data might be encrypted as an additional layer of security.
Every level of security benefits from digitization
Security is provided at multiple levels of the cloud, the application, and the service by the best cloud-based digitization applications:
Cloud-level Security
The same physical loss that affects paper files also affects onsite servers. However, when you utilize a Software-as-a-Service (SaaS) solution to digitize and keep your records on the cloud, the data is secured in numerous secure data centres. Selecting a private cloud solution with a single tenant over one on a multi-tenant public cloud will provide the highest level of security and compliance.
Be on the lookout for document management tools and services that offer System Organization Control (SOC)1 or SOC 2 compliance. Internal controls probably relevant to an audit are described in writing here. Your service providers' safe data management is ensured by SOC 2 compliance. When choosing a service to digitize your medical information, SOC 2 compliance should be a minimal requirement.
The best defence is provided by a solution vendor certified as an AWS Healthcare Competency Partner. AWS has granted certification to an AWS Healthcare Competency Partner for successfully developing solutions that securely store, process, transmit, and analyze medical records, including clinical data. This implies that you have access to cutting-edge, secure cloud-based solutions.
Application-level Security
Your healthcare records will need to be protected at the application or system level, which is the next level of security.
It is expensive and challenging to have staff follow security best practices regarding risk mitigation for paper documents. Security is significantly easier when documents are scanned and safely stored in the cloud. Electronic data can be encrypted to provide protection, even if it is duplicated or stolen.
Service-level Security
Technology that is in line with rules and procedures for the proper use and transparent accountability is necessary for good service-level security. Role-based security makes it simple to efficiently manage access to critical digital assets once you've specified the roles and access levels required to match workflow and other needs. Additional access control based on document properties adds even more security.
Health Benefits of Digitizing Medical Records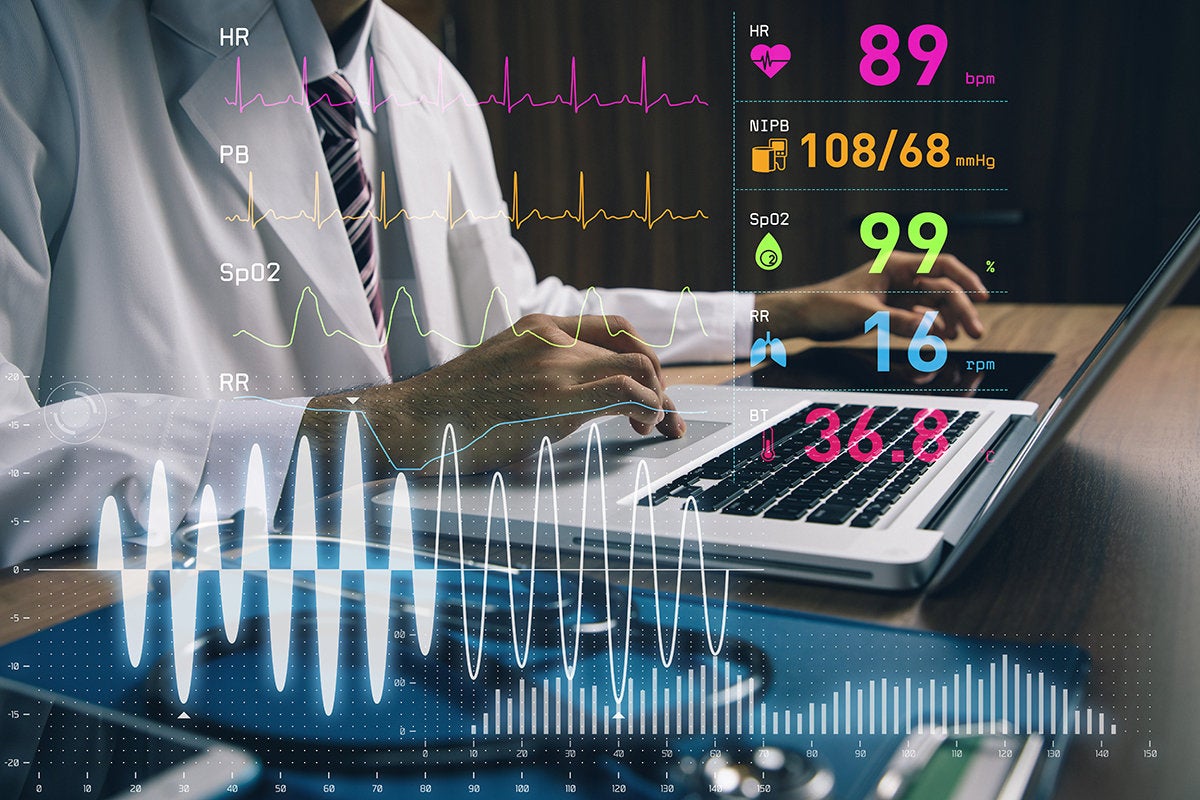 Let's examine more closely each of the main advantages of digitizing your medical records:
Ready-for-audit Compliance Trail
It is possible to back up and encrypt digital documents. Digital data that is encrypted is uncopyable and unstealable. Digital information and records that have been encrypted are kept on remote servers using cloud hosting. For a valid and traceable audit trail, they can only be accessed with specific login credentials. These steps guarantee that unauthorized people cannot access the information.
With a unique ID, you can identify exactly who has accessed any document and when. Inquire about many levels of security when picking a vendor. You may also lock documents to stop further editing or duplication from maintaining their integrity. Make sure the provider you select for document scanning conforms with HIPAA's best practices and standards.
Control Information Governance
By assisting in the management and control of information, information governance helps maintain privacy. Effective information governance measures also lessen the impact of breaches and even wholly prevent some of them. With paper records, this is difficult—and occasionally impossible—to accomplish. Using tools like digital redaction and automated retention scheduling, you may gain more governance control when you digitize paper-based information and procedures.
Because it reduces the danger of legal action and compliance issues, the records retention schedule is an essential part of document and healthcare records management systems. It might be error-prone to manage records retention manually. The procedure is automated to avoid unintentional deletion.
Through automatically generated rules and notifications included in the document management system, automatic retention scheduling increases efficiency. The software then adheres to preprogrammed retention policies and deadlines once records have been scanned and saved.
Paper has intrinsic security flaws. Security risks are posed by paper files kept in file cabinets and file rooms. Anybody may carry a printed page of information with them at any time or any place. However, you have far more control over who may access your information with a digital document. A document that has been scanned and is trackable is always more secure.
It is expensive to reduce risk through physical security measures for paper documents, and it can be challenging to have personnel follow security best practices. However, security authorizations may be readily specified and enforced once documents have been scanned and saved in the cloud. Knowing precisely where and how your data are maintained, who has viewed them (and when), and how the document was used makes it much easier to comply with privacy regulations. For compliance, this is particularly crucial.
Digital records and procedures result in less copying, printing, and handling of documents, which lowers the risk of compliance security in addition to the user role-based security measures offered by document management systems.
The productivity and cost benefits that come from digitizing paper documents are enormous. Finding a place for active and inactive patients to store their charts and other medical documents, as well as handling records that have been misfiled, is a laborious procedure. Space costs money as well. The space can be removed or used differently after these charts have been scanned and uploaded.
The Texas Department of Insurance saved $300,000 by eliminating the need for file storage and maintenance by scanning over 800,000 case files and becoming paperless. Client after client, in healthcare and across sectors, has experienced considerable cost savings and efficiency via the reallocation of personnel and space formerly utilized to administer and store paper-based systems.
Emergency Preparedness Measures
Fires, floods, and other natural calamities can damage data saved in paper formats. Every time paper is handled manually; It deteriorates even more. Your healthcare data is recorded and maintained for the future, thanks to document imaging.
Paper documents often only have one copy; thus, losing one is a catastrophe that cannot be undone. Electronic papers, on the other hand, maybe encrypted in the cloud and backed up on several computers. You have protected in case of unexpected power outages or other natural or infrastructural disasters thanks to numerous copies that have been stored and backed up.
Paper documents are converted to digital files by document imaging, which allows for storing the data in a single, searchable data repository. Records are not misplaced or lost since they are safely archived in a digital format for sharing and rapid answers.
Collaboration is facilitated by centrally storing all patient records. The availability of duplicate records to nurses, doctors, specialists, and even administrative departments, thanks to centralized storage, enhances patient care and outcomes.
Utilizing document imaging to combine medical information streamlines processes like insurance claims and invoicing while saving staff members' time. Searching for misplaced or improperly filed documents may take up valuable staff time. The paper chase is eliminated by using paperless operations. The COVID-19 pandemic has served as a stark and practical example of the benefits of digital recordkeeping. For the most recent information and instruction in the effort to stop the spread, the Centers for Disease Control and Prevention update their computerized records every night.
In the end, and most significantly, centralizing the storage of digital medical information enhances customer service. The data is safely kept in a searchable repository if a patient has to contest an invoice or seek records for insurance claims. Additionally, it facilitates and expedites the sharing of patient records with specialists, pharmacists, and other medical personnel at the patient's request.
Benefits of Workplace Digitization
Intending to bring the advantages of digitalization to their records management systems, Image API has collaborated with several healthcare institutions. The Image API team assisted the Florida Department of Health's Bureau of Communicable Diseases in updating an outmoded system that was dependent on time-consuming manual data input and could not handle documents effectively for the HIV/AIDS and Hepatitis Section Surveillance.
Doing rid of paper and manual data input saved money and allowed for resource reallocation. The organization not only needed to digitize a backlog of paper medical records and electronic document pictures, but it also wanted to speed up the procedure. The document management system Axiom Pro, created by Image API and powered by AWS, automatically organizes incoming digital health records as they are fed in. Image API digitized 10 years' worth of historical medical data and devised and executed a digital capture process.
The handling of incoming health records has improved via digitalization, both in terms of efficiency and accuracy. Patient privacy is protected via speedier file retrieval and more secure file storage.
Getting Ready for Future Roles
Future positions in the healthcare industry will differ from those of today. Doctors must develop distinctive techniques to deal with patients from varied backgrounds and requirements as personalization becomes increasingly essential. With efficient online learning platforms, medical professionals will need to keep themselves current on medical developments, diagnoses, treatment, care, and best practices.
Even instructional resources like case-based simulation training programs may be used to assist students. This will make it possible for medical professionals to offer patients individualized care. Medical professionals will need to continually upskill themselves and learn new skills for new roles and apply the latest developments shortly.
Staying Ahead in Career
Medical professionals will need to think about their career progression, where upskilling will play a crucial role, in addition to increasing the effectiveness of the healthcare system. Doctors are aware of the value of keeping up with the most recent advancements in medicine, but they will also need to continue to advance their careers, which is crucial to the growth of healthcare services.
Despite their particular areas of competence, doctors should continue to expand their knowledge and skills. To improve healthcare delivery and career prospects, healthcare workers should invest time in upskilling themselves.
Edited by Prakriti Arora