Trends
Understanding the Russia-Ukraine Crisis. Is it a colossal failure of global diplomacy?
Understanding the Russia-Ukraine Crisis, which was a huge failure of Global Diplomacy.
It isn't as new as many of us thought. The Russia-Ukraine crisis is not recent, and it has been around for a long time, starting in 2014 and going back even further in history. During weeks of threats, the world learned that war had begun on February 24, 2022. There was a war and killing, which shows that global diplomacy didn't work and the failure of all international groups set up to keep the peace. It has become a game of tweets and bold statements rather than taking steps to make peace. Once, economic sanctions from the United States and many other countries would have worked, but now they don't work at all.
The U.S. and European leaders would have to think again about European security if they couldn't stop Russia. "All sides would have to think about the possibility of nuclear-armed opponents in a direct fight. These two jobs, defending European peace and avoiding war with Russia, will not work together"- ForeignAffairs.com.
As of February 2015, the Minsk Agreements have been away for France, Germany, Russia, and Ukraine to stop the violence in Ukraine. The agreement includes:
A ceasefire.

The withdrawal of heavy weapons.

Complete Ukrainian government control over the area where the conflict is taking place.
It hasn't worked, though.
Jens Stoltenberg, the head of the NATO alliance, said that the "brutal act of war" broke the peace in Europe and toppled the government of Ukraine, which the people elected. There were fears that heating bills and food prices would rise because of the conflict, stocks fell, and oil prices rose because of these fears.
People in the capital city of Kyiv protested against Ukraine President Viktor Yanukovych's decision not to sign a deal with the European Union in November 2013. Protesters grew even angrier after state security forces used violence against them. President Yanukovych fled the country in February of that year. Global Conflict Tracker says this, too.
After that, Russian troops took control of Ukraine's Crimean region in March 2014. After Crimeans voted to join the Russian Federation in a disputed local referendum, they did this. Vladimir Putin said it was essential to protect the rights of Russian citizens and people who speak Russian in Crimea and parts of southeast Ukraine. It made ethnic tensions worse, and two months later, pro-Russian separatists in Donetsk and Luhansk in eastern Ukraine held a referendum to break away from Ukraine. Many people have been killed in the Ukraine-Russia war since 2014.
According to President Putin, his main goal was to protect people in Ukraine who had been bullied or killed. He also said his goal was to make Ukraine "demilitarised and de-Nazified." There has been no genocide in Ukraine because it is a country with a strong democracy and a Jewish leader. After Ukraine's pro-Russian president, Viktor Yanukovych, was ousted in 2014 after months of protests against his rule, Vladimir Putin has said that Ukraine has been taken over by extremists ever since.
BBC. False stories about Ukraine being taken over by fascists in 2014 have been told a lot on Kremlin-controlled TV. This is not true. Mr Putin has said that he wants to put "those who have done many bloody crimes against civilians" in court. BBC.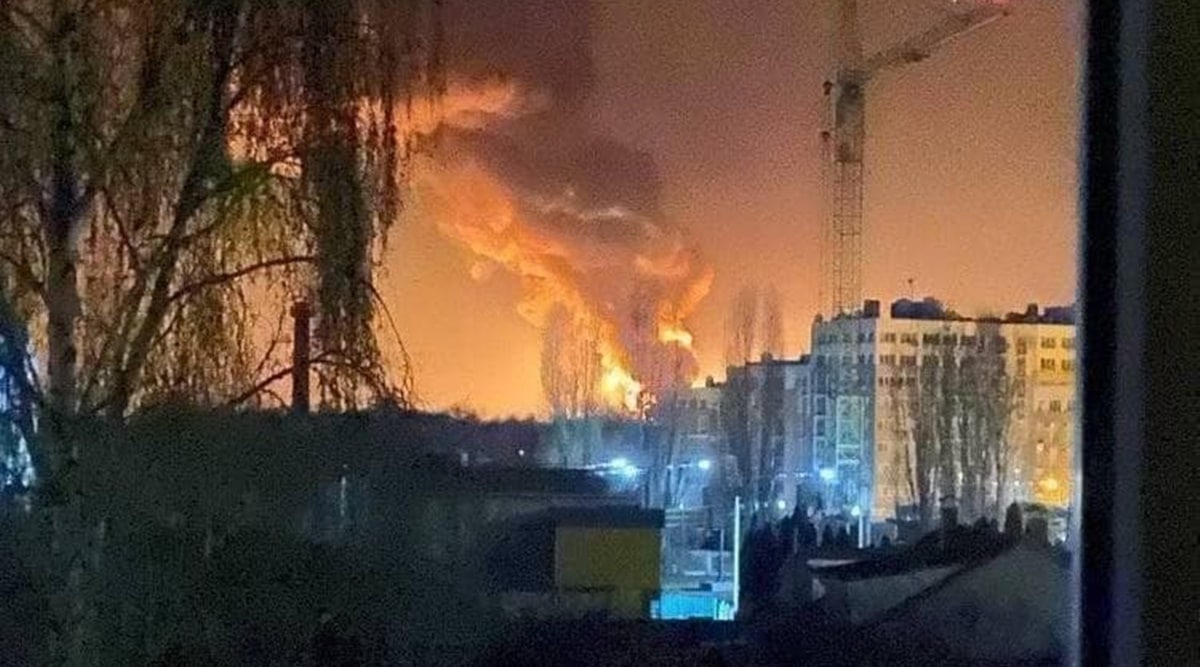 In April 2016, NATO said it would send four battalions to Eastern Europe, rotating troops through Estonia, Latvia, Lithuania, and Poland to keep Russia from threatening other parts of Europe, especially the Baltics. These battalions were joined by two U.S. Army tank brigades sent to Poland in September 2017 to strengthen the alliance's deterrence presence. These steps haven't worked, and we can see that.
Besides the physical war, Russia has launched several cyberattacks on Ukraine. These cyberattacks can be just as bad for the country's economy, people's data privacy, and freedom of speech.
"Many policymakers think that a full-scale war in Ukraine would be very costly for the Kremlin" and that there would be a lot of bloodshed. A war could put Russia's economy at risk and make the public angry. In the long run, it could bring NATO troops to the Russian border, leaving Russia to fight Ukrainian resistance for years to come. But, Putin's cost-benefit analysis suggests that he wants to change the European status quo, not keep it.
Not only does Putin make decisions about Ukraine, but it also seems like he has a bigger plan in mind. He thinks modern Ukraine was made by communist Russia and is now a puppet state that the West rules over. Also, he has said that if Ukraine joined Nato, the alliance might try to take back Crimea. Besides Ukraine, Russia isn't just interested in that country, either. It wants Nato to go back to its pre-1997 borders. During a meeting with Nato leaders, Vladimir Putin asked them to remove their forces and military infrastructure from countries that joined the alliance after 1997. He also asked them not to place "strike weapons" on the borders of countries that joined after 1997.
There are three parts of Europe: Central Europe, Eastern Europe, and the Baltic Sea. In President Putin's view, the West said in 1990 that Nato would not expand "one inch to the east," but then did so anyway, even though they said they wouldn't. However, Mikhail Gorbachev, then Soviet President, only talked about East Germany when he promised him. Before the Soviet Union broke up, that promise only spoke about reunifying Germany. Later, Gorbachev said that "Nato expansion was never talked about" when he was in power. News from BBC.
As a result of the war in Ukraine, Europe will not be the same as it was before it. The idea that the European Union or NATO can keep peace on the continent will be gone when the United States takes over. There won't be any more security in Europe, so it will have to be limited to protecting the most critical parts of both the EU and NATO.
Many countries around the world, not just only the United States and Europe, were readying new sanctions against Russia because of what they did. Like Hungary's Viktor Orban, even friendly leaders tried to get away from Vladimir Putin. Verbal condemnation isn't the only thing that needs to be looked at, and there doesn't seem to be a way for them to start a world war, either. Then, what can be done next? When everyone wants to come to the table and talk about how to develop a solution that works for everyone, a solution can be found. It looks like the world is more divided than ever.
In the last two years, there has been a pandemic. Most countries are still dealing with the shock and effects of the previous two years. Is it even possible for a country to be active on the global front while taking care of economic problems at home? There will be a lot of money to be made if they make the right decisions. In the long run, the crisis will affect us all, even though we don't know it now, even if we don't think about it at the moment. The world's order will depend on what happens at this point.