Top 10 Most Reputed Startups In Visakhapatnam 2022
Startups: By origin, Vizag is one of the most developed cities in India, thanks to its beaches and ports. Andhra Pradesh's industrial centers include some of the largest companies in the country. Several big companies in Vizag show interest in collaborating with youthful skill through their experiences, an idea that could strengthen the startup ecosystem in the city.
ICICI Bank and Mahindra Finance have launched the Fintech Valley accelerator program, and Microsoft is providing technical support. The Fintech Tower, Rushikonda, has been inhabited by eight companies. A positive view of the government is represented through progress and collaboration. There are three IT special financial zones, Sunrise Incubation Hub and Millennium Tower at Rushikonda. These are all looking forward to opening equivalent ventures there.
According to the 2011 Census, Vizag is India's 14th most populous city. In this city, you'll find a great place to live, along with a very affordable cost of living. Several multinational banks have developed the city. This city has undergone rapid development from a fishing village to India's premier IT hub. Several IT companies have opened in this city. According to statistics, Vizag is among the fastest-growing cities in the world. Its GDP reached 4.3 billion last year. The per capita income in this city is very high. The ports in this city were established in 1926 and are among the oldest and largest in the world. The development of IT has increased financial growth. 
Today's fast-paced world is full of opportunities, and many people want to embark on an entrepreneurial journey. Taking the plunge toward independence and becoming your boss demands extensive market research. Launching a business involves a lot of courage, care, and planning. 
A small company can grow to become an industry of mass proportions in the future. It is important to remember that big tech names like Apple, Microsoft, Google, and Uber were startups once. Facebook, Twitter, and Uber, among others, have been leading startups for a while. 
The Startup Story Of Vizag
Vizag's startup ecosystem is characterized by startups that have carved out a place on the market and attracted buyers through their innovation and creativity. The Vizag startup environment is perfect for incubating names like Dronamaps, born at NASSCOM 10Kare. Through NASSCOM, we will also showcase products at the NILF World Congress, the NASSCOM Innotrek Program, and the BIGShift 2017 pitch event in Vizag. Dronamaps also pitches at the BIGShift 2017.
In February 2019, ET Now was honored with two MODI awards from Fluentgrid, a software company. 
Mobile innovations and consumer mobile applications are two of its apps that have won awards. In addition, Fluentgrid CEO and CEO Murali Krishna Janamani were named one of India's top 100 great people managers by the Great Manager Institute and Forbes India.
How do you define a Startup?
Here is what this term means to get the discussion started.
Starting a business is forming a company that has just begun its operation. First, a co-founder develops a product or service designed for a market, starting from there.
Usually, startups require a lot of capital, which they raise either from investors or bootstrapping. You will generally find them at crowdfunding events or reaching out to venture capitalists. An angel investor can acquire a stake in a company to fund the startup's initial investments.
Starting a company is like launching an entirely new company with a slim but highly agile and brilliant structure, the result of breakthrough ideas that entrepreneurs hope will transform society.
Technology and innovation are the foundation for their growth, and they have a scalable business model. SMEs differentiate themselves from large enterprises by being able to innovate and their ability to adapt to change and by focusing on their customers.
A search engine for the Internet was created in 1996 by two students from Stanford University. The development of Google began in a neighbor's garage and the university's facilities. Sun Microsystems co-founder Andreas von Bechtolsheim was the first investor: He gave them a check for $100,000.
The founders of many small companies that can grow are young entrepreneurs, such as Larry Page and Sergey Brin. The majority originate from technology, although they develop in almost every sector.
FINANCING OF STARTUPS
Growing a company begins with transforming an idea into a profitable business plan. To accomplish that, financing is needed. Good news: many charitable organizations, foundations, companies, institutions, etc. A good source of funding and advice. Below are some highlights:
Business angels:

private companies directly involved in providing financial help and strategic and business growth expertise.

Venture Capital:

investment firms that take a chance on startups with a revolutionary business plan in industries with high growth potential. The International Startup program, for example, is a 70 million euro Iberdrola venture-capital program that invests in technological innovations and enterprises that secure the energy model's long-term viability.

Business incubators

are facilities made accessible to entrepreneurs by private investors, giant corporations, or government organizations under very favorable terms to assist them in growing their businesses. They also provide legal, marketing, and logistical help and advice. Incubators are part of the EU's network. 

Accelerators:

these provide fixed-term programs, with the partnership ending with a public presentation of the project in search of funding for its expansion. Compared to an accelerator, an incubator protects entrepreneurs to reduce the risk of failure. At the same time, the latter seeks to expedite the companies' process of interacting with the market to adapt rapidly and become nimble.
Nevertheless, according to the rankings, growth doesn't come cheap: Based on a recent report prepared by the Rey Juan Carlos University (Madrid) and can find Fundación de las Cajas de Ahorro (Funcas), a study on the services provided by business incubators in Spain in 2016/2017 here. Startups experience a survival rate of 20% in their first year, 15% in their second year, and 10% in their third.
HOW DO STARTUPS WORK?
Startups must understand what potential clients need and develop products that meet those needs. So let's get started by looking at some unique characteristics of startups.
They use technology to develop and deliver the most excellent products and services, and they offer realistic, scalable, and creative answers to common challenges. To gain visibility, they use Social media and the Internet.

They establish short, medium, and long-term goals.

They set a budget for the development of their business concept. When they require financial assistance, they frequently resort to crowdsourcing.

They form young, multicultural, multidisciplinary teams to broaden their horizons.
Yeskart
Founder: Sankar Rao Vysyaraju
In Visakhapatnam, Yeskart offers homes for sale. Hyper Home Market SCART is an online comparison shopping tool launched in India by Sankar Rao Vysyaraju and Sreenivasrao Vysyaraju in 2016. He is now the founder and CEO of the Sankar Ra Vysyaraj group, a company with laptops, laptops, electronics, toys, watches, shoes, and more than local stores.
(Yeskart.in) has been launched by Eckart Private Limited. Packing and packaging services are available at the company. You can purchase the product at the nearest retailer by searching for various orders online.
| | |
| --- | --- |
| Legal Name | Yeskart |
| Industries | Display the offers extended by different Merchants |
| Founder(s) | Sankar Rao Vysyaraju |
| Founded Date | 2016 |
| Total Funding Amount | $5.9B |
| Investors | 1,281 Number of Investors |
Grow Media Digital
Our Digital Marketing Agency understands the value of a brand's digital presence and the importance of increased brand awareness through social media. Growing Media Digital is one of the best Digital Marketing Companies in Visakhapatnam. It provides you with all of your digital needs once they are familiar with the company and what they expect from the digital world. They create engaging marketing campaigns by planning and developing digital marketing strategies on relevant digital media platforms. Grow Media implements powerful content marketing strategies with support from their dedicated team that helps brands double their value. Almost everything Grow Media Digital does revolve around digital marketing.
| | |
| --- | --- |
| Legal Name | Grow Media Digita |
| Industries | Media agency |
| Founder(s) | NA |
| Founded Date | NA |
| Total Funding Amount | NA |
| Investors | NA |
AcroMarc
Founder: Shiva Karan
AcroMarc, one of Vizag's most well-known companies, offers an exceptional offline shopping experience. AcroMarc allows customers to buy any product from any retailer in any Indian city with ease (and a pleasant checkout experience).
AcroMarc is a private sharing and online purchasing software that focuses on one-on-one and small group chats. It takes enormous data and distills it into a simple, personal fashion grade and size tailored to the user's body, fit, style choices, and performance requirements. Clients can get the most fantastic decisions for budget-friendly things that make them seem trendy and sophisticated using a virtual style room.
| | |
| --- | --- |
| Legal Name | AcroMarc |
| Industries | Offline shopping expirience |
| Founder(s) | Shiva Karan |
| Founded Date | 2015 |
| Total Funding Amount | $10.3 million |
| Investors | NA |
Yes! poho
Founder: Raghuram Kuchibhatla
Yes! Poho allows startups and technical personnel to sell handcrafted crafts directly to buyers over the Internet without directors' involvement. There are currently about 40 registered villages in the essential association's area of operation: Kulakapalaiam in Tamil Nadu, Champa Nagar in Bihar, Viravaram, and Ramachandrapuram in Andhra Pradesh, Badkulla in West Bengal, and Buhambali in Telangana.
YESPOHO, or Yes!POHO is a social media platform that makes it possible for weavers and artisans to connect directly with customers without the involvement of intermediaries. India's first social platform for a specialized experience that allows consumers to try out products virtually is the company's claim to fame. The Yespoho platform helps weaver cooperatives showcase their products on its digital platform in Rajasthan Andhra Pradesh, West Bengal, Tamil Nadu, Bihar, and Telangana. Weavers from all across India will be integrated into the platform by 2025. In addition, weavers and artisans receive feedback on consumer preferences and tastes, so they can continually keep up with these changes.
Besides offering online classes, Yes! poho has launched the Yes! poho Institute – a program designed to equip artisans with more excellent skills. 
Yes! poho is India's first technologically-advanced social network where buyers can read reviews and evaluate products before buying and share their experiences with friends and family through social media. In addition, weavers can chat directly with customers on the social platform, which bolsters affinity for the platform.
In addition to offering customers a way to design their saree, the platform allows customers to create sarees manufactured, giving them a chance to tailor their sarees however they want. By bringing together artisans, weavers, and consumers, the company provided unique opportunities to grow and develop. In addition to Tamil Nadu, Andhra Pradesh, West Bengal, Rajasthan, Bihar, and Telangana, Yes! poho also partners with weavers in West Bengal. The products available at their marketplace are Cotton sarees, Kanchipuram Silk Sarees, Tussar silk sarees, casual Kurtis, Tissue sarees, and dress materials.
| | |
| --- | --- |
| Legal Name | Yes! poho |
| Industries | Ethnic wear & Sarees online |
| Founder(s) | Raghuram Kuchibhatla |
| Founded Date | 2017  |
| Total Funding Amount | $2.2B |
| Investors | 537 Number of Investors |
MyDigital Crown
The owner and operator of MyDigital Crown know the power of digital marketing and the importance of social media marketing. MyDigital Crown is one of the best digital marketing agencies in Visakhapatnam, which provides a full-service agency with over three years of experience in the digital marketing field. 
If you want to drive traffic to a website or a social network like Facebook or Twitter, we ensure each element of your marketing campaign delivers traffic to your ultimate goal. Tracy Broom advises Flock and Rally, an integrated marketing communications agency with expertise in all industries. Our goal is to help our clients achieve superb results.
Digital Marketing Company in Visakhapatnam ranks high on Google for MyDigital Crown.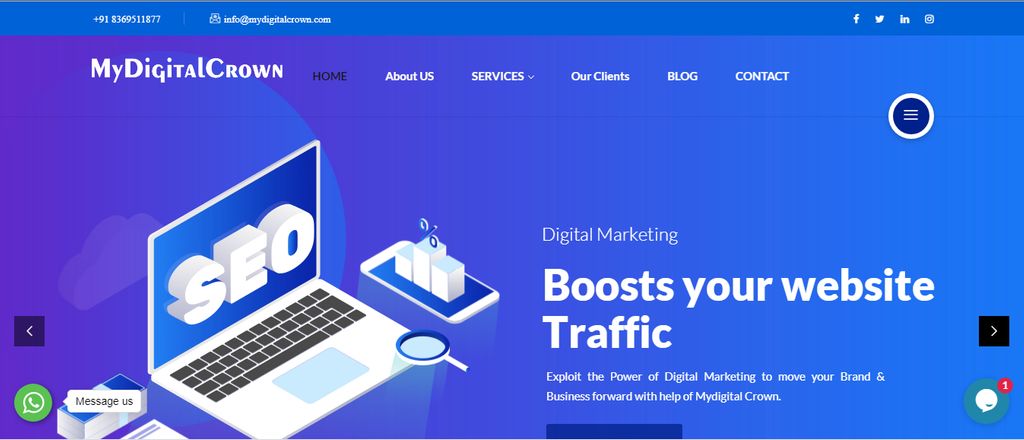 | | |
| --- | --- |
| Legal Name | MyDigital Crown |
| Industries | Digital Marketing, SEO, Social Media |
| Founder(s) | Aditya Pandey |
| Founded Date | 01/01/2018 |
| Total Funding Amount | NA |
| Investors | NA |
Wellness Hub
Founder: Akash Sinha
Wellness Hub, which he started in 2012, is directed by Akash Sinha. Wellness Hub is dedicated to assisting people in achieving optimal health through correct diet, exercise, sleep patterns, stress management, and other methods. In addition, it acts as a link between therapists and their patients.
The Wellness Hub at UMB is now available to see on-demand. In addition, you can watch past Wellness Hub events whenever and anywhere you choose. All are available and free to the UMB community, from stress reduction during finals season to becoming an ally to your fellow students.
The Visakhapatnam startup wants to make the counseling procedure as painless as possible for its customers. Several ways are available for Wellness Hub to make fitness accessible, whether in-person sessions at hubs, video sessions, chat sessions via the app, or phone sessions via its website.
| | |
| --- | --- |
| Legal Name | Wellness Hub |
| Industries | Online Counselling | Wellness Services |
| Founder(s) | Akash Sinha |
| Founded Date | 22 Jan 2016 |
| Total Funding Amount | $30,078,163 |
| Investors | NA |
Interview Buddy
Founder: Ujwal Surampalli
Buddy, let's have an interview. For students and job seekers, it provides practical interview possibilities. They can communicate and train with experts in the industry at any time, preparing and training interviews in a stress-free and stressful atmosphere by mimicking real-world professional inquiries.
The specialist will comment on the candidate's activity after the video interview. The candidate will receive a summary of the questionnaire results and their implementation conditions and a link to the meeting records after the conclusion of the meeting. With our set of training and preparation recommendations, the candidate can compile a set of questions that they are fascinated by at any moment.
Students often misuse and take the word "lying" for granted until they realize the importance of reaching their goals. As a current Group 1, Interviewer Buddy is led by Ujval Surampalli and provides an easy-to-use interface for processing informal conversations.
| | |
| --- | --- |
| Legal Name | Interview Buddy |
| Industries | Interview Practics |
| Founder(s) | Ujval Surampalli |
| Founded Date | NA |
| Total Funding Amount | NA |
| Investors | NA |
Shiftwave
They started as a web design and development company with proven results, but now they're considered one of the top digital marketing companies in Visakhapatnam, AP, India.
Their dedicated team of skilled professionals always strives for the best results in cyber security and is dedicated to helping businesses grow. They also provide services in the USA, UK, and Australia. In addition, Shiftwave has provided a broad range of digital marketing services since 2006. 
Developing websites, building apps, and using internet marketing best practices is what Shiftwave does. With SEO, PPC, social media marketing, and more, we are the biggest online marketing agency in the nation. By utilizing our latest marketing strategies, our company can significantly assist you in achieving your goals.  
| | |
| --- | --- |
| Legal Name | Shiftwave |
| Industries | Developing websites |
| Founder(s) | Tejas Gandhi |
| Founded Date | 2006 |
| Total Funding Amount | $12.8B |
| Investors | 1,378 Number of Investors |
Seo Masala
Due to their vast array of clients in over 35 countries and almost every kind of business niche, they are considered one of the best Internet marketing companies in Visakhapatnam. Digital Marketing activities they specialize in include Social Media Marketing, PPC, content development, SEO, and website design.
There is a distinct difference between them and other SEO companies in Mumbai; they have worked with almost all types of businesses in India for the past five years. The company is based in Mumbai and works closely in digital marketing.
| | |
| --- | --- |
| Legal Name | Seo Masala |
| Industries | SEO Optimization |
| Founder(s) | NA |
| Founded Date | NA |
| Total Funding Amount | NA |
| Investors | NA |
My Vedhika
Founder: Sarat Adireddi
The My Vedhika application provides a one-stop solution to host events that you've only dreamed of. The website offers quick access to everything related to event management, planning, and organization, such as function halls, caterers, decorations, event planners, sound and lighting, etc.
With shopping carts offering the best deals, users can plan the event of their choice within various budget ranges. In addition, many restaurants provide dine-out services, nightlife locations, places to enjoy drinks and entertainment, international restaurants, buffet restaurants, etc., in Vizag.
Legal Name

My Vedhika

Industries
Access to

event management, planning, and organization

Founder(s)

Sarat Adireddi

Founded Date

NA

Total Funding Amount

NA

Investors

NA