STARTUPS
An interesting fintech startup announced a funding of USD 31 million
An interesting fintech startup announced a funding of USD 31 million 
A fintech startup has announced a new round of funding. What an interesting piece of news it is!
Let us talk about the fintech industry. Finance + technology= fintech. It is the use of technologies that are created to bring a change and improvement by automating the forms of finance which are traditional. Some of the fintech startups in the country are Razorpay, Paytm, Pine Labs, Policy Bazaar, Zest Money, and many others. The fintech industry of our country is expected to grow to USD 1.3 trillion by the year 2025. 
Let us now talk about the funding of a fintech startup that has taken place recently. Before this many fintech startups have gone through rounds of funding.EnKash on April 04, 2022, had raised USD 20 million. That round of funding which is in the discussion was led by Ascent Capital and the other participants were Baring India, Baring India Private Equity Partners, Axilor Ventures, Mayfield India, and White Ventures.
Then, iTribe on April 12, 2022, had raised USD 1 million in a pre-seed round of funding with the participation of Kunal Shah, Eximius Ventures, Incisive Ventures, Reeju Datta, Gaurav Dahake, and others. 
Then Hubble, another fintech startup on April 14, 2022, raised USD 3.4 million worth of funds. That round of funding was the seed round of funding and was led by Sequoia Capital India. The other participants of this round of funding were Kunal Bahl, Santeesh Andra, and Sateesh Andra. 
Announcement of funding of a fintech startup 
The fintech startup, Financepeer has raised funds worth USD 31 million, as announced on April 20, 2022. The round of funding that has taken place was the Series B round of funding and was led by QED Investors and Aavishkaar Capital. The other participants in this round of funding were Ardent Ventures, which is a US-based edtech investor, DMI Sparkle Fund, DMI, 9Unicorn, LC Nueva AIF, and Maxar VC. 
The fintech startup plans to use the funds raised in enhancing and giving better shape to its technology platform. The startup also has made plans to increase its offerings, and even expand and strengthen its partnerships with educational institutions. The startup also plans to deepen its reach in rural areas.
The fintech startup in the year 2020 had raised USD 3 million. The investors in that round of funding were MS Fincap, Danube, Aar Em Ventures, Angelbay Holdings, JITO Angel Network, and HEM Angels. 
About the fintech startup that has announced its funding 
The fintech startup, Financepeer was founded in the year 2017 by Rohit Gajbhiye, Sunit Gajbhiye, Naveesh Reddy, and Debi Prasad and has its headquarters in Mumbai, Maharashtra. The vision of the fintech startup is to focus on making quality education available to all. The startup is a for-profit impact solution company founded by the IIT/IIM alumni. 
The fintech startup is a Google launchpad incubated, Forbes acclaimed company that helps in easing school fee financing with a major focus on K-12 education. It pays the entire year's fee upfront to the Institute enabling them to manage their funds efficiently and collect fees from parents in 3 to 123 months instalments at 0 interest and 0 costs. The fintech startup is of the focus to make quality education available to all. 

The mission of the fintech startup is to provide-
Easy loans at attractive interest rates.




Easy loan application to borrow funds right away.




Fastest and authentic borrowing processes. 
The features provided by the fintech startup are-



The parent maintains a healthy happiness quotient.




Say goodbye to unnecessary hassles in fee collection.




Expect an average of 27% increase in admissions to institutions. 
The startup is present in more than 60 cities, covering more than 6000 institutes, and is helping more than 2200000 students. The startup has witnessed a 10 times growth in the last year. It has taken care of more than USD 100 million in fees on its platform. 
About the founders of the fintech startup 
The fintech startup was founded by Rohit Gajbhiye, Sunit Gajbhiye, Naveesh Reddy, and Debi Prasad.
Rohit Gajbhiye is the CEO of the startup, Financepeer. An alumnus of IIT Bombay and Standford Ignite, he has been honoured by Forbes 30. He is a skilled fintech professional who has an experience in DBS Bank, Singapore in the Consumer Credit Space. He is a member of UNGSII, World Economic Forum.
He is experienced in Credit Risk, Commercial Banking, Liquidity Risk, and Management. He has the vision to ease out Global School Fee Payment and boost the K-12 School/Education Eco-System. 
Debi Prasad Baral is the CTO of the startup, Financepeer. He is an alumnus of BIT, IIM Ahmedabad, and Standford Ignite, he has worked as an innovation leader across multiple domains in Salesforce and Microsoft.
His expertise lies in Enterprise Architecture, IT Strategy, Visualization, Cloud Strategies, CRM, Sales Platforms, and Mobile. He has the aim to change the Education Eco-System with next-generation AI solutions to create a positive impact on the grass-root level.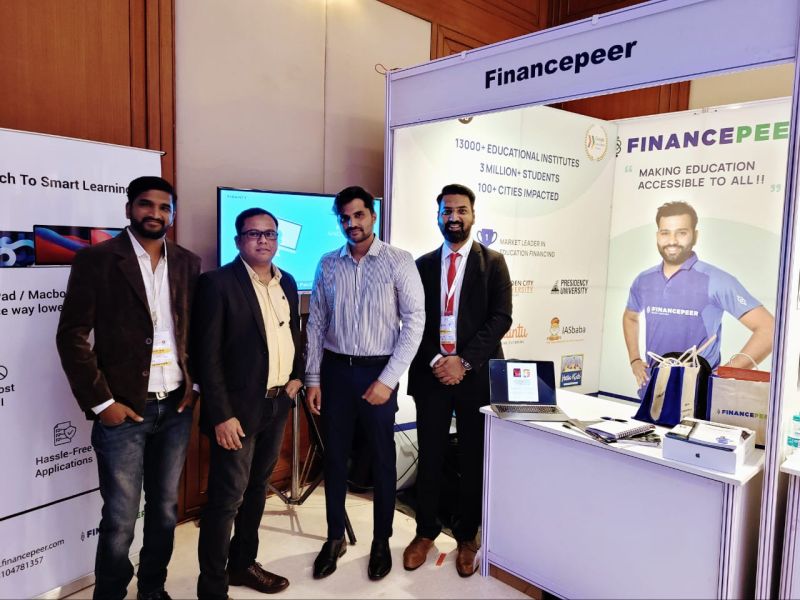 Sunit Gajbhiye is the CBO of the startup, Financepeer. He is an alumnus of IIM Indore and VJTI. He is skilled in Business Strategy and Operations, Sales and Marketing, Product Management, Mobile, RPA, and innovation esp in the area of the smartphone having worked with Samsung Electronics for Flagship smartphones, Edgeverve in RPA using Computer Vision and AI.
Sunit has a patent in the smartphone domain and aims to impact Global education with a Mobile-First strategy.

Naveesh Reddy is the COO of the startup, Financepeer. He is an alumnus of IIT Bombay. He was a Data Scientist in Cognizant and has worked in Japan where he created models on fraud detection, cross-sells, up-sell, attrition prediction, and sentiment analysis. He has expertise in machine learning algorithms and aims to use these skills to make quality education easy and affordable to the masses. 
About QED Investors 
QED Investors invest in pragmatic disruptors who are the future of finance. They are the fintech operators turned fintech investors. 
The portfolio of QED Investors is an exclusive club of Fintech specialists. Some of the companies in its portfolio are Albert, Blooom, Atomic, Bitso, Clear Score, Fidel, Future Finance, Jupiter, Konfio, Open Invest, Pomelo, Seek, Sundae, True Link, Zopa, Yay Pay, Weavr, Xerpay, The Muse, and many others. 
About Aavishkaar Capital 
With headquarters in Mumbai, Aavishkaar Capital emboldens entrepreneurs to chase large problems worth solving. It looks to make investments in businesses that meet the following criteria-

1. Operations focused on the targeted demographics of the emerging 3 billion population.
2. Business model with the potential to scale significantly within 4-5 years.
3. Strong management team with the ability to capitalize on the market potential. 
The portfolio of Aavishkaar Capital consists of companies like AgroStar, Ergos, EPS, ChqBook.com, Go Bolt, Fabelio, Nepra, Pay Well, Utkarsh Small Finance Bank, Sindabad.com, Vortex, and many others. 
The fintech startup is doing something very different. We wish the startup a bit of good luck and hope it has a bright and prosperous future ahead. 
edited and proofread by nikita sharma