Trends
As COVID-19 rips through China, other countries and the WHO are calling on its government to share more comprehensive data
Other nations and the World Health Organization are urging China's authorities to reveal more detailed information about the outbreak as COVID-19 ravages the nation. Many of the figures it reports, according to others, are meaningless. Governments in other countries have implemented viral testing requirements for tourists from China despite the lack of fundamental statistics such as the number of fatalities, infections, and serious cases. Beijing has criticized the measures as being unscientific and has promised to take action.
The biggest worry is if new varieties from the massive virus spreading through China may appear and infect other nations. The delta and omicron variations emerged in regions that also saw significant outbreaks, which can serve as a hotbed for novel variant development. Here is a look at what the COVID-19 statistics from China show: Chinese health officials report a daily tally of new cases, serious cases, and deaths, however these figures only include cases that have been officially confirmed, and deaths from COVID are defined quite narrowly.
Ray Yip, who established the American Centers for Disease Control office in China, asserted that China is undoubtedly doing its own sample research but choosing not to publish the results. 9,548 new cases and five fatalities were reported countrywide on Thursday, but some local governments are providing substantially higher statistics only for their regions. On Tuesday, the east coast province of Zhejiang said that it was witnessing around 1 million new cases every day. The genetic sequencing of the virus identifies any variants that may appear during an outbreak.
China has contributed 4,144 sequences with GISAID, a global repository for coronavirus data, since the epidemic began. That is just 0.04% of the cases that were recorded, which is far lower than both neighboring Mongolia and the United States at roughly four times the rate.
No new variants have arisen in the sequences China has thus far made public. The variations causing sickness in China, according to GISAID, "closely mimic" those that have been found in other parts of the world since July. The data thus far has not shown anything particularly frightening, according to Dr. Gagandeep Kang, a virus researcher at the Christian Medical College of Vellore in India.
That hasn't stopped at least ten nations from establishing viral testing requirements for travellers from China, including the United States, Canada, Japan, South Korea, India, Australia, the United Kingdom, France, Spain, and Italy. This week, the European Union urged all of its member nations to take this action. The testing has been defended by health officials as a surveillance strategy that helps close the knowledge gap from China. This implies that even if they don't get entire data from China, nations may still conduct tests to detect any changes in the virus.
The former public health officer Yip stated, "We don't need China to examine that; all we have to do is test all the individuals coming out of China." According to reports, Canada and Belgium would check aircraft coming from China for viral fragments found in wastewater. It is "basically an early warning system for authorities to forecast whether there is a rush of sicknesses coming in," according to Dr. Khoo Yoong Khean, a scientific officer at the Duke-NUS Centre for Outbreak Preparedness in Singapore.
In support of their claims that they are sharing information, Chinese authorities frequently cite the sequences provided to GISAID and meetings with the WHO. However, WHO authorities have consistently requested more information, including data on hospitalisations, ICU admissions, and fatalities, in addition to genetic sequencing. Tedros Adhanom Ghebreyesus, the director-general of the WHO, raised worry this week about the danger to human life in China.
The director of the U.N. health organisation stated the data "remains vital for WHO to carry out regular, quick, and thorough risk assessments of the worldwide situation. Information from the Chinese people is frequently kept secret by the government, especially information that is unfavourable to the Communist Party in power. The alarming stories of a rise in cremations and individuals rushing from hospital to hospital to attempt to receive care while the health system is at capacity have been avoided by the state media. Government representatives claim that international media are exaggerating the issue.
Khoo stated that there is a need to create an atmosphere where nations may exchange data without worrying about penalties, adding that South Africa's early warning regarding omicron resulted in travel prohibitions from the country.
China restricts COVID-19 policy critics' social media accounts
China has banned or destroyed the social media accounts of more than 1,000 people who have criticised the government's response to the COVID-19 pandemic in an effort to become even more transparent. After handling 12,854 breaches, including assaults on specialists, academics, and medical professionals, the popular social networking platform Sina Weibo revealed that 1,120 accounts had been temporarily or permanently deleted.
The Communist Party in control had mostly relied on the medical community to protect them until nearly all of its strict lockdowns, quarantine procedures, and mass testing were abruptly abandoned last month. This resulted in a rise of new cases, which have exhausted all available medical resources. The party firmly prohibits all direct criticism and severely controls free speech.
The company "will continue to increase the investigation and cleanup of all forms of unlawful content, and develop a peaceful and inviting community environment for the majority of users," according to a statement published on Sina Weibo on Thursday. The majority of the criticism has been directed at travel restrictions with an open-ended time limit that trapped people in their homes for weeks, sometimes without access to food or medical care.
More uproar was generated by the demand that everyone who may have tested positive or had contact with such a person be held under surveillance in a field hospital, where concerns with crowding, poor food, and uncleanliness were commonly cited.
In the end, unexpected street protests in Beijing and other cities were caused by the social and economic repercussions, which may have influenced the party's decision to swiftly remove the strictest controls.
China is already observing an upsurge in cases and hospitalizations in major cities with the start of the impending Lunar New Year travel rush and is bracing for a wider spread into less developed areas. Despite the fact that foreign flights are still being restricted, authorities expect that domestic train and plane travel will grow by twice as much as it did at this time last year, bringing overall numbers close to those of the 2019 holiday season before the pandemic.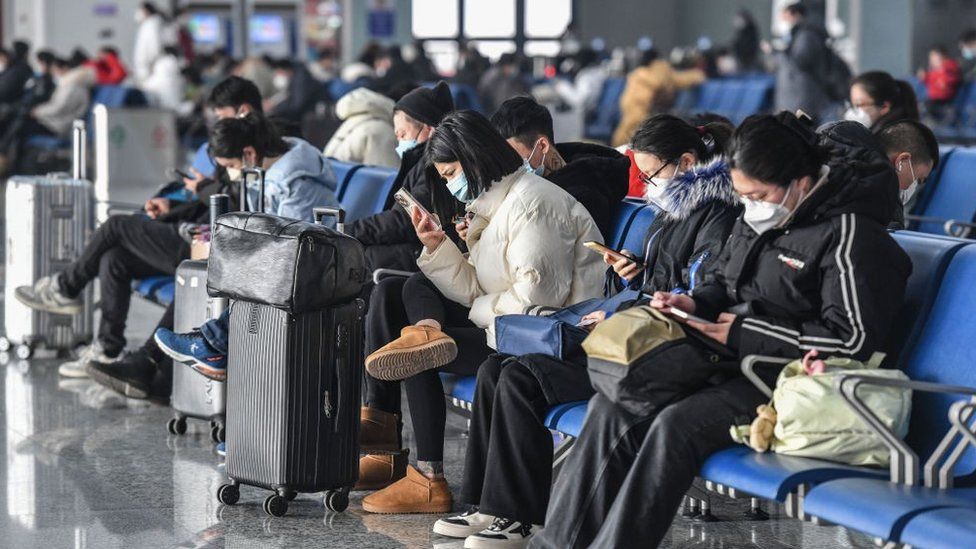 On Friday, the Transportation Ministry asked people to travel less and go to fewer events, particularly if they involve the elderly, pregnant women, small children, or persons who have underlying medical conditions. At a press conference, Vice Minister Xu Chengguang urged reporters that people using public transit should also wear masks and pay great attention to their personal hygiene and health.
However, China is moving through with a plan to start removing required quarantines for visitors from other countries on Sunday. When classes return following the winter break on February 13, Beijing also intends to remove the requirement that students at municipal schools have a negative COVID-19 exam in order to access campus. In the case of fresh outbreaks, schools will be permitted to relocate courses online, but they must quickly switch back to in-person instruction, the local education bureau stated in a statement on Friday.
However, other nations have been forced to impose viral testing requirements for visitors from China as a result of the suspension of mass testing, the lack of fundamental data regarding the frequency of severe cases, infections, and fatalities, as well as the potential appearance of novel varieties. The World Health Organization has expressed worry over the lack of data from China, and as a response, the United States now demands that travellers from China have a negative test result within 48 hours of departure.
Chinese health officials report a daily tally of new cases, serious cases, and deaths, however these figures only include cases that have been officially confirmed, and deaths from COVID are defined quite narrowly. According to authorities, the government is no longer able to give a complete picture of the newest outbreak since it ceased mandatory testing and allowed persons with minor symptoms to test themselves and recover at home.
A total of 482,057 confirmed cases had been registered across the nation as of Sunday, according to the National Health Commission. The number of deaths has now reached 5,267 after the addition of three further deaths during the last 24 hours.
The figures are a small portion of what the United States reported, which estimated its death toll at around 1 million among over 101 million illnesses. However, they are also far lower than the projections made by several municipal governments. On Tuesday, the east coast province of Zhejiang said that it was witnessing around 1 million new cases every day.
China has said that the testing mandates being imposed by foreign countries, most recently Germany and Sweden, are not supported by science and has vowed to take unnamed steps in retaliation. Its representatives have stated that the issue is under control and have refuted claims that there has not been sufficient planning for a reopening. The virus's genomic sequence allows researchers to determine if a variation has appeared during an outbreak.
China has contributed 4,144 sequences with GISAID, a global repository for coronavirus data, since the epidemic began. That amounts to less than 0.04% of all incidents that were noted, which is more than 100 times less than both the United States and the neighbouring nation of Mongolia. When Hong Kong reopens a few of its border crossings with mainland China on Sunday, tens of thousands of people will be able to travel without being quarantined every day.
The virus has severely affected the semi-autonomous city in southern China, and its land and sea border controls with the mainland have been virtually closed for over three years. Despite the danger, it is anticipated that the reopening would provide Hong Kong's retail and tourist industries with a much-needed boost.
Edited by Prakriti Arora