Trends
Pharma Giant – Eli Lilly loses $15 billion Because of Twitter Blue; Elon Musk proves to be a major embarrassment for Twitter.
Eli Lilly – Elon Musk's decision to introduce the world to Blue Tick claimed one victim in the form of pharma giant Eli Lilly which lost billions after its stocks nosedived on Friday because of a fake tweet.
Although verified with Elon Musk's introduced blue tick, the tweet from a fake account claimed that "insulin is free now".
The unfortunate tweet for the pharma giant was sent on Thursday, resulting in the American pharmaceutical giant's stock drop to 4.37 per cent on Friday.
Although Twitter Inc pushed pause on its recently-announced $8 blue check subscription after it reported a flush of fake accounts on the platform, by then, Eli Lilly had already lost a significant portion of its wealth; hence the decision to suspend paid verification came too late for this pharmaceutical company.
The company's stock lowered 4.37 per cent on Friday – obliterating more than US $15 billion in market cap – after a fake account impersonating Eli Lilly promised free insulin led markets into an uproar.
Eli Lilly, the pharma giant, is only one victim in a plethora of fake accounts that found their way on Twitter since Elon Musk announced its new subscription procedures for Twitter Blue, in hopes that it would make up for the loss in ad revenues that the company is facing at the moment.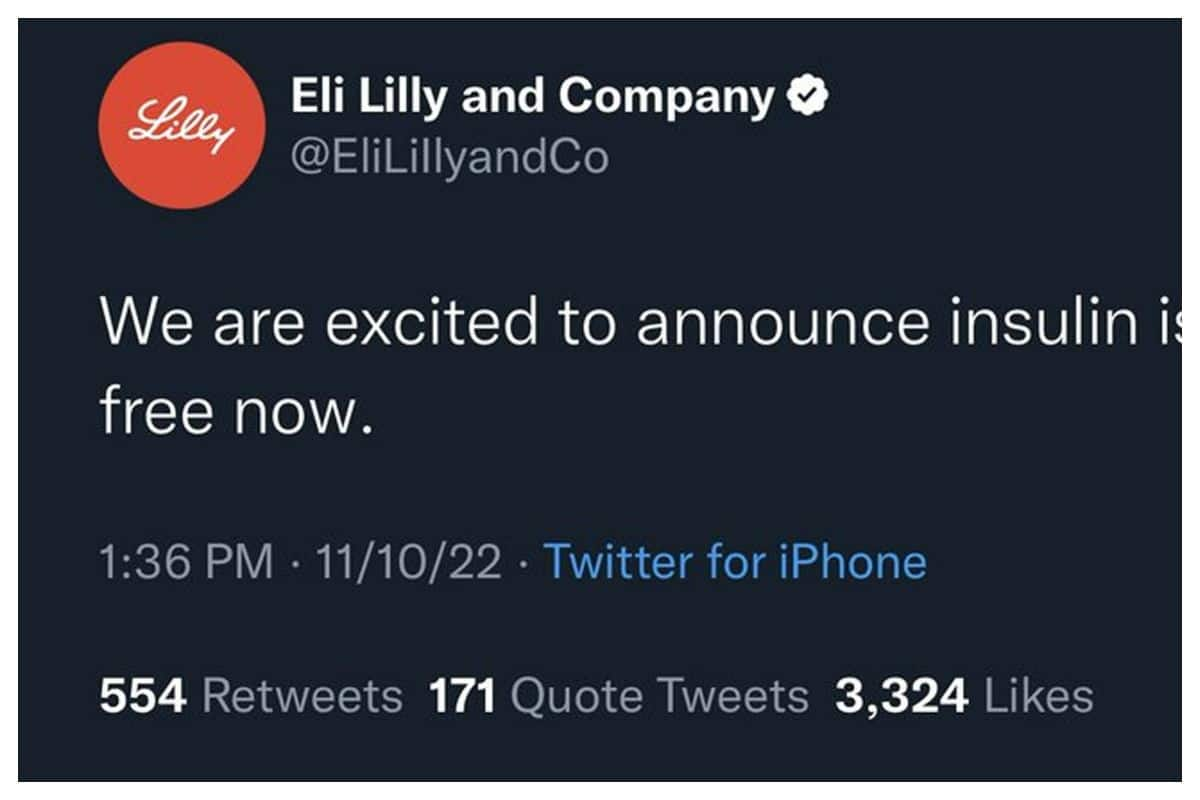 Here's how?
Now you see, Eli Lilly, a US-based pharmaceutical company that manufactures insulin, already has a verified handle with the account @LillyPad on Twitter.
However, a fake account impersonating the pharma giant with a Twitter handle @EliLillyandCo got verified after it paid $8 to Twitter.
Once this impersonator got the Blue tick, it tweeted that insulin was free now; the untrue tweet set the markets afire and cost this unsuspecting pharma giant a considerable portion of its market cap.
The uproar in the market prompted the original company to come out with a clarification for its shareholders.
Additionally, The fake tweet by the perpetrator also took the stock prices of two other manufacturers of insulin – Novo Nordisk and Sanofi.
The fake tweet led the market to go into a tizzy affecting the company's market capitalisation. Its shares tumbled by over 4 per cent costing more than US $15 billion in market cap. 
Elon Musk and His Blue Tick
The world's richest man Elon Musk took over the leadership of Twitter and immediately got into major "House cleaning" mode.
He announced a slew of new features and began overhauling Twitter after officially taking over as the new boss two weeks ago.
However, Musk, perhaps overtly excited by finally realising his dream of purchasing Twitter, may have yet to anticipate the challenges he might face during the course of time.
While he introduced the world to the newly relaunched premium service of providing blue tick verification to anyone who pays 8$, he had to suspend the same as the social media platform was flooded by fake accounts who got verified after paying the required amount.
Twitter moved speedily on Friday to constrain fake accounts that have increased since Elon Musk's takeover, pausing signups for a new paid checkmark system and reinstating a grey "official" badge on some accounts.
Before this, the coveted blue tick of Twitter was made available only to politicians, famous personalities, journalists and other public figures, as well as government organisations & companies, precisely to prevent impersonation.
Twitter's relaunched its premium service — which gives blue-check "verification" labels to just about anyone willing to pay $8 a month — was unavailable post-Friday. 
Besides, Elli Lily, Nintendo, Lockheed Martin, Elon Musk's own Tesla and SpaceX were also subjected to impersonation as well as the accounts of several professional sports figures.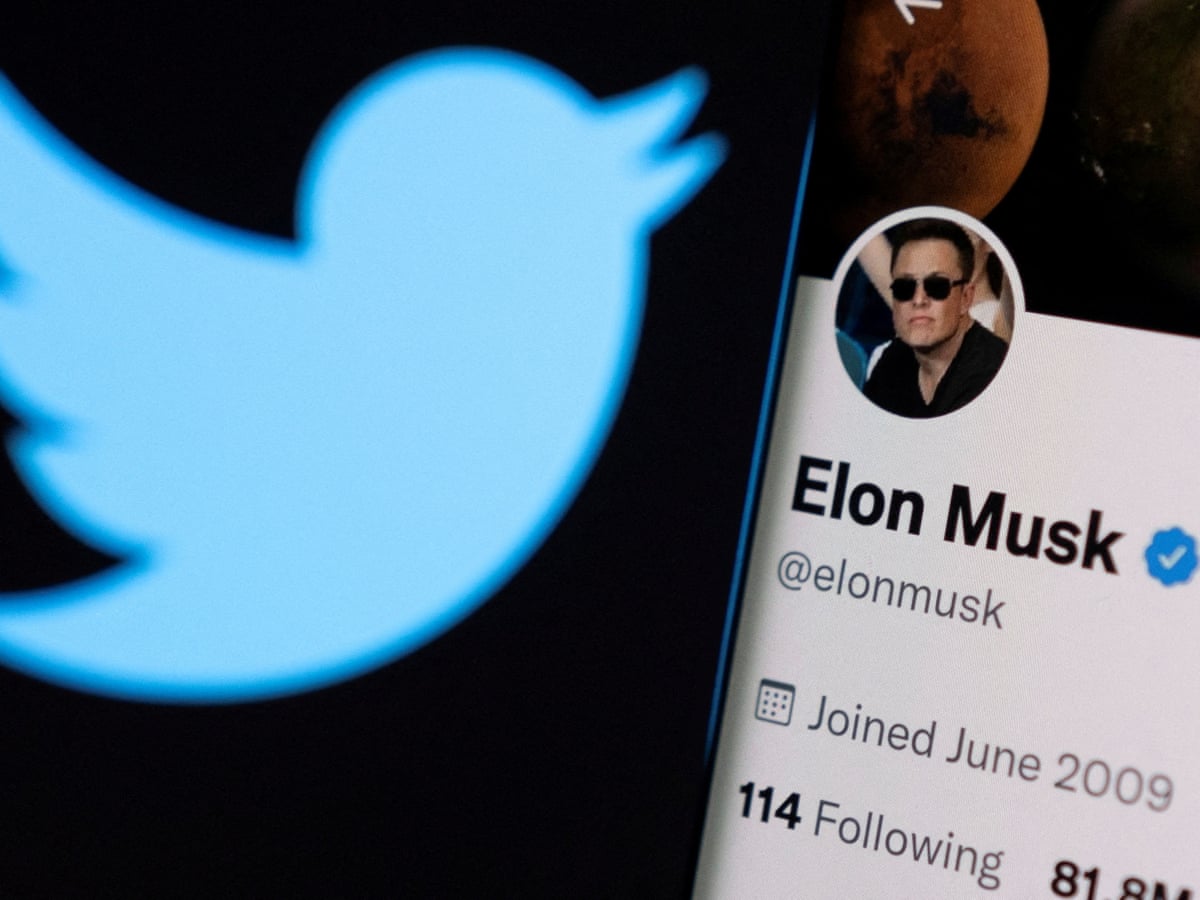 Twitter may as well bid goodbyes to advertisers who were still willing to put their monies on Twitter, for the recent debacle of the fake accounts could be the last straw. 
Musk's start on Twitter is void of stellar performance and has, in fact, indicated a rocky start. In contrast, for Twitter, its foundation has been swayed to no avail by the recent scandal it faced, "the burnt notebook saga", and wrought with high-profile departures from its top executives and almost laying off half the workforce — raises questions about its survivability.
Coming back to the Blue Tick: There are now two "blue checks" categories that look identical, and one includes the accounts verified before Musk took the helm. 
It notes, "This account is confirmed because it's notable in government, news, entertainment, or another designated category." The other notes that the account subscribes to Twitter Blue.
Musk tweeted on Thursday that "too many corrupt legacy Blue verification' checkmarks exist, so no choice but to remove legacy Blue in coming months." 
Twitter Blue was unavailable on the platform's online version, which said signup was only possible on the iPhone versions. However, the iPhone version did not offer Twitter Blue as an option.
Twitter again began adding grey "official" labels to some distinguished accounts. It had rolled out the titles earlier this week, only to remove them a few hours later.
They resurfaced Thursday night, at least for some accounts — including Twitter's own and big companies like Amazon, Nike and Coca-Cola- before many vanished again.
Celebrities also did not appear to be getting the "official" label.
However, media houses trying to get in touch with Twitter to get a statement regarding this debacle that led to millions being wiped off for a prominent company went unanswered.
The reason – the company's communications department has been gutted inside out due to Musk's decision to do a major overhauling of Twitter employees and massive layoffs.
Conclusion: A prominent American pharma giant has ended up eroding a significant portion of its money due to an unplanned and poorly thought out strategy on Elon Musk's part that has brought on embarrassment Twitter's way. 
It wasn't just one company that got the raw end of the "blue tick" deal, but a number of other companies, too, suffered.
Even though he is a tough nut to crack, Elon Musk should learn something from this incident, if not embarrassed totally. 
For Twitter, this is a sad one; indeed, the company which had served as revolutionary when it came to social media platforms is undergoing some very unfortunate challenging times. 
Not only has its roots been uprooted, but those who toiled to make the company what it is have been left with little choice but to see it burn and become a classic example of "torn to bits".
From massive layoffs to a mass exodus of top executives to advertisers staying away from Twitter, even the US regulators are observing the Twitter saga; this is perhaps the worst it can get for Twitter.
Musk is undoubtedly a genius at what he does, but why is it that his steps and strategy when it comes to Twitter are different from his other stellar performances and have, in fact, become just the opposite?
Left with low motivation and a skeletal staff, Twitter is bumbling in the dark, hope better days prevail for Twitter.