Trends
India overtakes the U.K to become the fifth largest economy: Explanation with 5 charts and Expert reviews
India overtakes the U.K to become the fifth largest economy: Explanation with charts and Expert reviews.
India now has the fifth-largest economy in the world, surpassing the U.K. Moreover, due to increased economic growth, economists and business leaders predicted that India's situation would continue to improve in the years to come.
In the final quarter of 2021, India surpassed the United Kingdom (U.K.) to overtake it as the world's fifth-largest economy, according to data from the International Monetary Fund (IMF). Only four countries are currently ahead of India in terms of size in dollars. The only countries with economies bigger than India's are the United States, China, Japan, and Germany. Currently, the U.K. is in sixth place, just after India.
Uday Kotak, CEO of Kotak Mahindra Bank, tweeted, "Proud moment for India to pip UK, our colonial ruler, as the 5th largest economy."
"In terms of GDP, we have surpassed the U.K. in 2022. By 2027, our economic performance will be significantly better than theirs. India's economy is booming while the U.K.'s is contracting, "said Charan Singh, EGROW's CEO and chief economist.
"India is growing by 7% while the rest of the world is heading into a recession. Inflation rates of 10% in the U.K., 9% in the U.S., and 6% to 7% in India are all considered to be acceptable levels. All Indians should be happy about this news before the auspicious Diwali holiday, "Singh said to ANI.
The chairman of the Mahindra Group, Anand Mahindra, tweeted his response to the news that India had overtaken the U.K. to become the fifth-largest economy in the world "The karma law is effective. News that would have made every Indian who fought bravely and gave much for freedom happy. And a quiet but resounding response to those who predicted chaos in India. A moment for introspection and gratitude."
"Before 2014, we lived in five fragile economies. So being the fifth-largest economy and surpassing an economy like Britain from that position is a huge accomplishment, "Minister of State for External Affairs and Culture Meenakshi Lekhi said.
India's economy has grown faster than that of the U.K., but the country still has a very low per capita income. India is ranked 122 out of 190 nations in terms of per capita income, which is a measure of how much amount of money is made per person in a nation.
Bloomberg predicts that due to India's rapidly expanding economy, there will likely be a significant gap between India and the U.K. within the next few years (see Bloomberg Graph below).
The announcement comes shortly after Prime Minister Narendra Modi urged his people to commit to making India a "developed" nation by 2047, the centennial of India's Independence. Passing one of the largest economies in the world—especially one that ruled the Indian subcontinent for two centuries—is, therefore, a significant accomplishment.
Explanation with Graphs
These five graphs should help you put this development in perspective.
1. Size of Population of India
One of the most notable distinctions between the two countries is this: India will have 1.41 billion people as of 2022, compared to the U.K.'s 68.5 million people. Therefore, India has a population that is 20 times larger than the U.K. And as Chart 2 illustrates, this gap is not likely to be closed quickly.
2. GDP per capita
Given the stark disparity in population between the two nations, dividing a country's GDP by its population yields GDP per capita, which offers a more accurate comparison of income levels. Unsurprisingly, as shown in Chart 3, the average Indian's income is much lower.
3. Poverty levels
Low per capita incomes frequently indicate severe poverty. The extreme poverty rates for the U.K. and India are depicted in Chart 4. It is very interesting to note that India's share of extreme poverty was much lower at the beginning of the 19th century than it was in the U.K. Even though India has made significant progress in reducing poverty, the relative positions are now reversed.
4.  Human Development Index
Possibilities exist that a higher GDP and faster economic growth are ultimately aimed at enhancing human development. The Human Development Index combines indicators for health, education, and standard of living. Chart 5 compares India's HDI ranking to that of the U.K. Despite its secular progress, India may still require ten years to catch up to the U.K. in 1980.
5. Universal Health Care Coverage
The standard of living that citizens can access is a crucial component of a nation's ability to become richer. Based on the average coverage of essential services such as reproductive, maternal, newborn, and child health, infectious diseases, non-communicable diseases, service capacity, and access, the Universal Health Coverage (UHC) Index is rated on a scale from 0 (worst) to 100 (best).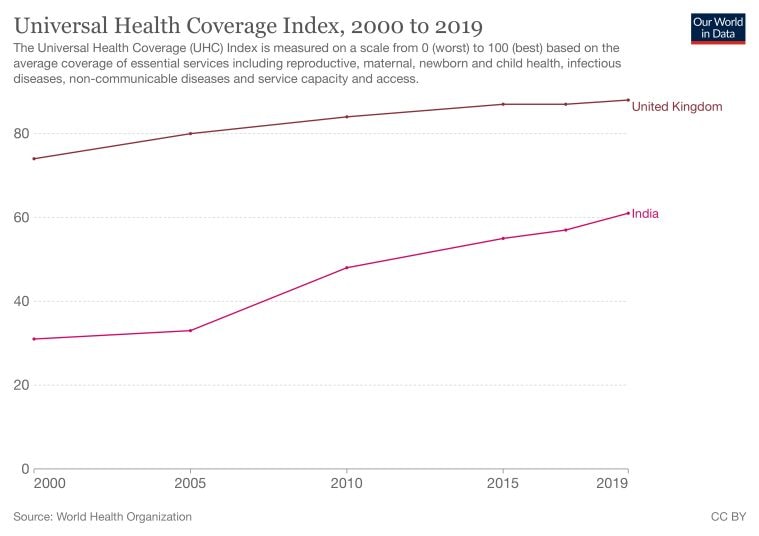 On this count, Chart 6 maps both the U.K. and India. There is still much to be done, even though India's faster economic growth and the government's policy focus on healthcare schemes since 2005 have made a noticeable improvement.
edited and proofread by nikita sharma