Trends
UK Prime Minister Boris Johnson Resigns
Following a string of resignations this week from his senior team in opposition to his leadership, Boris Johnson announced that he would resign.
After dozens of ministers left his scandal-plagued administration, Boris Johnson's resignation as the head of the British Conservative Party on Thursday made way for the appointment of a new prime minister.
According to Mr. Johnson, outside 10 Downing Street, "It is plainly the intention of the Parliamentary Conservative party that there should be a new head of that party, and thus a new prime minister."
After a wave of resignations from his senior staff in displeasure with his leadership, Mr. Johnson, 58, declared that he would stand down but would continue in his role as prime minister until a replacement was selected.
After three turbulent years in office marked by Brexit, the COVID epidemic, and constant controversy over his reputation for mendacity, he indicated that the schedule for a Tory leadership contest would be revealed the following week.
The winner will succeed Mr. Johnson by the time of the party's annual conference in early October, according to reports from the BBC and others. The leadership contest will take place during the summer. He defended continuing to battle to the very end to carry out the mandate he earned in a general election in December 2019 by saying he was "sorry… to be giving up the finest job in the world."
Johnson's probable resignation had been hailed by opposition Labour leader Keir Starmer in the hectic hours leading up to his announcement. Instead of Mr. Johnson "clinging on for months and months," Mr. Starmer said that "a true change of administration" was required and requested a no-confidence vote in parliament, which might lead to a general election.
On Thursday, Mr. Johnson made a number of nominations to replace the outgoing cabinet members, even as he was considering leaving. Greg Clark, a staunch supporter of the United Kingdom's remaining in the European Union, was among them. Mr. Johnson had pushed for this.
Despite a wave of more than 50 resignations from the cabinet, Mr. Johnson had been clinging to power and showed defiance late on Wednesday.
However, the resignation of Finance Minister Nadhim Zahawi on Thursday and the resignation of Education Minister Michelle Donelan, who had only been in their positions for two days, together with threats from Tory MPs of another no-confidence vote, seemed to tip the scales.
'No functioning government'
According to a YouGov poll of Conservative party members, Ben Wallace, the defence minister, and Rishi Sunak, whose resignation as finance minister on Tuesday started the exodus, were among the early front runners to follow Mr. Johnson.
Once the final two candidates have been narrowed down by Tory MPs, those members will elect the next leader. Brandon Lewis, a minister for Northern Ireland, started Thursday's hysterical events by resigning from the cabinet, becoming the fourth member to do so, and declaring that Mr. Johnson had gone "beyond the point of no return."
By dismissing Minister Michael Gove late on Wednesday, Mr. Johnson defied calls from his supporters and cabinet members to resign. A Downing Street insider reportedly called his former top Brexit ally a "snake."
According to The Sun, Mr. Johnson had warned his coworkers that removing him from the office would require them to "dip (their) hands in blood," but Thursday's events made him act. Sunak and Health Secretary Sajid Javid's unexpected resignations late on Tuesday started a chain reaction.
They resigned after Mr. Johnson issued an apology for designating senior Conservative MP Chris Pincher as deputy chief whip in February. Mr. Pincher was forced to resign after being accused of groping two men while intoxicated.
After the resignation, there were many days of contradictory explanations until Downing Street ultimately acknowledged that Mr. Johnson had been aware of Mr. Pincher's actions as early as 2019.
As a result of having to defend what they perceived to be more lies by Mr. Johnson on his hiring of what Mr. Starmer called a "sexual predator," conservative critics claimed that the Mr. Pincher scandal had driven them to the brink of insanity.
When Mr. Johnson returned to Downing Street on Wednesday after a protracted questioning by a parliamentary committee, members of his cabinet approached him. According to reports, Priti Patel, the interior minister, is a hardliner.
Suella Braverman, the attorney general, told ITV that although she would not step down, "the scales have shifted now in favour of saying… it's time to leave." She became the first Tory to declare that she would run for office, although bookies consider her to be a rank outsider.
Johnson has been plagued by a scandalous culture for months, which includes lockdown-breaking parties in Downing Street. A parliamentary investigation will look into whether the Prime Minister misled MPs about the disclosures after receiving a police fine for the "Partygate" incident, which resulted in the COVID lockdown being broken.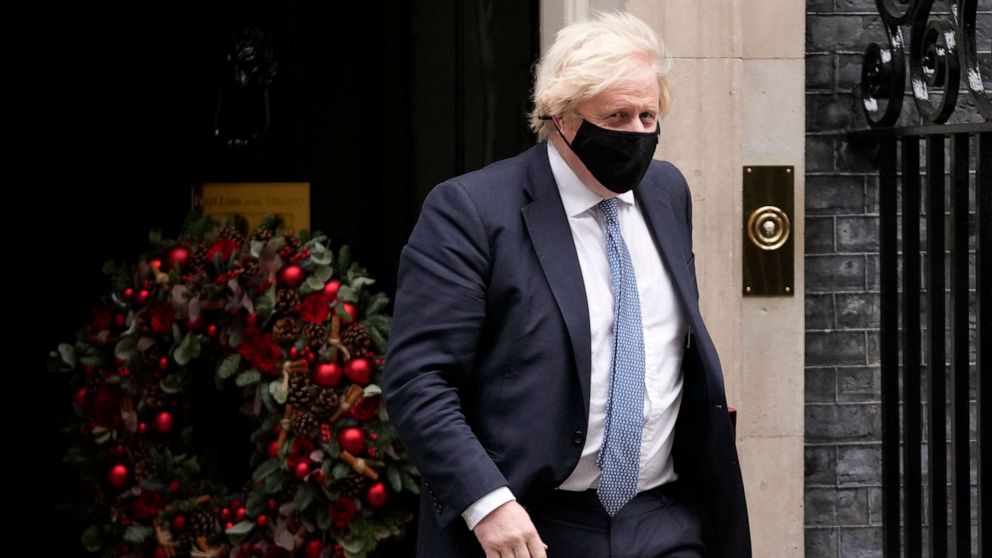 A no-confidence vote among Conservative MPs that he narrowly avoided last month would typically prevent him from facing another challenge for a year. However, it appears that the powerful "1922 Committee" of non-ministerial Tory MPs is trying to amend the rules. Its executive committee plans to choose a new slate of members in the next week.
Johnson promised to continue in parliament on Wednesday, stating that the nation needs "steady governance." Javid, though, pushed other ministers to step down in front of MPs. He addressed a silent House of Commons, "The issue originates at the top, and I believe it is not going to change." After he finished speaking, the room erupted in cheers of "bye, Boris."
Edited by Prakriti Arora