Trends
Why the India-Australia Free Commerce Agreement would increase already record-high trade
Australia's Parliament approved the India-Australia Free Trade Agreement (FTA) on Tuesday, at a time when trade between the two nations is already at record-high levels. Indian commerce with Australia reached $22.49 billion in the first three quarters of this year, up 62 percent from $13.88 billion in the same period of 2021, according to data from the Ministry of Commerce and Industry. In fact, the value of trade between India and Australia during the first three quarters of 2022 exceeded the $21.98 billion traded during the entire year 2021.
India's trade in goods with Australia is largely fueled by imports from that country. More than $15.6 billion of the $22.49 billion in a trade this year was accounted for by imports, while only $6.83 billion was accounted for by exports.
These figures show that the energy industry accounted for the majority of commerce between the two nations. About 80% of the $15.6 billion in imports from Australia this year were made up of coking coal ($9.56 billion), steam coal ($1.4 billion), and other forms of coal ($1.37 billion).
While steam coal is used by companies to produce steam to generate power and for heating purposes, coking coal is a significant input that is beneficial for iron and steel producers. India's main supplier of coking coal is Australia. It supplied more than 57% ($9.56 billion) of India's total ($16.48 billion) demand for coking coal in 2022 (through September).
Similarly to this, India's exports to Australia are dominated by energy items. By September 2022, only automobile gasoline, high-speed diesel, and diesel fuel made up more than 55% of India's exports to Australia for the year. Additionally, data shows that India's exports to Australia are growing much more quickly than its imports. India's total imports from Australia in the first three quarters of 2017 were around $14.35 billion, and they will increase to $15.56 billion in 2022 or an average growth of 7.8% per year.
Meanwhile, during the same time period, India's exports rose from around $2.8 billion to $6.8 billion, or a 19% average annual growth rate. Saon Ray, a professor at the Indian Council for Research on International Economic Relations, asserts that the ECTA (Economic Cooperation and Trade Agreement) is likely to be advantageous for Indian exports that are labor-intensive in industries like textiles, apparel, agriculture products, fish products, leather, footwear, furniture, sports goods, jewellery, engineering goods, as well as some pharmaceuticals and medical devices (ICRIER).
India is interested in a variety of raw materials and intermediate goods. India is particularly interested in plastics, whereas Australia is more protective, she said. The World Customs Organization's Harmonized System, a global nomenclature for categorising traded goods, was developed. Ray continued, "Some items are sensitive in this chapter, though most items are expected to be liberalized." He was referring to chapter 39 of the system's codes, which deals with plastics and articles thereof.
Australia (and not India) is competitive in a number of services, such as postal and courier services, travel, and government goods and services, for instance (not included elsewhere). She went on to mention that India would like to sell Australia various commercial services, computer and information services, and other business services.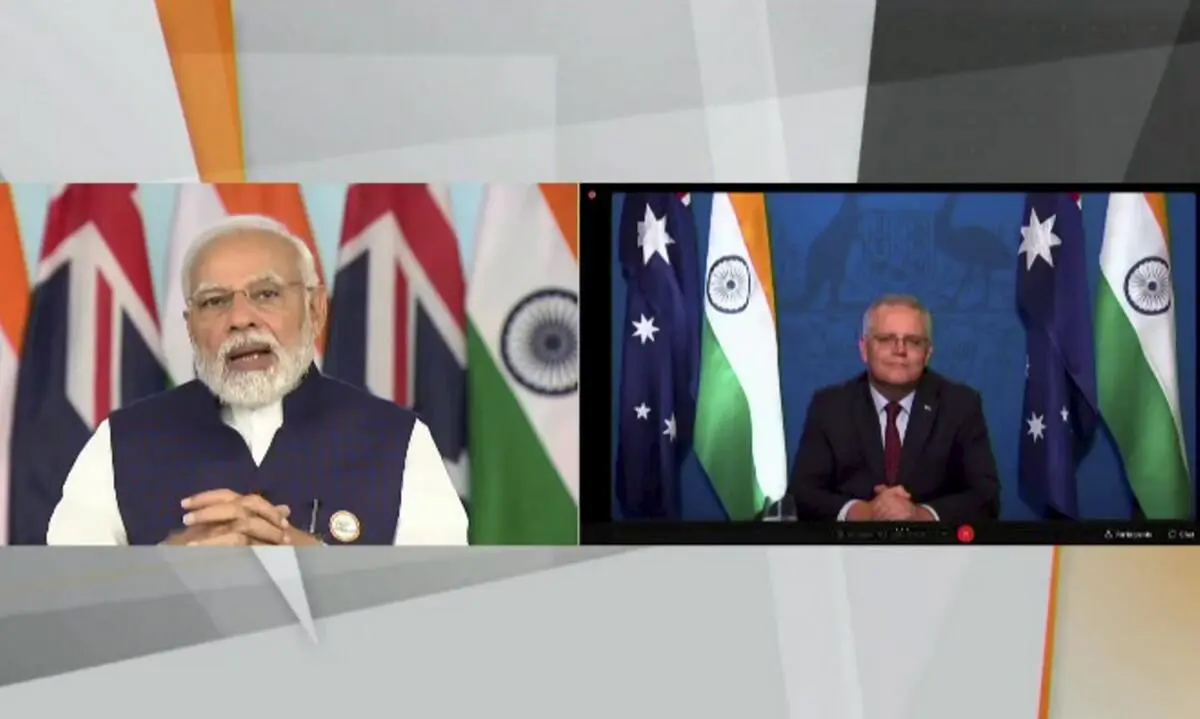 Piyush Goyal, the minister of commerce and trade, stated after the FTA with Australia announcement that this action would open up markets across 6,000 broad Indian sectors, which may include finished goods like textiles, jewelry, and machinery. At a gathering, he added that Australian consumers could now benefit from Indian steel, whose export duty had been eliminated six months earlier.
Also, according to a number of industry experts, this agreement will increase India's non-energy exports. A non-governmental trade organization, Associated Chambers of Commerce and Industries (ASSOCHAM), Vivek Chandra, the chair of India's council for food processing and value adds, asserted in a tweet that the FTA will provide more chances for mutual gain and new technologies to "improve the industry with the rise of India's food processing sector."
 A double taxation exemption for Indian IT companies operating in Australia was also agreed upon by the Australian government in April of this year. Additionally, it is anticipated that import taxes on a few Australian wines would decrease.
India hopes to access Australia's minerals as a free trade agreement is approved, reducing its reliance on China.
The Australia-India Economic Cooperation and Trade Agreement (AI-ECTA), which adds a new pillar to the already expanding strategic relationship, was ratified by the Australian Parliament in an effort to confront Beijing economically and reduce its trade dependence on China. The announcement was made on Tuesday by Australian Prime Minister Anthony Albanese via a tweet in which he included his Indian counterpart, Narendra Modi. Albanese is scheduled to visit India in March 2023.
The Comprehensive Economic Cooperation Agreement (CECA), which is currently being negotiated, will eventually replace the initial trade agreement known as the AI-ECTA. India hopes that the AI-ECTA, which takes effect in December, will allow it to access Australia's abundant and vast mineral resources, reducing its reliance on China. Additionally, according to sources, India will now be allowed to import coking coal and uranium duty-free from Australia, even as New Delhi works to expand services trade between the two "complimentary economies."
Pralhad Joshi, the minister of coal and mines, travelled to Australia in July to buy "commercially feasible strategic vital minerals" there. The Union minister had been to the mineral-rich locations of Greenbushes Mine and Tianqi Lithium Kwinana. The Regional Comprehensive Economic Partnership (RCEP), a massive trade agreement that went into effect earlier this year, will be integrated, according to India, with the trading network and supply chains through the signing of the AI-ECTA in April 2022 and the CECA that follows.
14 nations—Australia, New Zealand, Brunei Darussalam, Cambodia, China, Japan, Laos, Singapore, Thailand, Vietnam, Korea, Malaysia, Myanmar, and the Philippines—have signed the Regional Comprehensive Economic Partnership (RCEP), a free trade agreement. India left the RCEP in November 2019 as a result of China. It was decided in November 2020 that New Delhi would have the option of signing the pact in the future.
With the exception of China and New Zealand, almost all RCEP members now have free trade agreements (FTAs) with New Delhi. The RCEP is unquestionably a much deeper, more ambitious trade pact, but India has undoubtedly been able to make a dent in that network, according to a person engaged in the negotiations.
In addition, the source claimed that India is also interested in opening up a sizable portion of the services export market for its hordes of IT specialists. The CECA talks between India and Australia started in 2011, but they stalled for years until their shared animosity against China brought them closer together strategically.
Currently, India and Australia conduct joint military drills, with the Malabar Exercise being the largest. Along with the US and Japan, both are partners in Quad. According to a projection by the Ministry of Commerce and Industry, two-way trade between India and Australia under the ECTA is anticipated to increase from the current $31 billion to $45-50 billion in five years.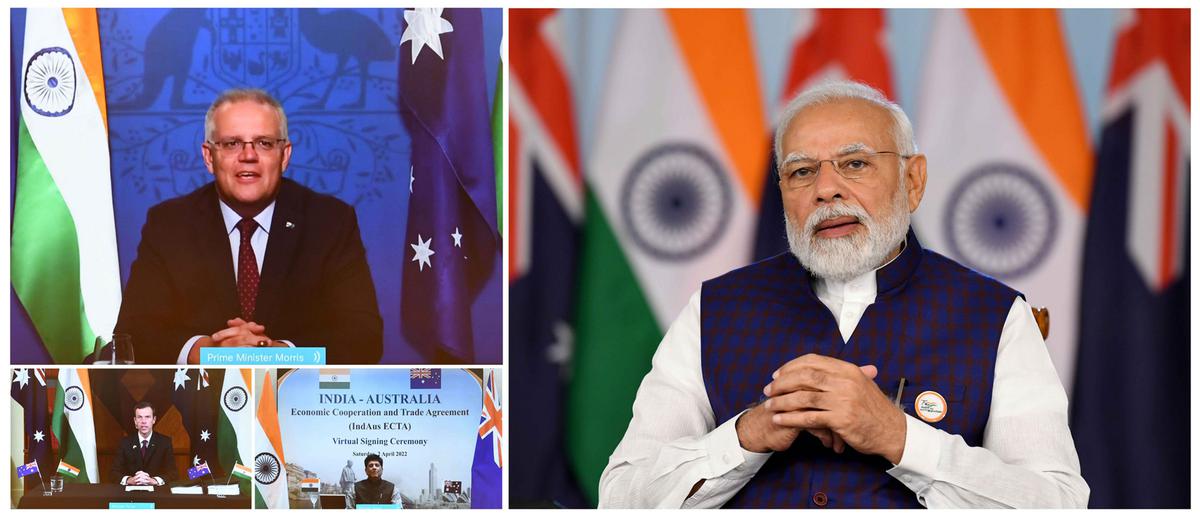 This is the second such trade agreement that the Modi administration has successfully implemented. The Modi administration, which previously opposed FTAs and favoured greater liberalisation of foreign direct investment, asserts that in contrast to the previous United Progressive Alliance (UPA) administration, it is now concluding such agreements "without any lacunae."
Both the FTAs signed under the current administration with the UAE and the one currently in place with Australia, according to Minister of Commerce and Industry Piyush Goyal, have "unanimous support" from all stakeholders. "Every industry is pleased with the trade agreements with the UAE and Australia. Every industry has backed this. And the IT industry has seen the most growth. Thus, it also illustrates how crucial and integral a role services play in free trade agreements, Goyal told reporters on Tuesday.
According to him, this FTA will also help Indian students on flexible work visas who are studying in Australia. The deal "would abolish tariffs on over 90% of Australian goods exported to India by value," according to a statement released by Australia. The majority, or 85%, of India's high tariffs on agricultural products, including sheepmeat, wool, cotton, shellfish, macadamia nuts, and avocados, will be lifted starting on the day ECTA goes into effect. Additionally, India will significantly lower its 150% tariff on bottles of wine costing more than $5.
Australia also approved a trade agreement with the UK on Tuesday. The Albanese government will now be able to diversify its exports to a larger market for minerals, steel, and agricultural products and stop haggling with China thanks to both of these agreements. "New trade deals with the UK and India will solidify our current commercial and economic ties. According to PM Albanese on Tuesday, these new agreements will open up new possibilities for trade diversification and great results for Australian businesses and families.
Australia's dedication to open trade and the rules-based trading system is demonstrated by the legislation that was passed today. It is a recognition of the importance of trade to our nation's economic stability and continuous success. After the AI-ECTA was ratified by both Houses of the Australian Parliament, Trade Minister Don Farrell projected that exporters, firms, employees, and consumers would soon be able to "reap the prospects and advantages of more open trade" with India and the UK."ECTA opens up new potential for both Australian and Indian companies, enabling them to reach more markets on either side of the Indian Ocean.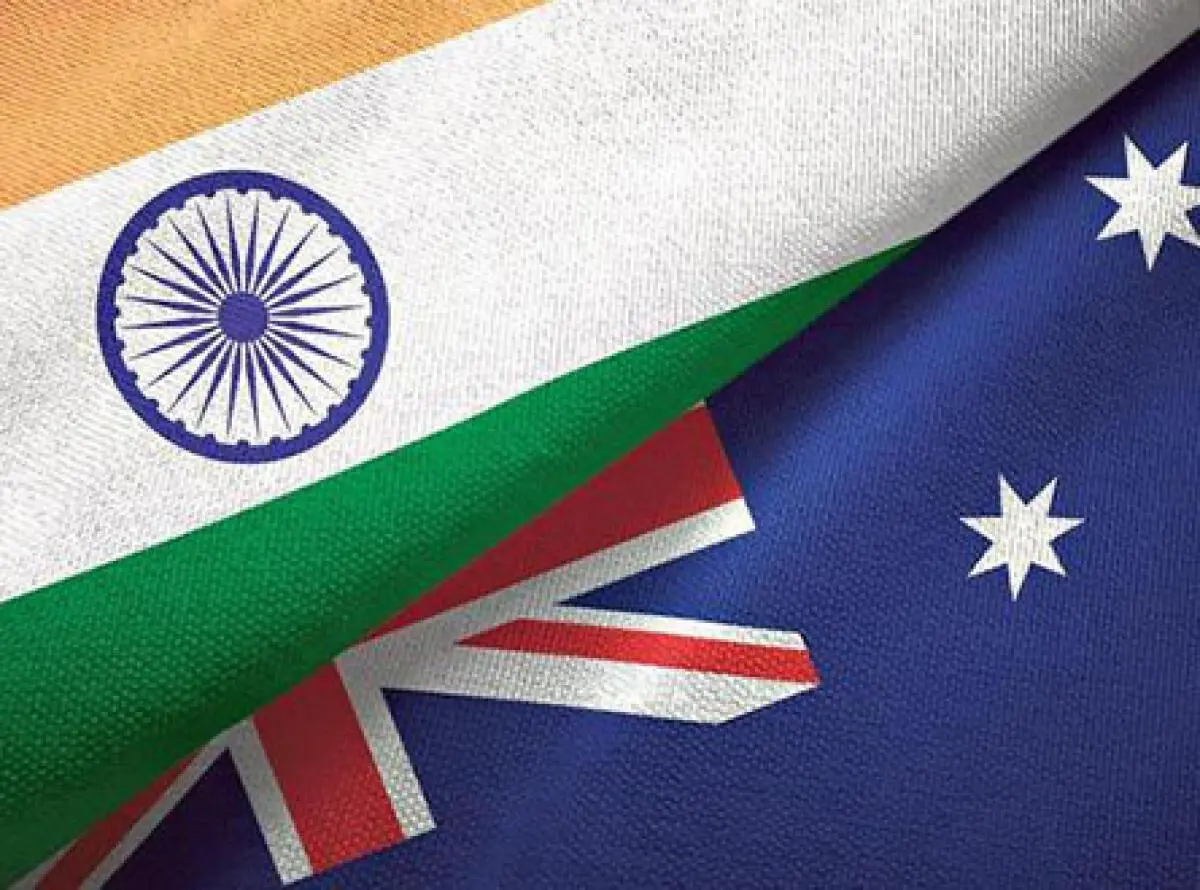 Barry O'Farrell, Australia's High Commissioner to India, said: "I am now looking forward to the second innings: negotiation of a complete Comprehensive Economic Cooperation Agreement.
Edited by Prakriti Arora