Stories
These are the major technology IPOs, investors suffered significant losses in Zomato, PayTM, and Nykaa. Here's what's happening?
These are the major technology IPOs, investors suffered significant losses in Zomato, PayTM, and Nykaa. Here's what's happening?
Investor excitement may be waning, according to an analysis of six critical digital IPO launches in 2021: Zomato, Paytm, Nykaa, Fino Payments Bank, Policy Bazaar, and CarTrade Tech.
Zomato, a restaurant directory and food delivery service, launched its Initial Public Offering (IPO) a year ago, making its shares available to the general public for the first time. The IPO was well received by investors and was 38 times oversubscribed, meaning that there were far more interested parties in the company's shares than it could accommodate at the time.
On July 23, 2021, the stock market's opening day, the closing price was Rs 126. In 2022, the cost of Zomato's equity shares dropped to Rs 41.6 on Tuesday (July 26).
Zomato has suffered dramatically due to the carnage at Dalal Street; its share price dropped by 14% on Monday and 12.6% on Tuesday.
One of the many big-tech-related, new-age businesses that started their IPOs in 2021 was Zomato. However, evidence suggests that the excitement among investors for the major IPO launches of 2017 may be waning.
This study examines six significant IT IPOs scheduled to take place in 2021: Zomato, Paytm, Nykaa, Fino Payments Bank, Policy Bazaar, and CarTrade Tech.
Other than Zomato
Zomato has had the most significant share price decline of the six companies, as investors lost roughly 66% of the total value of their investments a year ago.
The following item is the share price of Policy Bazaar, a division of PB Fintech. On the last day of subscriptions, the insurance aggregator was more than 16 times overcrowded.
Each share of Policy Bazaar was worth Rs 1,202.3 on the day of its introduction (November 15 2021). The same share was valued at Rs 471 on July 26, 2022.
Then there's Paytm, one of India's first online payment systems. One97 Communications Limited, the parent company of Paytm, was listed on the stock market for the first time on November 18, 2021, and each share cost Rs. 1,560. It was valued at Rs 692 on July 26.
CarTrade Tech, an online marketplace for trading old cars, went public in August of last year with a share price of Rs 1,501 on the first trading day. Currently, CarTrade Tech is worth Rs 671 per share.
Additionally, in a calendar year, the share prices of Fino Payments Bank, which essentially provides businesses with technical banking solutions, decreased by 50%.
The company's share was worth Rs 543 on its first day of trading (November 12 2021), but only Rs 259 by July 26.
The slowest decline in share value has been experienced by Nykaa, an online retailer of cosmetics that made its initial public offering (IPO) in November of last year. The firm's share was priced at Rs 2,205 on its first day of trading (November 10 2021), down from Rs 1,447 on July 26.
Simply put, your investment today would be worth Rs 3,302 if you invested in Zomato, Rs 3,597 in Policy Bazaar, Rs 4,434 in Paytm, Rs 4,470 in CarTrade, Rs 4,478 in Fino Payments Bank, and Rs 6,137 in Nykaa if you invested Rs 10,000 in the tremendous Indian tech IPO rush last year on the first day of trading.
Why did that take place?
According to Aditya Kondawar, partner and vice-president of Complete Circle Capital, a Delhi-based investment firm, numerous variables contribute to this phenomenon.
"The IPO frenzy is nothing new. India has a long history of IPO frenzy. We experienced that when internet companies went public for the first time around Y2K.
Real estate peaked in 2007-2008, followed by pathology and hospitals in 2015, banks and MFI (microfinance institutions) in 2016, defence in 2018, chemicals, pharma, and new-age businesses/startups in 2021, he continued.
"IPOs always occur during bullish or upbeat periods because of their nature. There were 30 DRHP (Draft Red Herring Prospectus) filings in August 2020, or one every day, he exclaimed.
When a business wishes to start its IPO, a DRHP is filed. In essence, it serves as the offering's official registration.
Kondawar attributed the collapse in major IT IPOs to macroeconomic causes.
"The speaker continued, "Everything depends on the circumstances. To support economies sputtering under the weight of Covid in 2020-2021, central banks reduced interest rates and pumped enormous sums of money into the system. Naturally, this liquidity flocked to assets, fueling a frenzy that resulted in valuation bubbles.
"However, as free liquidity is leaving the market and investors are doubting valuations, equities prices have been harmed as a result of rate hikes adopted by central banks throughout the world this year to tackle inflation and other economic issues. The relationship between interest rates and stock prices is inverse, he added.
Kondawar believed that the initial valuation of the large IT businesses was unjustified.
"The value of the internet businesses was one of the main issues. This price decline is essentially a mirror image of that. At one point, he continued the value of Policy Bazaar's share was greater than that of several insurance providers in India. "How can an aggregator grow more significant than the businesses selling the products?"
Paytm Falls 10.5 Percent As New-Age Stocks Continue To Decline
As selling pressure on new-age companies persisted, shares of One97 Communications Ltd., the parent company of Paytm, dropped to their lowest level in nine weeks. The Noida-based company's shares fell as far as 10.5 per cent, the most since May 24, to Rs 678.1 per share, before Tuesday's market closed 7.6 per cent lower. Since the stock was listed in November last year, it has fallen by almost 70%. On May 12, it had dropped as low as Rs 511.
Paytm Decreases the Most in Nine Weeks
There has also been pressure on other technology companies that went public last year when initial public offerings totalling roughly Rs. 1.06 lakh crore went live. That got going following a tech sell-off in May brought on by geopolitical unrest in Ukraine. Except for Paytm and Fino Payments Bank Ltd., most new-age companies saw high demand during their IPO subscription, but the stocks have lagged.
Employees at Zomato receive 4.66 billion shares at a 98 per cent discount.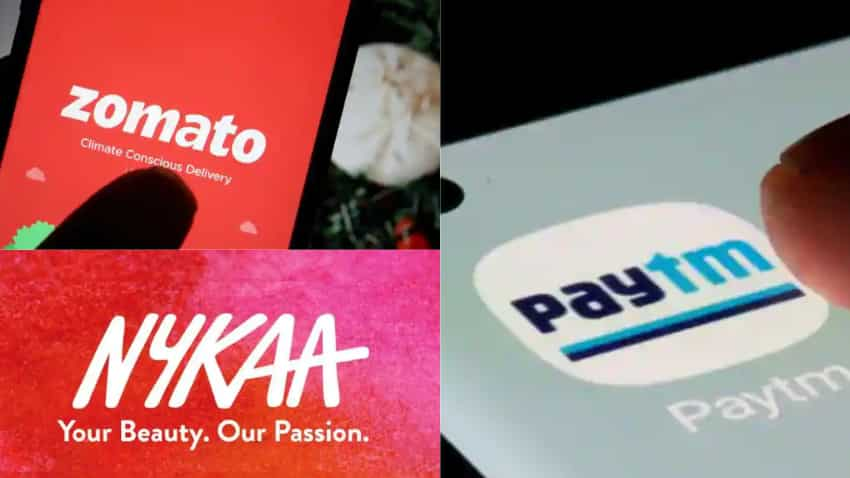 Zomato has distributed 4,65,51,600 equity shares from its pool of ESOP (employee stock option plan) at an exercise price of one rupee, despite a sharp decline in the company's stock price.
The company announced in a filing on Tuesday that the board of directors' nomination and compensation committee had approved the distribution of 4,65,51,600 equity shares to workers upon executing vested stock options.
Despite an active listing the previous year, Zomato has outperformed competitors this year. It is the worst-performing internet stock, having lost 70% of its value year to date and plunged 75% from its all-time highs.
After a year of IPO allotment, about 613 crore shares, or 78% of Zomato, were no longer subject to obligatory lock-in on July 23, Saturday, which led to the most recent wave of selling pressure on the stock.
More than 145 million shares of Zomato were traded on the BSE as of 10.30 am, maintaining the company's high volume on the exchanges. However, on the National Stock Exchange, about 220 million shares of the modern internet corporation were traded (NSE).
Credit Suisse, a leading international stockbroker, has kept its "outperform" rating on Zomato because it thinks the company is headed for profitability growth.
The food industry will be driven by its core clients, it claimed. The statement said, "The business has become a duopoly, and the core user base would drive margins. "Quick commerce is an adjacency, but it is yet unclear which industries will triumph."
Jefferies, a different international brokerage firm, is still optimistic about the stock because it thinks management has hastened the process of improving unit economics. The business of meal delivery is expected to break even soon for the corporation.
Since the sector is already consolidated, unlike other spaces in India, the industry profit pool should increase now that the worst rivalry has passed.
In contrast to Credit Suisse, which expects the stock to trade at Rs 90 shortly, Jefferies has assigned the counter a buy rating and set a target price of Rs 100, suggesting a potential gain of 130%.
As Zomato stock falls, Shankar Sharma cites "Mar to woh 20 saal pehle gaya tha" from "Deewar" by Amitabh Bachchan.
In response to the recent decline in the stock price of the meal delivery business Zomato, Shankar Sharma made a hilarious and pertinent remark.
Zomato's stock has been severely damaged over the previous few weeks, falling to an all-time low on Monday, sending its shareholders into a frenzy. Shankar Sharma offered some sound advice in the middle of the stock market commotion.
Renowned stock market trader Shankar Sharma remarked that dialogue from the Amitabh Bachchan-starring film Deewar sprang to mind when he saw the dramatic drop in the stock price of meal delivery firm Zomato.
Shankar Sharma commented on the recent decline in Zomato shares on Twitter, writing, "Zomato stock reminds me of what Amitabh Bachchan said in Deewar upon learning of dad's passing: "Mar toh vo 20 saal Pehle Gaya tha. In this case, Sirf Ussey Jalaya Ja Raha ". The moment it was listed, it was over.
Ashneer Grover, a co-founder of BharatPe, previously discussed the Zomato stock hitting a record low. He claimed that if the business had purchased Swiggy instead of blinkit, the shares would have been valued at around Rs 450.
On July 23, 2017, the meal delivery service app made a great debut on the stock market, but it has since experienced a sharp decline in the value of its shares, shedding about 60% of its initial market value.