Tech
Top 10 Advantages of Facebook Marketing for Your Business
Top 10 Advantages of Facebook Marketing for Your Business
Marketing: Why don't social media ads work?
As other social platforms evolve, does Facebook advertising no longer make sense?
Think again if that's the case.
We explore the key differences between Facebook and other social media platforms and its advantages over other digital channels in this short article about why you should include Facebook in your marketing mix.
Since its inception as a simple social networking site used by college students, Facebook has transformed into a major platform for marketing, media, and technology.
Despite Facebook's recent scandals, users don't seem affected by it. Facebook users remained active despite rumors about security concerns. More than ever, Facebook seems to be gaining active users.
It is thus safe to assume that advertising on Facebook is equivalent to advertising on the world's biggest online channel. At an affordable price, you can instantly reach a large audience.
Professionals should always be trusted. Faster results can be achieved in less time this way. Advertising campaigns are run by the experts at the Facebook advertising agency. As a result, conversion rates will increase, traffic will increase, and sales will increase. You can keep a close eye on Facebook's algorithm with the help of a Facebook advertising agency. Using Facebook Advertising Agency, you can determine your competitors' strengths and weaknesses all around.
Facebook Advertising can be effective at driving traffic and sales.
The Facebook platform offers additional features to help advertisers reach their target customers on a diverse and populous platform.
Facebook users can be targeted based on age, location, interests, and education, which effectively solves the problem of reaching the target audience. Startups can advertise at affordable prices while getting key ad analytics, thanks to its flexible ad budget system. Different types of ads can be tested using these analytic tools.
Facebook ad campaigns should ideally have goals. There can be a variety of goals. A company's website can be used to increase traffic and sales through some campaigns, while others can increase engagement.
Facebook marketing plans revolve around advertising. Ad content must be constantly experimented with.
Facebook marketing plans can be enhanced by optimizing the business page. Business pages can be created on Facebook and customers can interact with them. A brand's image can be developed here for many brands.
Businesses can also create personalized tabs based on their pages on Facebook. A 'Shop Now' button can be added to a Facebook page by e-commerce companies, for example. 
Facebook itself allows users to upload product images and discount images.
Putting out quality content is the first step for digital marketers in growing a brand's likes and followers.
Be Active With Your Facebook Presence
You must consistently and continuously interact with your audience if you want your social media marketing campaign to succeed. Facebook tends to keep users around for a longer time than any other social network.
Facebook can also help you reach your target audience when they are most responsive to your message, as people spend approximately 20% of their online time on social media sites.
It's important to keep in touch with your customers regularly. By sharing relevant content about genuinely important topics, you can create a community that users feel part of and engaged with.
Here are some Facebook marketing strategies that businesses can use. To keep your customers informed about your brand and products, you should keep them coming back regularly.
To achieve this goal, you must post content that is valuable to your target audience. You can write articles about relevant industry topics, create polls, and answer questions that potential customers may have.
When it comes time to promote, use images to illustrate your message. It makes a huge difference in converting leads into customers if you post attractive product images. Be sure all pictures belong to your brand or company (e.g., the logo).
Build your brand by collaborating with others
On social media platforms like Facebook, you can also collaborate with similar brands in the same industry. Although it may seem risky at first, having Pepsi and Coca-Cola as friends can help boost brand awareness and reach a wider audience.
Brands are constantly being found on Facebook, as well as those whose products are regarded as superior. A collaborative post or giveaway can put your company on the map and help fulfill both of your marketing goals if you can network with one or two industry leaders.
Your content should always be relevant to the audience's needs (not just what will build traffic). You are more likely to get interested parties to share something if it is object-oriented so that their peers will also enjoy it if they are convinced it would be useful to them.
Advertise your joint venture on third-party sites such as Eventbrite, Facebook events, or other social media platforms if you're working with another company. By doing so, you'll be able to reach a wider audience and attract more customers. Many new brands use this intensive growth strategy to accelerate their growth.
Post Quality Content Regularly
Despite being well known, this rule is frequently ignored. Your business can stand out if you post high-quality content, such as an article. Advertising and content created by most businesses are useless. To maximize the visibility of your Facebook page, you should develop a strategy and make it visible to a wide variety of users without being too self-promotional.
You can build a following and influence prospective customers by creating content that makes users remember your brand. Your goal on Facebook isn't just to sell products. To keep users interested, you need to keep them informed about new product releases and industry news.
Your page shouldn't be constantly updated with sales and event announcements. If you're thinking about posting more inspirational content (e.g., quotes, how famous personalities are utilizing your product), make sure it won't look desperate or spammy.
Post Transparency
If you want to encourage transparency, consider posting content. In the 21st century, transparency has become a popular marketing strategy. By being open about your products/services, you can build credibility and trust with your audience.
Show prospective customers what your company can offer if they buy from you, for example, by posting a picture of an employee at work on Saturday night (e.g., behind-the-scenes footage). Free giveaways can help increase transparency since you won't have to hide behind fancy logos or professional pictures to show who you are to new customers.
Facebook engagement can be increased without being too spammy or desperate. It is only going to get more prominent over time as social media marketing grows.
As more innovative ways are discovered to reach new audiences on these platforms, the number of adults using social networking sites is expected to rise. As you build your company, it's important not to underestimate the importance of these networks.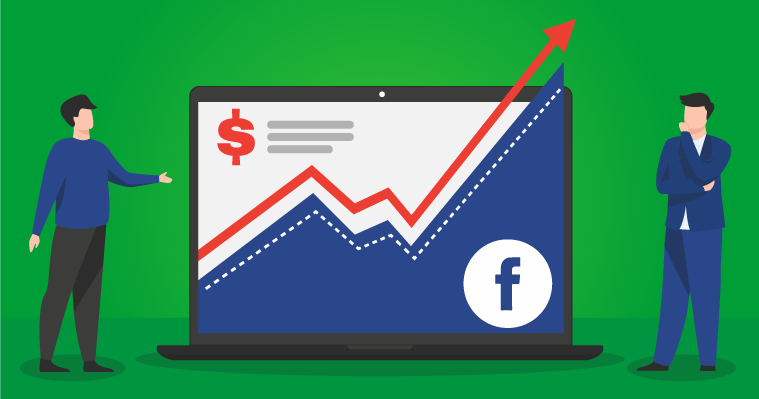 Top 10 Advantages of Facebook Marketing for Your Business
Multi-form engagement with full-funnel targeting
Only Facebook is capable of catering to users at any stage of their engagement journey out of all digital platforms.
The targeting options, measurement capabilities, and ad formats that Facebook offers are all well aligned with the marketing goals of any organization.
Whether a user is at the top of the funnel, casually browsing and just beginning their research, or ready to buy, this is valuable information for them.
It's great to pique someone's interest without being too direct with Facebook's sponsored stories, videos, and carousel ads during the awareness stage.
The users won't engage with your message if they aren't in the right frame of mind for it.
However, if they are, you have the opportunity to delight them with something highly visual, memorable, and showing how your product or service is being used effectively.
Benefits should not be shown in great detail.
A user should be motivated to research further when the timing is more convenient for them by showing something that will engage and excite them.
Facebook offers six different solutions for reaching mid-funnel users (i.e., in the consideration phase).
Moreover, they allow users to engage not only with your Facebook content but also with your website content.
It is possible to drive highly qualified traffic to your business through Facebook (or, if your business uses apps, to drive app installs) if driving users to consider your business is your primary objective.
Conversion campaign options will be beneficial to transaction-oriented marketers.
To enhance your ads, use Facebook's custom buttons.
You can incorporate tailored buttons into Facebook ads, depending on your industry and objectives, to help tailor your ads to your specific objectives (e.g., booking a hotel room or making a purchase).
Your Site Will Get Direct Traffic
There are many Facebook ads available for driving referral traffic to your business's website, as we suggested earlier.
The majority of Facebook users open the site to browse its content.
Your ad will be compelling enough to entice the user to leave Facebook and visit your site if your target is highly relevant.
Reach a Wide Audience
Advertisers have access to one of the largest user bases on Facebook.
Globally, Facebook had 2.6 billion users in July 2020, according to Statista.
A social media platform with that many users would be second only to a search engine like Google.
Facebook's audience is not only large but also diverse.
Whatever your business's target audience is, you can find it on Facebook.
Facebook attracts users of all generations, with 38% falling between 35 and 65 years old. Despite skewing towards younger users, with 62% between 18 and 34 years old, Facebook attracts users of all ages.
Facebook's fastest-growing demographic segment is the older demographic.
It has been estimated that over half the Baby Boomers (born 1946-1964) on Facebook are older than 65, while over half of the Silent Generation (born in or before 1945) are older than 65, according to Pew Research Center.
Audience Transparency
Unlike some programmatic networks, Facebook provides a highly transparent approach to audience targeting.
You have a high degree of control over the audiences you target with self-selecting audience targeting.
A fan is someone who follows you on Facebook.

Your followers' friends are your followers' friends.

Based on self-reported criteria, users who meet your behaviors or interests.

Remarketing: Remarketing to former site visitors.
Facebook allows you to derive insights by segmenting your campaign according to these known audience clusters, while other platforms will optimize placements automatically.
A campaign can perform well in both cases.
You can, however, determine which segment(s) performed best on Facebook and continue testing and refining strategies based on your findings.
Measurable Performance
The fact that Facebook offers extensive reporting features may seem obvious, but it's worth noting. Different ad formats offer different metrics.
A user can take these actions before leaving Facebook (for example, reach, ad engagements) and after leaving Facebook (for example, conversions, revenue).
Adding the Facebook pixel to your site is the only requirement.
In addition to reporting basic conversion metrics with third-party analytics, Facebook auto-optimizes its campaigns with its pixel.
The lack of it prevents Facebook from identifying the best converting user-profiles and is bound to continue serving ads throughout the entire campaign to the same group of users.
Competitor Targeting
Almost no solution allows you to target your competitors' audiences.
Facebook doesn't allow you to target fans of other brands.
It is still possible to target users that have indicated their interest in a specific brand.
As the data is based on self-reported information, it may not be up to date, since it depends on the last time a user updated their settings.
It can still be effective for targeting well-qualified users, especially at scale.
You can easily reach thousands of users and you don't have to pay fees for audience profiles on other channels by setting up a custom audience of users with an interest in 20+ well-known brands. 
B2C & B2B alignment
Do you know that Facebook advertising is only available to businesses that sell to consumers?
You will be surprised at how effective Facebook campaigns can be for B2-B businesses.
Facebook is used by business decision-makers 74% more than by others.
B2B marketers must use Facebook aggressively in the B2B space due to its competitive nature.
Nonetheless, there is room for success if you target the right audience, create the right ads, send the right messages, and offer a great off-Facebook user experience.
Remarketing on Facebook is the least important aspect of B2B marketing.
In snackable moments between work engagements, B2B targets are just as active online after they leave the office as they were at the office.
There is no difference between them. 
You can remain in their consideration by remarketing to them on Facebook.
B2B businesses can use Facebook to target new users with these targeting segments:
Business travelers.

Employer name.

Interest industry.

Job title.

Employer company size.

Employment industry.
A lookalike audience based on customer information, website visitors, or existing email lists is another B2-B tactic worth pursuing.
Advertisers have seen this perform well on Facebook despite other platforms now offering this.
In Hawke Media's case, this step led to a four-fold return on ad spend when compared to their previous Facebook advertising strategy.
Variety of Ad Formats
As the most diverse social media platform, Facebook offers 10 ad formats.
Image and video ads are most commonly used for each stage of the target marketing funnel.
Nearly all ad formats allow you to include text and images, providing you with an opportunity to demonstrate your business's features and benefits.
You should take notice of Sponsored Posts if you allow others to post on your business's feed.
You are sure to gain more engagement from other users if you boost a post from a user-generated feed.
A user-generated ad is much more likely to succeed than a purpose-developed one since the latter is more easily recognized as an advertisement.
Users are less likely to be defensive if they see user-generated content, on the other hand.
Maintain Engagement with Existing Audiences
In addition to nurturing your Facebook followers and fans, Facebook advertising helps you grow them.
Engaging with and maintaining your Facebook audience is important as well as driving referral site traffic, engagement, and conversions.
Seeing your Facebook profile as an extension of your business is like thinking of it as its website.
Users will naturally become less interested in interacting with you over time as they do with any offline presence, including your site.
You need to remind them of your worth and give them new reasons to consider you.
New users need to be recruited to replace those who leave for good.
Advertising on Facebook, regardless of its primary objective, will always result in growing your following and offering new content to your existing fans.
Campaigns targeting only existing followers can be run periodically if the budget allows.
Followers don't necessarily see all updates just because they're followers.
It is also not guaranteed that a sponsored campaign will reach all of your followers.
It will, however, allow you to get closer, incentivizing users to periodically check your profile.
As well as other digital channels, Facebook offers these 10 key advantages over other social media platforms.
The Facebook ads platform also offers budget management tools, and real-time results monitoring is accessible to businesses regardless of size and can drive measurable results, such as revenue, that businesses can track.
Additionally, maintaining your Facebook presence indirectly helps your organic search presence.
Your SEO rankings can be indirectly influenced by Facebook advertising (shares, likes, and comments). 
Psychographic Targeting
In addition to demographics, Facebook offers a wide range of targeting options.
People's lifestyles or purchasing needs are becoming increasingly more difficult to predict based solely on their demographics.
Some millennials do not necessarily have high college debts or live a lifestyle that might be associated with low disposable incomes, for instance.
A wide range of lifestyle characteristics can be targeted by Facebook's targeting capabilities, including interests, life events, behaviors, and hobbies.
The same behavioral criteria can be applied across all your marketing channels, resulting not only in better targeting but also in aligning digital strategy with offline tactics.
Here's your chance to advertise
On average, Facebook users spent 58.5 minutes per day before COVID-19 hit.
Social media usage has skyrocketed during the pandemic.
Utilize this channel now to drive your recovery.
edited and proofread by nikita sharma